Avocados and refried beans are the highlight of this Taco dish!  Vegan Tacos are the perfect natural food recipes for your plant based diet, not to mention they certainly do not miss out on any flavour! It is so fabulous because it is a simple vegetable recipe that takes only around 10-20 minutes to prepare depending on what you have ready!
In the recipe I recommend making homemade Guacamole, so here is my fave recipe, ever!
Homemade Guacamole:
2 guacamoles
3 tbsp EVOO
1/2 tsp each salt and pepper
1 tsp garlic powder
juice of one lemon and one lime
4-5 cherry tomatoes (the little, littles ones)
1 cup cilantro
Add all your ingredients into a blender, and simply blend, then enjoy!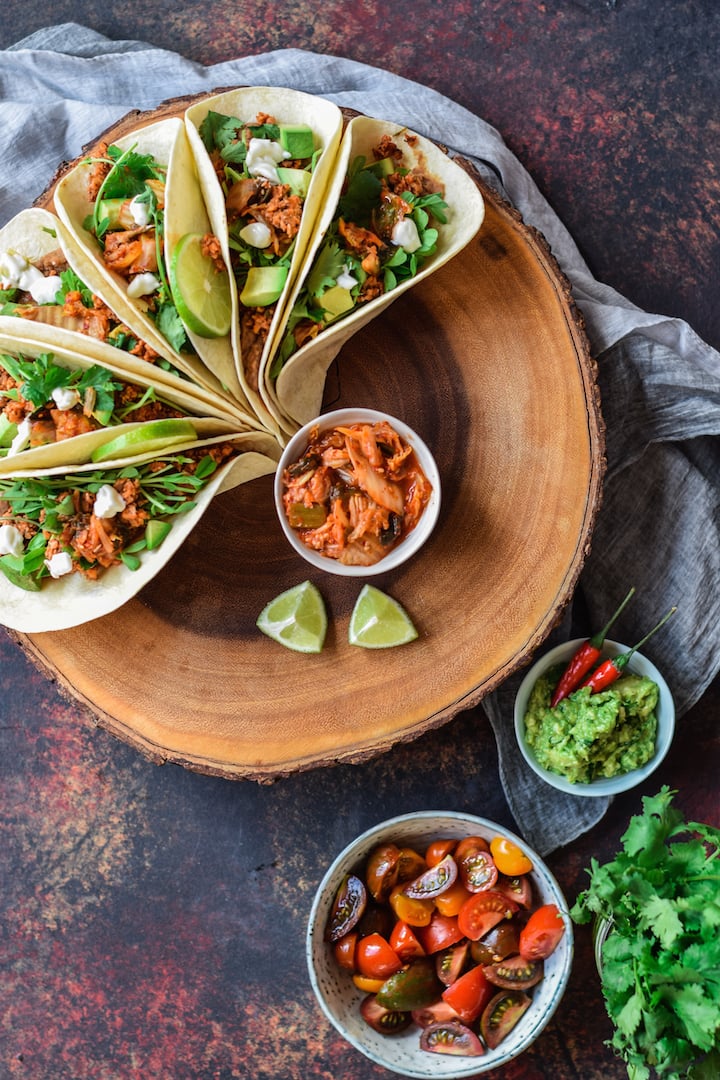 Lastly, for the protein substitute make sure you are adding lots of flavour from things like chillies, paprika, cilantro powder, cumin and onion powder! Go as Mexican or ethnic as you'd like, just make suer not to skip out on flavour and comfort!
You are going to love these Tacos because they are:
vegan
using natural food
vegetable recipes made affordable + accesible
quick + easy
comforting
great for your plant based diet
flavourful
GOOD FOR YOU!
I hope you enjoy this recipe as much as we did! As always if you try the recipe please leave us a comment below, we love your feedback!
Love from Your Greek Food Goddess XOX

Refried Beans + Avocado Tacos! (20 minutes, plant based!)
Author:
Maria Koutsogiannis
Ingredients
6 tortillas
1 can refried beans, homemade is great too!
your favourite meat substitute, I used more beans and some TVP!
2 avocados
1 cup fresh sprouts
½ cup fresh cilantro
1 cup cherry tomatoes
¼ cup kimchi, I know, I am weird
Instructions
Preheat you oven to 300F
Place your tortillas onto a sheet pan lined with parchment and set aside.
Into a small pan add your refried beans and cook till completely hot throughout.
In the mean time prepare your sprouts, cilantro and tomatoes by washing, and roughly chopping into bite sizes!
Prepare your favourite guacamole using the avocado (I will write mine above) and save some for garnish!
At the last minute add your tortillas to the oven for around 3 minutes, or till warm enough for you!
Simply prepare by layering your beans, protein, veg and guac!
They are that easy!
Enjoy!