02 Nov

FoodByMaria's Grocery List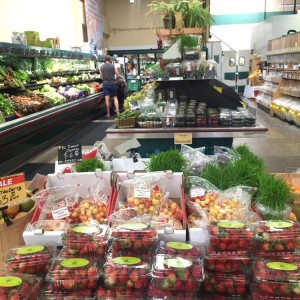 {everyday we eat to feed, or to fight disease}
Hey guys, so I have had a couple of requests from a few people asking me to talk about what I buy at the grocery store and market.  This post is going to seem long, but I swear this list is the simplest way for me to show all of you what I eat, and how I purposefully set up my grocery trips.
So the most important items for us to have on our grocery list are vegetables, and fruits. Obviously a lot of these veg and fruit might not be in season right now, but this will give you good idea of how I structure my eating regime, and more importantly how it keep me on track. So follow along and I hope you enjoy!
Vegetables
Carrots
Black Kale
Baby Spinach
 Spaghetti, Butternut and Acorn Squash
Sweet potato
White and Red onion
Garlic
Asparagus
Broccoli
Lemons and Limes
Bok Choy
Sue Choy
Courgette (Zucchini)
Celery
Beets
Radishes
Cucumber
Cabbage (red or green)
Avocados
Mushrooms
Basil
Cilantro
Mint
Parsley
So at this point you might be thinking to yourself "holy crap this girl buys quite a lot of veg"! But is your next thought "does she really buy all of this organic"? Around 85% of the time and I sure as heck try to more if I can- just remember that what I am spending now on organic food may be saving me a whole lot in medical bills.
So, if I'm not shopping at a market, or hidden gem searching at the local farm then of course I will go to a generic grocery store, which is when things can get tricky.  Do we really know that what we are buying is actually organic? Usually, yes but don't fret, keep life simple and use these three tips to help make your life a bit easier.  First, the size of the produce, should an onion actually resemble a melon? Second, sometimes the coding of the product is a clear indicator, from my understanding organic foods begin with nine, and are often a five digit code. Lastly, make sure that you're not falling for the common mistake of purchasing a product with an organic brand name, or "simply" with the word organic in it.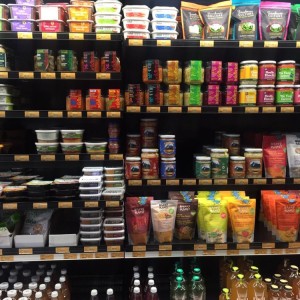 Fruits
Apples
Bananas
Oranges
Strawberries
Raspberries
Plums
Melon
Nectarines
Pears
Kiwis
Pomegranate
Dragon Fruit
Mangoes
Blueberries
Figs
Passion Fruit
Coconut
Tomatoes
Dates
** fruits are good for you, really good for you but they can easily be overdone, so just make sure you're not over indulging!
Syrups and Nuts
Honey
Agave
Peanut butter
Walnuts
Pecans
Almonds
Cashews
Pistachios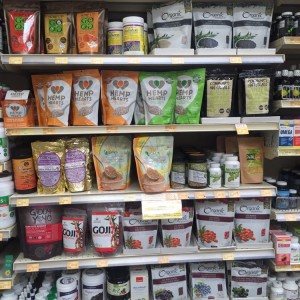 Seeds
Sesame
Sunflower
Poppy
Pumpkin
Flax
Chia
Hemp
Breakfast Toppings – ya'll know whats up
Dark Chocolate Chips

Dark Chocolate Covered Puffed Quinoa – natural healthy food stores
Bee pollen
Cacao nibs
Goji berries
Dairy
Goats cheese
Feta- I go to a lovely Greek shop in downtown Calgary called Kalamata where they sell Fresh Feta from GREECE!
Coconut Milk – make sure you buy unsweetened
Laughing Cow – full fat, half fat just means there are more hidden sugars
Oils
Coconut oil – RAW – key word guys, make sure you're getting the best quality
White truffle oil
EVOO – from Yiayia & Papous Village all the way in Greece (that shits PURE)
Baking Goods
Desiccated Coconut – unsweetned
Coconut Flour
Coconut Sugar
Palm Sugar – can usually find this in Asian food markets
Spelt Flour – whole wheat, it'll look grainy
Almond Flour
Stevia
Egg Whites
Pumpkin Purée – unsweetened, no additives, just the good stuff
Raw Cacao – THIS DOES NOT READ COCOA, make sure you're getting CACAO
Raisins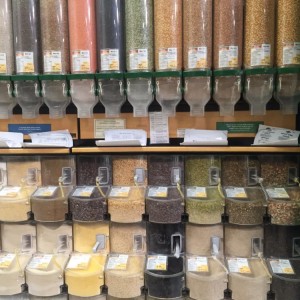 Noodles, Beans & More
Rice Noodles
Rice Paper
Quinoa (red, black or white)
Buckwheat
White Millet
Bulgar Wheat
Oats
Chickpeas – can or dry
Lentils – can or dry
Black Beans – canned
Red Kidney Beans – canned
Barley
Ryvita (dark rye)
When I'm feeling saucy
Sriracha
Organic Tomato Ketchup
Soy Sauce
Fish Sauce
Franks Hot Sauce
White Truffle Aioli
Yikes! We made it through that, almost done guys.
As mentioned in the About Me section I do not adhere to a specific diet, but I do eat A LOT of plant based foods. So, If I had to break it down for you I eat around 90% plant based, and 10% animal products, sometimes even less and other times more, but on average 10% seems about right to me.  I can go days upon days without eating meat, but then I start to get stupid stomach aches from all the vegetables, and fruits that my body is trying to digest. So I guess sometimes I think my body really likes meat, and other times I think my body hates it.  So that's one of the reasons why I don't really eat meat.  The second reason I don't eat a lot of meat is because I haven't really eaten much my whole life due to preference, and when I did it was amazing yummy stuff (Kabos Dry Ribs included) that my Dad would get for us from awesome Hutterite Farms or even meat he has hunted himself.  But Since moving to Calgary this luxury isn't as readily available to us so when we don't have meat in the fridge we're really in no hurry to get it (but the boy is, which is fine).  The third reason is because I have really started to educate myself about protein, how I can do without it, and how it is cruel to kill but I'm not here to start a debate so lets keep it simple.
Meat & Fish
Salmon
Chicken
Turkey
Prawns
Lamb
Pickerel – fresh from
Powders and Herbs
This section is super fun to play with in your foods.  Im not going to lie to you and tell you all of it tastes lovely, because it doesnt but it certainly is nutritious and with a few base carriers you can make any oat bowl or smoothie taste like a dream!
Chlorella – really good in smoothies with Banana or Apple
Spirulina – awesome with berries
Hemp Seed Powder – Banana, agave, peanut butter, and almond milk
PB2
Beetelite (an awesome treat coming soon using this Ingredient – check them out!)
Rose Pedals – refreshing when added to water, teas and granola
We did it! It's done!
I would just like to finish by saying I really think we need to change how we eat.  I firmly believe in eating how my ancestors ate.  If they could go without Pot Noodle Bowls, and Microwave ready meals then I know we can to!
Happy Shopping Everyone