02 Dec

Coconut Courgette & Rose Muffins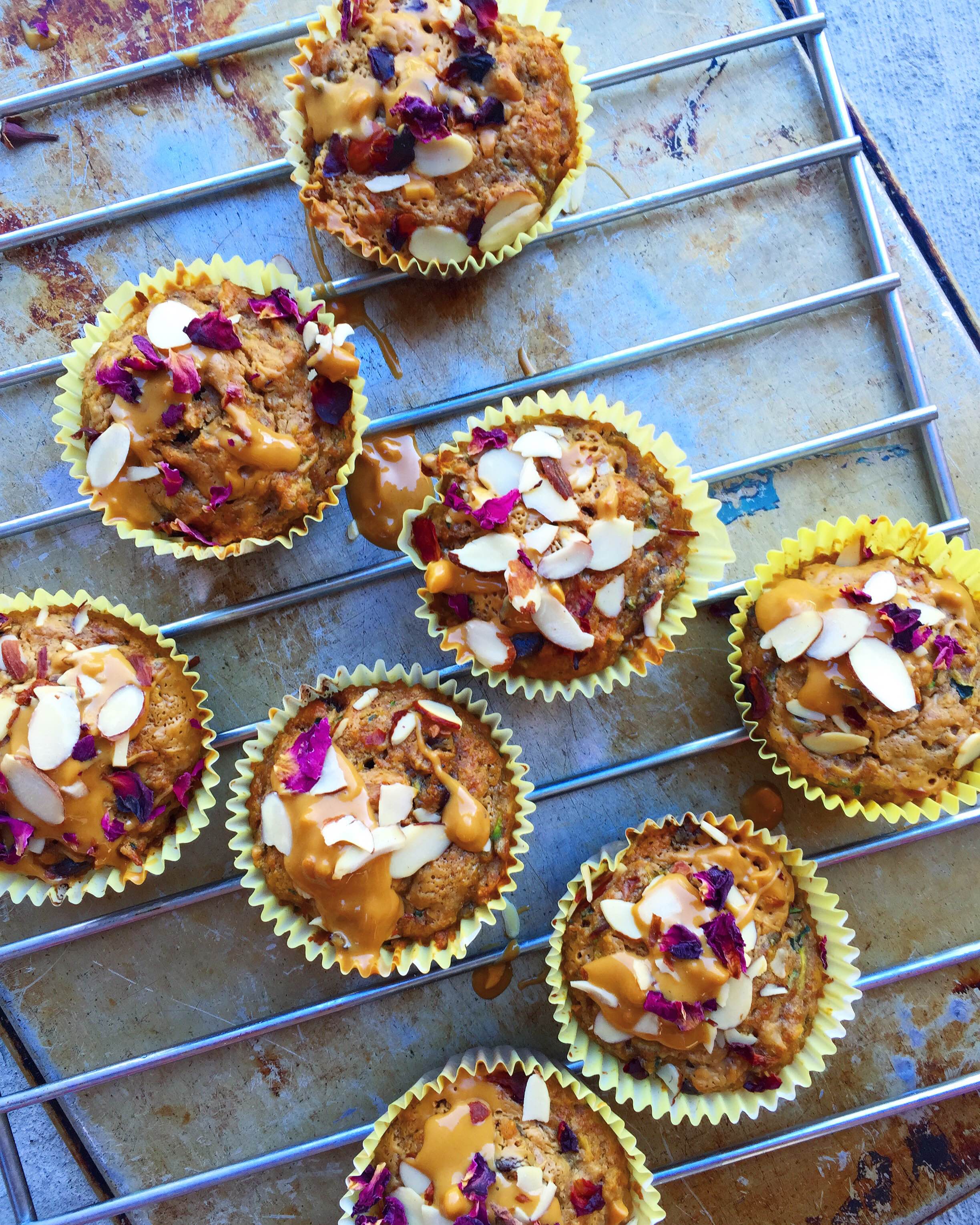 Hey guys! Sorry I disappeared for so long, but life gets busy, and I am the type to prioritize, so you can only imagine what the better half and I have been working on! I hope you lot are excited to find out!
So while I was away (I didn't go anywhere, I just sort of left my blog space in a back corner for me to focus on some other awesome stuff),  I got up to some blending, raw baking, baking, cooking, stuffing, you know the usual.  Although I was super busy I did manage to come up with these amazing muffins. Coconut, Chocolate, Courgettes and Roses all in one little cute bundle!? You betcha.
I made them to send them home to England with my boyfriend as he is leaving today, to go spend Christmas with his family – my 2nd little fam jam, and to bid farewell before he embarks on a two year journey here in Canada.  Yay for Visas. I posted on my personal Instagram earlier that I'm a sacrifice lover, and that I'm super sad today, but I get over it so quickly, and knowing he gets to be with his friends and family makes me obscenely happy. So I let all the sadness go, and I just pray that while he is eating these muffins air born that he thinks of me and says to himself, "damnit, what am i gonna eat for two weeks without my babe cooking for me?" – or something like that anyway.  I know his Grandmothers have him sorted, so I am super thankful for that, otherwise he would probably eat eggs and toast or alpine 24/7! Tell me, are all men the same, ha.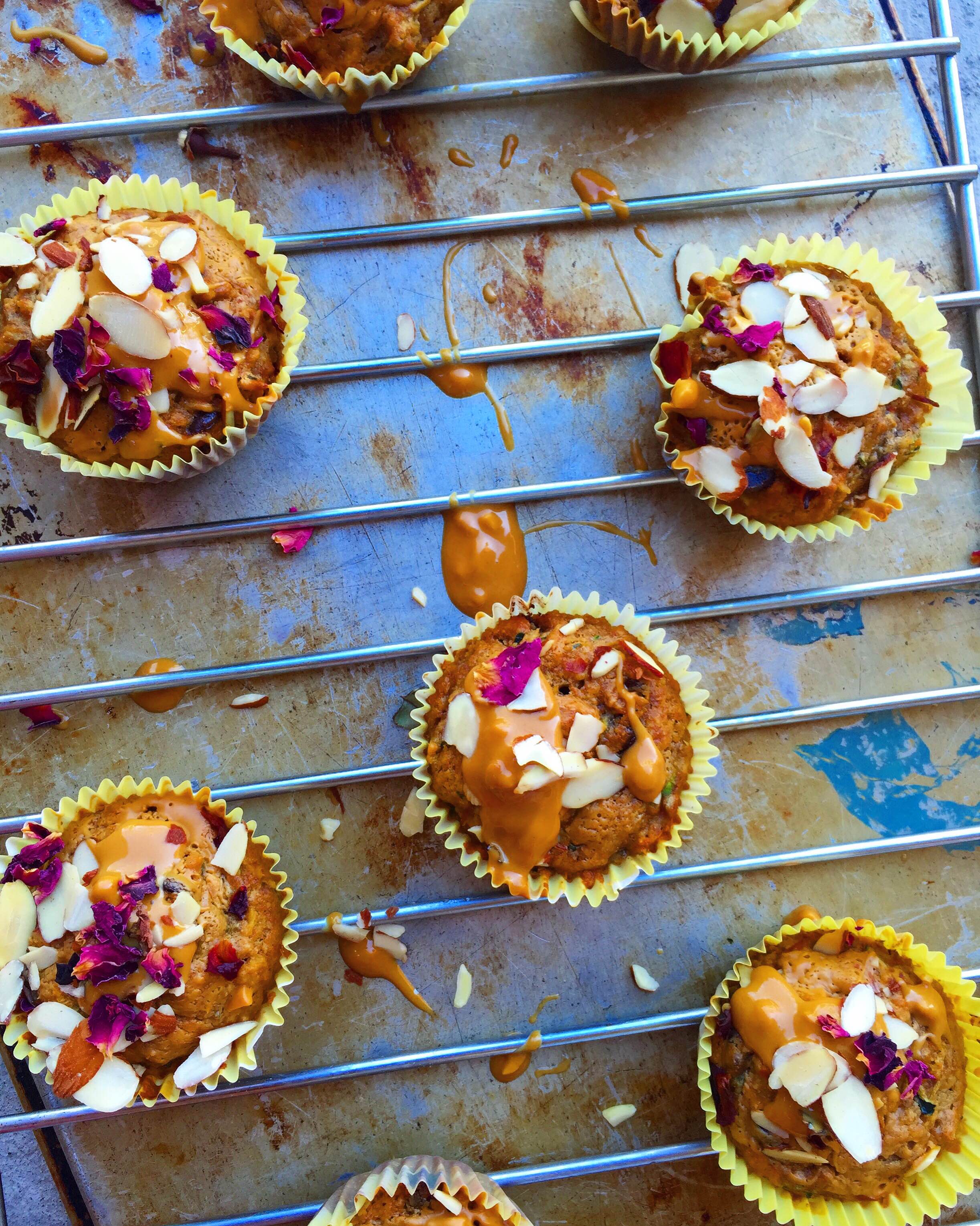 Anyway, I hope these muffins find a special place in your home, or accompany a loved one a Christmas journey or travels.  Food to me is my life, its how I show my love.  Through food I show Andrew all my heart, and I hope slowly but surely you can all begin to understand how you can too (but not to Andrew – lol, he's mine).
So much love to you all of you, now lets get baking!
Print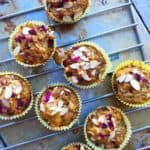 Coconut Courgette & Rose Muffins
Author:

Prep Time:

15 mins

Cook Time:

20 mins

Total Time:

35 mins

Yield:

12
---
Ingredients
1 tbsp chia seeds
4 tbsp water
1 cup spelt flour
1/4 palm sugar
1/4 agave
1/2 cup unsweetned desiccated coconut
2 tsp. baking powder
3/4 cup coconut milk
2 tbsp. raw coconut oil (melted)
1 cup grated zucchini
1/2 vegan dark chocolate chips (aka no dairy)
3 tbsp. peanut butter
1/4 cup almond slices
1/4 dry rose pedals
---
Instructions
Into a bowl add chia seeds, and water – let it sit for around 5-8 minutes
Into a large bowl combine all the ingredients, but the peanut butter, almonds, and roses, stir gently until well combined
Place baking cups into the muffins pan, and distribute the mixture evenly between all 12
Stir in peanut butter (i used a tooth pick), and top with almonds and 1/2 the roses
Bake for 20 minutes at 375F. Let them cool down in the muffin tray for about 45 minutes before eating!
After cooked and set I topped them with more peanut butter, almonds and roses!
They will last for 4-5 days in fridge, but trust me, you'll need more before then!