13 Jan

3 ways I used Vegan Parmesan Cheese

Hiya everyone! Hope were all doing good.  Earlier this week I spent a good chunk of time creating some really yummy side dishes which include my newest addiction! The Minimalist Baker "Vegan Parmesan Cheese", its made from four ingredients, and if you're interested in eating more plant based this year then this stuff is so perfect for you! and for those of you who just want to try something new and wicked!

You can find the kick ass recipe here.  Just to give you a little break down of Dana, the creator of this amazing site.  She "create[s] simple, delicious recipes that require 10 ingredients or less, one bowl, or 30 minutes or less to prepare".  She stands by this perfectly, i follow her on all her channels including snap chat DanaShultz and she is constantly trying and perfecting super simple recipes!  For everything you need go check out their website at www.minimalistbaker.com, you can connect with Dana on Facebook, and Instagram as well, and I highly suggest that you do.

So like I mentioned above I made this super awesome parm, and I thought well lets see how many different ways I can use this stuff.  So far I have come up with five but I know there are so so so many more ways that this gold dust can be used.
These wedges were seriously fantastic, really simple, and just a beautiful combination of flavours.  In the recipe below I mention that I topped them with my Tahini Drizzle…. click here for that recipe ;).
2 Chinese White Sweet Potatoes
1/4 cup chopped dill
1/4 cup chopped coriander
2 sprigs of green onion, chopped
3 wedges of lemon, juiced
3 tbsp EVOO
salt and pepper to taste
Here are some instructions so we don't end up wanting to go to Wendy's for friends (insert weird, dry humour here)
Cover both potatoes with tin foil and bake for 20 minutes at 375
Remove potatoes from oven, and then set them aside to cool, or till warm enough to handle with your hands!
Now cut them into wedges, or similar to how did (wedges but halved).
Add all the ingredients (save around 1/4 cup of the fresh herbs for garnish), but the lemon juice and potatoes, to a large bowl and stir well.
Add potatoes to the bowl, and using your hands make sure all the potatoes are fully coated with this awesomeness!
Line a baking sheet with parchment paper.
Now bake in the oven for 25-30 minutes at 375, and if you want that extra bit of crispy you can finish them off in the oven using the broil setting for a couple minutes!
Transfer the parchment paper topped with the wedges to a tray or board of some sort. I garnished with the remaining 1/2 cup of herbs, lemon juice, Vegan Parmesan Cheese and my Tahini Drizzle.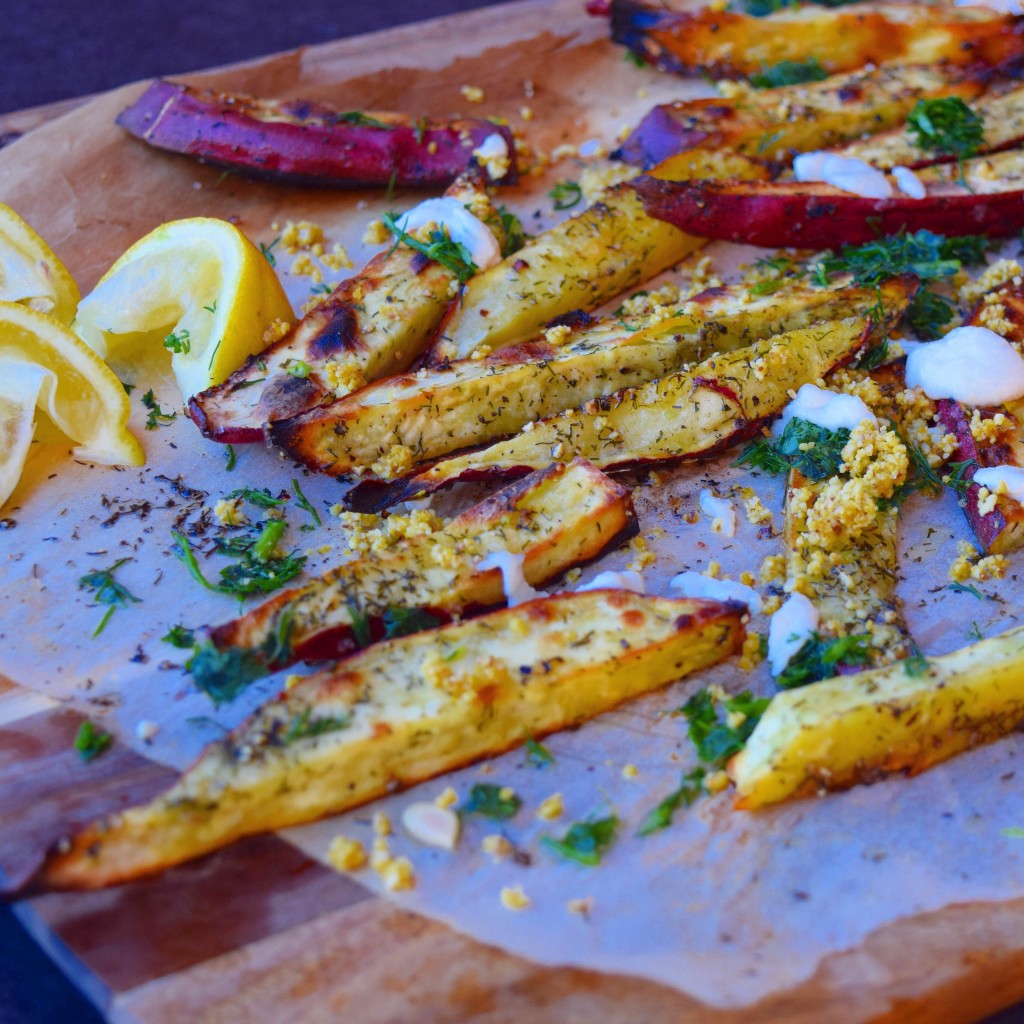 2. Stuffed Mixed Fingerling Potatoes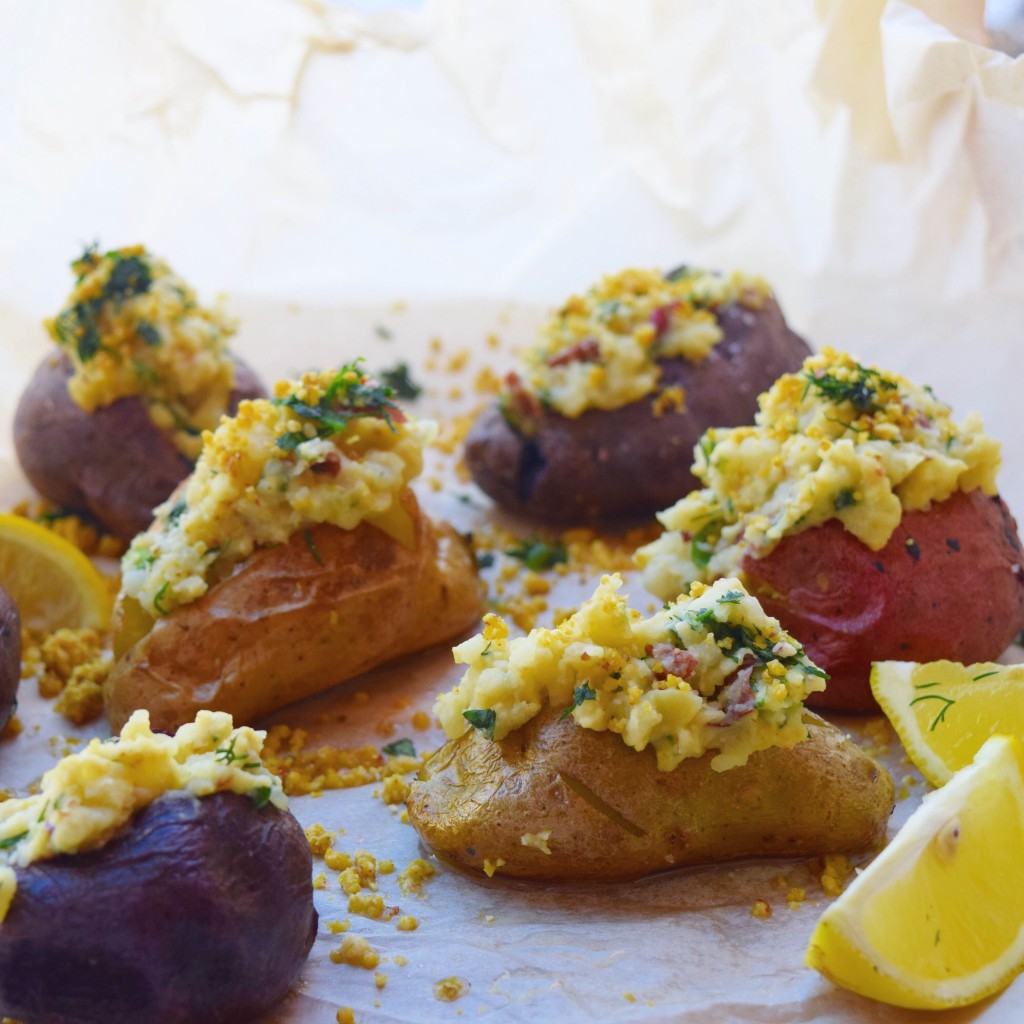 These little nuggets are so convenient to have around the house, especially if you're an avid snacker like myself.  Honestly, if you knew me a few years ago you would say but Maria you don't really eat potatoes… yes, you're right.  I never used to, but that was back when I was trying to figure my stomach out, and what the heck was going on.  Now that I have my health in order I know that my body deals really really well with carbs, and it fuels me amazingly for all the physical activities and fitness I do in a day.  This goes without saying that you do not need to be an athlete to eat these.  They are so nutritious, and jam packed full of creamy awesomeness that you will probably want more.
So here is what you will need:
12 fingerling potatoes
1/4 cup chopped dill
1/4 cup chopped coriander
2 sprigs of green onion, chopped
3 wedges of lemon, juiced
3 tbsp EVOO
salt and pepper to taste
Ps I  hope you're all starting to see the trend here with these two dishes!
Directions:
Preheat oven to 375
Line a frying pan with parchment paper, and leave enough so you can create your own steamer (basically to be able to cover them, and twist the paper at the top to create a t-pee looking thing)
Add potatoes to the lined pan, and drizzle with half the olive oil, and a pinch of salt and pepper. Poke a few holes into each potatoes using a knife, this will help speed up the cooking process
Now cover the potatoes with the paper and twist to form t-pee we were talking about (make sure its not super tall as that will touch the top of you oven)
Place pan into oven and cook for around 45 minutes
Remove from oven and let them sit for around 15 minutes, you can undo the hood, and let the steam come out
Using a knife cut a slit down each potato, and squish the ends down to create a stuffed potato look
Now take 3 like coloured potatoes, and mash them up.  Add the rest of the EVOO, all the herbs, another pinch of salt and pepper, the parmesan, and lemon! And get stuffing them bad boys.
You can enjoy them straight away, or can reheat them before eating! They stay good in the fridge for around 4-5 days…. but I had none left after 2 soo… I hope that is saying something.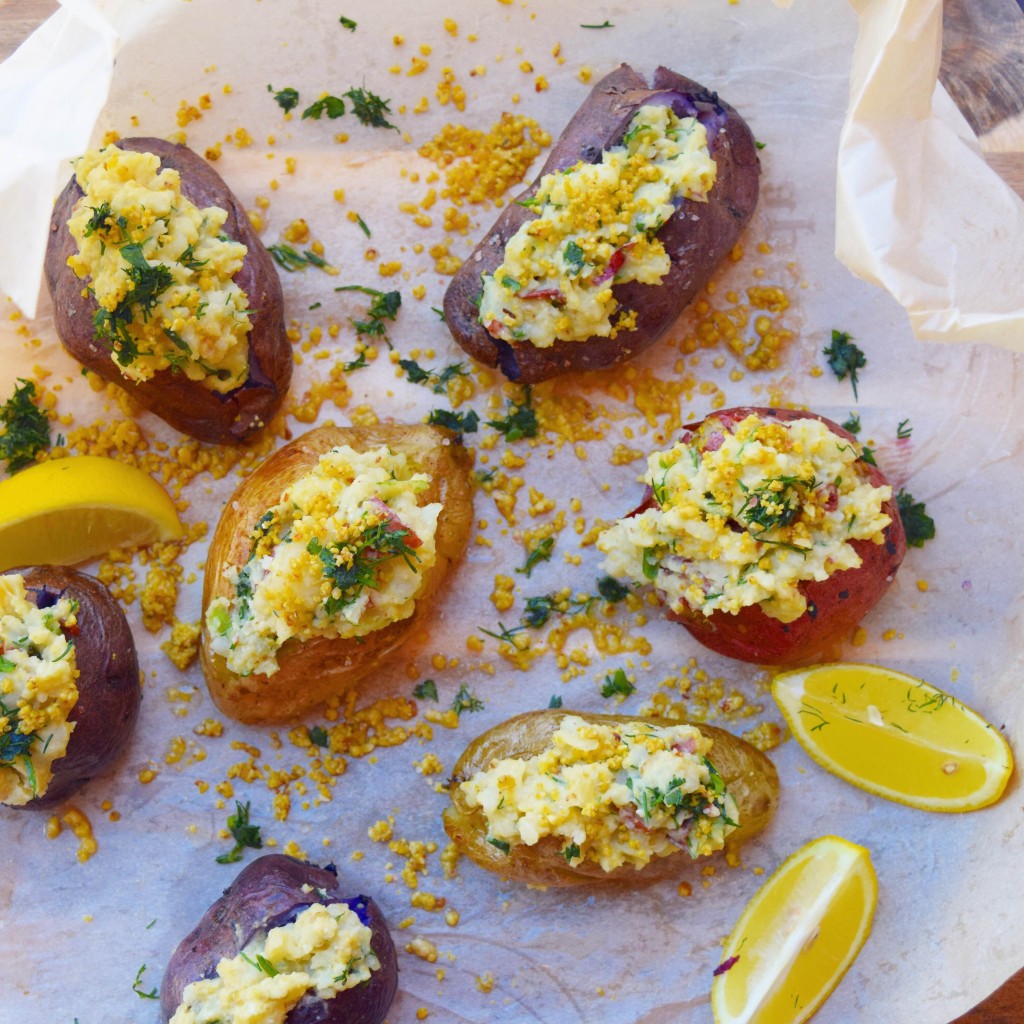 3.  Purple Cabbage Salad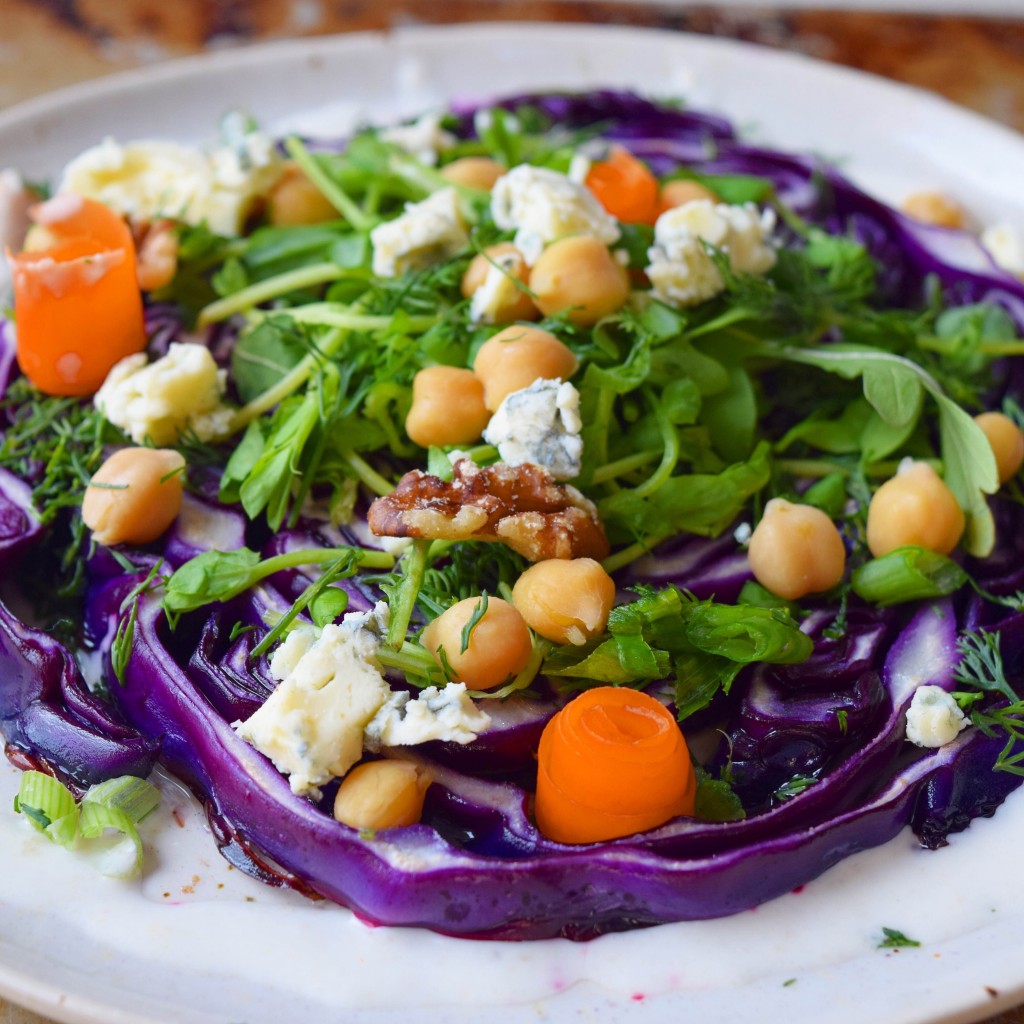 Next, my all time favourite salad recipe so far! I think it is my favourite partially because it was wicked simple and because I sort of felt like a little chef whilst making it… who knows.  I will let the salad speak for itself, as I don't think I need to tell you that it is super nutritious, filled with vitamins and so much energy to get you through the day.  Wait, I just did tell you, oops.
Anyway, here it goes, this is what you'll need to make this salad:
a purple cabbage, cut width wise, about 1 inch thick
roughly chopped dill, coriander, and green onion (are you seeing a trend yet?)
pea shoots (depends on how much you fancy on your cabbage)
watercress (read above parenthesis, lol)
Carrot, peeled and rolled into pretty little rolls (add as many as you like to each salad)
Blue Cheese, around 1/8 of a cup for each serving
Walnuts, 1/4 cup for each serving

lemon juice (around half a lemon)

1 tsp of EVOO (for each piece of cabbage)
How to:
Place EVOO into a frying pan, and let it heat up for about half  a minutes
Place Cabbage onto the frying pan, and cook down for about 6 minutes on low heat – do not flip
Sprinkle Vegan Parmesan Cheese onto a plate, and set aside
Remove cabbage from pan, and transfer onto a plate on top of cheese (seared side down, repeat (if you're feeding more than one)
NOW GET topping with the remaining ingredients
Thats it.  Literally it.  It tastes so damn good.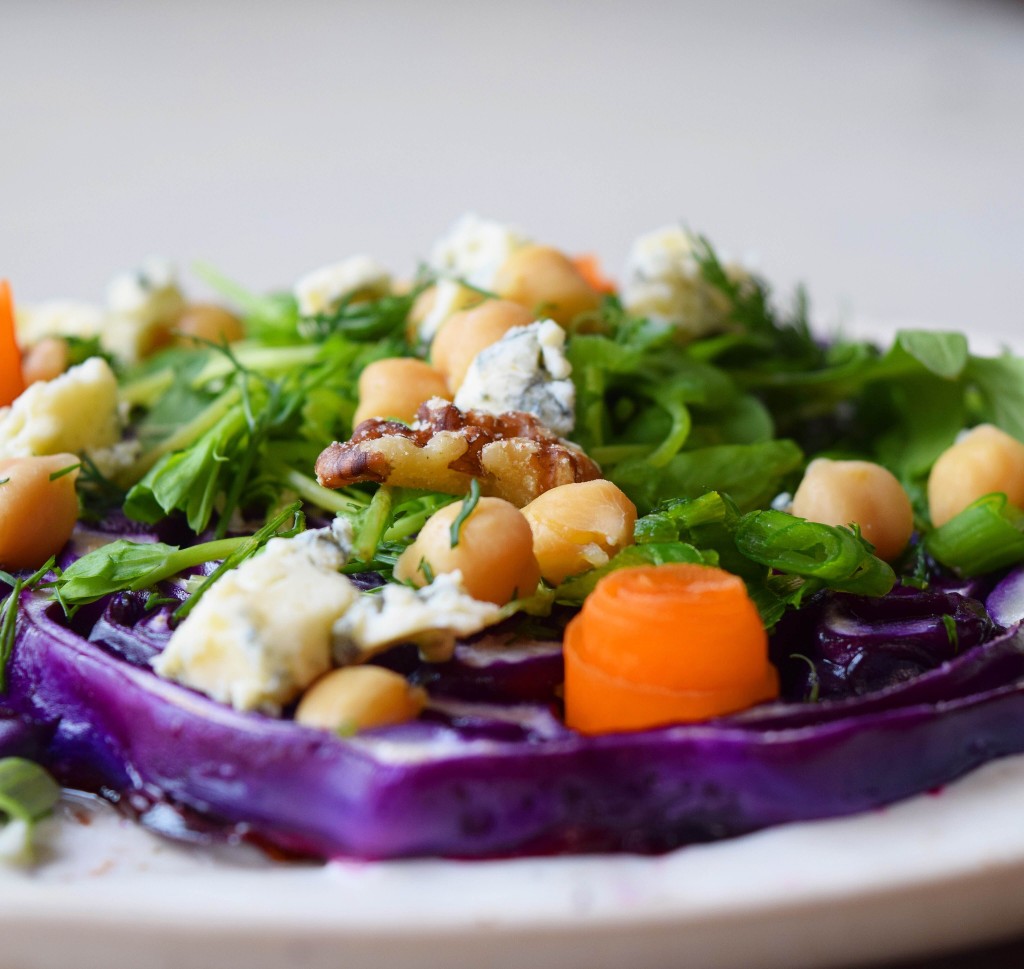 So there you are my beautiful people! I really hope you all enjoy these recipes, I know I did.
Disclosure: I am not pushing Veganism as I am not myself Vegan.  I just believe if we can make things more healthy, and help put less animals out of suffering we should.  It is all positive stuff, and one step in the right direction!
Love your Greek Food Goddess XOX