23 Jan

Zoodles in a Cashew Pesto Sauce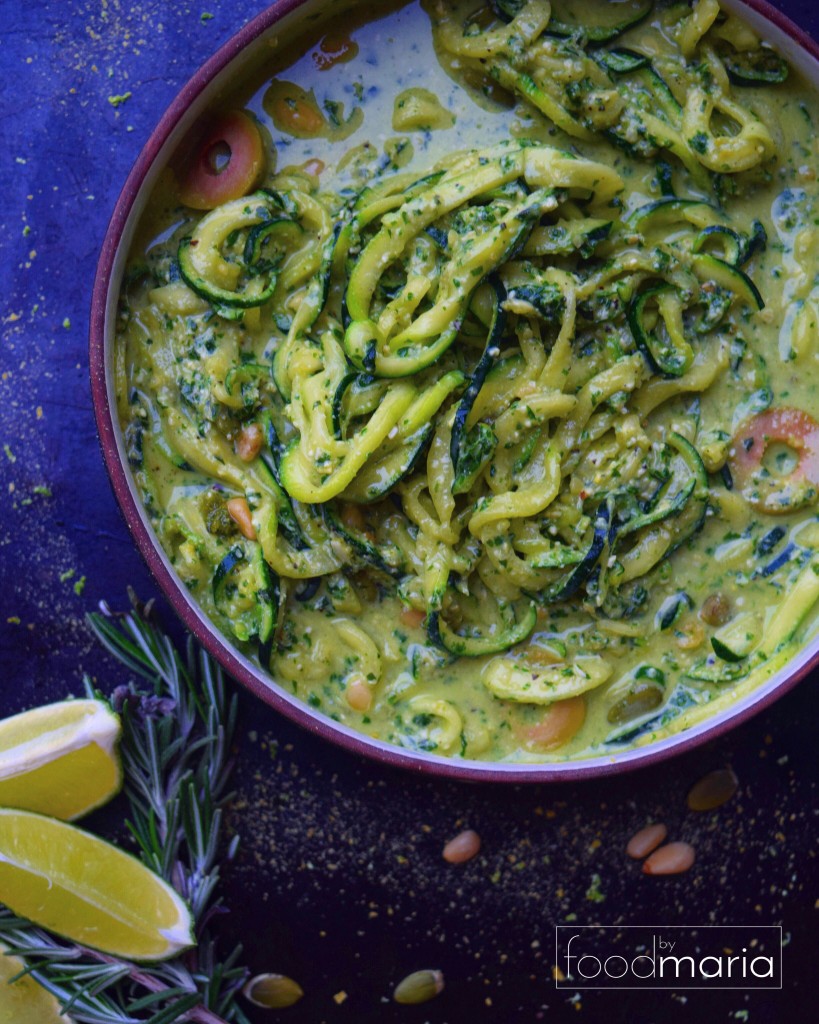 Good morning lovelies, I hope everyone enjoyed theire Friday night… I know I sure did! Mostly because I got to watch Save the Last Dance… this was my favourite film growing up.. so naturally while watching I was dancing, snap chatting, juggling zoodles, and crying basically all at the same time.
I don't really get out much, so this was really eventful for me (insert bulging eyes here).
Back to food….yesterday I was playing around with recipes for pesto and came up with this one, and I do really like it.  It is so rich, really easy to make, and can be stored in the fridge for up to 3-4 days in a tight sealed jar.  Since I currently live on my own I have to be careful of how much food I am making to this recipe feeds two.. as sides, but really only feeds me.  So if you want to feed more bellies just double the zoodles, but you could probably get away with keeping the pesto recipe the same… but play around with it, keeping the same ratios and you will able to figure out what works best for you! I really hope you all love it!
This recipe is:
Rich
Indulgent
A great substitute for pasta
and Very european of you!
Ps. Sorry I've only posted one picture, that's all I took off my camera yesterday as I took so many pictures of food… they were all starting to look the same, ha.
Have a lovely day everyon,
Love your from your Greek Goddess XOXO

Zoodles in a Cashew Pesto Sauce
Author:
Maria Koutsogiannis
Ingredients
Pesto:
½ clove garlic, chopped
1 tsp sea salt
1 tsp freshly ground black pepper
3 handfuls fresh basil, just the leaves
½ cup pine nuts
½ cup soaked cashews (soaked in warm water for 10 minutes)
½ cup nutritional yeast, or vegan parmesean cheese or regular parm!
2 tbsp extra virgin olive oil
Juice from ½ a lemon or lime
Zoodles:
2 large zucchini, spiralized
Instructions
Into a food processor add all the pest ingredients.
I like my pesto rather thick as the zoodles will add moisture, so don't be scared if is it too full bodied!
Remove pesto from processor into a bowl, and set aside.
Place your zoodles into a large mixing bowl, and season with salt and pepper to taste.
Now begin to stir in the pesto, adding as much as you fancy, and saving the rest for later or another day.
Garnish with pine nuts, limes and herbs! I add in olives because I would pretty much eat them any meal of the day!
ENJOY!!!