18 Mar

Vegan Potato Gratin – Virtual Healthy Easter Potluck Party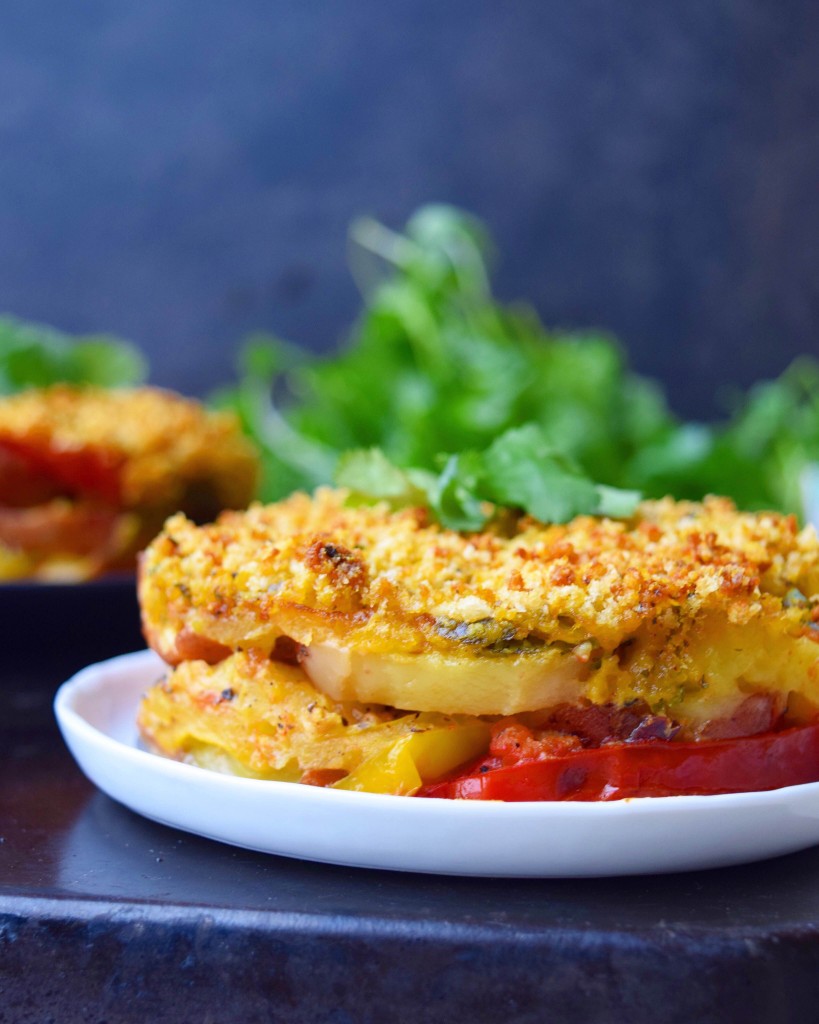 Beautiful Laura from A Sunshine Mission and Haley Davies from Brewing Happiness invited me  to join their "Virtual healthy Easter potluck party".  There are loads of brilliantly talented, beautiful women participating in this fantastic Easter Event! I am truly honoured, and excited to be one of them!  The recipes all have their own flare, they are all full of colour and joy, and do truly represent, to me, what Easter really is!  Don't forget to check out all the ladies involved at the bottom of this post! Just click the links, and make your way!  You can also find the recipes via Instagram by following the hastag #virtualEasterparty.
So with no further a due… The Vegan Potato Gratin. I am so happy and truly excited to be sharing with all of you this recipe.  I cant describe how much I fell in love with the flavours in this dish.  This is the perfect Easter side, but done healthy with no guilt involved!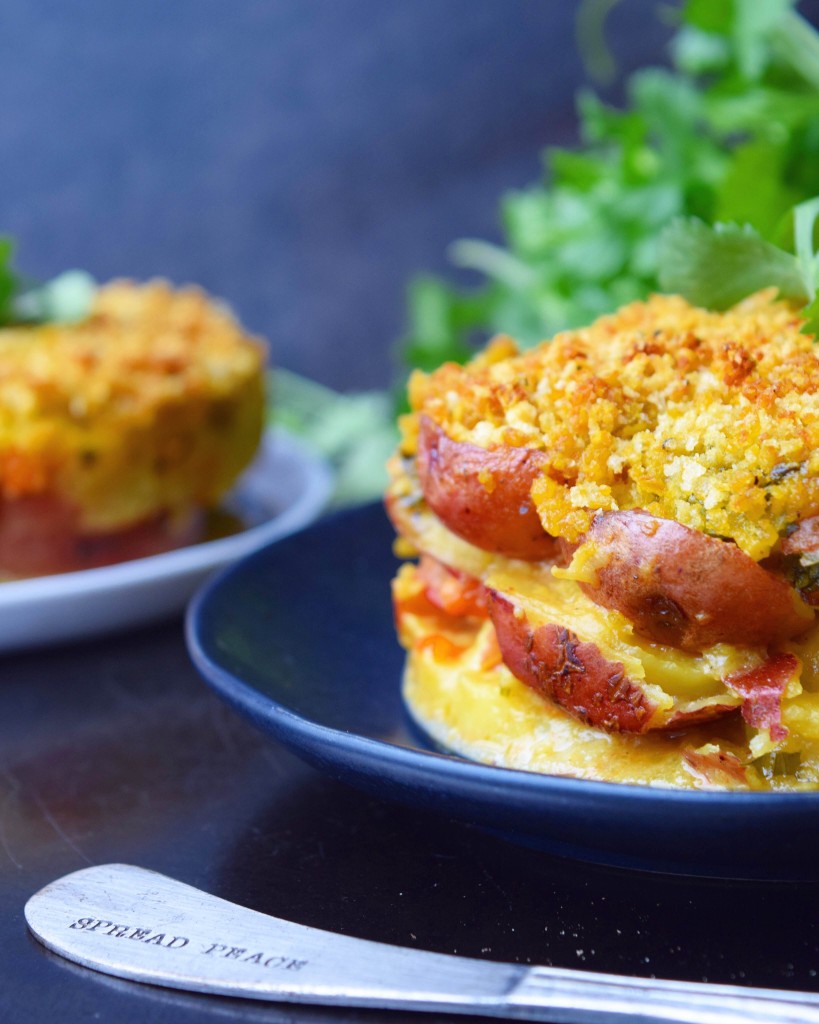 To mean Easter means time with the family, THE WHOLE FAMILY! Since I am Greek Orthodox we do have a different calendar for the celebration, but we still celebrate very similar to most Canadian families – minus the egg hunt, I never did that growing up (insert sad jealousy here, ha).  We usually all gather together at church first, then we go to this huge hall and eat! We eat a lot but as much as I love food I have an even bigger love for something else involved at Easter.  Dancing.  I love to dance.   Greek dancing is so fun, relaxing and hilariously sexy to watch (funny, if you're not Greek). So when you combine nourishing food, calming dancing and drunk 90 year old Great Uncles…. you got yourself a party!
As mentioned above I am greek, so I grew up eating a lot of food on Easter Sunday.  I mean a lot, it was always healthy, but some dishes not so much.  And although I am extremely inspired by the foods we eat on this holiday I did decide to look further than my heritage foods for inspiration as in my culture meats are a huge staple on the table at Easter time – especially since most people have just spent a long period of time fasting.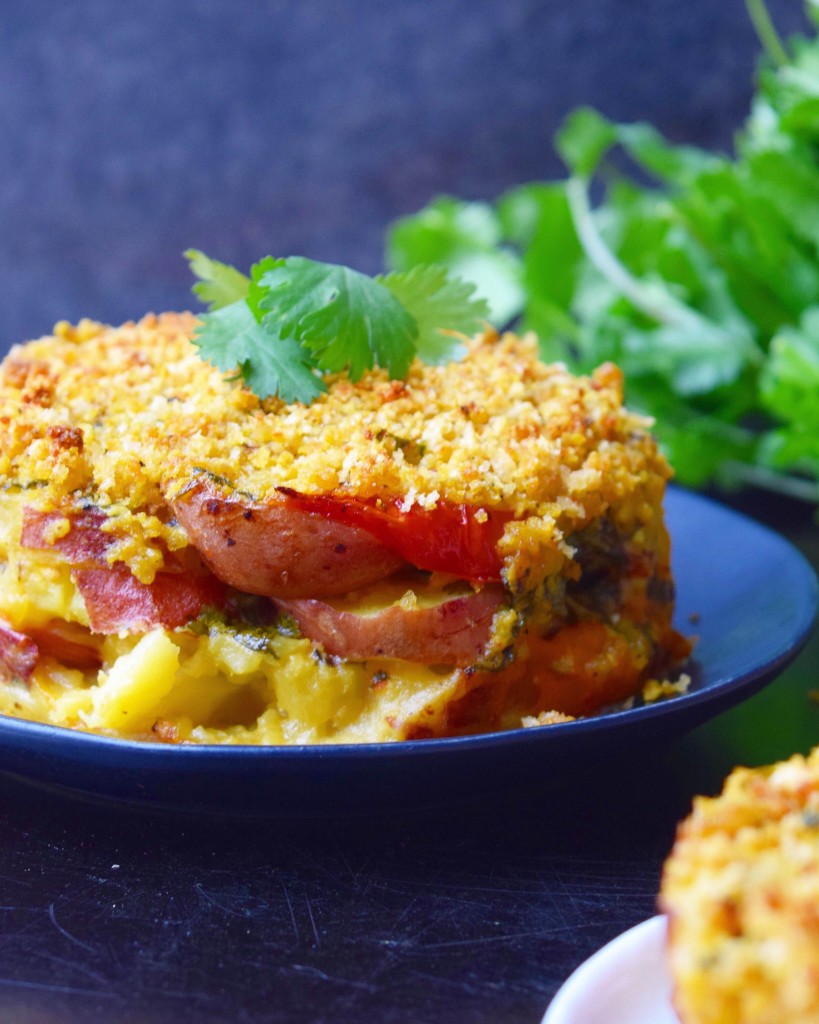 So, since I am 90% plant based and still consume animal based products here and there I decided to stick with my Vegan theme are make this Infused Potato Gratin.
It is so filled with flavour, and full bodies from the nutritional yeast and perfume of the white wine that was so kindly gifted to me for my birthday!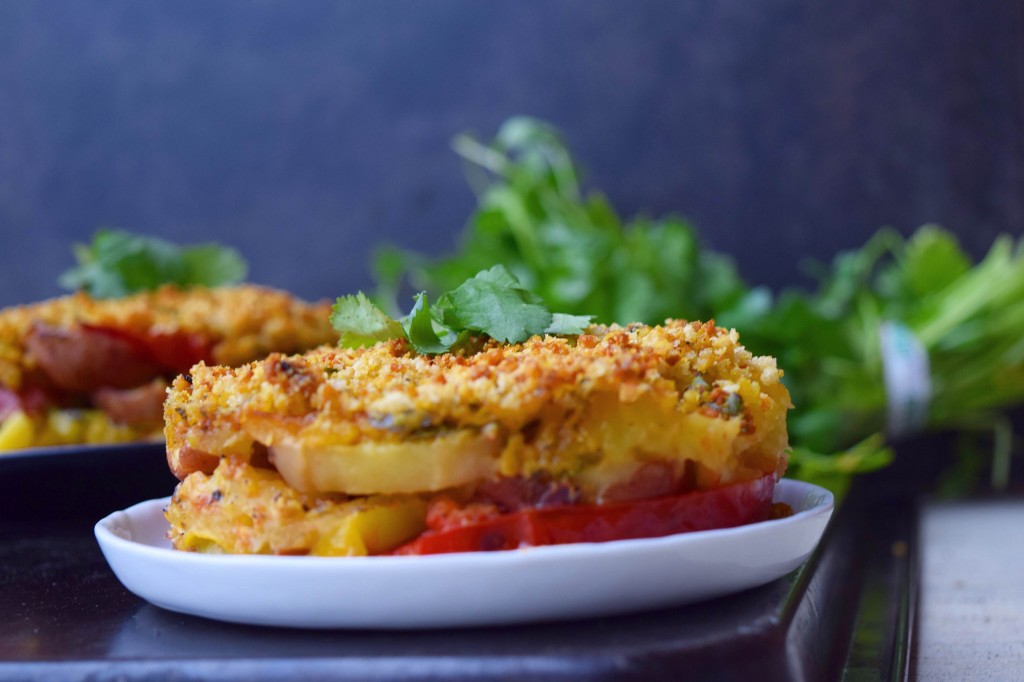 I am sure that you will love this recipe.  Even my traditional Greek family would be willing to try this, and that is saying a lot.
Wishing all you lovely people the happiest Easter! I hope you all enjoy the time with your family, friends, colleagues or loved ones! Whatever you do, just be happy, and enjoy yourself!
Leave a comment below if you try this recipe, I would to hear from all of you!
Don't forget to check out all these amazing recipes, right here! Or follow #virtualEasterparty on Insta!
A Sunshine Mission /// Carrot Cake Oatmeal Bars
Love from your Greek Food Goddess XOX
Print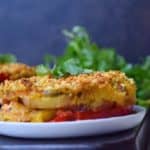 Vegan Potato Gratin with a Twist
Author:

Prep Time:

10 mins

Cook Time:

40 mins

Total Time:

50 mins

Yield:

2

Category:

Easter Dish

Cuisine:

Vegan
---
Ingredients
"Cheesy Sauce":
1 tbsp vegan butter, melted
2 tbsp nutritional yeast
1 tsp white wine
1 tbsp olive oil
juice from one lemon
salt and pepper to taste
1/4 cup chopped coriander
8 baby potatoes, washed
1 medium red tomato
1 medium orange tomato
1 small yellow tomato
1 tbsp EVOO
salt, pepper, and garlic powder to taste
Crust:
1/4 cup panko
2 tbsp instant oats
2 tbsp nutritional yeast
2 tbsp of the cheesy sauce mixture
---
Instructions
Preheat oven to 350C.
Grease two baby cake tins (you can use a small casserole dish too) with coconut oil.
Prepare your cheesy sauce by mixing all the ingredient together, and set aside.
Prepare your crust by mixing together all the ingredients, and set aside.
Add water to a pot, and boil. Salt well and add your potatoes. Cook till almost fork tender.
While your potatoes are cooking, rinse and slice up your tomatoes. Add them to a pan that has been preheating on high with EVOO. Season with salt, pepper and garlic powder. Cook them down till all the moisture has been release (around 7 minutes, but don't let them burn) and set it aside.
Strain and cool your potatoes till they're cool to touch. Now begin to slice them up as thinly as you can go.
Now begin assembling your little gratins.
I did one layer on potatoes, then tomatoes, and so forth. When I got to the top I added half of the cheesy sauce, and finished it will half of the crust mixture. Repeat with the other little guy.
Cook for 30 minutes, and broil on high for 10 ish minutes (with the oven open so you avoid burning).