12 Apr

FoodByMaria on Breakfast Television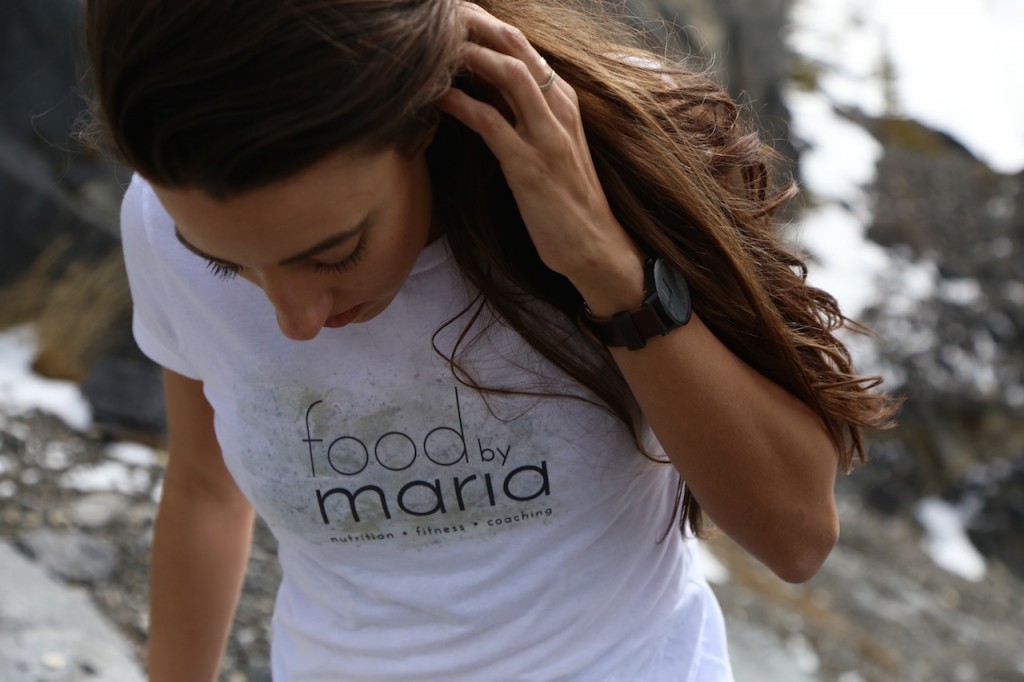 Photo Credit: Lux Media Group
Click here to see FoodByMaria's Instagram, and where I keep the passion and dream alive!
Good morning everyone, and Happy Wednesday! I hope you are all having a productive week so far, and are staying on track with your healthy eating and self love and nourishment. I try my best to do as I preach, but I have been quite busy myself, but I do not think I would have it any other way – and yes, of course I stay on track!
So as most of you might already know or now know because of the post title… I am doing something pretty cool today!I do not actually believe what I am about to say but I will be airing live on City TV's Breakfast Television (click to watch the segment) this morning with the beautiful Jillian Belland. I can only imagine it to be the most thrilling experience, and one that I will truly never forget.  I am more than honoured to be recognized by such a lovely team, and to work alongside such a talented woman! Thank you City TV for this amazing opportunity, I am more grateful that you will ever understand.
We are going to start the segment by quickly introducing everyone to FoodByMaria and what she stands for. I have come up with a paragraph for all you to read, and hopefully enjoy! Also, click here to watch me live before you get further into the post and the recipes!
"FoodByMaria is a I space created so I could regain control of my life.  I needed to find that confident woman I lost in my youth. Years – of aggressive and constant – body shaming, food critics, and harsh opinions got the best of me so I vowed to create a safe place for all women, men and our youth to feel happy, and confident about the foods they consume.  This place was also somewhere I could start on a journey towards finding balance through self love, fitness, and food education.  I incorporate my own food trends into everyday living by adding a distinct but basic twist.  I am a firm advocate for consuming healthy, organic whole foods, and I lead by example by creating simple recipes that add all the necessary nutrients to get you through your day! I believe that eating nourishing foods should not be tedious or fussy.  I want all of you to live longer, feel stronger, and overcome any insecurities through my recipes, and words of wisdom. I create honest, simple dishes for everyone to follow, that help with muscle power and better living.  I have regained love for my inner goddess, I now spreads confidence, and want to help change the world, and start the food movement we so desperately need. "
After introducing myself we are going to get to the good part, the food!! SO…What will we make??? Well I decided on…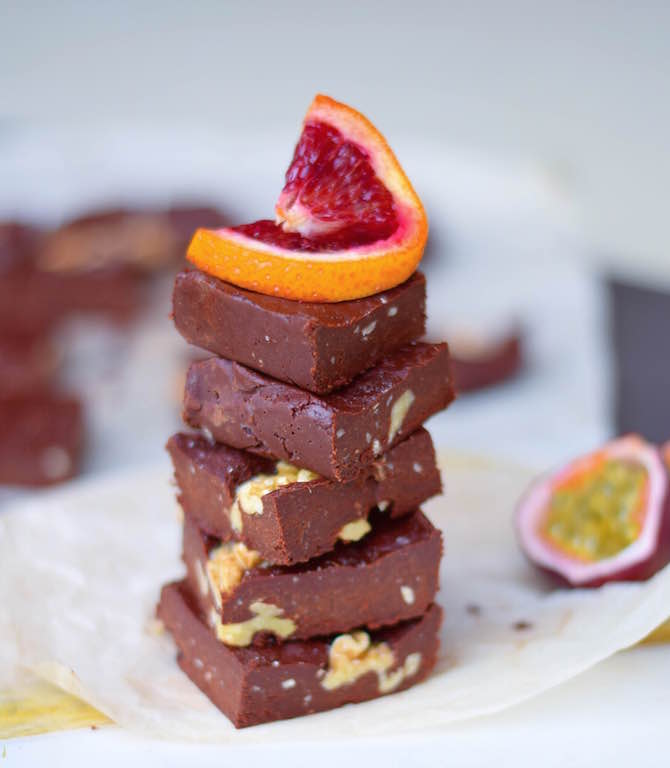 THE PEANUT BUTTER & WALNUT FUDGE BITES
They are perfect for kids, as an after school snack or a fuelling post gym-session treat!
Here is what you need!
INGREDIENTS
1 cup of pitted dates (soaked for 20 minutes in warm water)

½ cup organic coconut oil

1 cup smooth organic peanut butter

1½ cups of cacao powder

½ cup crushed walnuts (save half)

2 tsp of himalayan sea salt (save a tiny bit to dust with when they are just about to go in the fridge)
INSTRUCTIONS
Line an 8×8 baking tin with parchment, you can use whatever ever kind of tin you like! This is just what I have around the house.

Into a food processor add the dates, and blitz till the mixture sticks together and the food processor will no longer "blend".

Add the remainder of the ingredients (save half of the walnuts), and pulse till smooth, and creamy!

Stir in the remaining walnuts with your hands as the mixture is quite thick at this point.

Now dollop the mixture into the pan, and pat down with your hands till flat.

At the end I pushed in a few walnuts on the top to make it look pretty, and cute!

Finished off with a pinch of himalayan sea salt!

Cool in fridge for at least an hour, and cut into squares and serve with yummy fresh berries or citrus and a side a hot tea to balance out the richness of that luscious cacao fudge!
After we make the bites we are going to showcase these next three recipes, but you can find the full recipes just below so do not sweat!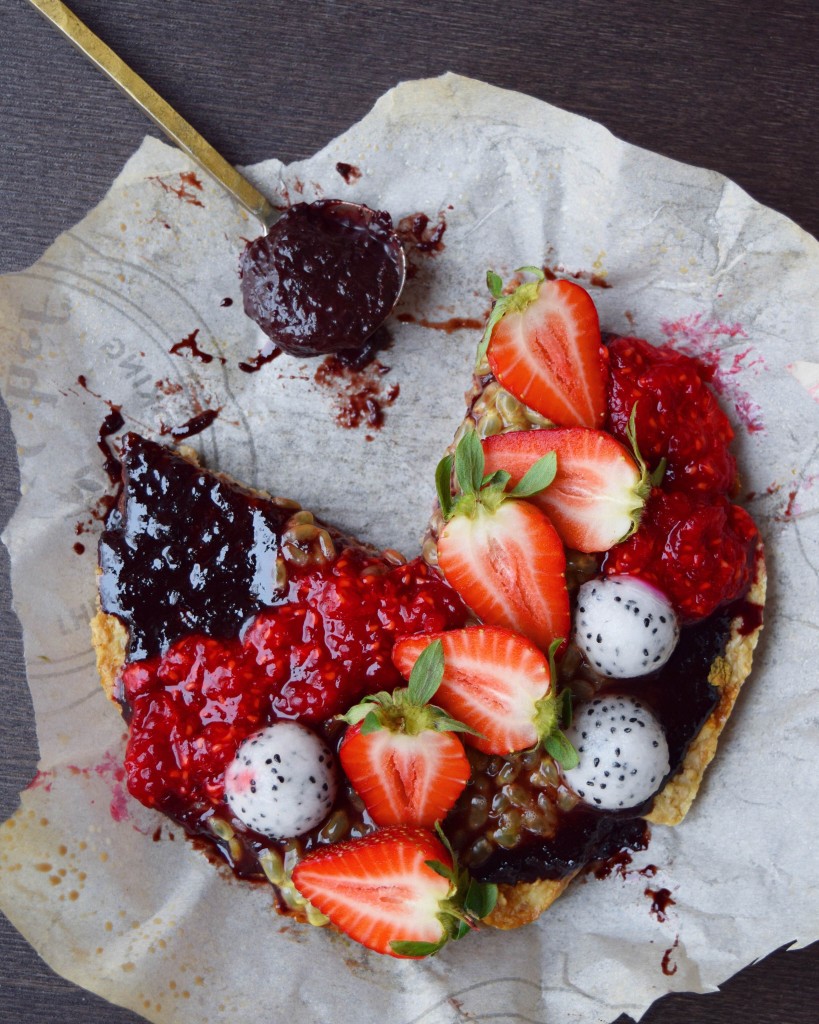 The easy breakfast that takes 5 minutes to prepare, 20 minutes to bake, and still leaves you with free time when you're done eating it! No hassle, no fuss.  When you pop it in to bake take advantage of this time by getting your kids groomed, and getting yourself organized.  This breakfast could seriously not be anymore perfect!
Here is what you need!
INGREDIENTS
Chia egg:

1 tbsp chia seeds

3 tbsp warm water

"Pizza" Dough

1 banana, mashed

1 tsp vanilla

2 cups of oats

1 cup of coconut milk

2 tbsp vegan chocolate chips
INSTRUCTIONS
Preheat oven to 375C

Line a cast iron pan with parchment, and spray it with coconut oil

Prepare your chia egg by combining chia seeds and water to a small bowl, stir, and set aside

Into another bowl combine the rest of your ingredients and stir till well combined.

Once your chia egg has taken on the consistency of an egg, add it to the mixture and stir till all the ingredients are all 'married'

Now transfer the mixture to the pan, and plop it in the oven for 20 ish minutes!

That is it guys… enjoy hot or cold!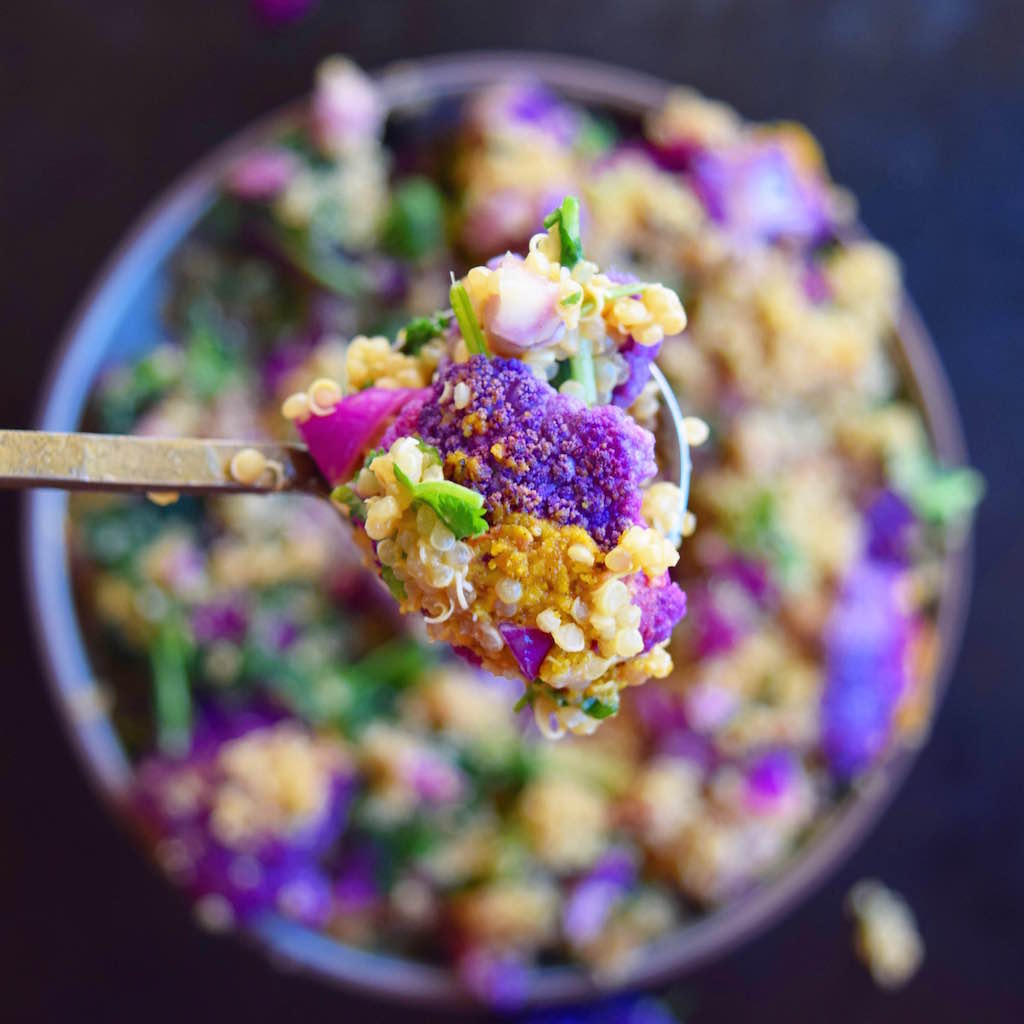 The bowl that embeds all that nutrients goodness.  With a few suspicious and different ingredients this will certainly keep you coming back for more.  Perfect lunch for the kids, and even better one for your hubby busy down at the office! Easy, delicious, and affordable!
Here is what you need!
INGREDIENTS
Purple Cauliflower/ Marinade:

1 head of Purple Cauliflower

Marinade:

1 tbsp vegan butter, melted

2 tbsp nutritional yeast

1 tbsp EVOO

salt and pepper to taste

For the Bowl:

3 cups of cooked Quinoa

1 cup purple cabbage, very thinly sliced, light slaw thin

1 cup fresh kale, roughly chopped

1 cup broccoli sprouts

3 tbsp EVOO

2 tbsp Nutritional Yeast

Juice from one Lemon

1 tsp himalyan sea salt

1 tbsp pepper

1 cup coriander, roughly chopped

1 tbsp hot sauce

1 tbsp low sodium soy sauce
INSTRUCTIONS
Preheat your oven to 375C

Line a pan with parchment paper.

Take your purple cauliflower and clean it up a bit by cutting down the root so you have a flat surface, and trim around the leaves.

Place it on the pan, and set aside.

Now combine your marinade ingredients by adding them all to a bowl and stirring till well combined.

Now drizzle this yumminess over the cauliflower, and let it cook at 375C, for about 25 minutes.

While that is happening take your cooked, and cooled quinoa and add it to a large mixture bowl.

Add the rest of your ingredients, and stir gently, for like 5 seconds.

Now wait patiently for your cauliflower to cook.

Once ready cut off the florets, and add them to the party- hot!

Thats it! Enjoy!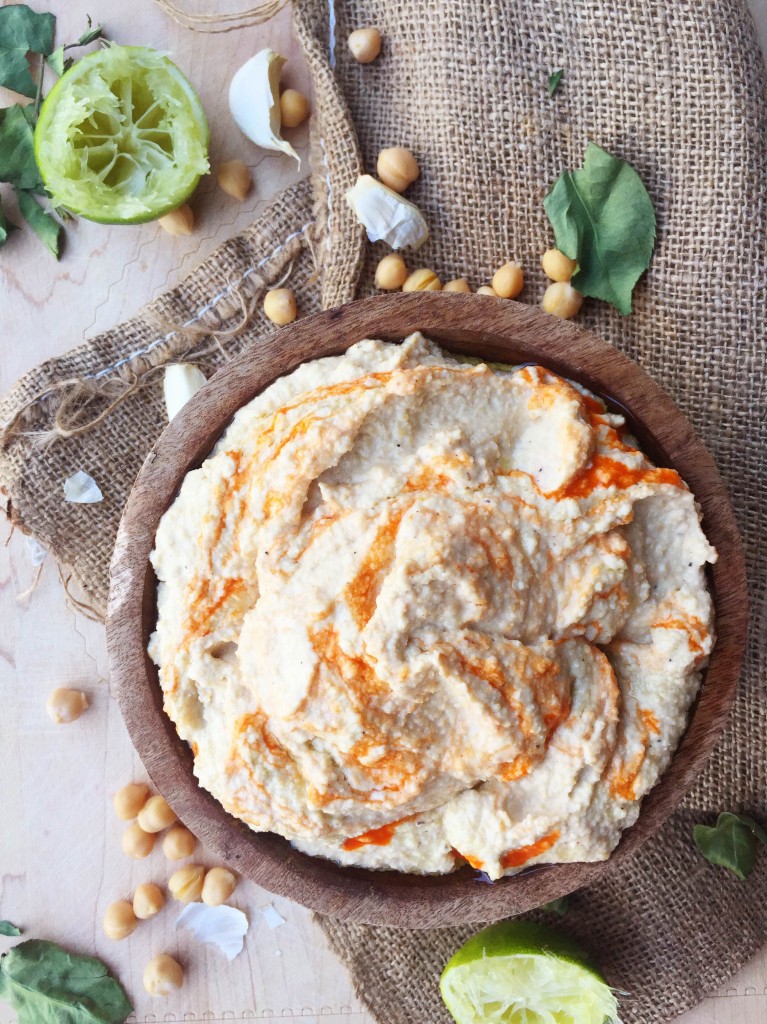 The one dip wonder! Filled with protein and flavour and pairs perfectly with fresh veg, and healthy crackers and fresh bread! Sure to keep your little ones coming back for more, and help create healthy snack time in your household!
Here is what you need!
2 Cans of Organic Chic Peas (19 oz.)
¾ cup of organic Tahini
6 gloves of garlic
½ cup of EVOO
Juice of two lemons
1 tbsp. salt
1 tbsp. fresh cracked pepper
3 tbsp. franks red hot sauce
INSTRUCTIONS
Into a food processor add the Chic peas, and EVOO
Blend for 2 minutes till almost perfectly smooth
Add the rest of the ingredients and pulse till reached your desired consistency
Enjoy!
Your hummus will last you in a sealed jar or container, in the fridge for about a week!
We dipped Homemade Yam Chips, and fresh veg in our hummus.
Well there you have it my loves! I really hope you enjoyed watching me on Tele (if you caught it), and I will try my best to get a link up as soon as the show is done! Please leave a comment below telling me what it as like to see the face behind the page of @foodbymaria!
I am so grateful so all of you, and thankful for the support I have received from all around the world.
Love from your Greek Food Goddess XOX