19 Apr

Lentil Quinoa Salad for Mommy and Kids!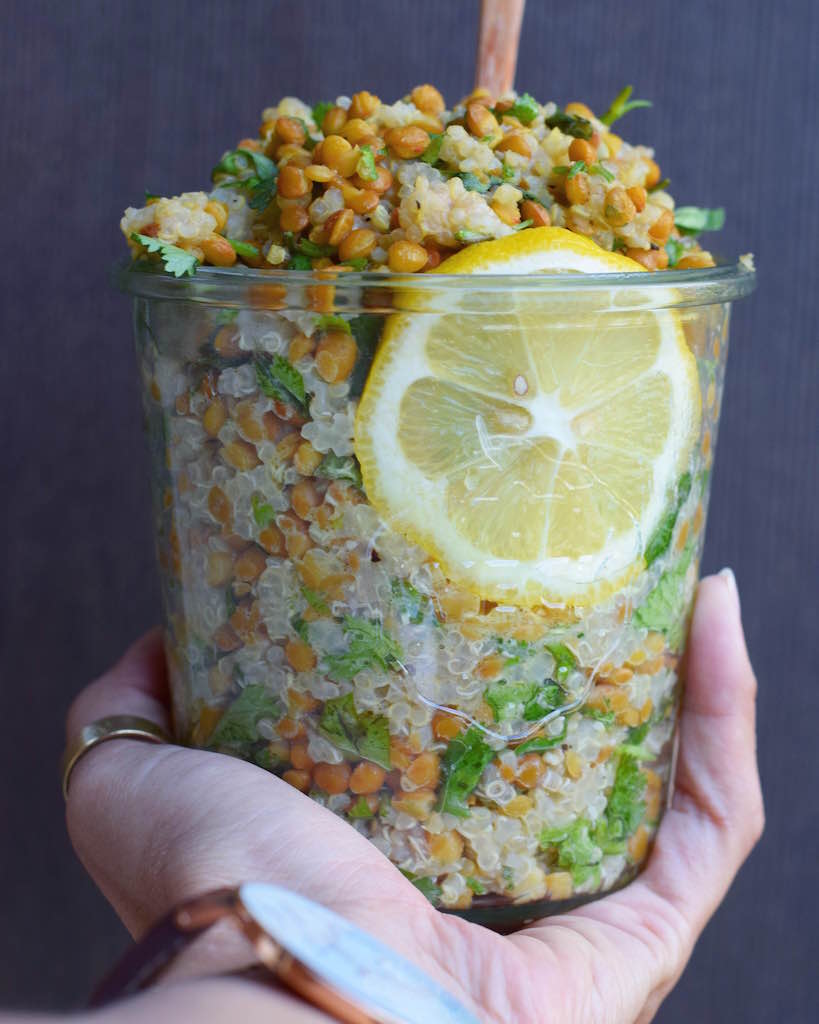 Calling all Mamas – where are you? – this one is for you! Well, if I am honest, this is for everyone but it is so perfect for my mamas out there that are so busy, and in need of a quick, pick-me-up lunch or snack that you can eat to fuel yourself and your loved ones.
This salad is truly such a well balanced dish.  It has protein, loads of fibre, B vitamins, and antioxidants.  I am all about simplicity, and easy recipes but if they are not nutritious then I really do not find them appealing… so I reckon you will all love this as it does accompany all your needs to get you through the day while staying energized – the right, and easy way!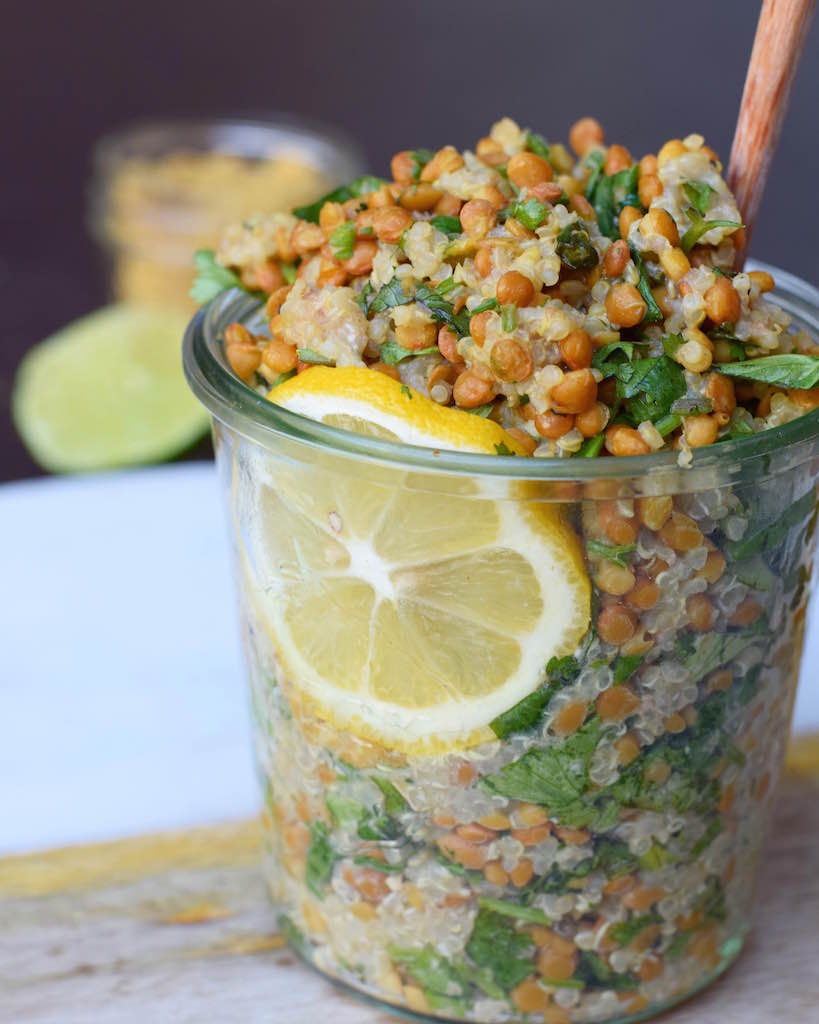 I am also all about the taste, and this dish has it all! Crunch from the coriander, tang from the lemon, creaminess from the nutritional yeast, and it is all married by the beautifully fluffy quinoa!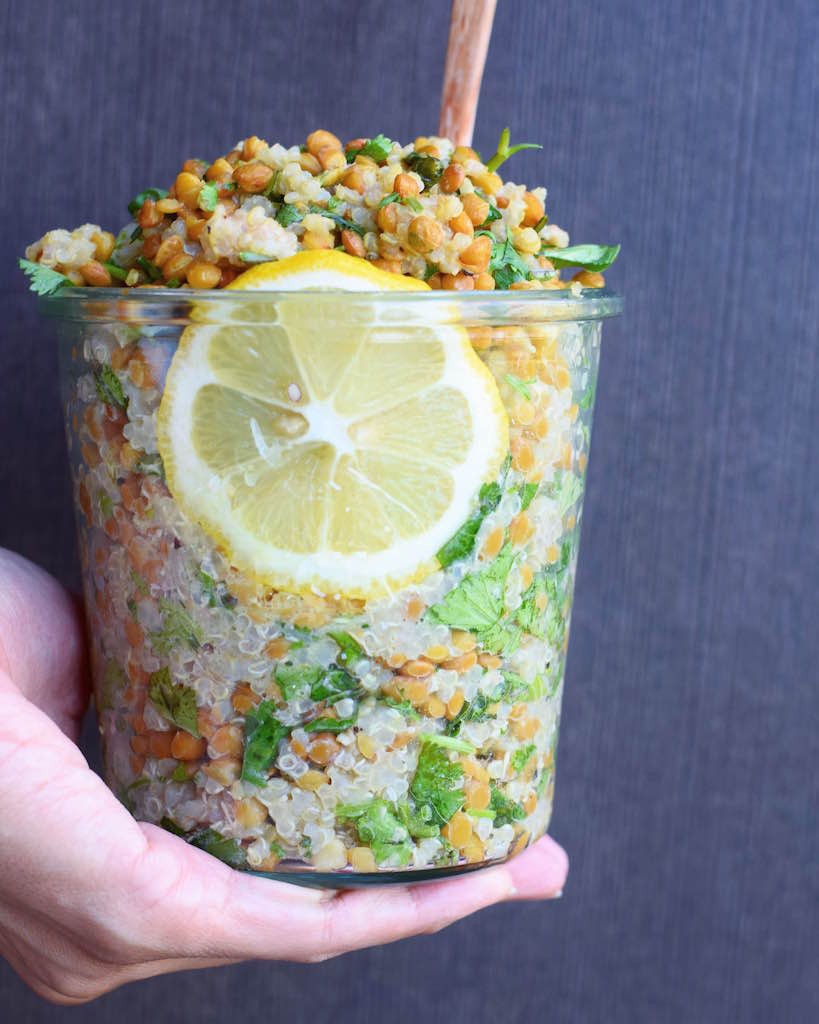 So easy to pack away and take with you on the go.  Will not leave you feeling hungry, but I cannot guarantee it will not leaving you wishing you had more! I find all of these flavours so addicting so you can all appreciate that this salad did not last as long as I had intended it to (lasted about an hour, shit) but do not worry, I was not surprised by this either – we can all laugh now.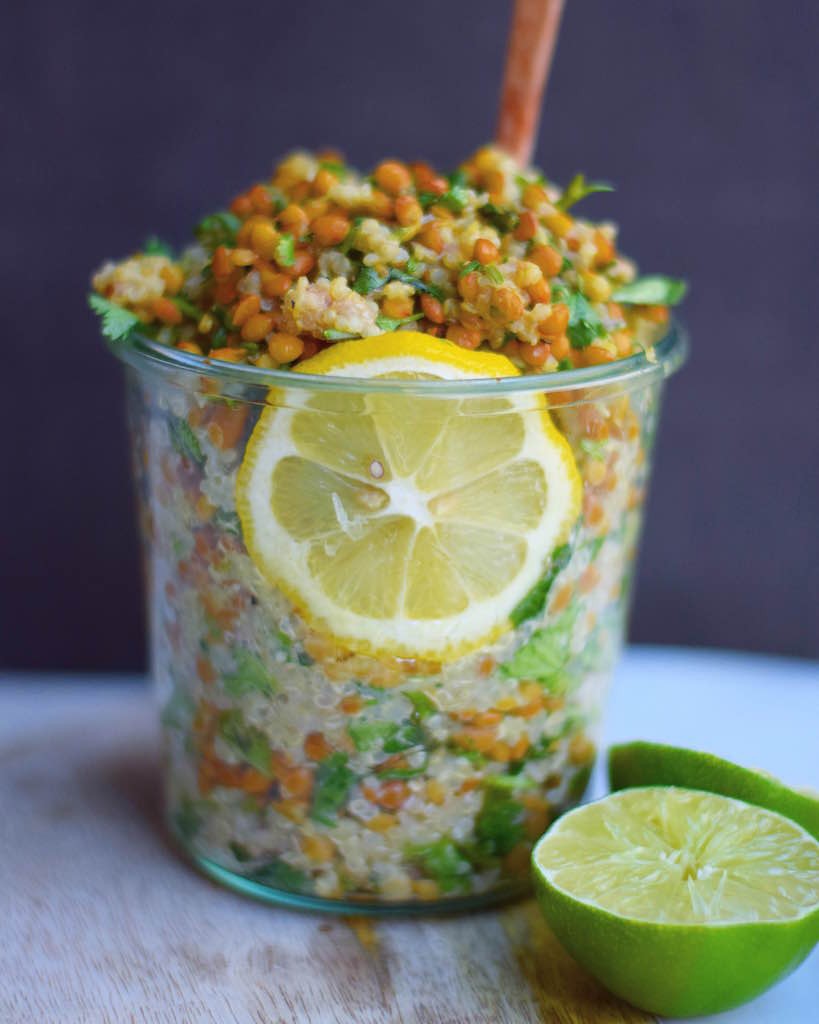 Before I leave you all with this three step recipe I just want to touch on this amazing product I found the other day at Community Natural Foods in Calgary.  PARMA VEG!!! Holy bonkers, I mean yah I know what you're thinking… "but Maria you already make you're own parmesan cheese", why buy from the store? BECAUSE IT IS AMAZING AND IT HAS NO CRAP INGREDIENTS AND IS SUPER AWESOME TO HAVE IN THE FRIDGE FOR WHEN YOU DO NOT HAVE TIME TO MAKE YOUR OWN! Just read the label, and I promise you you will understand why I am totally okay with this stuff being in my friend, in my mouth and on my plate at all times.
I also highly recommend that you try these Crisps out, by the same company, THEY ARE BOMB! A colleague of mine bought them for me for my birthday, and it was legit probably one of the best gifts I have ever got!
I really hope you all enjoy this recipe, I know those of you who try it will! It is that good!
I am off to work now though my loves, so enjoy your day, be grateful and make someones day!
Love from Your Greek Food Goddess XOX
Print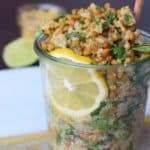 Lentil Quinoa Salad for Mommy and Kids!
Author:

Prep Time:

10 mins

Total Time:

10 mins

Yield:

4

Category:

Salad

Cuisine:

Vegan
---
Ingredients
Salad:
3 cups cooked quinoa
1 can red or yellow lentils, washed
1 cup fresh coriander
Dressing:
4 tbsp nutritional yeast
juice of two lemons – i love lemon so if you're not so into it just do a bit less and a dash of vinegar instead!
3 tbsp EVOO – KOUZINI
1 tsp salt
1 tbsp pepper
Topping – optional- but highly recommended:
2 tsp vegan parmesan cheese
---
Instructions
Into a large bowl combine all your dressing ingredients, and use a whisk to quickly emulsify all the beautiful flavours.
After about a minute of stirring add your salad ingredients, and stir everything together with a large spoon!
Top with Vegan Parmesan cheese!
I jared each serving – as desired- and kept them in the fridge so I could grab one as needed!