24 Apr

Midori Spring Organic Matcha Chia Pudding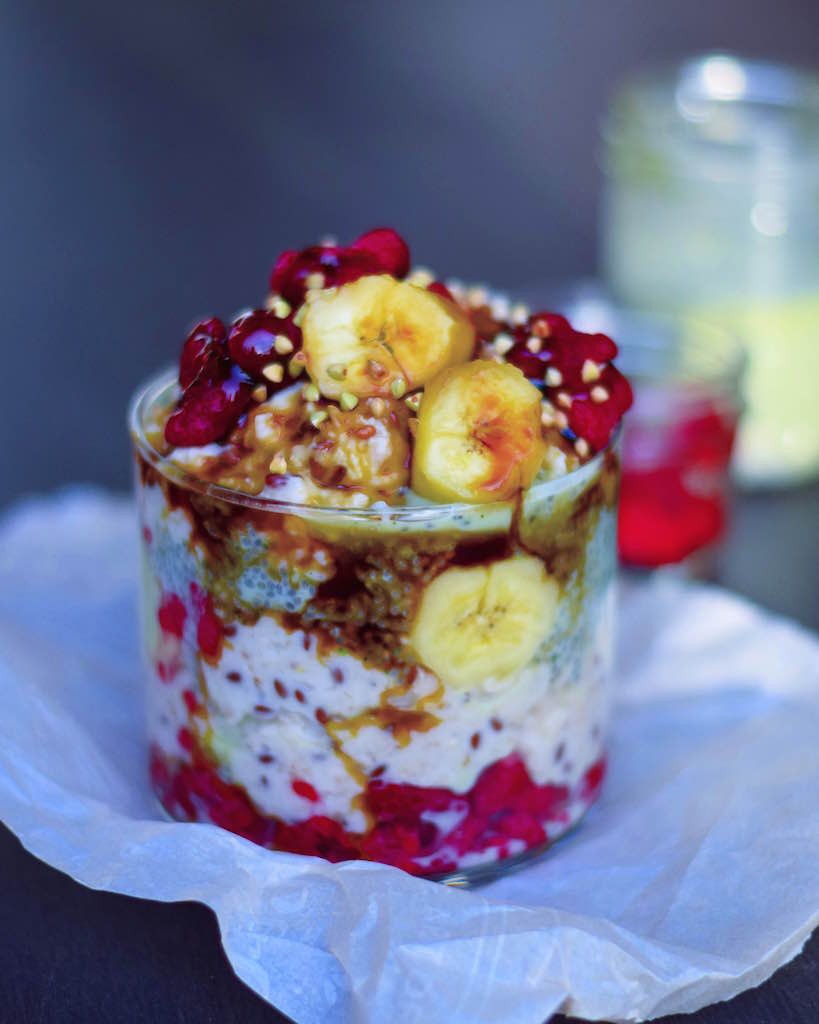 Hey all!! Hope everyone is well. I am back with another really quick and simple nutritious recipe for all of you to try! Super great paired with an overnight oat jar, or enjoyed on its own.
What are overnight oats you ask? Well overnight oats are super easy to prepare; you simply add around 1/2 a cup of oats to a jar with around 1 cup of water or plant based milk and a tbsp of your sweetener of choice and stir it around! I also like too add flax seeds, and hemp seeds to get in my fibre and extra plant-based protein. I let it sit in the fridge overnight and I eat it in the morning! The smartest way to go about making this is by making it right before bed, and you can make loads so you and your family can enjoy, just stick to the half-and-half ratio and you are sure to succeed!
I really enjoy making breakfasts like these because they are super simple, raw, and delicious.  Involves next-to-no-effort, and you can amp up with extra nutrition by simply adding your choice of fruit- berries are awesome with this! I assembled the bowl by layering the oats between dollops of Chia Pudding, raspberries and banana, YUM!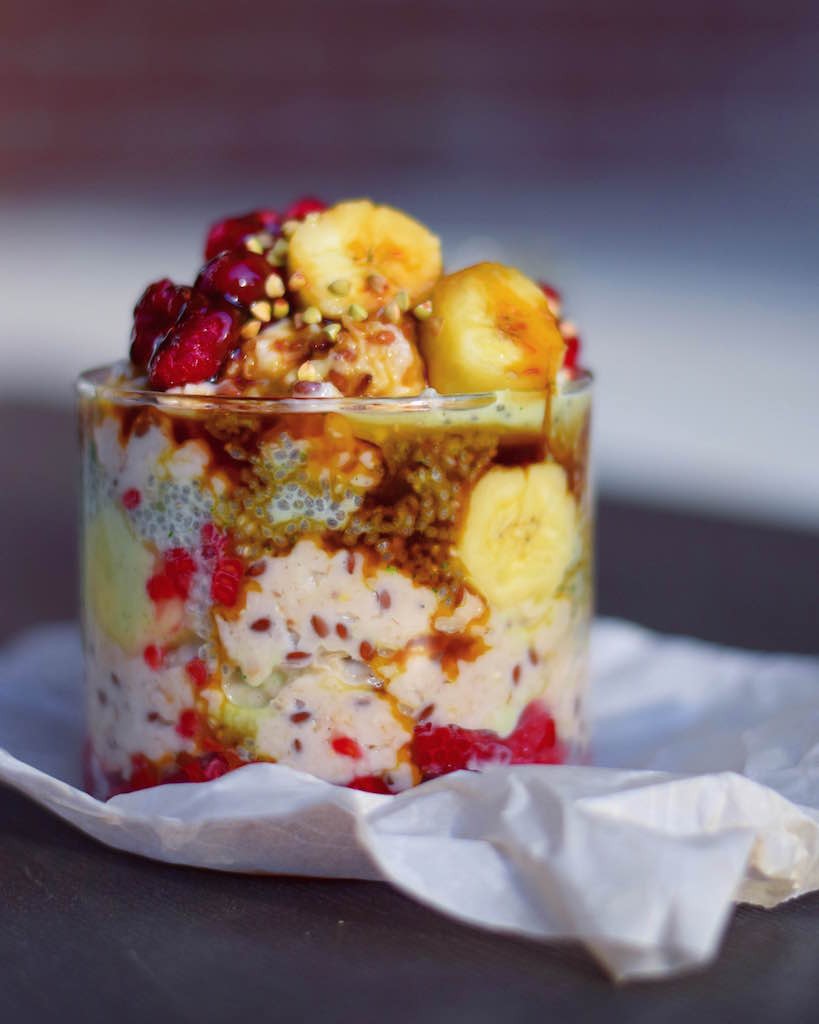 But here is the secret ingredient! The amazing Organic Matcha by Madori Spring, which is based out of Toronto, Canada.  I love supporting Canadian products so this breakfast is truly special to me as I know I am helping a great company.  Their product speaks for itself, and you can find it here! I highly suggest you give Midori Match a go, as it does have so many amazing benefits such as:
packed full with antioxidants
Is rich in fiber, chlorophyll and vitamins
Enhances mood and aids in concentration
provides vitamin C, selenium, chromium, zinc and magnesium
help prevent disease and boost immunity
builds a fast metabolism and burns calories the healthy way
Detoxes your body naturally
helps you stay calm and remain relaxed
helps balance blood sugar levels
lowers bad cholesterol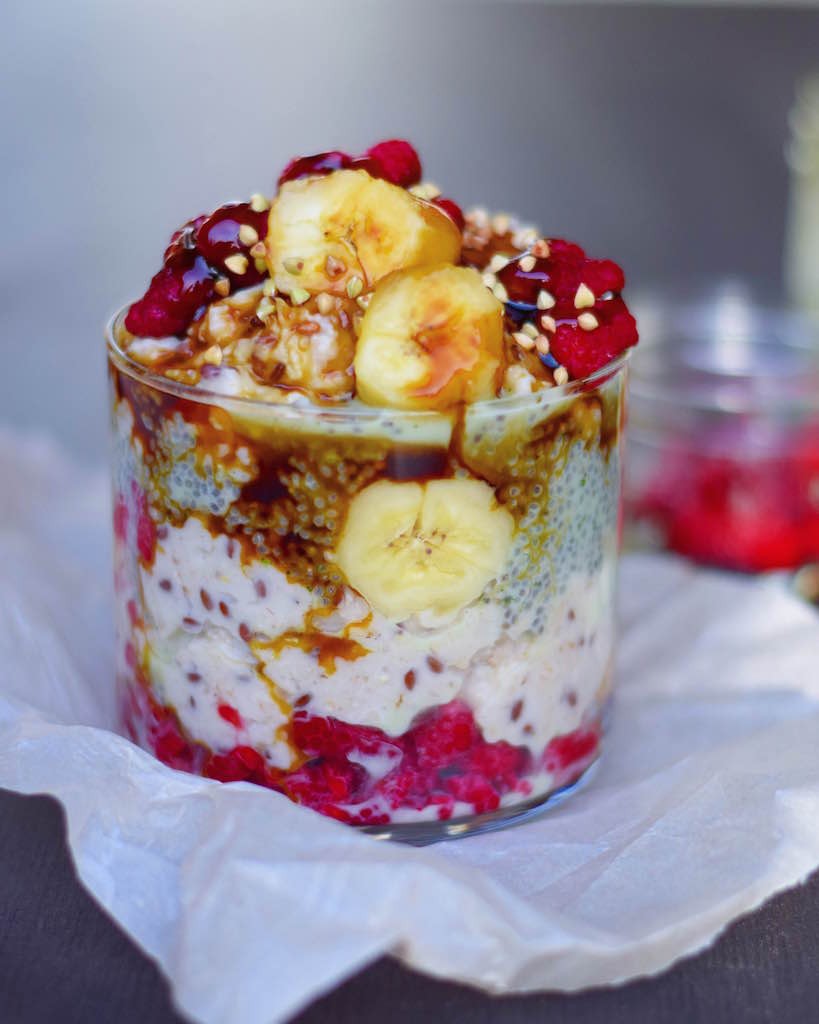 The benefits of Chia seeds are as follow:
help build strong muscles and bones
improve dental health
help with healthy digestive system
promote a healthy heart
boosts energy and metabolism
helps with healthy skin and aging
Ok, so if these are not enough reasons to start eating more Matcha Tea Powder and Chia seeds then I do not know what is! This recipe is delicious, involved no mess, and literally takes 5 minutes to prepare! You can do no wrong with this recipe.  It is good for you, and super mouth watering! ***Don't forget to play with your flavours, simply by adding a bit of Cacao you have your a rich and creamy chocolate flavoured Chia Pudding!
You can also try my Tropical Delight Chia Pudding which is also such a treat! I really hope you all enjoy this one, and please let me know what you think by leaving me a comment below! I love hearing your feedback my loves!! I will be back soon with something really fun!
Love from Your Greek Food Goddess XOX
Print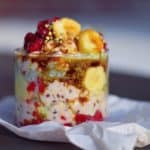 Midori Spring Organic Matcha Chia Pudding
Author:

Prep Time:

5 mins

Total Time:

5 mins

Yield:

1

Category:

Breakfast

Cuisine:

Plant Based
---
Ingredients
3 tbsp chia seeds
3/4 cup of plant based milk – I use coconut
1 tbsp coconut nectar
1 tsp Midori Spring Organic Matcha
---
Instructions
Into a small jar combine all the ingredients.
Shake it well, smuch down the sides so everything is covered by the milk and set it in the fridge for at least 3 hours!
Thats it!