29 Apr

Walnut Cacao Cookies with Strawberry Rhubarb Jam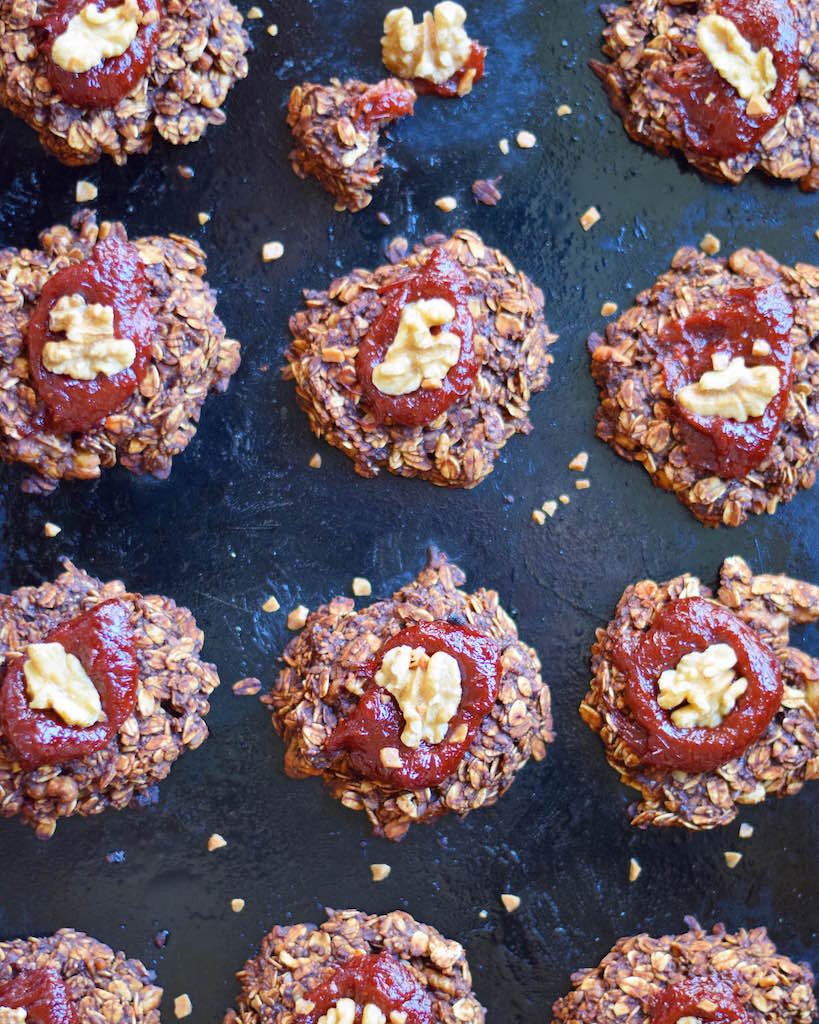 Hello Everyone!! Have I got a special treat for all of you! I mean ok, I get it, not the most colourful from FoodByMaria but these cookies are seriously TO. DIE. FOR.  Filled with delicious flavours, healthy fibres, and loads of antioxidants. Perfect for a lovely picnic, or day at the park with your kids and friends!
The cookies themselves take no time to prepare, but it is the Jam you definitely do not want to miss out on! You can slather that sweet stuff on quite literally anything- but keep it PG!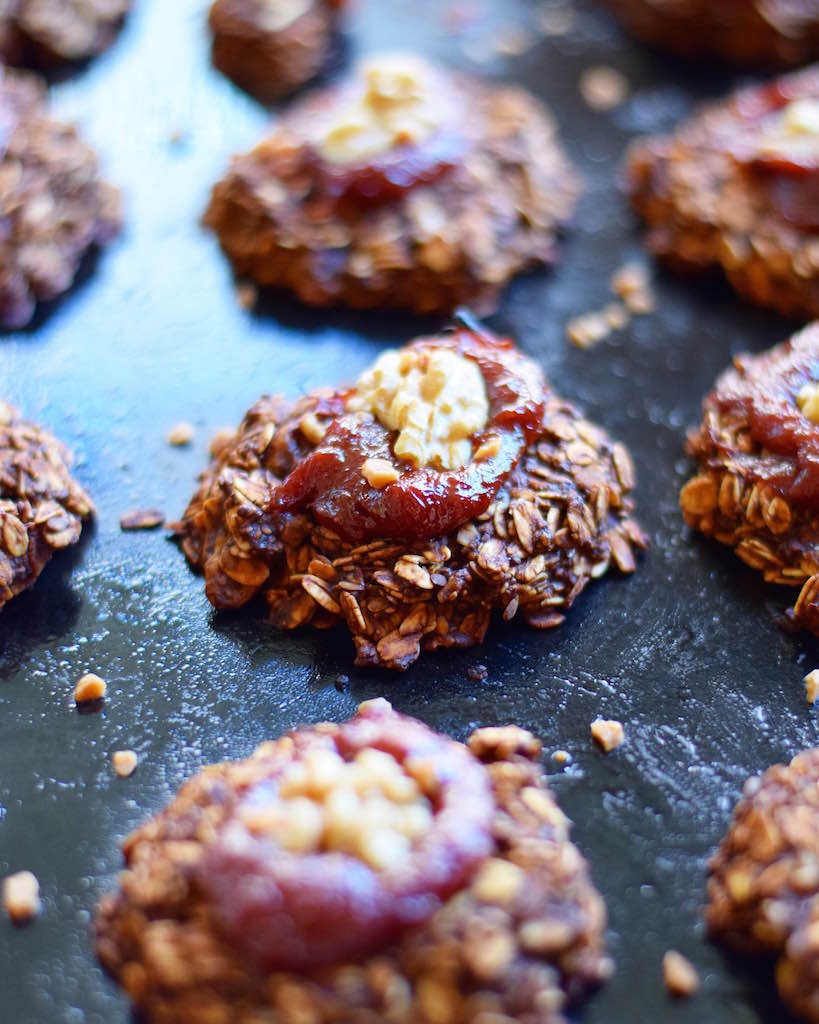 You must really be kidding yourself if you are sitting there trying to convince your cookie hungry soul that you do not need these in your life right now!
These cookies are:
crunchy on the outside
soft and gooey on the inside
healthy and vegan
easy and fuss free
I also think they would be super good crumbled over your favourite berries, and bathed in coconut milk.. just saying.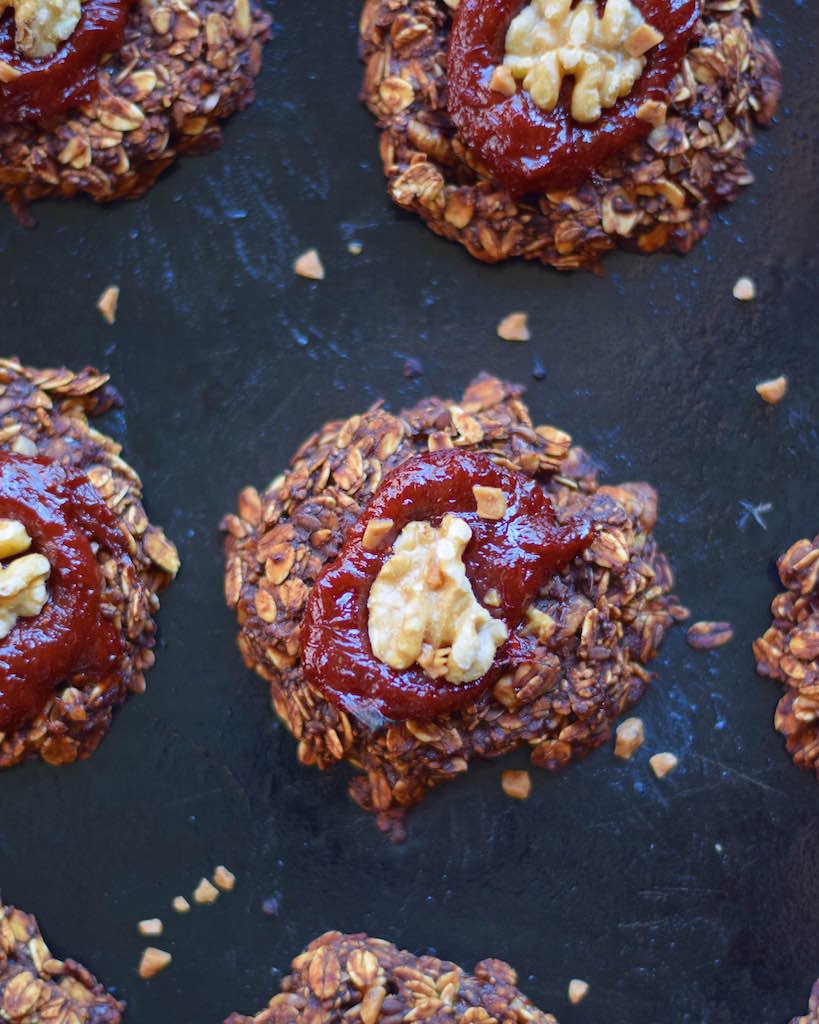 We all need a little treat in our lives here and there! So why not make it:
Simple
Delicious
Easy-to-follow
and healthy!
I wish I could stay and tell you more, but I will let the recipe do that talking! I am off to work now, and I hope you all enjoy the rest of your day!
Love from your Greek Food Goddess XOX
Print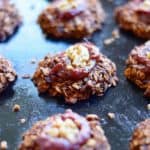 Walnut Cacao Cookies with Strawberry Rhubarb Jam
Author:

Prep Time:

20 mins

Cook Time:

45 mins

Total Time:

1 hour 5 mins

Yield:

12

Category:

Cookies

Cuisine:

Plant Based
---
Ingredients
Jam:
1 large rhubarb root, cut into cubes
6 large strawberries, halved
3 tbsp coconut sugar
2tbsp coconut nectar
1 tbsp lemon juice
pinch of salt
Cookies:
Dry Ingredients:
2 1/4 cup of oats – rolled
1/2 a cup of crushed walnuts
1 tbsp flax seeds
2 heaped tbsp of cacao powder
1 tsp cinnamon
pinch of salt
Wet Ingredients:
3 chia eggs (3 tbsp chia seeds, 9 tbsp warm water)
2 tbsp coconut nectar
1 tbsp coconut oil
2 large bananas, mashed
---
Instructions
For the jam:
Into a medium sauce pan add all the ingredients.
Bring pot to a boil, then simmer for around 35-45 minutes, just make sure you are stirring frequently.
Once the rhubarb is falling apart, and the mixture begins to look like jam then you know it is ready!
Set it aside, and let it cool for a bit!
For the cookies:
Preheat the oven to 375C.
Line a baking sheet with parchment paper, and grease with a tiny bit of coconut oil spray, set aside.
Prepare the chia eggs by adding the water, and chia seeds into a small bowl and stirring. Set this aside until you are done preparing all the ingredients for the cookies.
Into a medium – ish – bowl add all of your dry ingredients, and stir around well till the oats are completely coated by the cacao.
Into another medium sized bowl combine all of the wet ingredients, stir around till you reach a clumpy but well combined mixture.
Now add the wet ingredients to the dry and stir till it all looked yummy and fully coated!
I used a tbsp to measure out the cookies – around 2, yep, they are big ones.
This mixture makes 12 cookies. So once you have 12 round cookie shapes prepared dollop a tsp of jam on the top of each cookie.
Now you can cook these beautiful things for around 20-25 minutes or until crunchy and crisp on the outside.
Enjoy hot or cold, either way they are delicious!