25 May

Coconut Chia Yogurt + Passion Fruit Walnut Parfait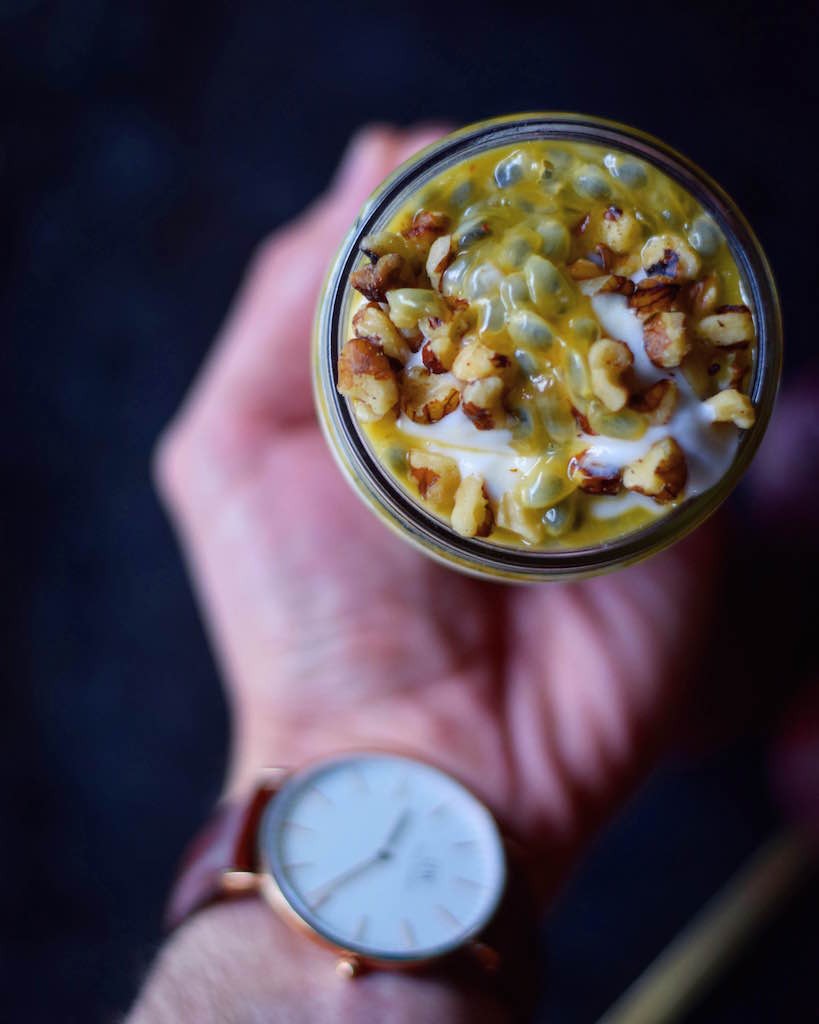 USE DISCOUNT CODE FOODBYMARIA FOR 15% OFF A DANIEL WELLINGTON WATCH
Good morning my loves!!! How is everyone doing this beautiful morning? I reckon today is going to be quite a good day.  The to-do list has been made, my coffee is brewed and the sun is shining! Although my cyst does seem as though it wants the end of me today I am not going to let it get the best of my state of mind… pain is only as bad as you let it be.
Anyway, I am super excited to tell you all about this super simple, and delicious little Coconut Parfait Jar! It takes 10 minutes to make, and is perfect for a breakfast or as a mid-day pick me up!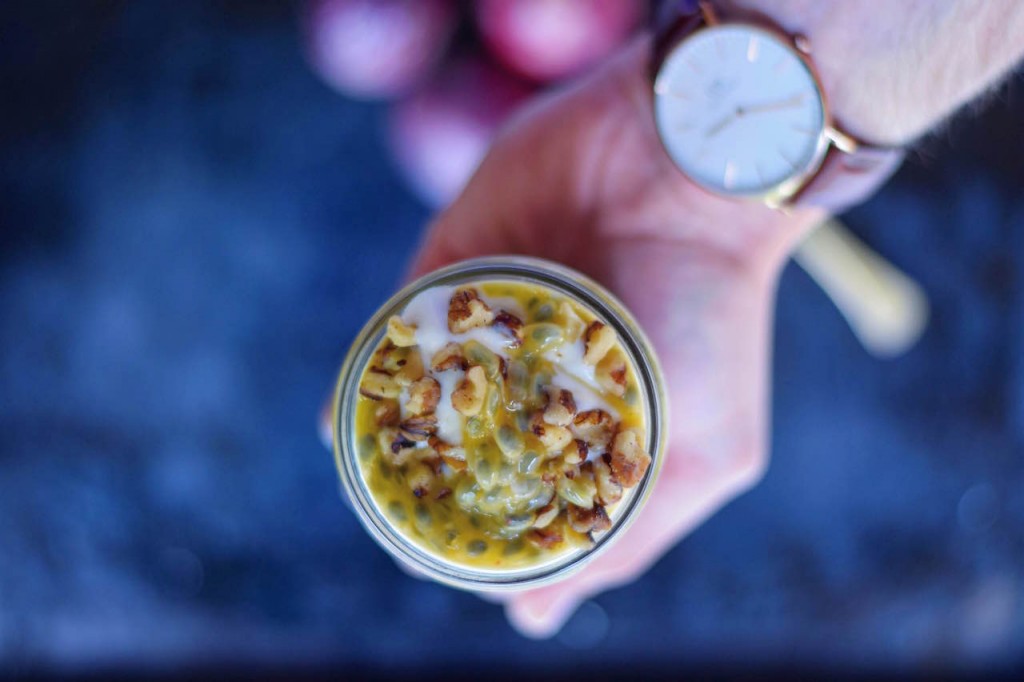 Sure to please your little ones, and help keep them focused, and in-tune longer at school or even at home with you all day!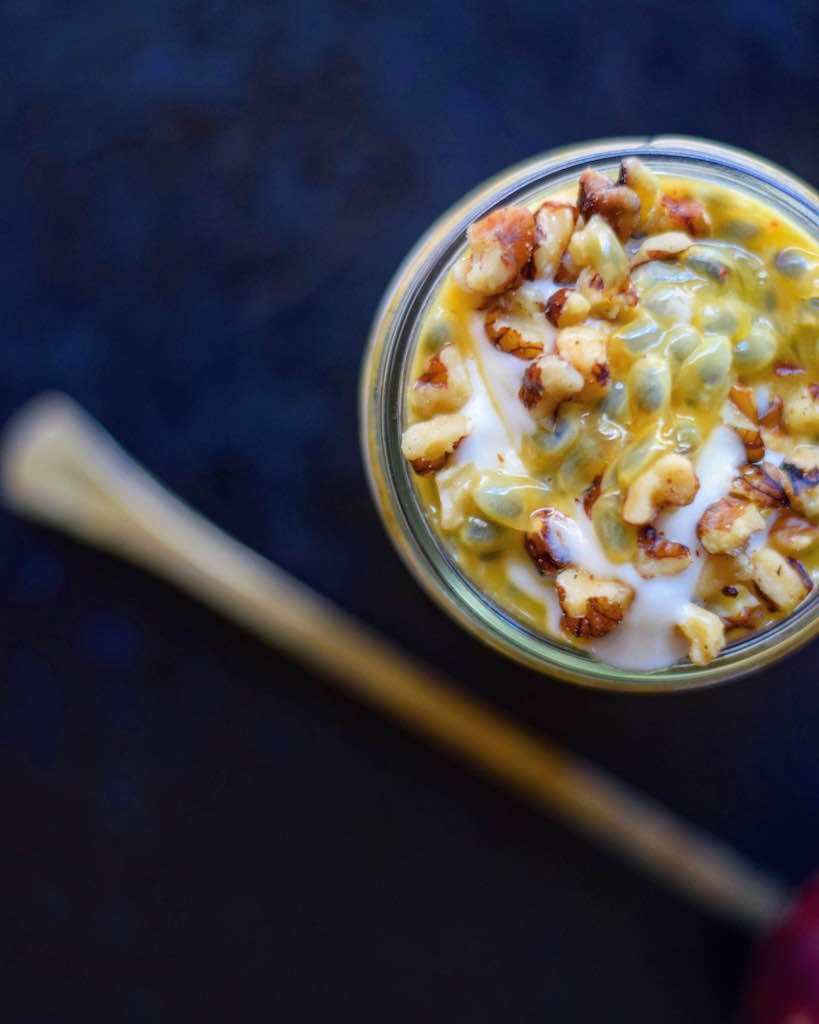 I don't have children myself but I can imagine that there is nothing worse than a kid who is either on a sugar high or just coming down from one! This little treat will not cause a sugar crash, but more so the opposite! It will promote more brain focus, and help keep the energized.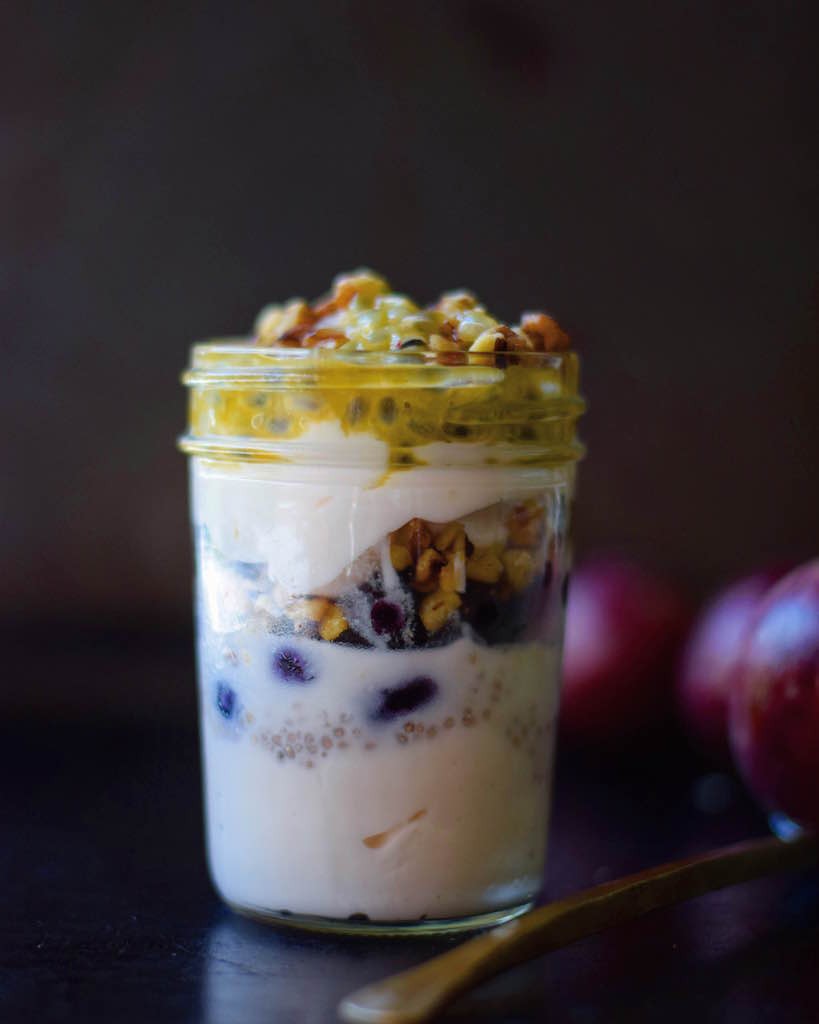 I am obsessed with kids, like it is a problem.. so by nature I find it only right to help all you beautiful parents out there fuel, and feed your kids! Although I am no expert behind the science of Child Nurturing…I do know that this treat will hit the spot in their cute little bellies, and yours too!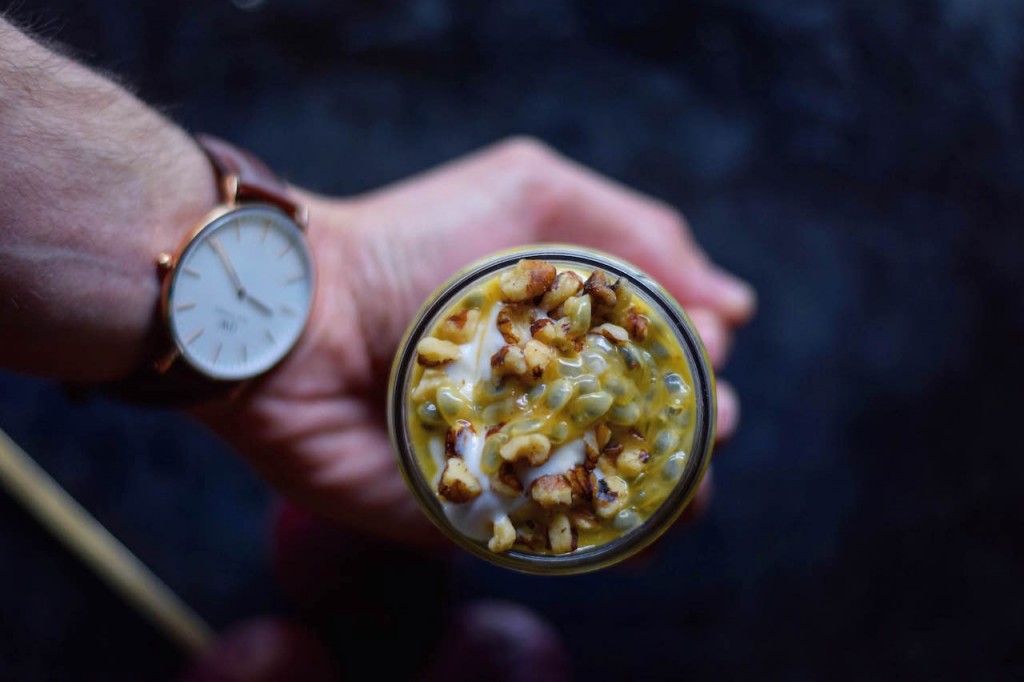 This parfait is:
Added Sugars Free
Gluten Free
Packed with Healthy Fats from the Coconut to help keep you fuelled, and energized
Plant-based
Dairy Free
Low Glycemic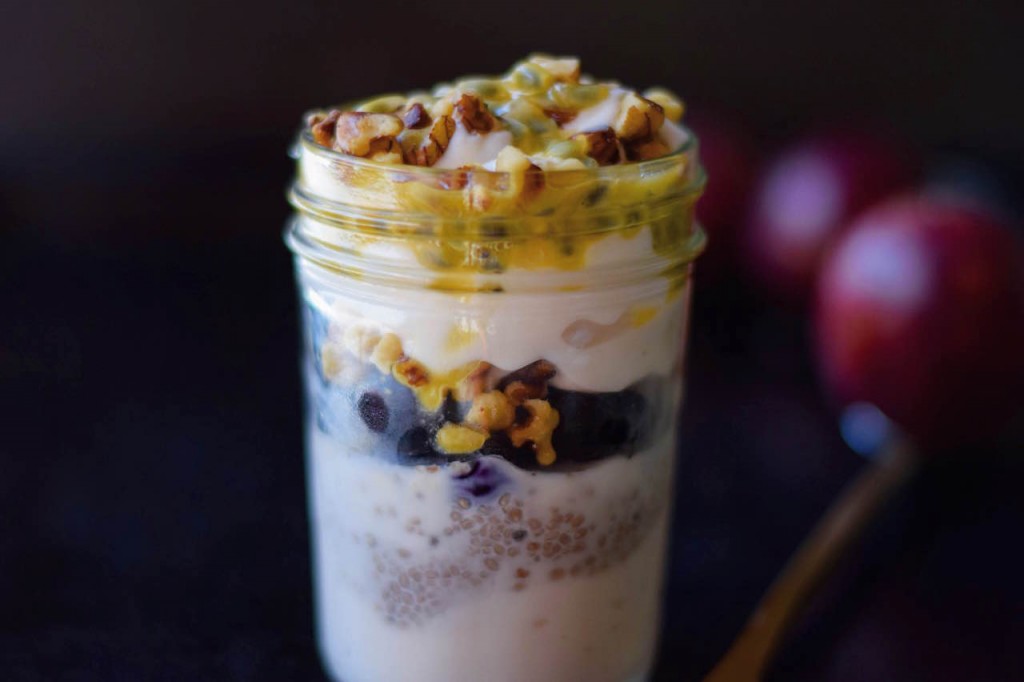 It takes no time to prepare, require just a few fun jars, a bowl and some lovin'!
This recipe will especially be good for after school treats before heading out to the soccer field, tennis court or swimming pool! Super easy to stow away in your car until they get hungry and even better for when you are in need of some extra energy yourself!
This Parfait is great for both adults and children.  So play with the possibilities and infuse your own flavours and preferences.  I hope you all enjoy little jar of joy as much as I do! I will be back soon, but in the mean time check it out!
HINT: This recipe would go great with a Fruit Infused Water!
Love From Your Greek Food Goddess XOX
Print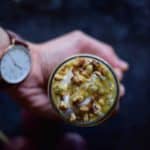 Coconut Chia Yogurt + Passion Fruit Walnut Parfait
Prep Time:

10 mins

Total Time:

10 mins

Yield:

1
---
Ingredients
For Chia pudding:
2 tbsp chia seeds
6 tbsp warm water
For Parfait:
3/4 cup of Coconut Yogurt
1 tbsp coconut nectar
4 tbsp crushed walnuts
1 passion fruit
1/3 cup fresh blueberries
---
Instructions
Into a small bowl combine the chia seeds and the warm water. Stir gently until all the chia seeds are submerged by water, and set aside for around 10 minutes and allow the chia "pudding" to work its magic!
After ten or so minutes you can begin to put together your cute, delicate little parfait!
So, into a little jar begin by adding 1/3 of the coconut yogurt, then add all your chia pudding, then your blueberries, 1/3 of the yogurt , half the walnuts, half the passion fruit, the rest of the yogurt, more walnuts, and passion fruit! Finish off by drizzling your coconut nectar!
YUM!!!
You do not have to follow my exact instructions but you get the idea!