19 Jun

Creamy Asian Udon Noodle Bowl with Walnuts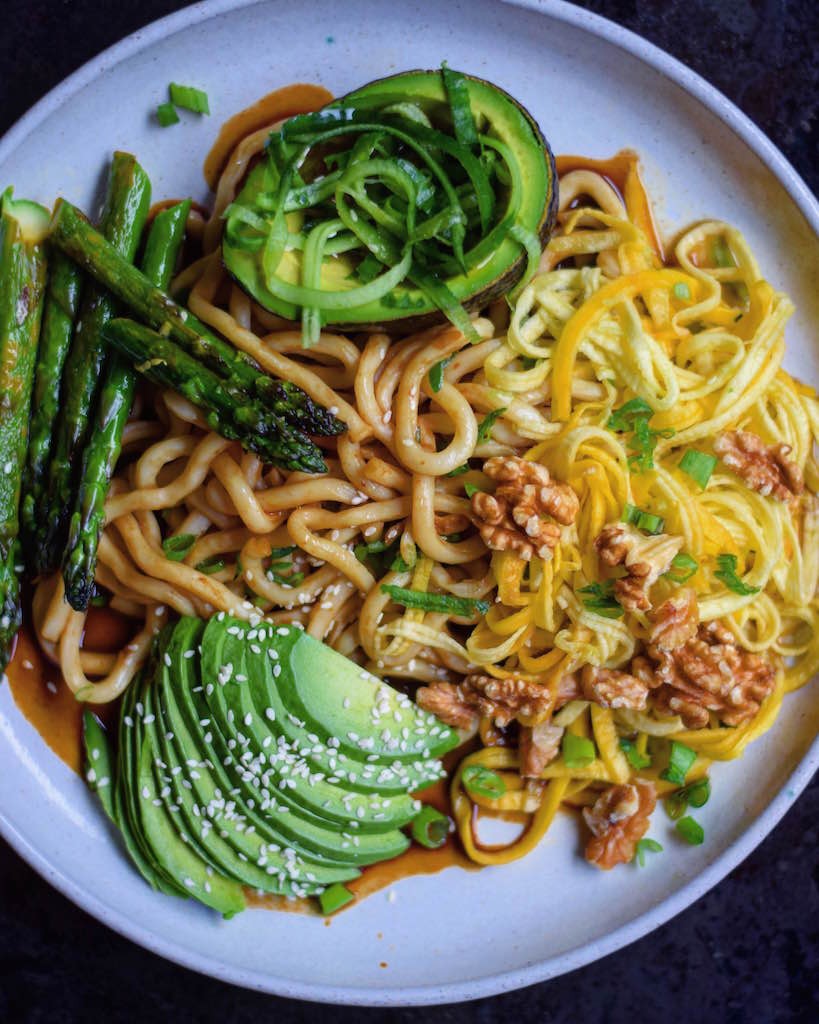 Searching for the perfect dish that stimulates all your tastes buds?  Do you not have much time or energy to spend fussing in the kitchen with that busy schedule of yours? Then this recipe is a must, and quite honestly one of my faves. So what is this Udon Noodle Bowl? Well…
It is Plant-based
It is filling
It is Simple
It takes 10 minutes
It is Delicious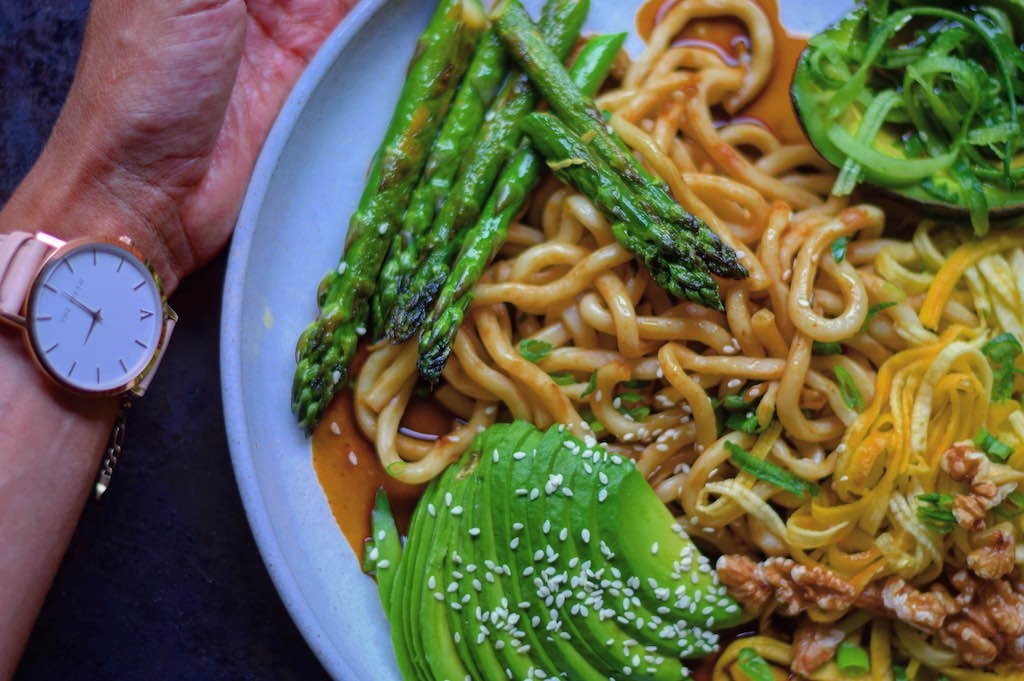 It takes literally no time to prepare, and if your a tidy cook then you will left with basically no mess once you are done preparing it!
The biggest tip I have for you guys when preparing bowls like this is to be organized, and have all of your ingredients prepared, and set aside… because then once you do then it is just a matter on placing in onto the bowl or plate and enjoying!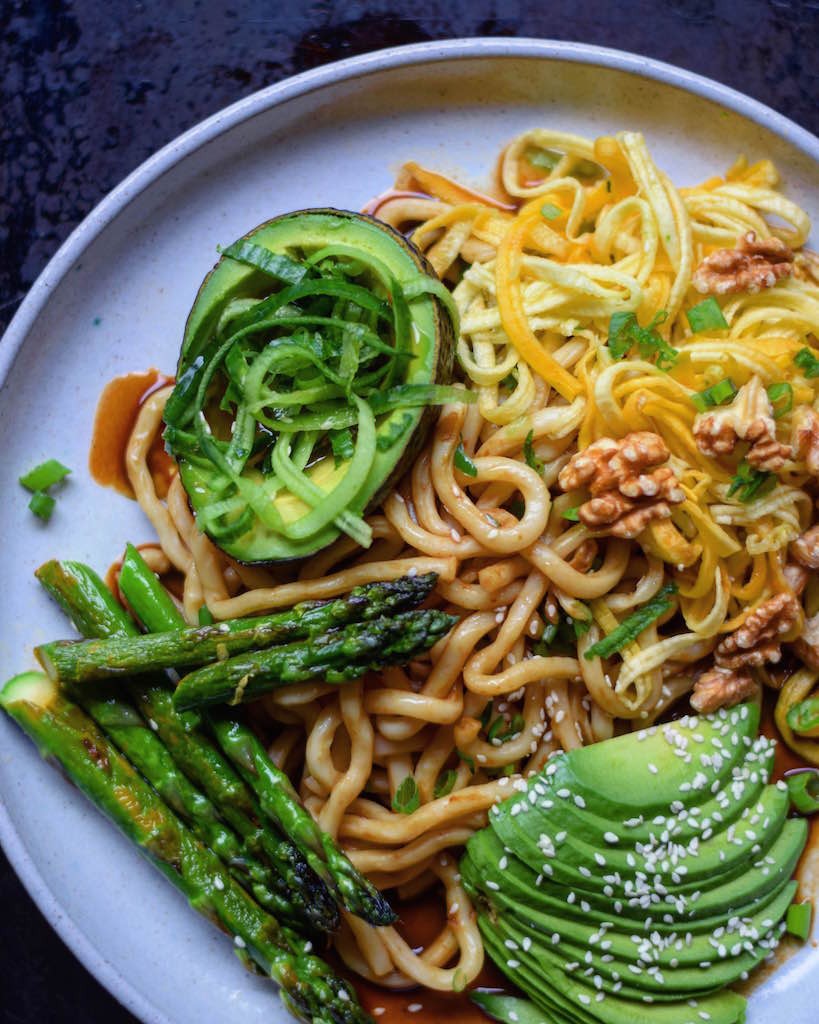 Remember this is your kitchen, your plate so add or omit whatever you like.  Make this dish your own, and to please your palette! The possibilities are endless so have fun and be creative.
I really hope you all enjoy this as much as I did!
Love from Your Greek Food Godess
Print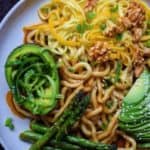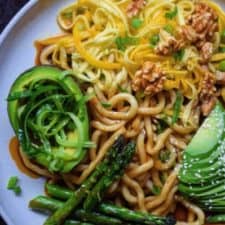 Creamy Asian Udon Noodle Bowl with Walnuts
Author:

Prep Time:

10 mins

Total Time:

10 mins

Yield:

1

Category:

Udon Noodle Bowl

Cuisine:

Plant Based
---
Ingredients
1 package of Udon Noodles
1 Avocado
1 Yellow Zucchini, spiralized
1 baby cucumber, spiralized
6 sprigs of asparagus
1/4 cup of walnuts
1 Spring onion, chopped for garnish
Sauce for noodles:
1 tbsp soy sauce
1 tbsp hoisin
Sauce for Avo Cucumber Salad:
1 tsp hot sauce
1 tsp rice syrup (or honey if you find a good local soure)
pinch of chillies
For Asparagus:
1 tbsp Olive oil
salt and pepper to taste
---
Instructions
Bring water to a boil in a kettle
Remove your udon noodles from their package and place into a large bowl
Pour boiled water into bowl and let them sit for around 5 minutes before stirring
Now to cook your asparagus. Put Olive oil into a medium sized sauce pan and let it heat. Once hot add your asparagus, and season lightly with salt and pepper. Cook till golden brown, but do not over cook. Set your asparagus aside.
Now prepare your veg. Spiralize your Zucchini, and cucumber. Set aside.
Cut an avocado in half, I sliced up one half nicely, and used the other as a salad bowl for the cucumber!
Now go back to your Udon noodles and strain them from the hot water, and place them back into the large bowl.
Now add your soy and hoisin to the noodles and stir well you can set it aside one last time…;)
Now make your cucumber salad dressing by adding the hot sauce, honey, and chilies to a bowl and stir gently.
You are now at the stage where you can begin to assemble your bowl.
I first added the noodles, then the spiralized zucchini… and then basically just added whatever I wanted to afterwards.
The key here though is to scoop out a bit of the avocado from the half that is not sliced to make room for the cucumber and dressing but other then that it is all really simple and easy!
Just make sure to finish this beauty off by adding walnuts!
Enjoy!