29 Jun

Peanut + Hot Sauce Udon Noodle Bowl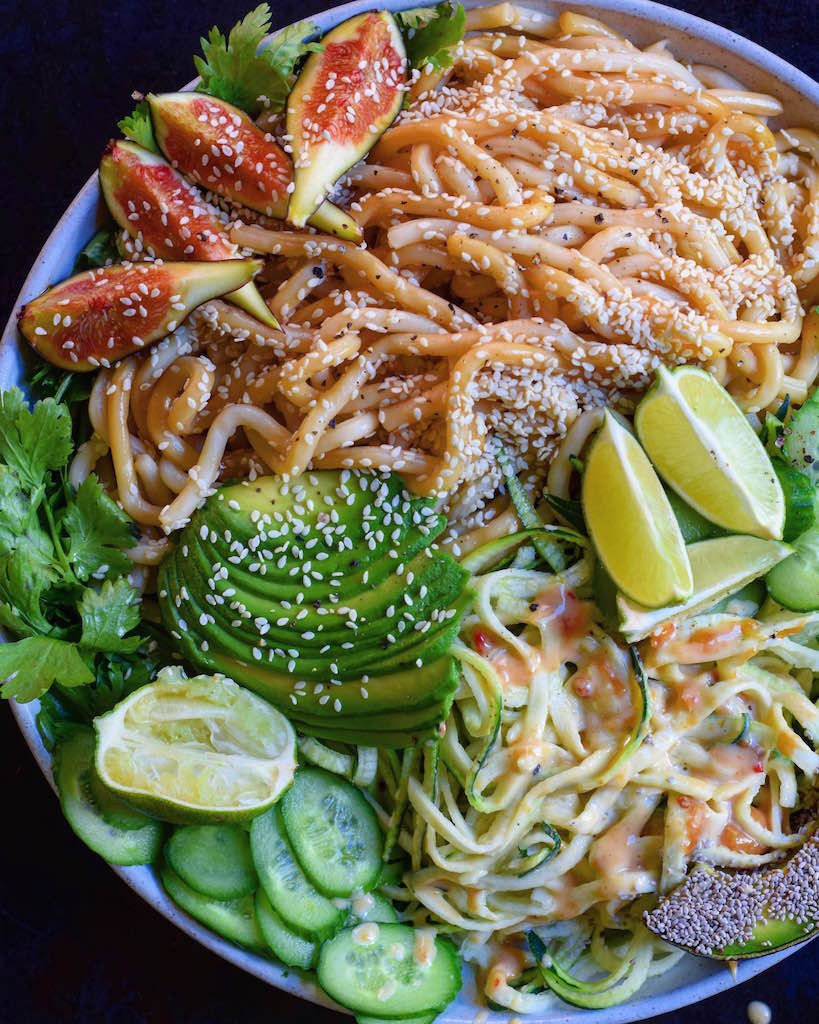 Introducing "The Healthy Noodle Bowl"… and to think that I used to be afraid of carbs.  Clearly, I was listening to all the wrong people, and reading every wrong magazine; obviously, because carbs are now my best friend.
Noodles; so versatile in their texture, and type.  Making for delicious, and nutritious bowl filled full with beautiful, and organic ingredients.  Additionally, my noodle bowls are filled with healthy greens, and bold flavours this dish is going to inspire your senses, and encourage you to be more creative in your kitchen (I am very confident in this).
Do not over think eating too much of this bad boy (I know I sure did not).  Assembly and preparation for this dish is quite simple, and the final product is so worth the few minutes it takes to watch the Udon noodles simmer.
It is perfect in a bowl because it is
Nutty
Healthy
Creamy
Citrusy
Cultured
Nutritious
Summery Vibes all the way
As always beautiful people remember, if you try this recipe please let me know what you thought! We love hearing about your FoodByMaria recipe experiences!
Love from Your Greek Food Goddess XOX
Print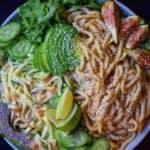 Peanut + Hot Sauce Udon Noodle Bowl
Author:

Prep Time:

20 mins

Total Time:

20 mins

Yield:

1

Category:

Udon Noodle Bowl

Cuisine:

Plant Based
---
Ingredients
1 packet of Udon Noodles
Sauce for Noodles:
1 tbsp soy sauce
1 tbsp hoisin sauce
1 tsp hot sauce
1 tbsp white sesame seeds (save a few for the finishing touches once you have platted)
1 spiralized zucchini
Sauce for the Zucchini:
1 tbsp peanut butter
Juice from one lime
dash of salt
half an avocado, sliced – I also dipped some of mine into "salba" chia seeds for texture (this is completely optional)
4 baby cucumbers, sliced
1/2 a cup of cilantro
1 fig cug into quarters (marinated in some spicy balsamic for a few minutes before platting)
Fig Marinade
some hot sauce
some balsamic reduction
Finish with Fresh Cracked Pepper **optional
---
Instructions
Prepare yourself a last dish, or bowl – set aside.
Create all of your sauce by combining all the necessary ingredinets and stiring for a few short moments. Now set those aside.
Cook your udon noodles by bringing a few cups of water to boil, add water to udon noodles in a large bowl.
Spiralized your Zucchini. Now add your peanut sauce to the zucchini. Stir gently.
Remove your udon noodles from the hot water, and add your sauce. Make sure all the water has been strained so that you noodles and sauce are not all watery.
Marinate your figs… and while they are soaking up all that love you can begin plating your bowl.
The only tips I have here are start with your noodles, then your zucchini, then finish with your figs and optional fresh cracked pepper! The rest is for your to choose, and play with!
Enjoy!