24 Jul

The Breakfast "Pizza"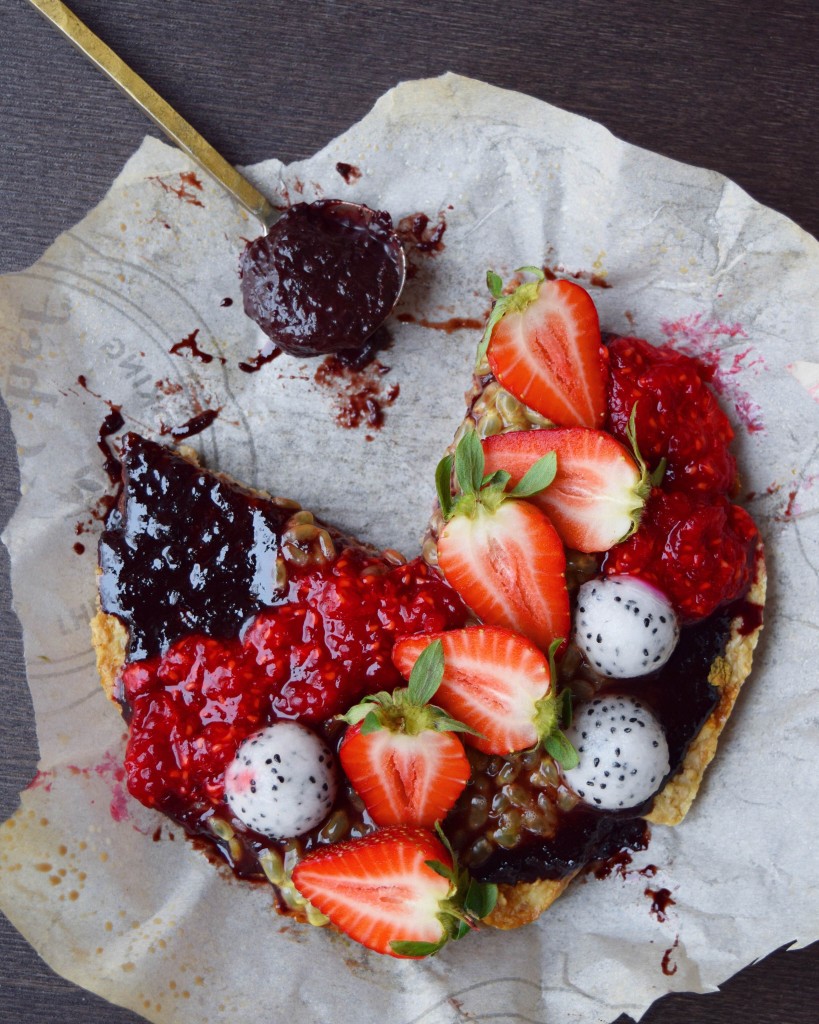 Feast your eyes on the Breakfast Pizza!
Good morning beautiful people -it is actually Monday night – I hope you all slept well and are ready to get cracking on with your day! Anyway, I woke up craving pizza, but we all know how much I love breakfast, so I decided to make a delicious sweet pizza to treat myself.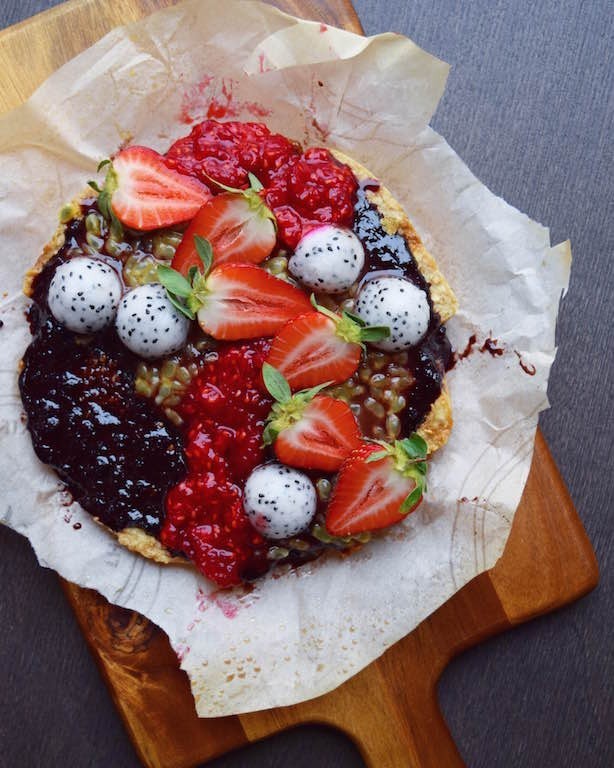 I will say that this bad boy really hit the spot, fed the inner beast before an intense cardio session, and certainly kept be fuelled whilst training at the gym.  Also, I am sure if you guys have me on Snap Chat then you know that that lovely Chocolate Blueberry Spread was a purchase that I made on Sunday in Willow Park Village! I got it from this adorable little store called Meez Fast Home Cuisine!
This dish is:
Gluten Free
Dairy Free
Plant Based
Low Glycemic
Sugarless
Crunchy, and Creamy
Filling
GOOD FOR YOU!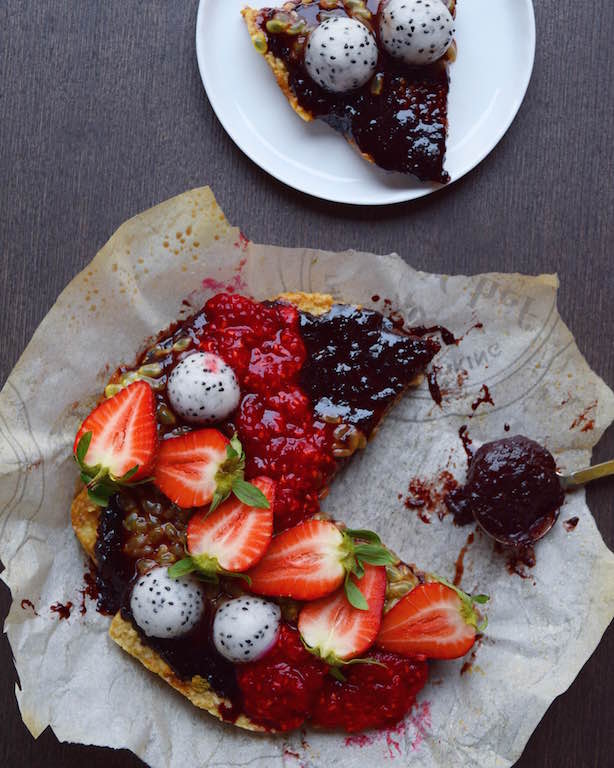 Not to mention that the spread is made from 4 or 5 ingredients, it is low in sugar, high in antioxidants, and a perfect source of healthy, low glycemic sugars.  The spread has no additives, no preservatives or sweeteners just lovely ingredients joined together to make a seriously incredible Chocolate Blueberry Spread! Click the link above to check out this cute space located in South Calgary.  I got loads of different little knick-knacks, and I am super excited to show them all off to you! In the mean time go show them some love, before the spread sells out!
Please enjoy this really easy recipe, I know I sure did!
Love from Your Greek Food Goddess XOX
Print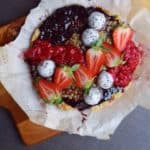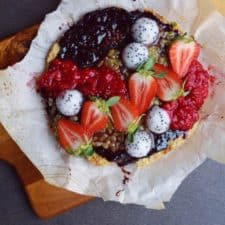 The Breakfast "Pizza"
Author:

Prep Time:

5 mins

Cook Time:

20 mins

Total Time:

25 mins

Yield:

1

Category:

Breakfast Pizza

Cuisine:

Vegan
---
Ingredients
Chia egg:
1 tbsp chia seeds
3 tbsp warm water
"Pizza" Dough
1 banana, mashed
1 tsp vanilla
2 cups of oats
1 cup of coconut milk
2 tbsp vegan chocolate chips
---
Instructions
Preheat oven to 375F
Line a cast iron pan with parchment, and spray it with coconut oil
Prepare your chia egg by combining chia seeds and water to a small bowl, stir, and set aside
Into another bowl combine the rest of your ingredients and stir till well combined.
Once your chia egg has taken on the consistency of an egg, add it to the mixture and stir till all the ingredients are all 'married'
Now transfer the mixture to the pan, and plop it in the oven for 20 ish minutes!
That is it guys… enjoy hot or cold!