03 Jan

Easy Potato Lentil Meat Balls (plant-based and protein packed)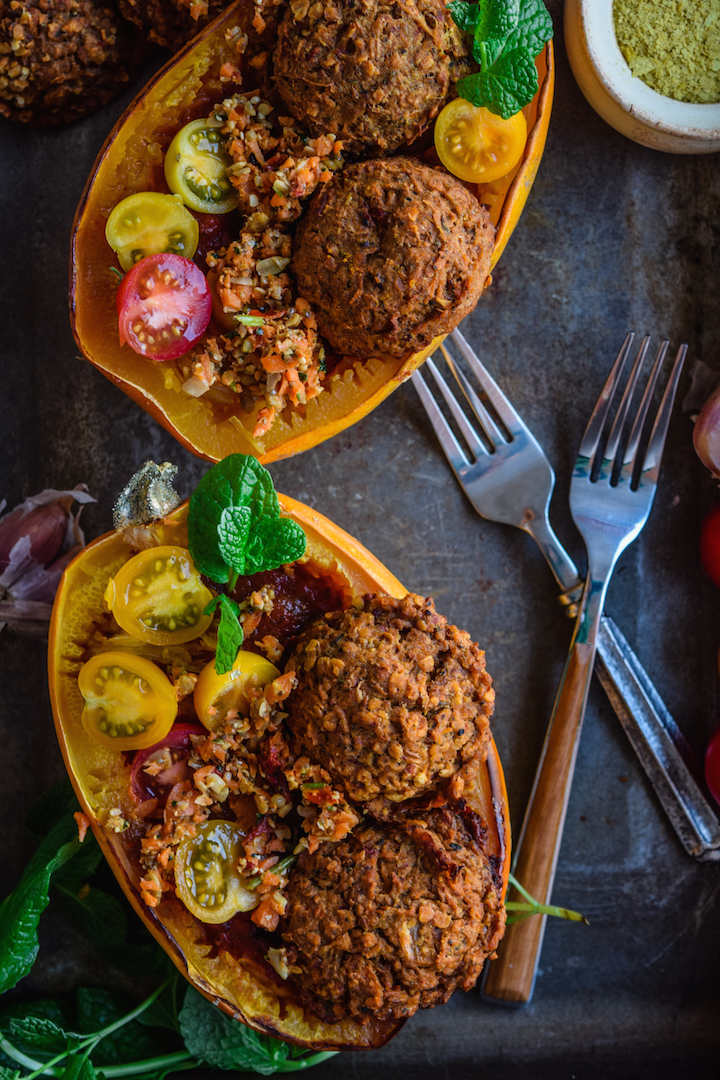 This is my first time trying a plant-based meat ball and damn did it taste good! It was inspired entirely by my friend, Haley, from www.brewinghappiness.com, who made Mushroom, Onion and Thyme Meatballs stuffed in Spaghetti Squash! Genius, right?
They take 20 minutes to prepare (when you start with mashed mashed potatoes), and require only one large bowl, and high speed blender!
Find more recipes like these in my new 24 recipe ebook!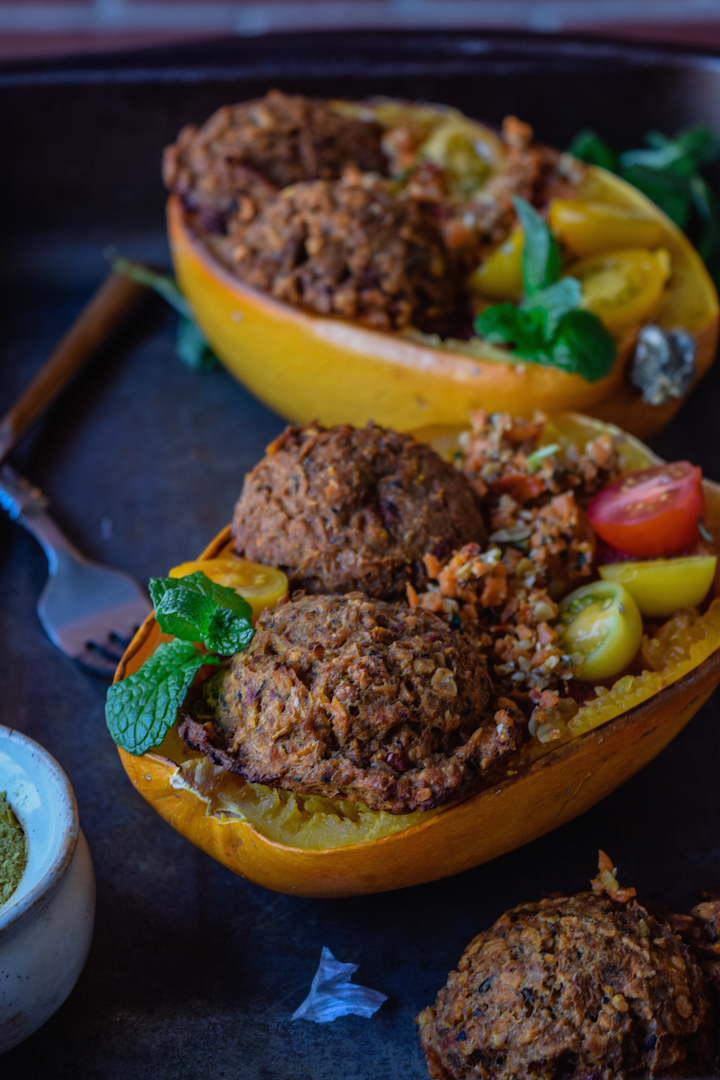 I cant help but wonder what these amazing meatballs would taste like coupled with my other pasta dishes or salads!
These meatballs are the perfect way to utilize leftover mashed potatoes and are perfect for getting in that extra plant based protein.  In my opinion, if you can add mashed potato to something and somehow make meatballs; then it must be good!
Not only are these meatballs amazing and good for you but they are also plant-based and packed with protein!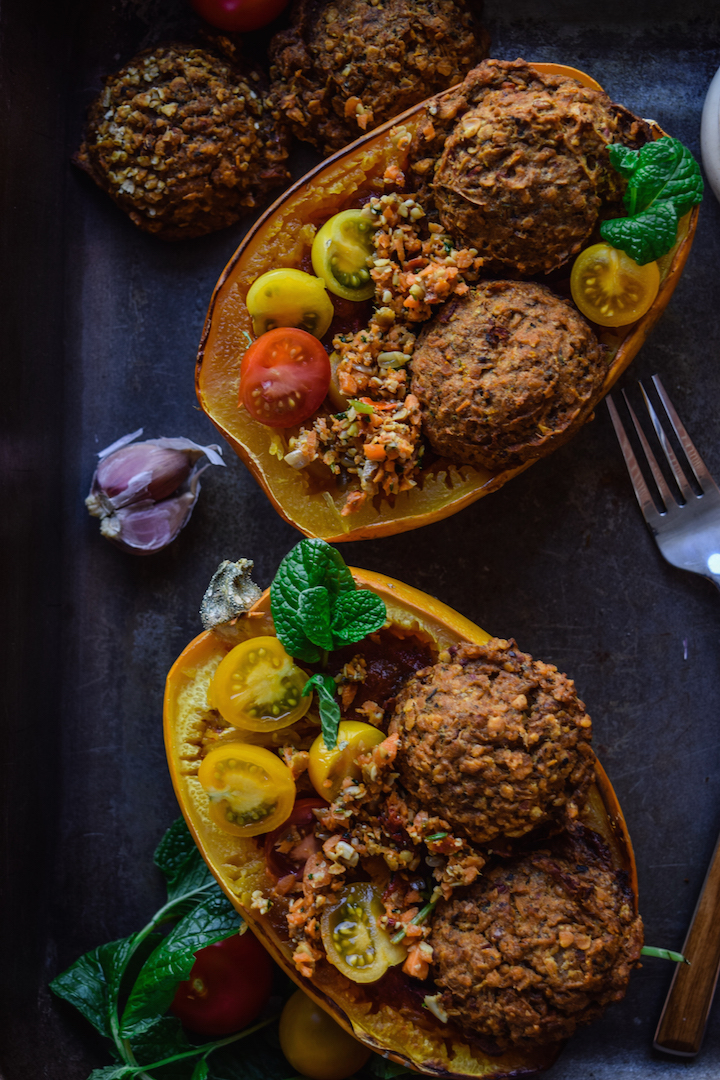 I especially loved these meatballs because they were crispy, crunchy and golden on the outside but gooey, soft, and comforting on the inside.  I mean, ask Andrew, he ate nearly all 15 of them!
I hope you enjoy these balls! Here are some fun facts about them!
they are comforting
wintery
filled with plant-based protein
simple + easy to follow
delicious
crunchy yet gooey
and healthy!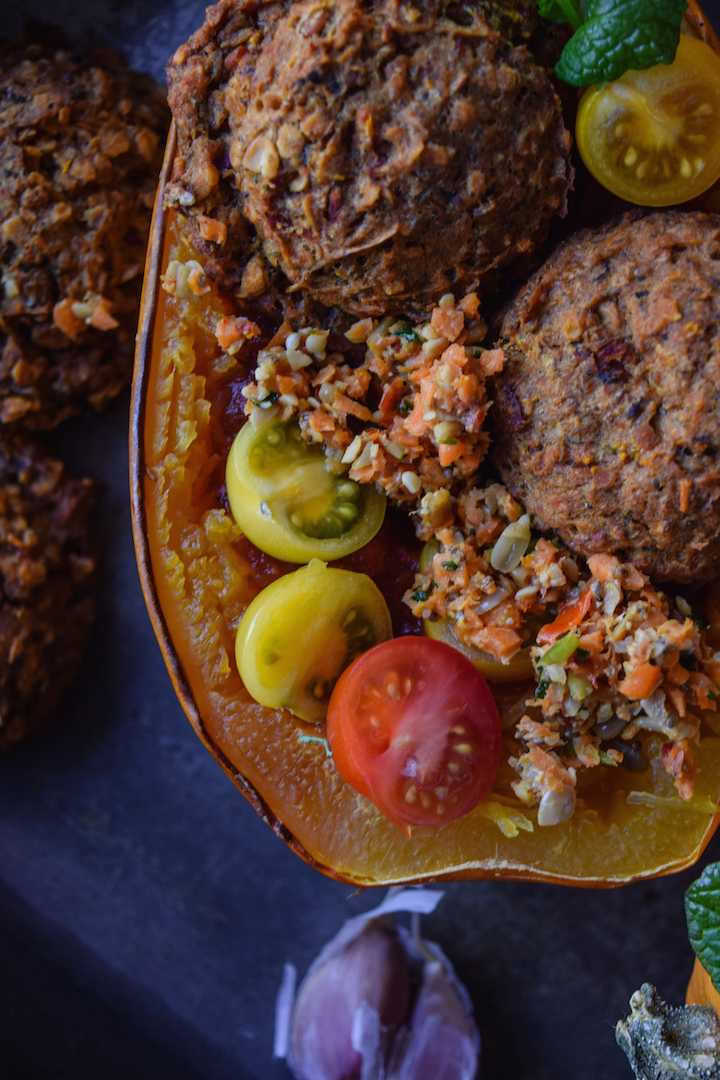 For those of you wondering what Vital Wheat Gluten is, just click here! This product is great to work with and is packed with protein- thumbs up.  It has become a new staple in my kitchen, especially since I work out everyday! I use Bob's Red Mill but there are many to choose from.  If you choose not to use wheat gluten then substitute with bread crumbs or more oats.
NOTE:  you'll notice a Carrot Taco "Meat" in the photo.  This recipe is from my girls at Raw Eatery and Market in Calgary and I will be posting more about this soon! It is delicious.
Love from Your Greek Food Goddess XOX
Print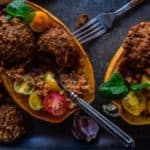 Potato + Lentil "Meat Balls" in Baked Spaghetti Squash
Author:

Prep Time:

15 mins

Cook Time:

1 hour

Total Time:

1 hour 15 mins

Yield:

15

Category:

Main Dish

Cuisine:

Plant-based
---
Ingredients
For Onion:
2 tbsp EVOO
1 white onion, chopped
Binder:
2 cups mashed potato – perfect if you have leftovers. If not just boil, and blend with coconut milk
For Lentil Mixture:
1 can lentils, washed and strained
3 tbsp EVOO
1 tbsp thyme spice
1 tbsp dried coriander
1/2 tsp garlic powder
1/2 tsp himalayan sea salt
1/2 tsp black pepper
1/2 cup of sundried tomatoes
1 tsp tomato paste
1 tbsp nutritional yeast
1/2 cup of oats
Addition:
1/4 cup Bob's Red Mill Vital Wheat Gluten – read blog post for more details
For Squash:
1 Spaghetti Squash
your favourite tomato sauce – find mine in my ebook!
---
Instructions
Preheat oven to 375F
Line two baking sheets with parchment and spray with coconut oil, set aside.
Into a cast iron skillet add your EVOO and onions. Cook till golden. Around 10 minutes.
Into a high speed blender add your lentil ingredients and onions. Blend till smooth then transfer to large bowl.
Into bowl add your mashed potatoes and vital wheat gluten. Stir till well combined.
You want your mixture to be thick. Add more or less potatoes to reach the desired consistency.
Using your hands or ice cream scoop begin to roll balls. This made around 15.
Bake for 1 hour checking on them half way through.
After checking on balls cut your squash in half, remove seeds and set cut side down onto the baking sheet.
Bake for 30 minutes.
Remove balls and squash from oven.
Serve with sauce in the squash and delicious protein filled balls!