26 Jan

Protein Vegetable Pasta! (35 minutes and plant-based)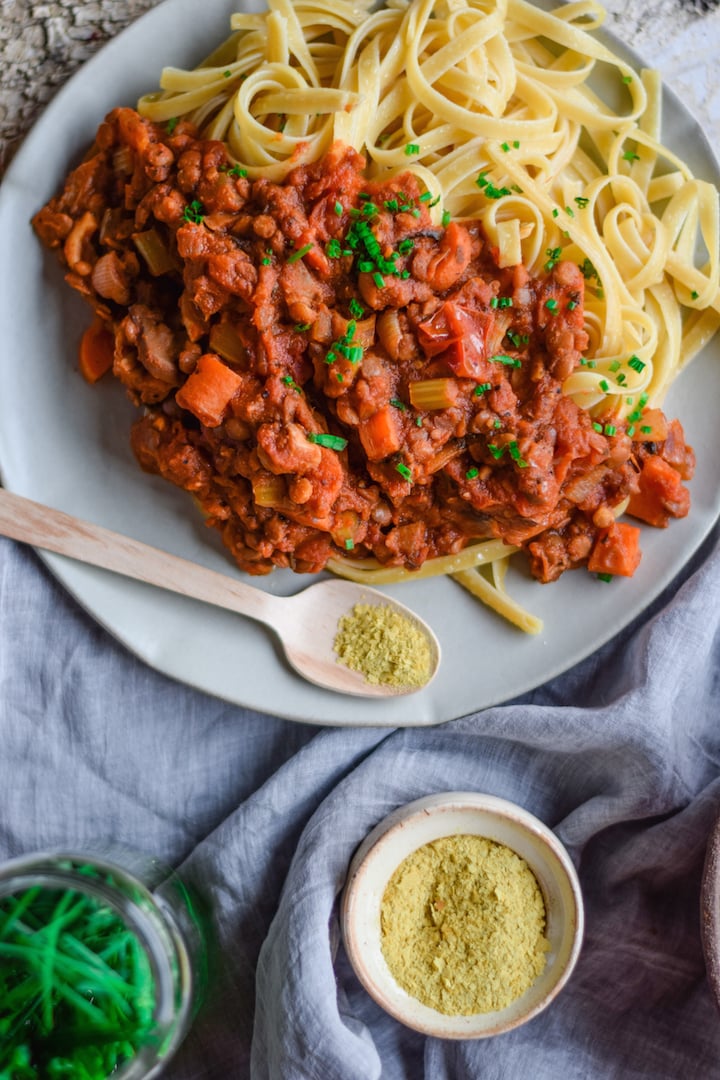 Well by now you must be able to tell that I have a thing for pasta and really simple recipes. This protein pasta dish fabulous, flavoursome and easy to follow. It takes you 10 minutes to prep your ingredients, 35 minutes to make and probably nothing short of a minute to inhale. This protein pasta dish is particularly special because it packs so many vegetables, spices and protein all in one.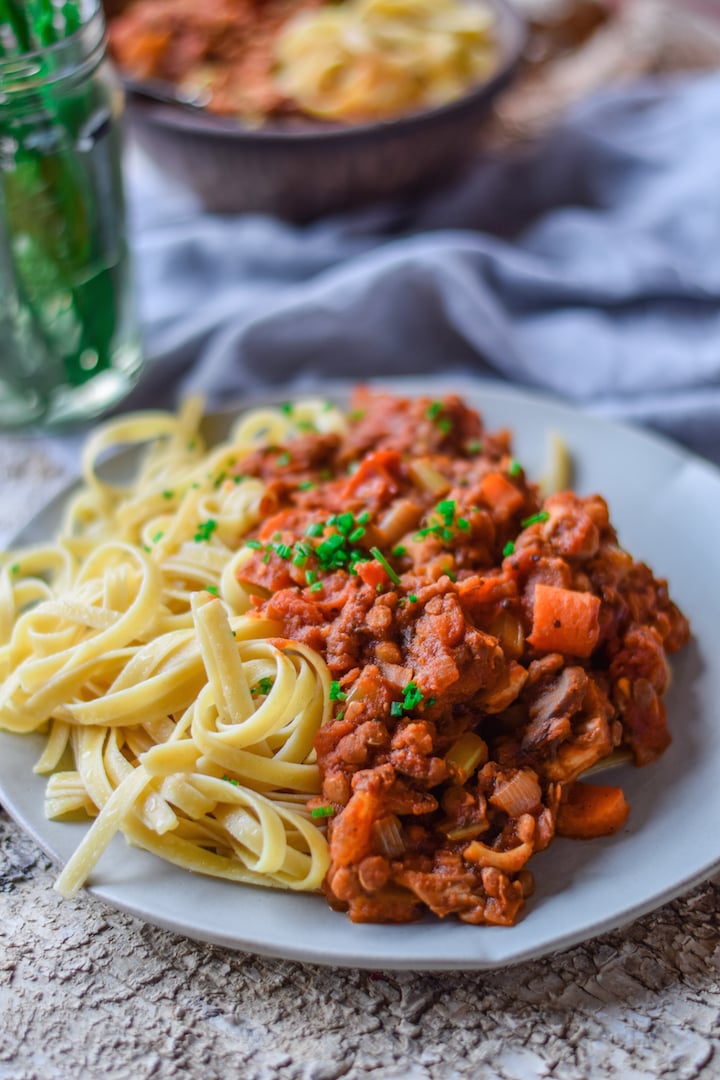 It is perfect if you are in a hurry but are still looking to eat something full bodied, creamy and cultured. If you are looking for more recipes like these then I high suggest my Chickpea + Kale Pasta or the 30 minute Eggplant + Tomato Pasta!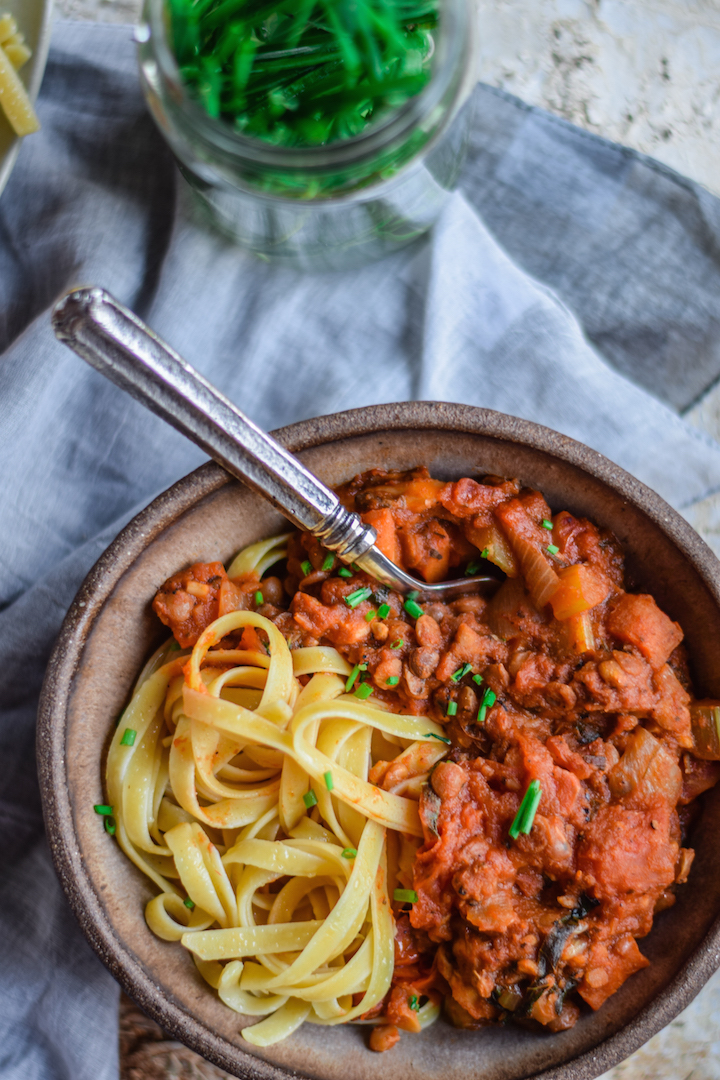 You could easily turn this sauce into the perfect meal to make, pop into containers and freeze for meal prep! It is just that nourishing and delicious that I recommend you make loads of batches to enjoy on those days where you hardly have time to brush your hair (thats a thing right?).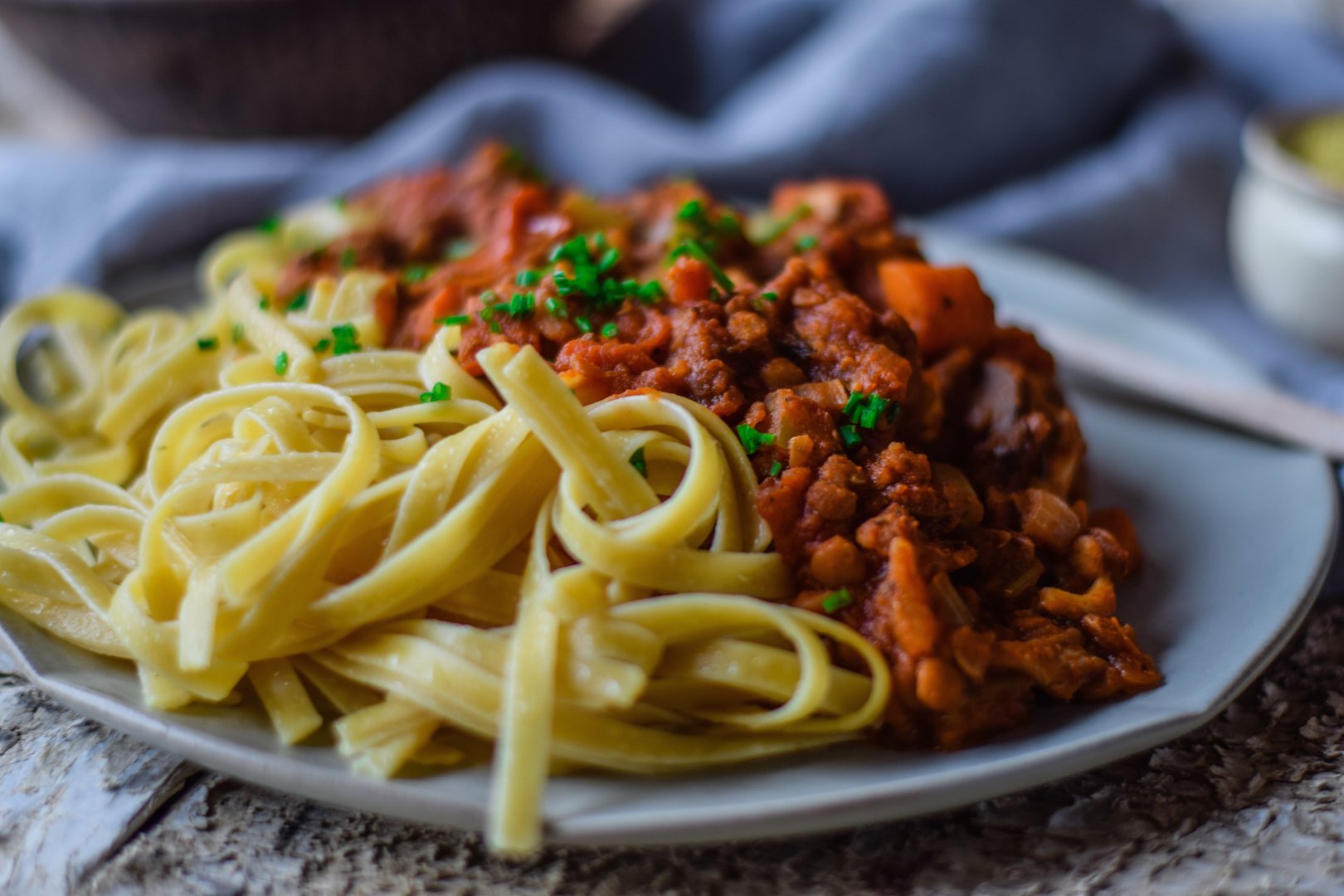 This protein pasta is:
healthy
filled with vegetables
warming
simple to make
creamy + rich
plant based
hearty
satisfying
I hope you enjoy this recipe as much as we did! As always if you try the recipe please leave us a comment below, we love your feedback!
Love from Your Greek Food Goddess XOX
Print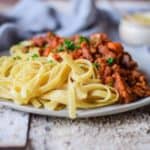 High Protein Pasta! (35 minutes and plant-based)
Author:

Prep Time:

10 mins

Cook Time:

35 mins

Total Time:

45 mins

Yield:

4

Category:

Pasta

Cuisine:

Plant-based
---
Ingredients
enough fettuccine or pasta to feed your family – this sauce is for 4 servings
2 tbsp EVOO
3 small onions, chopped
2 celery sticks, cubed
2 carrots, cubed
3 tomatoes, ripe, quartered
1/2 tsp salt
1/2 tsp black pepper
1 tbsp garlic powder
1 tbsp cumin
1 cup oyster mushrooms, roughly chopped
1 jar of your favourite tomato sauce (I used organic vegetable sauce) – no added salt
1 can of lentils, strained and washed
garnish with chives
enjoy with nutritional yeast
---
Instructions
Into a large sauce pan add your EVOO, onions, celery and carrots. Let them cook for 10 minutes on low heat. Stir occasionally to avoid burning .
Add your tomatoes, spices, and mushrooms. Cook for another 5 minutes on low.
Now add your sauce, and your lentils. Let this simmer for 20 minutes. Stir and keep an eye on it. You will know your pasta is ready when the fresh tomatoes are easily crushed with your mixing spoon.
Cook your pasta as instructed and enjoy warm or cold!
I garnished with chives but anything green, flavourful and colourful works! Make sure to add nutritional yeast!
Note: add more seasoning to taste, depends on what you like, I am a slight salt addict! (our secret)