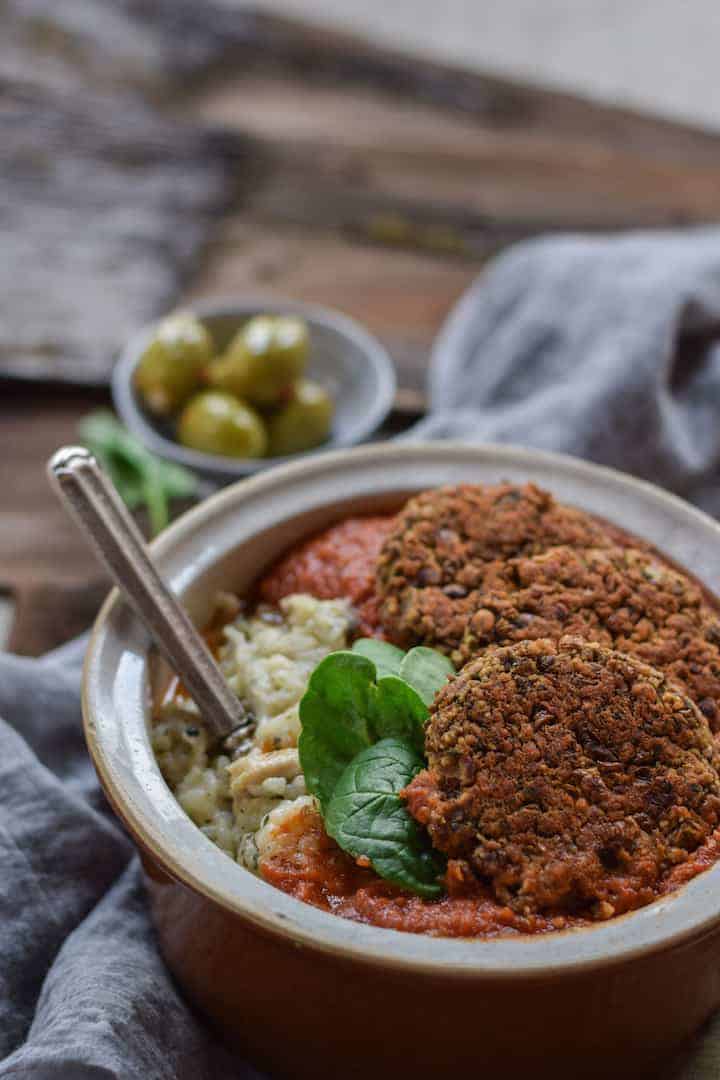 12 Mar

The Best Plant-based Lentil Protein Patties! (GF)

Calling all plant based diet eaters! Calling all natural food eaters! Calling all organic food fiends! Just kidding.  This recipe is for all to enjoy because not only is it healthy, easy to follow and good for you but it is the perfect way to get started on plant based diet recipes. The patties are so easy to put together because all you need is one bowl and your food processor! Then you create your little patties of goodness and leave it to the oven to finish them off.

If you thought that was easy then you'll be amazed to hear that the sauce requires your ingredients and a blender to prepare! Thats it!  It all starts with plum tomatoes and gorgeous spices like oregano, cinnamon and cloves. YUM! I should mention that most of my recipes are made using organic foods (and natural foods, duh!) which makes a huge difference in the flavours and quality of the dishes. Note: when I use canned foods I make sure I get the best quality possible!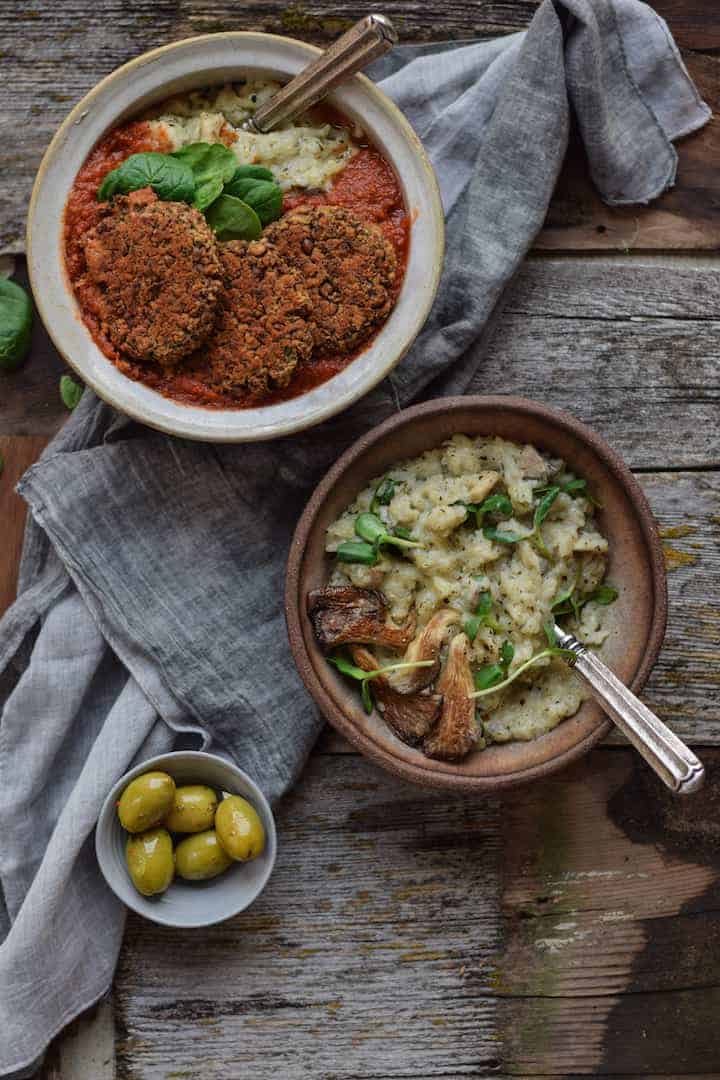 I had a few tricks up my sleeve with this vegan dinner recipe but one of them was completely out of my control. What, you ask yourself? Well can you believe those crunchy little Harvest Snaps (refer to recipe) are made from Black Beans and are gluten free?! The incorporation of these amazing ingredients was quite brilliant if I am honest as it added so many nutrients, plant-based protein and texture to this Patties!  If I am honest I don't think they would have been the same without them!
You're going to love these Lentil Patties + Sauce because they are:
healthy
easy to follow
delicious
crunchy + textured
packed with plant-based protein
gluten free
satisfying
I hope you enjoy this recipe as much as we did! As always if you try the recipe please leave us a comment below, we love your feedback!
Love from Your Greek Food Goddess XOX

The Best Plant-based Lentil Protein Patties! (GF)
Author:
Maria Koutsogiannis
Ingredients
Patties:
1 can lentils (strained and drained), or 2 cups cooked lentils
½ cup panko
¼ cup TVP, or chickpeas
¼ cup Harvest Snaps, put through food processor for more flour like consistency
1 tsp salt
½ tsp black pepper
½ tsp garlic powder
½ tsp onion powder
1 tbsp cilantro flakes
1 tbsp EVOO
Sauce:
2½ cups plum tomatoes
1 tsp each salt and pepper
1 tbsp cilantro flakes
1 tbsp garlic powder
1 tbsp onion powder
1 tbsp oregano
½ tsp cinnamon
¼ cloves
1 tbsp chilli oil or regular EVOO
Instructions
Preheat oven to 375F
Line a baking sheet with parchment paper, and lighting cover with olive oil. Set aside.
Into a large bowl add all your patties ingredients. Using a masher combine all the ingredients. This will require some arm grease but so worth it, finish off the mixture in the food processor to make sure everything is well combined.
Use an ice cream scoop to form the patties. Place onto greased baking sheet. You want them thick enough to be filling but thin enough to be crispy and crunchy!
Cook in oven on each side for 20 minutes!
Into a high speed blender add all your sauce ingredients. Blend till smooth.
Into a medium size sauce pan transfer your mixture and cook through till bubbly and delicious. This sauce will seriously rock your world!
Serve patties hot with a large dollop of sauce and your choice of side!