14 Mar

Quick + Easy Vegetable Stir-Fry (35 minutes)

This is the perfect dish to get you started on your plant based diet recipes! It is simple, delicious, made from both natural foods + organic foods and is extremely flavourful! I would recommend this recipe to anyone but especially those who are afraid of a "vegan" diet just to show them how easy it is to make vegetables – in this case – taste fabulous!

This Stir-Fry all starts with gorgeous golden onions, and slowly cooking off colourful vegetables till they're soft and ready to be tossed with delicious spices and stock.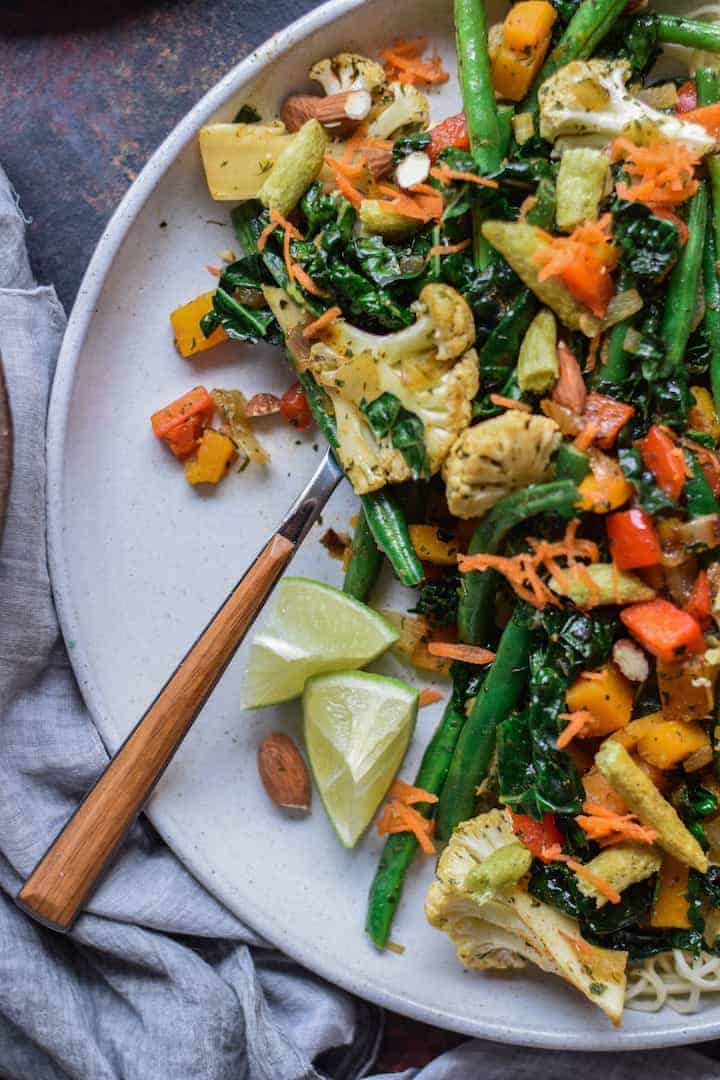 The real game changer in this dish is the Peanut Sauce + the Harvest Snaps! The sauce adds so much depth and creaminess to the dish while the GF Protein Packed Snacks add texture and crunch.  The lightly salted Harvest Snaps are made from Green Peas and are the bomb; so flavourful and distinct.  Need I mention that they bring a lot of nutrients, protein and character to the dish? No. I thought so.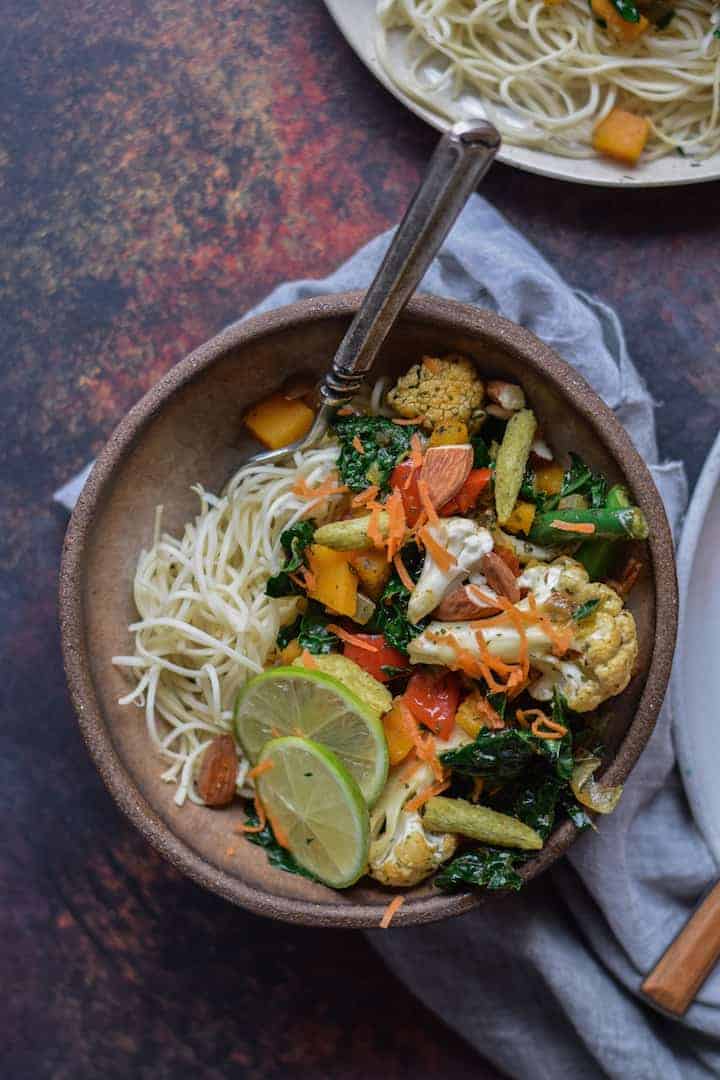 You are going to love this Vegetable Stir-Fry because it is:
healthy twist on stir fry
quick + easy
made using natural food
recipe can be adapted to use all organic food
plant based
creamy and crunchy
delicious!
I hope you enjoy this recipe as much as we did! As always if you try the recipe please leave us a comment below, we love your feedback!
Love from Your Greek Food Goddess XOX

Quick + Easy Vegetable Stir Fry
Author:
Maria Koutsogiannis
Ingredients
Noodles:
4 servings of your favourite noodles (soba, vermicelli, udon or rice noodles)
Stir Fry:
2 tbsp coconut oil
1 large white onion, chopped
2 cup butternut squash, cubed
1 cup red pepper, cubed
2 cup cauliflowers, florets
1 cup green beans, cut the stems off
½ cup veg stock1 tsp salt
½ tsp black pepper
1 tsp garlic powder
1 tbsp coriander flakes
½ tsp paprika
¼ tsp cayenne pepper
¼ tsp cumin
Peanut Sauce (would seriously recommend doubling this recipe):
¼ cup peanut butter
2 tbsp Spicy Sesame Oil
1 tbsp soy sauce
1 tbsp franks hot sauce
juice of one lime
1-2 tbsp water
Garnish: 1 cup Harvest Snaps (lightly salted), and lime wedges
Instructions
Into a large pan add your coconut oil. Let it heat up for a minute.
Add your onions and cook them down for 5 minutes on medium heat.
Now add your squash, peppers, and cauliflower. Cook for 10-15 minutes - with lid on - or until your squash is soft.
Now add your beans, seasoning, and stock. Cook for another 5 minute still on medium heat.
In the mean time prepare your noodles by following the package details.
Prepare your peanut sauce by adding all the ingredients into a jar and shaking really really well!
Serve each dish with some noodles, veg and sauce! Finish with some garnishing of Harvest Snaps and lime wedges. YUM!