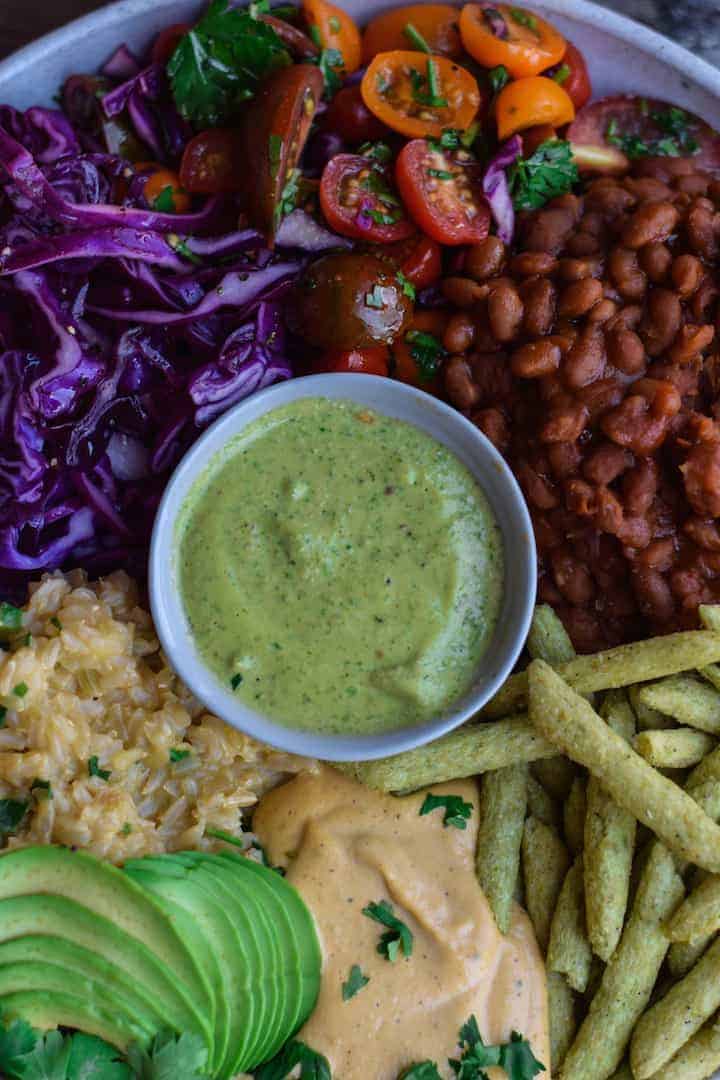 26 Mar

The Oaxaca Bowl (35 minutes, the perfect meal prep!)

Everyone meet THE OAXACA bowl! This dish was inspired by my friends down at Freshii, and since I eat this so often I decided I should make one for myself but with a few twists! First of all I should mention that the time to make this dish does not include the rice, I made this as a quick and easy meal using leftovers of things like Quinoa, Rice or Bulgar Wheat!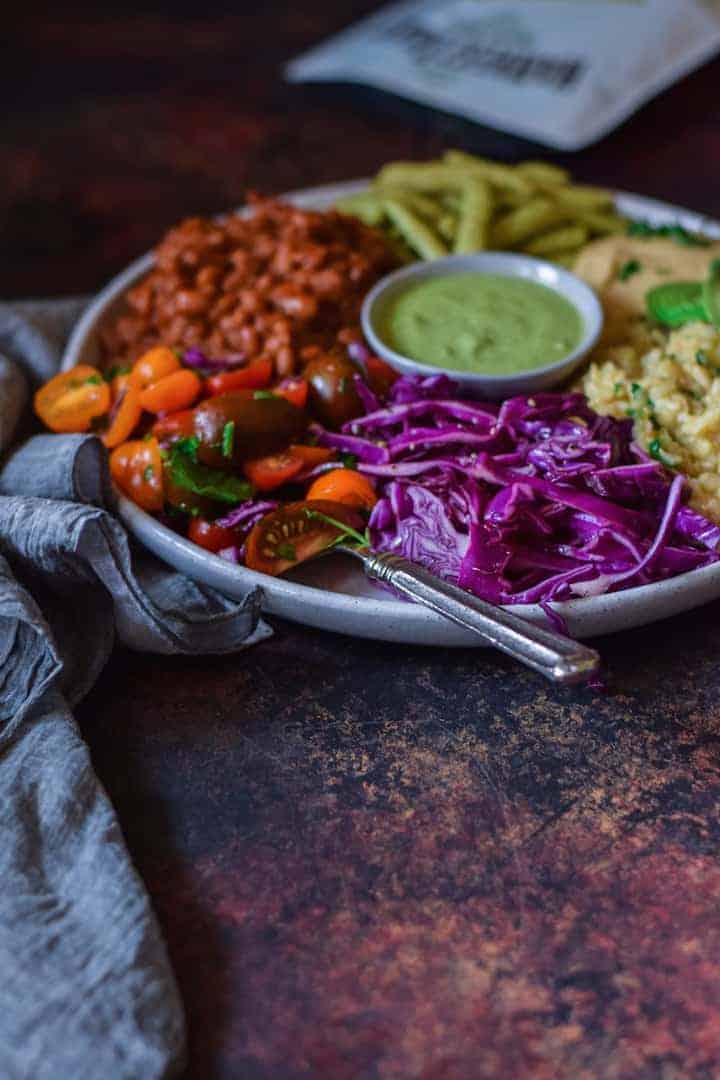 The natural food Oaxaca bowl is so simple, nutritious and truly delicious.  It is made up of a few components and really allows you to play with your favourites herbs and spices to customize each sauce, salad or carb to your families preference! So far its composed of some of my favourite plant based recipes and will definitely be listed on the must make everyday week list!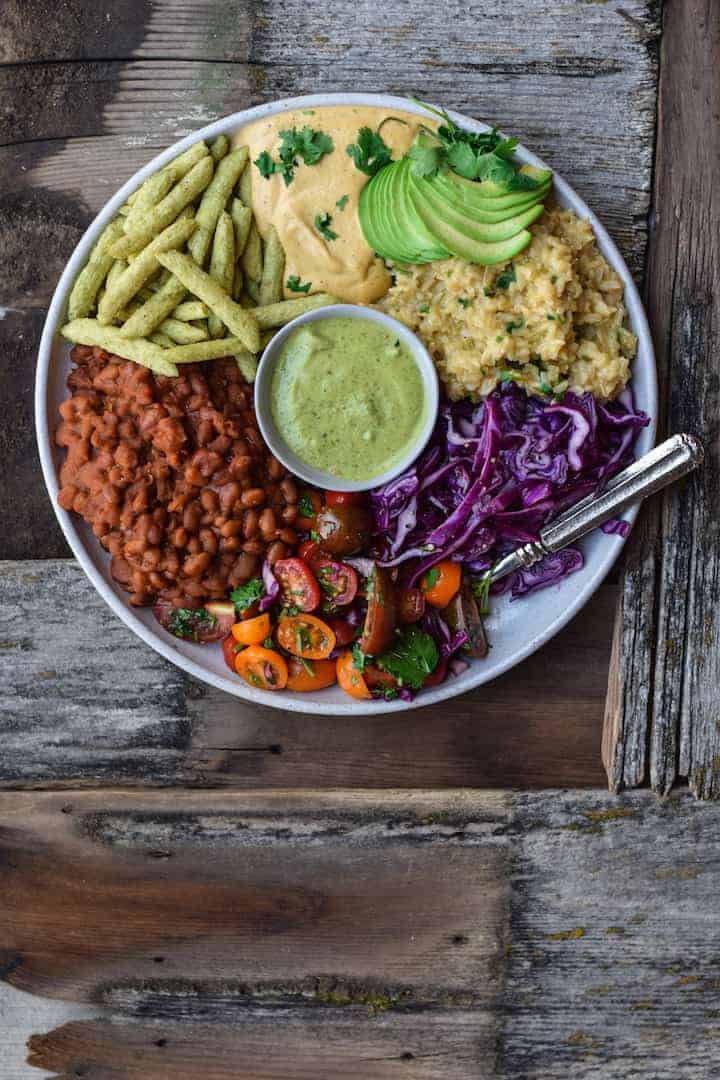 You're going to love the Oaxaca bowl because is it:
quick + easy
creamy and rich
versatile
crunchy
plant-based (vegan)
made using natural foods and organic foods
good for you
a tough of summer in spring!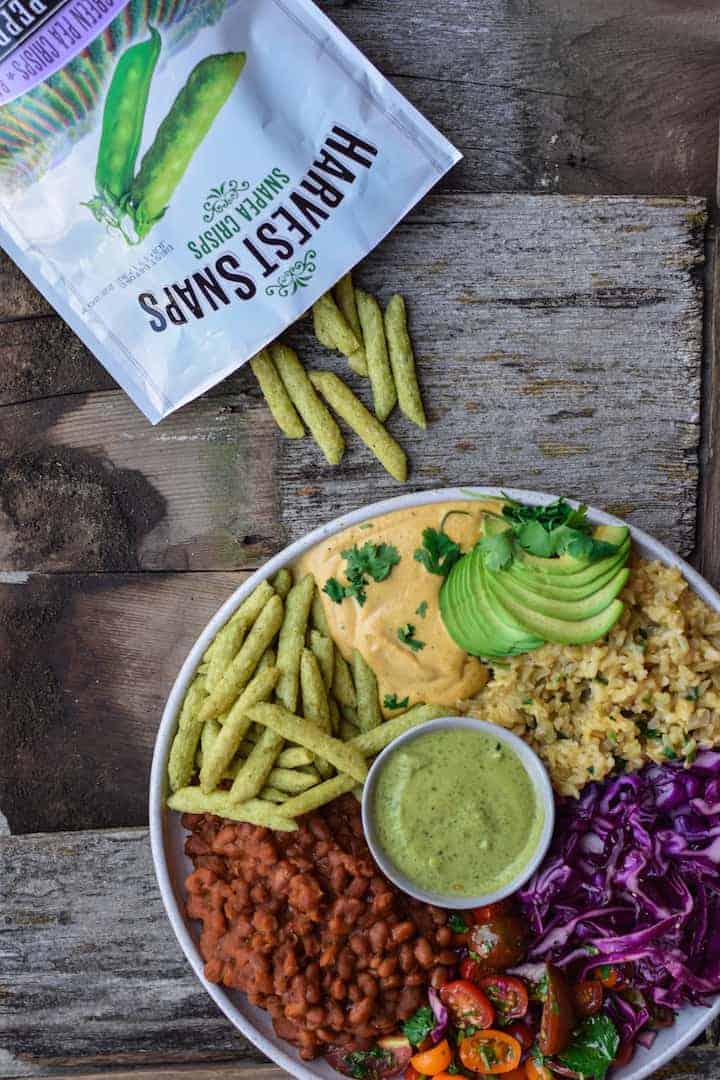 The original recipe used crispy won tons but I thought I would switch things up by adding the nutrient dense Harvest Snaps for extra crunch and added plant based protein! For this specific recipe I used their Black Pepper Harvest Snaps which are made from Snapeas (healthy! hell ya!). They added so much texture and creativity to this bowl.
Whats the bonus? Andrew loved it and I know all of you will to! As always if you try the recipe please leave us a comment below, we love your feedback!
Love from Your Greek Food Goddess XOX

The Oaxaca Bowl (35 minutes, the perfect meal prep!)
Author:
Maria Koutsogiannis
Ingredients
For the Rice:
cooked rice, for flavour I added cilantro and olive oil
For refried beans:
recipe to come but for now use your favourite recipe or organic canned refried beans!
simple reheat until bubbly and delicious looking! you can add spices like cayenne, paprika, cumin and turmeric for extra heat and fun!
For the Cashew Cream:
1 cup raw cashews
juice of one lemon
1 tbsp olive oil
¼ cup vegetable stock
pinch of salt and pepper
1 tsp hot sauce
1 tsp each onion powder, garlic powder and cilantro flakes
For Cilantro Lime Sauce:
1 cup fresh cilantro
2 tbsp olive oil
juice of one lemon
juice of one lime
2 tbsp vegetable stock
½ cup raw cashews
pinch of salt and pepper
For tomato salsa:
2 cups cherry tomatoes, halved or quartered
1 cup parsley or cilantro, roughly chopped
pinch of salt and pepper
1 tsp each onion and garlic powder
1 tbsp olive oil
juice of one lime
For Cabbage "slaw":
4 cups red cabbage, thinly sliced
2 tbsp olive oil
1 tsp each salt, pepper, garlic and onion powder
2 tbsp apple cider vinegar
1 avocado
black pepper Harvest Snaps
Instructions
Begin by cooking your rice as instructed, or pull out your leftovers from last night! Add flavour with your favourite herbs and spices!
Get cooking your favourite refried beans (as instructed), make your favourite recipe or simply substitute for cooked beans (black beans would be awesome!). This shouldn't take much longer than 10 minutes!
Get started on both sauces by simply adding the ingredients for each sauce into a blender and blending till smooth. Set them into the fridge until plating!
Prepare your salsa by adding all your ingredients into a bowl and stirring well.
Prepare your slaw by adding all your ingredients into a bowl and stirring well. I suggest using your hands here to crunch together the cabbage and create a delicious, and simple salad!
Garnish with Black Pepper Harvest Snaps, cilantro, and lime wedges!
The way I love eating this bowl is simple! Slab a bunch of each component into a bowl, and dig in!
I guarantee you that you're going to fall in love with this dish!