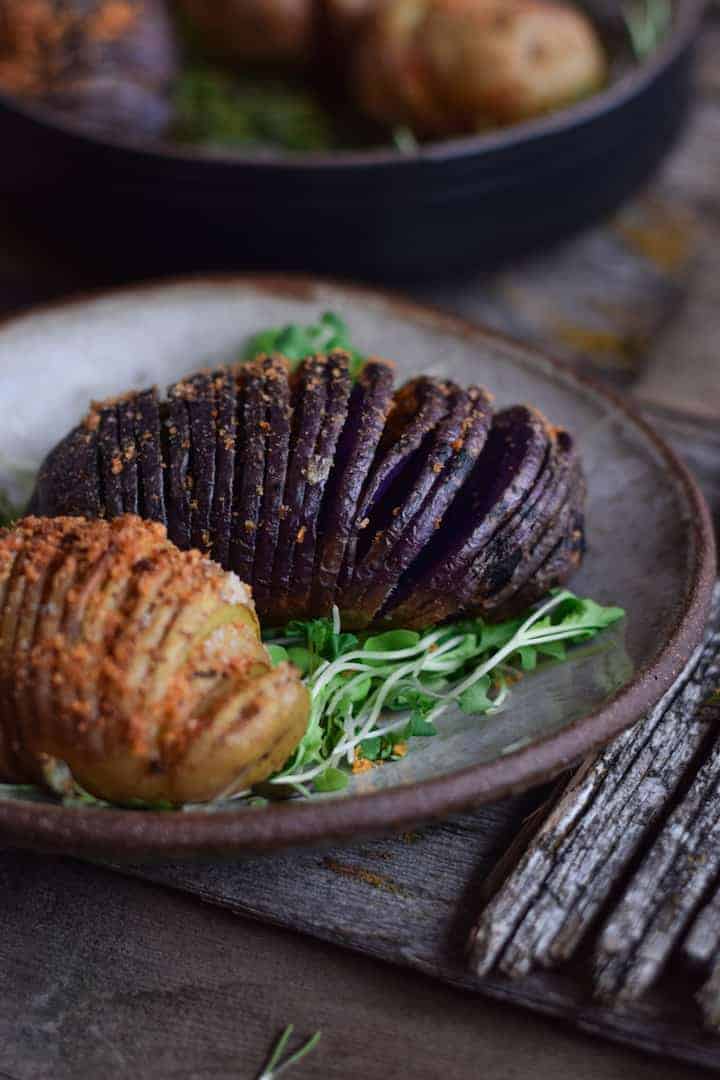 29 Mar

How to make Hasselback Potatoes

Did someone say Hasselback Potatoes?! Hell yah we did, and they are so good and easy to make.  I feel they are currently the most trendy and sexy way to present the natural food, the potato, and without the stress and fuss!  These bad boys are perfect for a dinner pairing, quick lunch, or even breakfast with delicious lentil in sauce and side of avocado and tomatoes.   The plant based recipe possibilities are endless when you have fun and use natural and organic foods!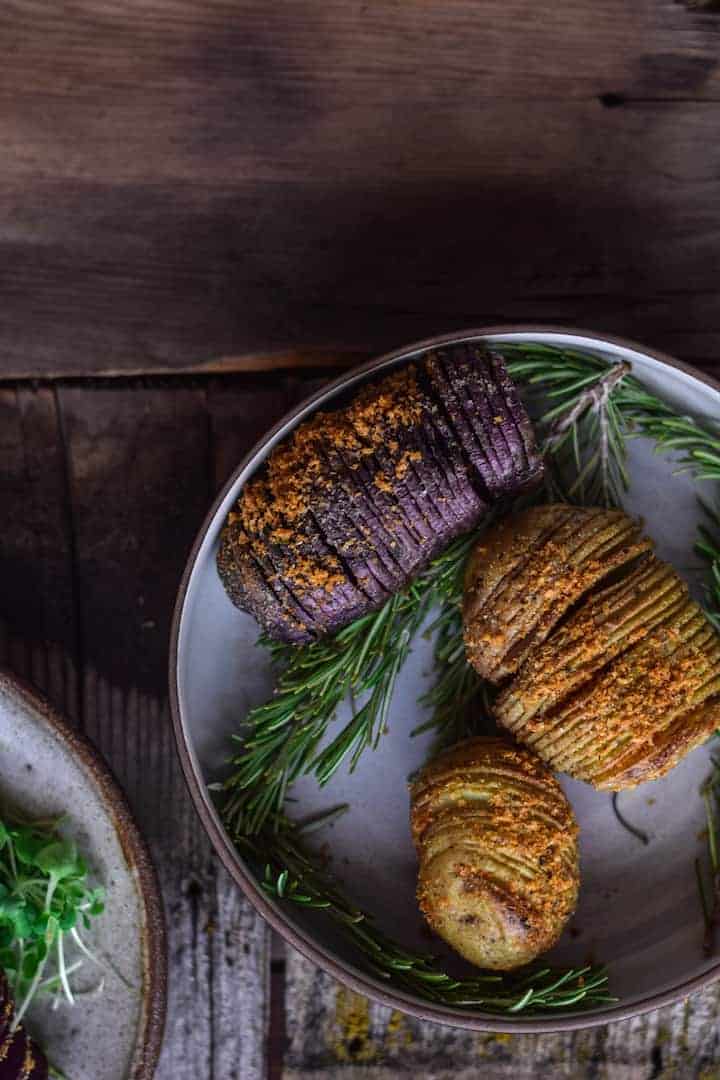 This whole simple dish starts with two components.  The potatoes and the fat – its that simple! You can completely amplify this dish by adding the optional ingredients, like Harvest Snaps, vegan butter and rosemary.  This crumble crusty coating adds so much texture, character and a sense of class and fun.  The Harvest Snaps are a perfect source of added nutrients, plant based protein and flavour! I mean can you believe they are made from REAL vegetable!?! I can because they taste amazing, and really transform this dish into something special for the whole family to enjoy.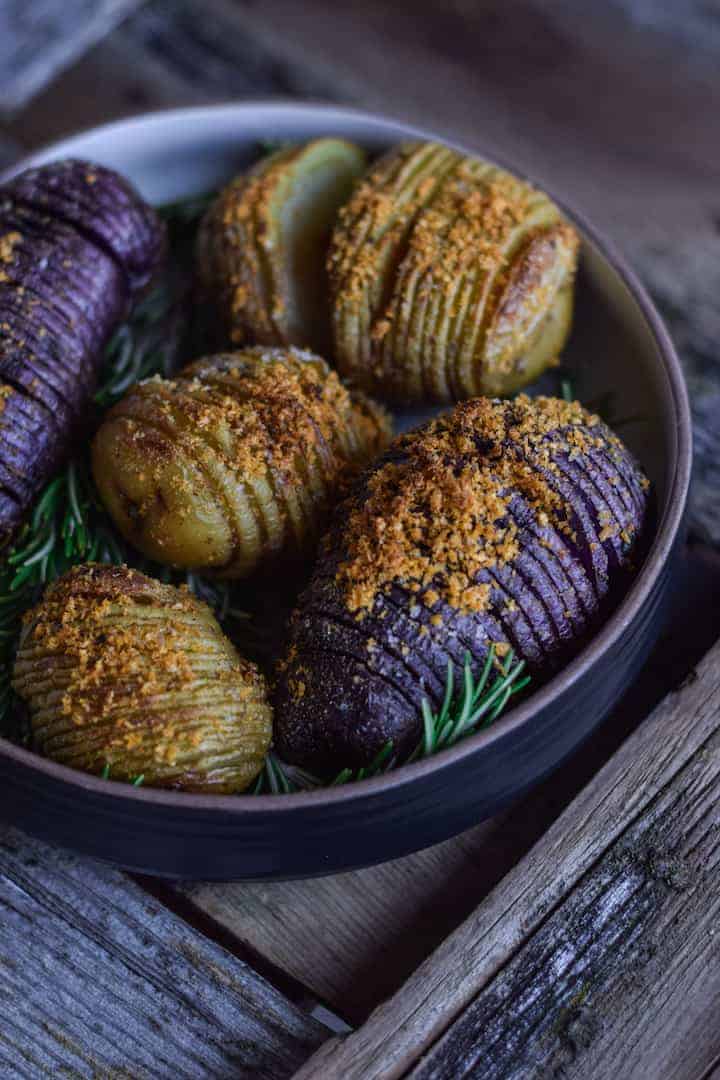 You are going to love these Hasselback Potatoes because they are:
plant based (vegan)
delicious
easy and fuss free
crunch and soft
made using natural food and organic food
guilt free
and satisfying
I hope you enjoy this recipe as much as we did! As always if you try the recipe please leave us a comment below, we love your feedback!
Love from Your Greek Food Goddess XOX

How to make Hasselback Potatoes
Author:
Maria Koutsogiannis
Ingredients
4-6 potatoes - Yukon Gold, Russet, Red Bliss, or Purple
4 tablespoons melted vegan butter, olive oil or coconut oil
Salt
Pepper
Optional extras: minced fresh herbs, spices, panko crumbs, harvest snaps
Instructions
Heat the oven to 425°F with a rack in the lower-middle position.
Wash, scrub, and pat dry the potatoes. You can also peel the potatoes.
Cut slits in the potatoes, leaving the bottom intact, stopping just before you cut through so that the slices stay connected at the bottom of the potato. Space the slices ⅛-inch to ¼-inch apart.
Brush, or cover potatoes with half your beautiful oil or fat.
Give the potatoes a generous dusting of salt and pepper.
Optional: into a food processor add 1 cup of harvest snaps, 2 sprigs of rosemary and 1 tbsp vegan butter. Pulse till a fine crumb develops.
Cover potatoes with this gorgeous and fragrant crumble.
Bake the potatoes for 30 minutes. Remove the potatoes from the oven, and add the other half of the oil or fat to the potatoes. Make sure they get an event coating, and that some of the oil drizzles down into the cracks of the potato slits.
Bake for another 30 minutes until the potatoes are crispy and easily pierced with a sharp knife or tooth pick.
If you use smaller or larger potatoes cook accordingly.
Serve immediately because these puppies taste best hot and fresh!