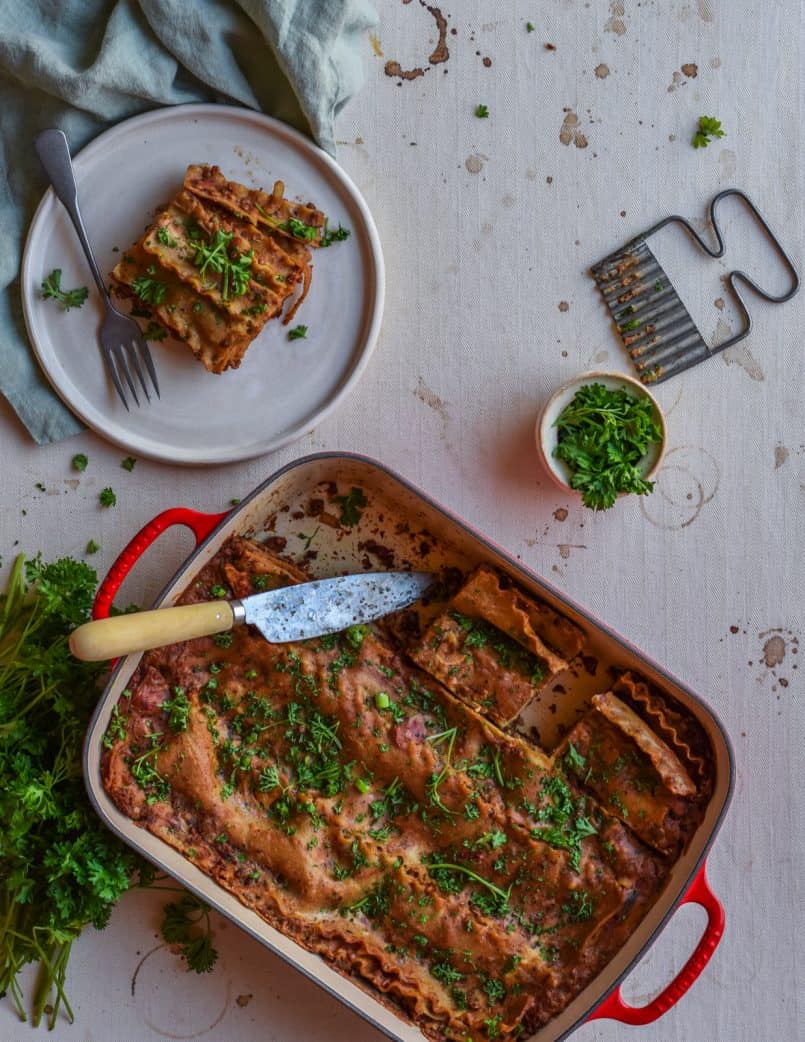 01 Dec

The Best Veggie Lasagna Ever!

THE BEST DAMN LASAGNA EVER! This meal is going to blow your mind, yes, it takes a bit more time than the usual culprits but it is so worth it! Andrew and I really struggled not to eat all of this after it was made (we had to wait to photograph it), and damn was that ever hard!

This Lasagna is perfect to add to your collection of plant based recipes because it is delicious, good for you, and really ideal to feed a large family! You can either make two and be left with loads for meal prep, or have the best left over day ever.
Benefits!?
made using natural food
easily can use your favour organic foods to amp things up and make it ultra local and amazing!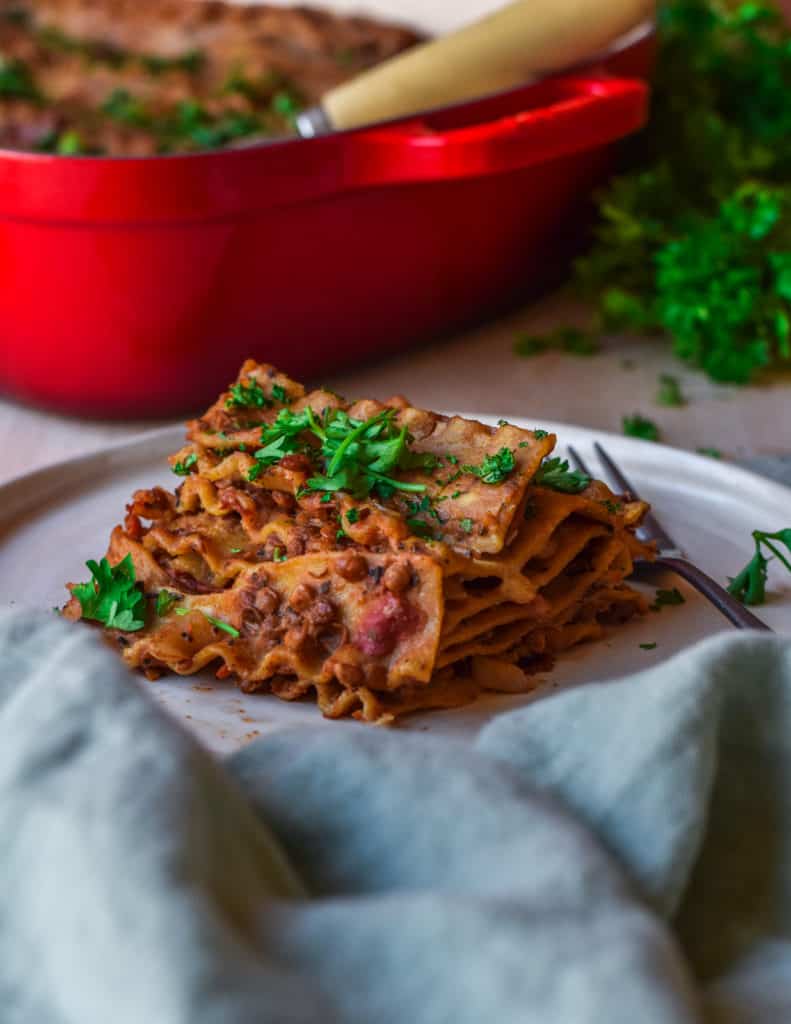 This whole meal starts with a onion and vegetable base (natural foods rock), more flavoursome ingredients like nutritional yeast, and loads of gorgeous herbs and spices to make this sauce stand out and keep you wanting more!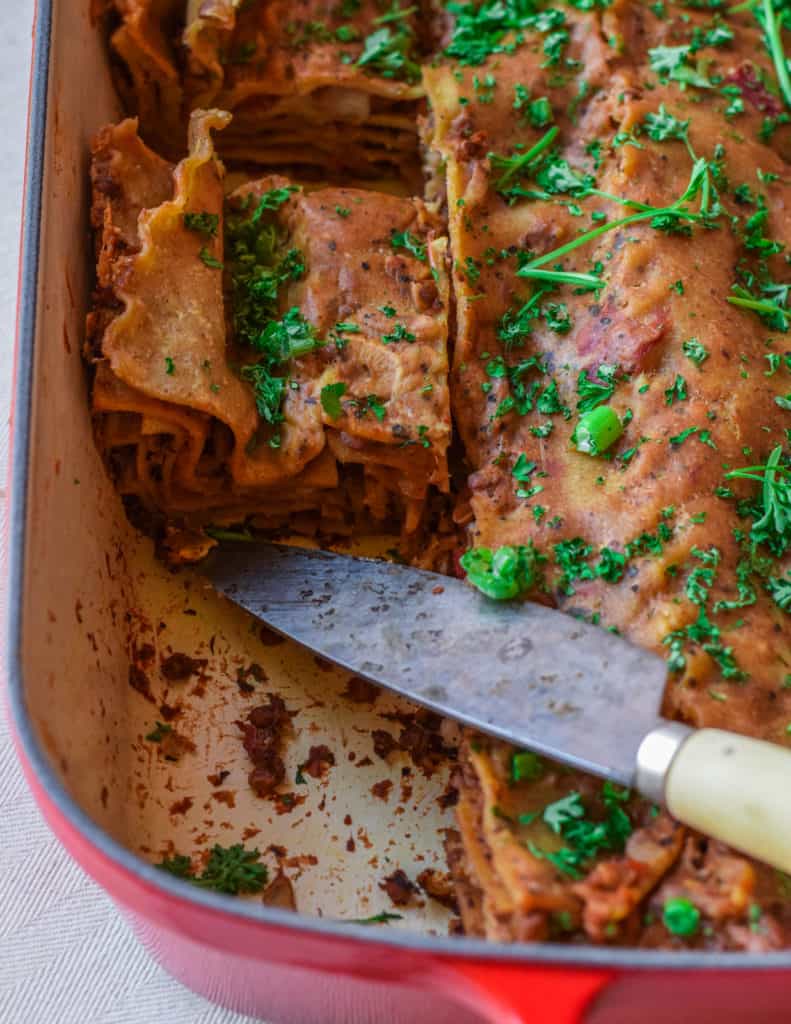 I highly suggest this dish if you are looking for something hearty and healthy to make for your family.  It really is a Lasagna game changer! I would like to thank my friend Sam from @sobeautifullyreal for the gorgeous Bechamel inspiration, this dish would not be the same without it!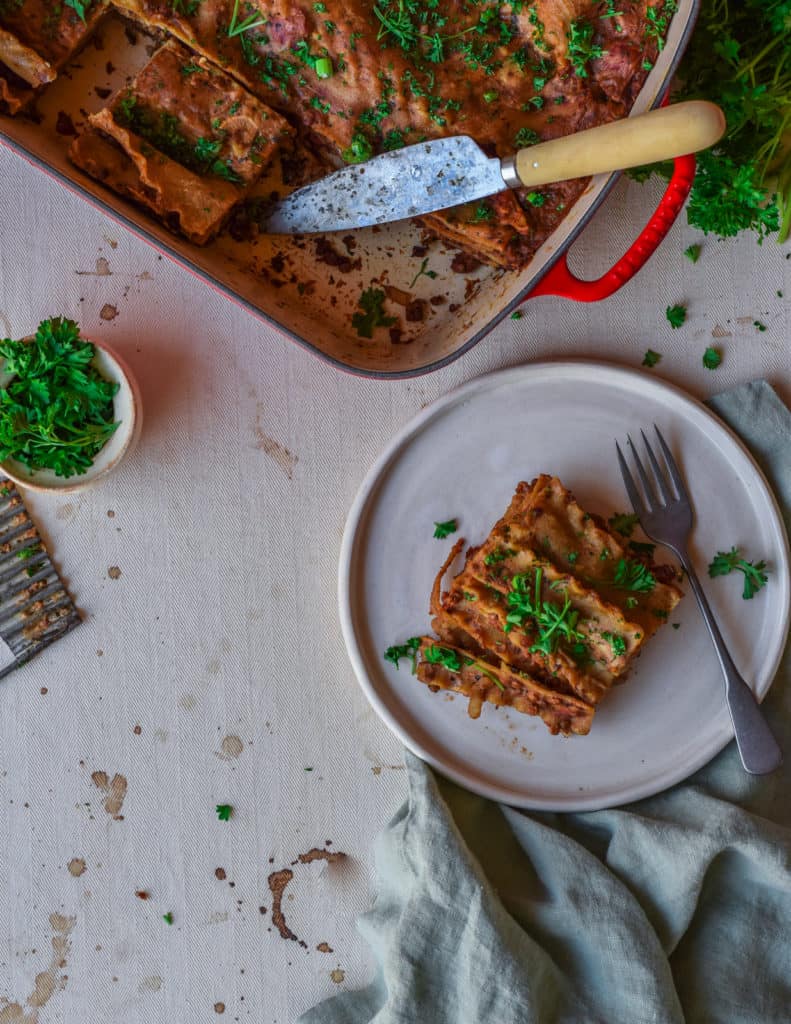 You are going to love this Lasagna because it is:
hearty + healthy
creamy + luxurious
plant-based (vegan)
comforting
the perfect dinner!
I hope you enjoy this recipe as much as we did! As always if you try the recipe please leave us a comment below, we love your feedback!
Love from Your Greek Food Goddess XOX
Print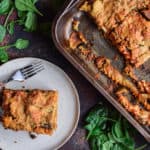 The Best Veggie Lasagna Ever!
Author:

Prep Time:

40 mins

Cook Time:

45 mins

Total Time:

1 hour 25 mins

Yield:

8

Category:

Dinner

Cuisine:

Plant-based
---
Ingredients
For the lasagna:
24 lasagna sheets, I used oven ready
For the Tomato Sauce:
3 tbsp EVOO (extra virgin olive oil)
2 large white onions, chopped
2 500 ml can of lentils, strained and washed
2 tbsp oregano
2 tbsp basil
2 tbsp coriander
2 tbsp garlic powder
1 tsp salt
1 tsp fresh cracked pepper
1 tsp cinnamon
1/4 cumin
1/4 cinnamon
1/8 tsp clove
1/2 cup vegetable stock
2 large tomato sauces, 700ml each (you can use plain or flavoured, just add less salt if it has salt already)
For the "Ricotta Cheese":
1 cup raw cashews
2 tbsp plant based yogurt or cashew cheese (Yoso or Spread Em)
1/2 cup – 3/4 cup vegetable stock
2 fresh sprigs oregano
dash of olive oil
fresh cracked pepper to taste
For the Bechamel:
3 tbsp vegan butter
3 tbsp olive oil
3-4 tbsp all purpose flour
4-5 cups almond milk
3 tbsp nutritional yeast
1 tbsp lemon juice
garlic powder to taste
Topping: 1-2 cups vegan cheese
---
Instructions
Preheat your oven to 375F, drizzle a large deep dish 16″L x 9″W x 2.50″H with olive oil and set aside.
Into a large pot add your olive oil and let it heat up for a few seconds.
Now add your onions, and let them sweat down on medium heat for around 5 minutes. Stir occasionally to avoid burning.
Now add your lentils. Cook for 5 minutes and stir occasionally.
Add all your spices and herbs. Stir well. Cook for another 5 minutes.
In the mean time prepare your Cashew Ricotta by adding all your ingredients into a high speed blender and blending till completely smooth and creamy. Once ready set the mixture aside and take a look at your cooked down onions and lentils that are cooking down in the pot.
It is now time to add your stock and tomato sauce. Bring this whole mixture to a boil, then simmer on low heat for around 15 minutes.
Once your mixture has cooked for 15 minutes remove from heat and let it cool.
Now make your bechamel. Into a small pot add your butter and oil. Let it melt on low heat. Once melted add your flour and give it a good stir, using a whisk! Once a thick paste forms begin slowly adding all your milk while stirring quite rapidly. You want to add a cup at a time and add more just as you notice the mixture to thicken. You will notice that the mixture begins to look like a gorgeous cream. This is when you will need to add your nutritional yeast, lemon juice and garlic powder. The mixture should be thin enough to easily drizzle over the top. NOTE: if this thickens too much after putting together your lasagna simply add some water or coconut milk to thin it back out! 1-2 tbsp should work!
Now it is time to start putting together your lasagna.
First start with your tomato sauce, then I placed 4 sheets of lasagna down on my dish first, then béchamel, some ricotta and repeat all the steps till the top. NOTE: you may have left over tomato sauce. Just before baking top your lasagna with 1-2 cups of your favourite vegan cheese.
Bake for 45 or till golden brown and amazing!
Pin the below picture to save this recipe for later!