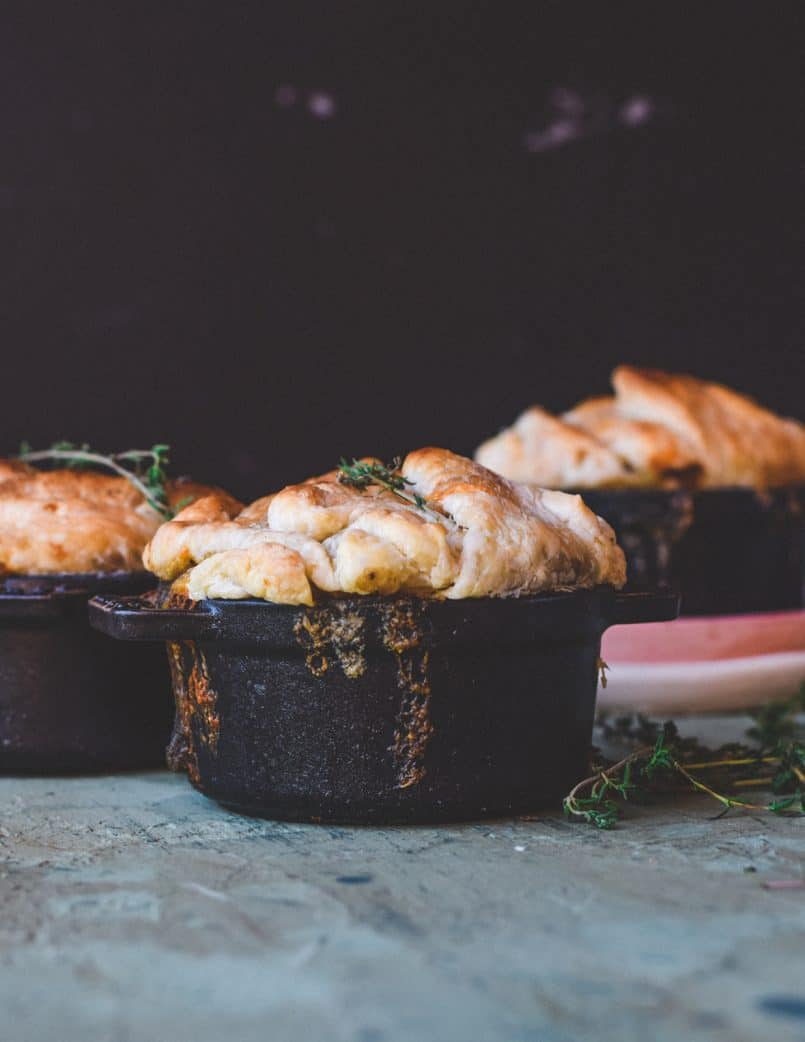 05 Dec

Festive Crunchy and Creamy Onion + Mushroom + Potato Pot Pies

Yes, that's right, you see what I see.  You see Potato Mushroom Onion Pot Pies and your eyes are telling you that your stomach is very very hungry.  Suddenly, you stop what you're doing and you run to the kitchen to make these delicious, perfect little pot pies.  Don't worry, I don't judge you if you all four and don't share them… they're just that good baby.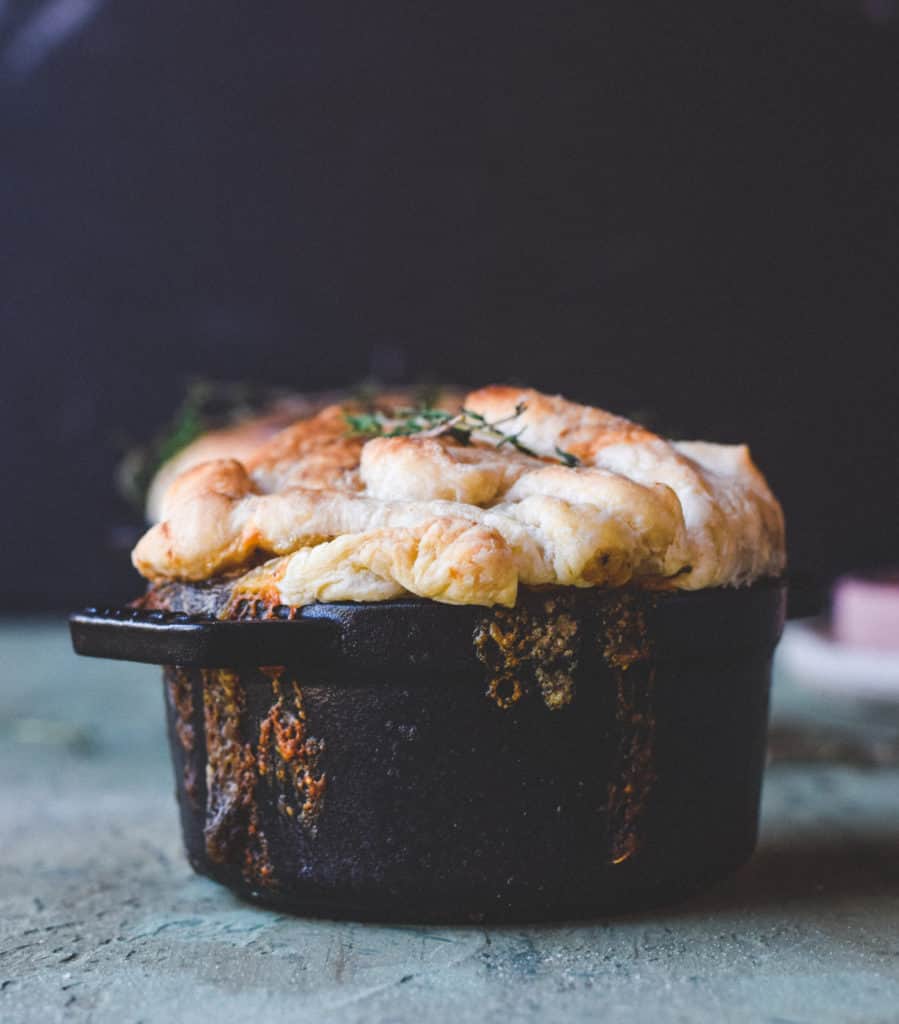 They're festive. They're creamy.  They're crispy.  They're perfectly imperfect.  This recipe is fabulous for so many reasons but mostly because it is forgiving AF.  Have fun with it, add what you know you like and remove what you know you don't.  Christmas is about good food, family and enjoying each others company, so make sure you're feeding to please your guests and not feeling restricted to this EXACT recipe!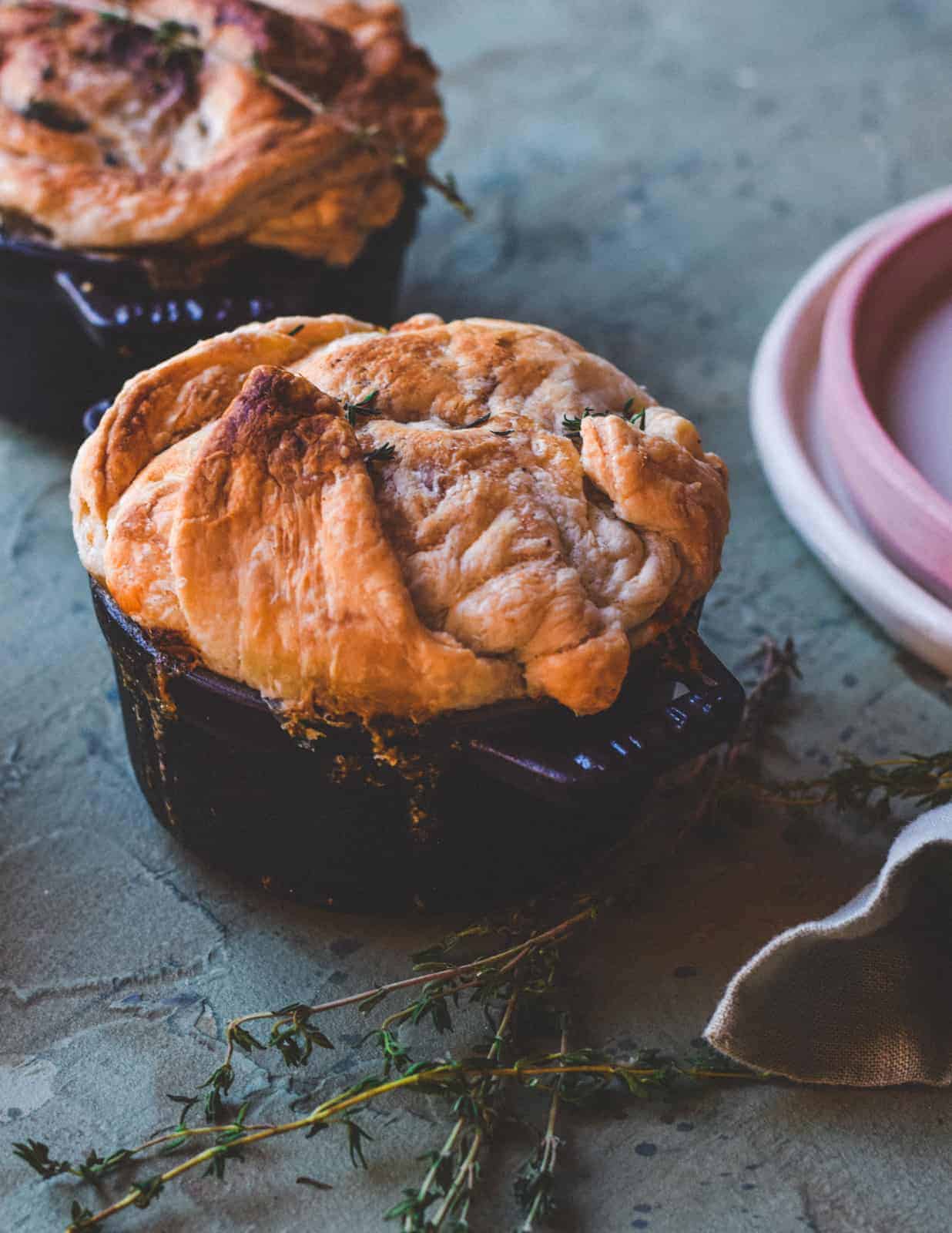 These will make for the perfect starter over the holidays and I assure you, they'll come back for more! They're rather easy to make and are filled with flavour, character and aroma.  I especially loved the way my house smelt when I made these, so I suggest you make them just before your friends+ family arrive, nothing says "damn I'm gonna eat some good food" like smelling damn good food.
They're vegan, they're perfect for your plant based diet recipes list and they made from natural food.  Nothing says nourishing quite like natural food, right?  Who says eating holiday food has to be bad food?  I know I didn't!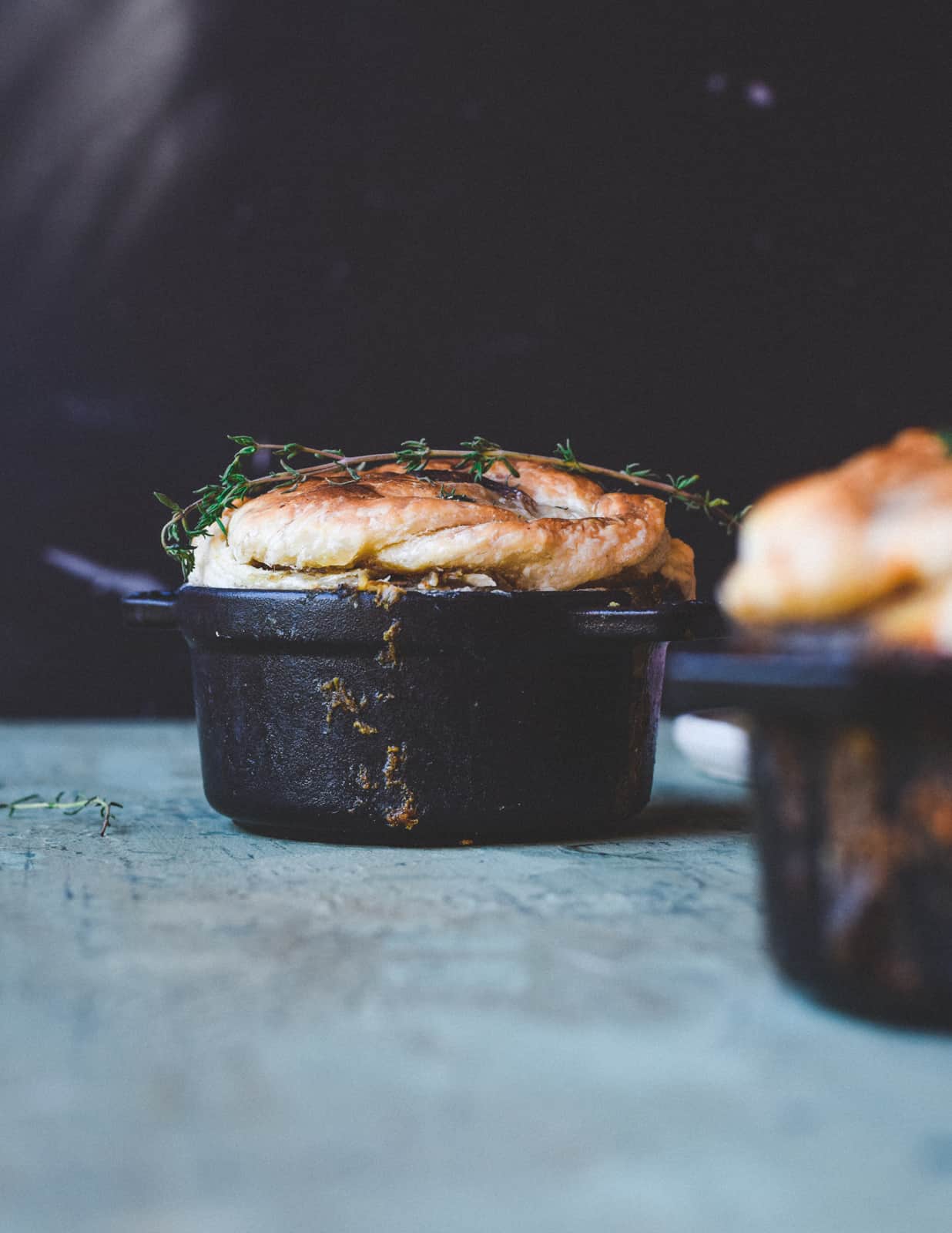 I am so jealous knowing you're at home, reading this and getting ready to make this recipe.  Please think of me while you spoon into this crispy outside and steamy, creamy pot pie.
What is your favourite recipe to make for your family over the holidays?  Does this recipe make the cut?  Let us know!
Love from Your Greek Food Goddess XOX
Print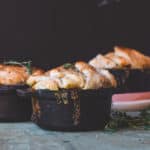 Onion + Mushroom + Potato Pot Pies
Author:

Prep Time:

10 mins

Cook Time:

35 mins

Total Time:

45 mins

Yield:

4

Category:

Festive Dish

Cuisine:

Vegan
---
Ingredients
2 tbsp. extra virgin olive oil
2 tbsp. vegan butter
1 medium sweet white onion, finely chopped
5 cups mushroom, I used crimini, white button and shittake, thinly sliced
3 garlic cloves, pressed
1 vegetable stock cube, unsalted
season to taste
2 sprigs of thyme, remove from stock and finely chop
1 tbsp. tamari or soy sauce
1 tbsp. nutritional yeast
1 tbsp. onion powder
1 tbsp. coconut sugar
1/4 tsp cumin
1/4 tsp cloves
dash of chilli or chilli flakes
2-3 tbsp. lemon juice
2 tbsp corn starch or flour
1 3/4 cups coconut cream
2 cups steamed white potatoes, with skins, cut into chunks
2 sheets of puff pastry – make sure to thaw in fridge in fridge before using
meltable vegan cheese of choice
---
Instructions
Start by steaming your potatoes. I like leaving the skins on and cutting them into bit size pieces. Cook till soft but not falling apart.
Begin by adding your oil and butter to a large pot on medium-low heat for around 30 seconds. Add your onion and brown for around 5 – 7 minutes or until golden and soft. Stir occasionally to avoid burning.
Now add your garlic and mushrooms to the pot. Cook them down till they reduce by 1/3 or until soft. This should take another 5 minutes.
Once your mushrooms are cooked you can add your stock cube, seasoning, soy sauce, nutritional yeast and spices. Stir this mixture till well combined.
You can now add in your lemon juice and corn starch. Using a spatula stir quite aggressively to make sure that the flour is well combined and coated to the onions and mushrooms. Look out for clumps and if you spot any use a fork to poke them apart.
Turn your heat to high, add your coconut cream and bring this mixture to a boil. Stir often to watch the consistency change and to avoid burning. Once your mixture is bubbling, turn heat to low, add steamed potatoes and simmer on low for around 5 minutes.
Preheat your oven to 400F and line a baking sheet with parchment paper and set aside.
Grab your mini dutch oven pots, grease them with oil and set aside.
Cut each puff pastry sheet into 4 and begin placing a little sheet on the base of each mini pot. I kept the corner of each sheet pulled over the pot so that when I filled it with the mixture and covered it with the other puffed pastry sheet it would act as a little pinch pocket and add character to the pot.
Once all your little pots are lined with the pasty then begin adding in the potato and mushroom mixture. Fill to the top and grate some of your favourite vegan or non vegan cheese on top!
Cover with your other puff pastry sheet and pinch the side to create your own little distinct style!
Brush with oil or melted butter before cooking on baking sheet for 20 minutes in the oven.
NOTE: there may be some potato and mushroom sauce left over but you can totally eat that while you wait for the main meal 😉
Pin the below photo to save this recipe for later!