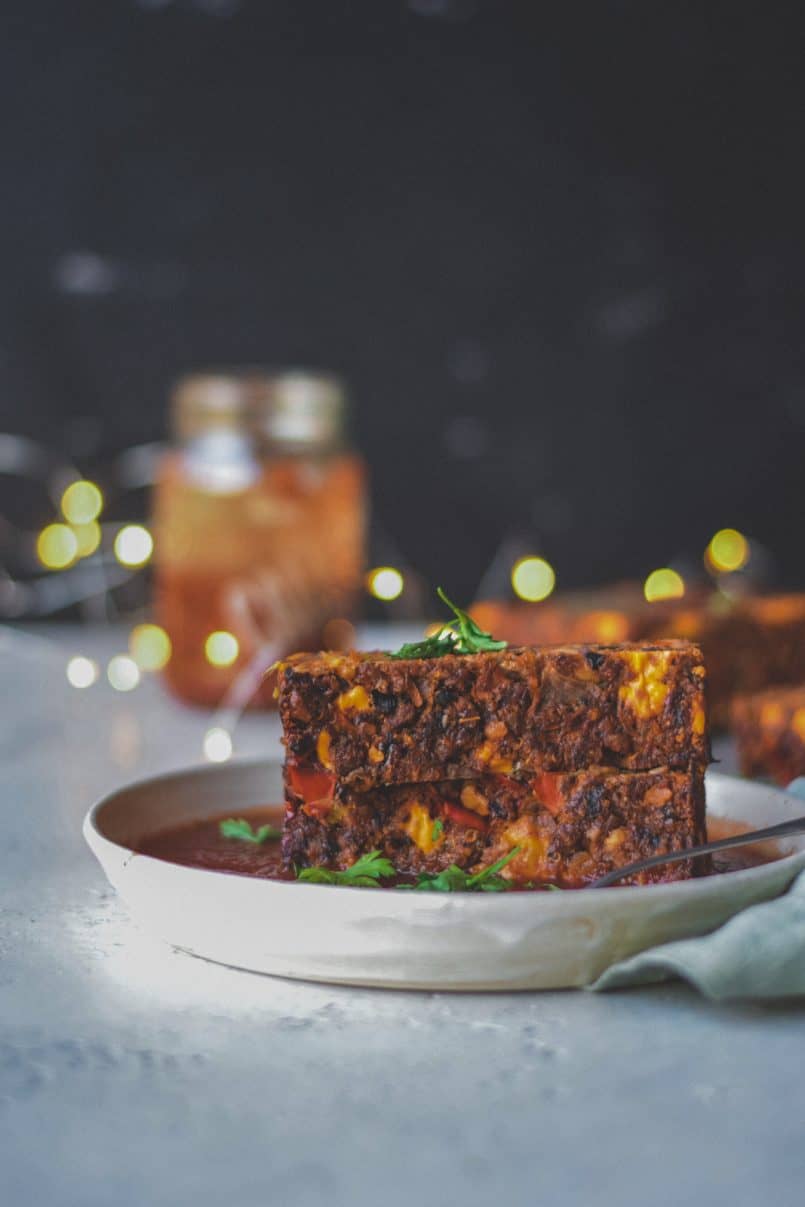 18 Dec

Festive Nut Roast for The Holidays

This recipe is perfect for the holiday season. It's filled with nuts, veggies and goodness which will complete any holiday dinner. Who ever made the rule that you needed to have turkey at a holiday dinner anyway?
The nuts in this recipe in particular serve up all sorts of healthy benefits. Nuts are naturally filled with nutrients, they are loaded with antioxidants, can help lower your cholesterol, reduce inflammation, and those are just a few of the benefits they offer. That's why I love this roast recipe so much, especially paired with my Grandmas 25 Minute Pasta Sauce which helps make it the ultimate comfort meal.
Print
Festive Nut Roast for The Holidays
Author:

Prep Time:

10 mins

Cook Time:

1 hour 10 mins

Total Time:

1 hour 20 mins

Yield:

6-8

Category:

Main Entree

Cuisine:

Vegan
---
Ingredients
1 1/2 cups mixed nuts – I used walnuts, pecans and hazelnuts – pulsed in food processor for 10 seconds
2 tbsp. extra virgin olive oil
2 tbsp. vegan butter
1 large sweet onion, finely chopped
2 stalks celery, finely chopped
1 red pepper, finely chopped
1 large carrot, grated
3 cloves garlic, pressed
2 cups mixed mushrooms, roughly chopped
2 tsp tomato paste
1 tbsp. oregano
1 tbsp. thyme
1 tsp smoked paprika
1/4 tsp cayenne – optional
a handful of fresh sage
1 cup bread crumbs – I used panko
1 cup cooked quinoa
2 flax eggs (2 tbsp. ground flax seed and 6 tbsp warm water) or 2 egg replacements
season to taste
1 cup grated vegan mozzarella or cheddar
---
Instructions
Preheat your oven to 400F.
Into a baking dish or sheet pan add your mixed nuts. Cook for around 15 minutes or until toasted and aromatic. Pulse through food processor for a few seconds. You want them chunky, not like a meal.
Into a large pot heat your oil and butter on medium for around 30 seconds. Throw in your onions and cook down for 5 minutes or until translucent. Now add in your celery, pepper, carrot, garlic and mushrooms. Cook for 10 minutes or until the vegetables have softened and the kitchen smells of heaven.
Keep pot on medium heat and add in your tomato paste, herbs + spices, bread crumbs and quinoa. Cook for another 5-10 minutes, stirring gently to make sure everything is well combined.
Prepare your flax egg or egg replacement and set aside.
Remove pot from heat and let it cool for a few minutes before adding the flax egg and cheese of choice. Stir well and watch this beautiful roast come together!
Line a 12″ L x 6″ W x 3″ D baking tin with parchment and lightly grease with coconut oil spray.
Begin adding your roast mixture into the tin and make sure to pack it down as you go. You really watch everything to be tight and compact. If you do this properly you will end up with a perfect roast shape!
Decrease oven temperature to 375F and bake roast in oven, covered with tin foil for around 45 – 50 minutes. Once cooked remove from oven and let it cool in the tin for around 10 minutes before removing and cutting into pieces.
Serve with favourite tomato sauce of choice but I highly recommend Grandma's Pasta Sauce (see body of post for recipe link).
Pin the below photo to save this recipe for later!