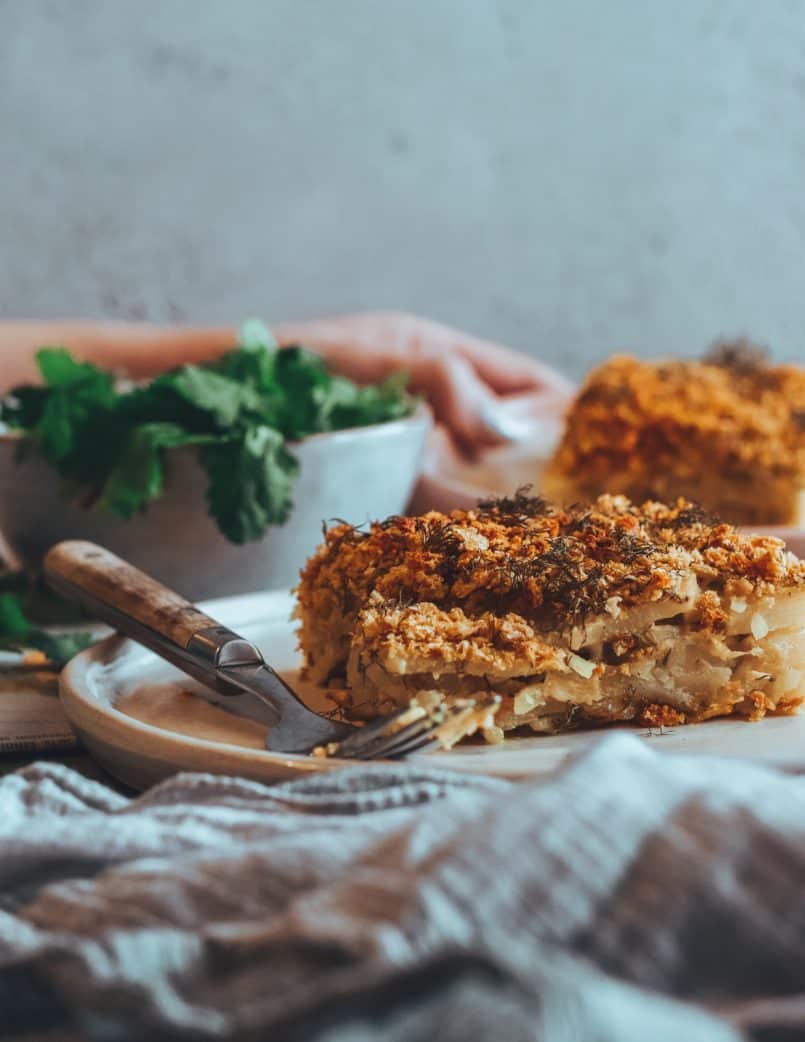 29 Dec

Creamy, Dreamy Potato Gratin

Looking for the perfect recipe to take to your next pot luck that's simple to make, will impress your friends and family, and is fantastic even leftover? Look no further! This creamy, dreamy potato gratin recipe is just what you're looking for.

I love this recipe because it's filled with flavour and it's super forgiving. Add what you know your family loves to the recipe and don't look back. This potato gratin is incredibly versatile and will surely become a staple in your kitchen.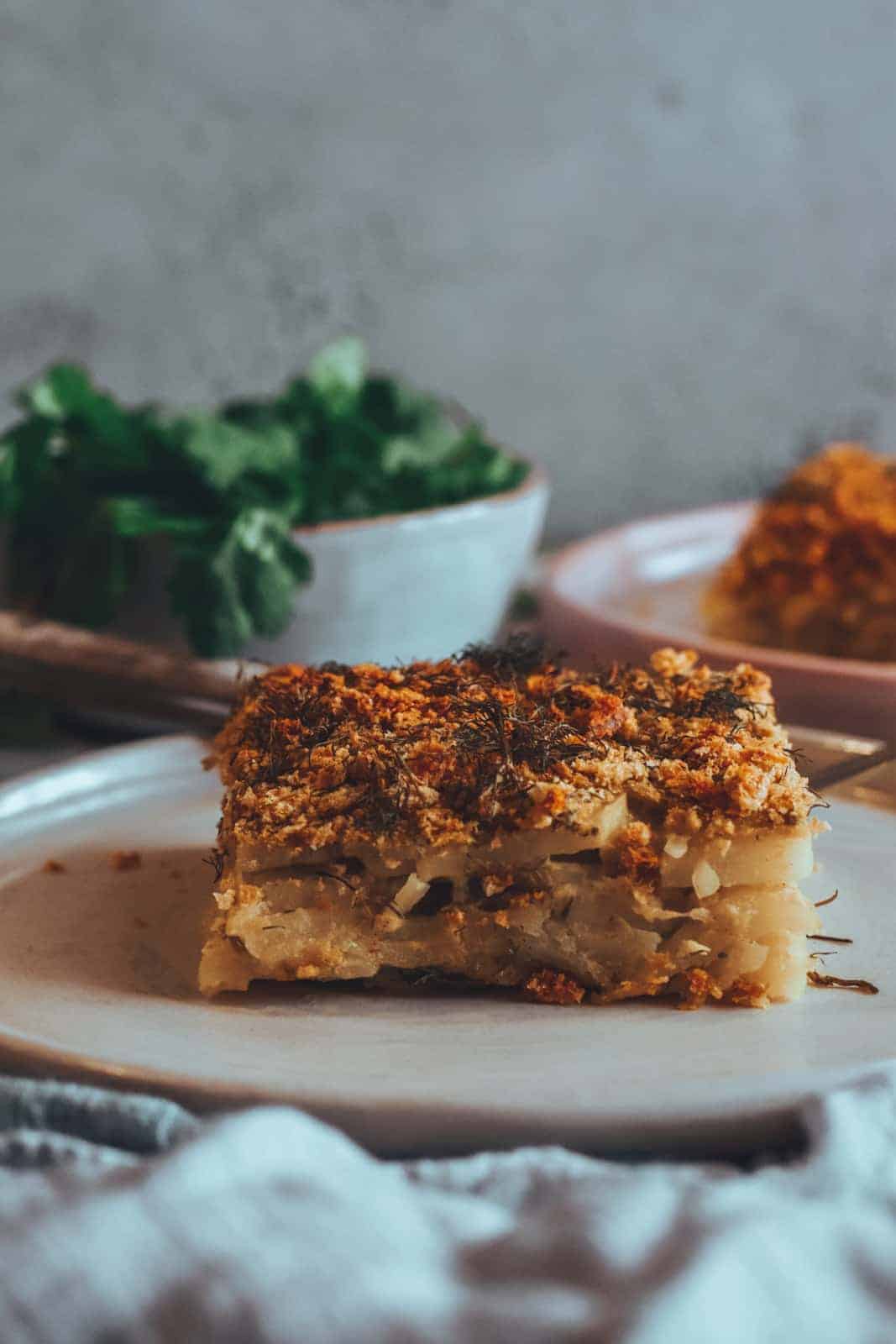 One of the shining ingredients in this recipe is nutritional yeast. If you've read or made any of my recipes in the past, you know how much I love this powerhouse ingredient that brings so much goodness to any recipe. I personally use Bob's Red Mill nutritional yeast and some of the health benefits are:
Preserves immune function
Holds antiviral and antibacterial properties
Helps you digest
Contains good proteins and thiamine
Promotes healthy hair, skin and nails
… and the list goes on (you can read more about the benefits here).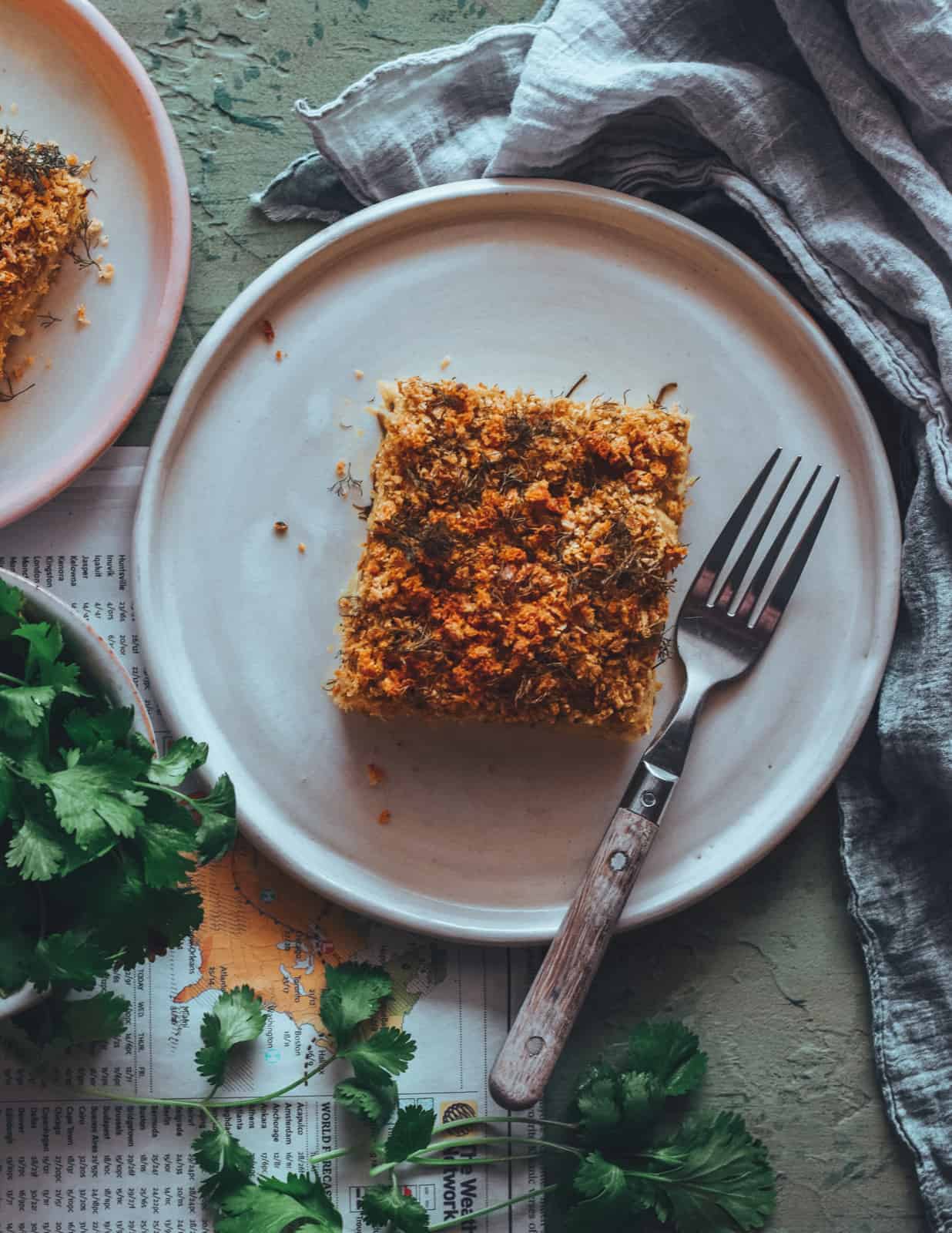 So get ready to wow your family and friends with this potato gratin recipe. It's entirely vegan and will have you eating right out of the casserole dish!
Print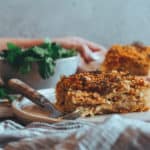 Creamy, Dreamy Potato Gratin
Author:

Prep Time:

30 mins

Cook Time:

50 mins

Total Time:

1 hour 20 mins

Yield:

8-10

Category:

Main Dish

Cuisine:

Vegan
---
Ingredients
Gratin Ingredients:
1 white russet potato, peeled and chopped (around 1 cup)
1 large carrot, peeled and chopped (around 1 cup)
8 medium to large russet potatoes, peeled and cut into thin round pieces, around 8 (7-8 cups) or 3.5 pounds
1 1/2 cups almond milk
2 tbsp. extra virgin olive oil
1 vegetable stock cube
4 garlic cloves
2 tbsp vegan butter
1/4 cup lemon juice, plus zest
1/3 cup nutritional yeast – I used Bob's Red Mill
1 tbsp. all purpose flour
1 tbsp. dijon mustard
1/4 cup fresh green onion, roughly chopped
2 tbsp dry dill spice
season to taste
1 tsp. turmeric powder
1 cup vegan mozzarella
Gratin Topping Ingredients:
2 cups bread crumbs or panko
2 garlic cloves, pressed
season to taste
1 cup fresh dill as garnish and for layers
---
Instructions
Into a large pot add your carrots and potatoes. Cook till falling apart tender.
While your potatoes are boiling, peel and prepare your potatoes. Set aside.
Grease a baking dish, I used a 16″L x 9″W x 2.50″H, with olive or coconut oil and set aside.
Preheat your oven to 375F.
Once your carrots and potatoes are cooked you want to drain them and add to a high speed blender. Now add in your almond milk, olive oil, vegetable stock cube, garlic, butter, lemon juice + zest, nutritional yeast, flour, dijon, green onion, dry dill and seasoning. Blend till smooth. For around 1 minute!
Add in your mozzarella cheese and stir.
Now to start things off, Pour 1/4 of the creamy sauce in the bottom of the baking dish. Layer with 1/4 of your potatoes, adding some dill here and there and then repeat till all your sauce and potatoes are gone! Make sure to arrange and even out your potatoes so everything is level and gorgeous!
Into a bowl add your topping ingredients and stir till well combined. Add to the top of your gratin and adding in the remainder of your fresh dill!
Bake for 45 minutes then broil for 5 minutes to achieve that golden brown effect!
Serve immediately!
Pin this recipe to save for later!