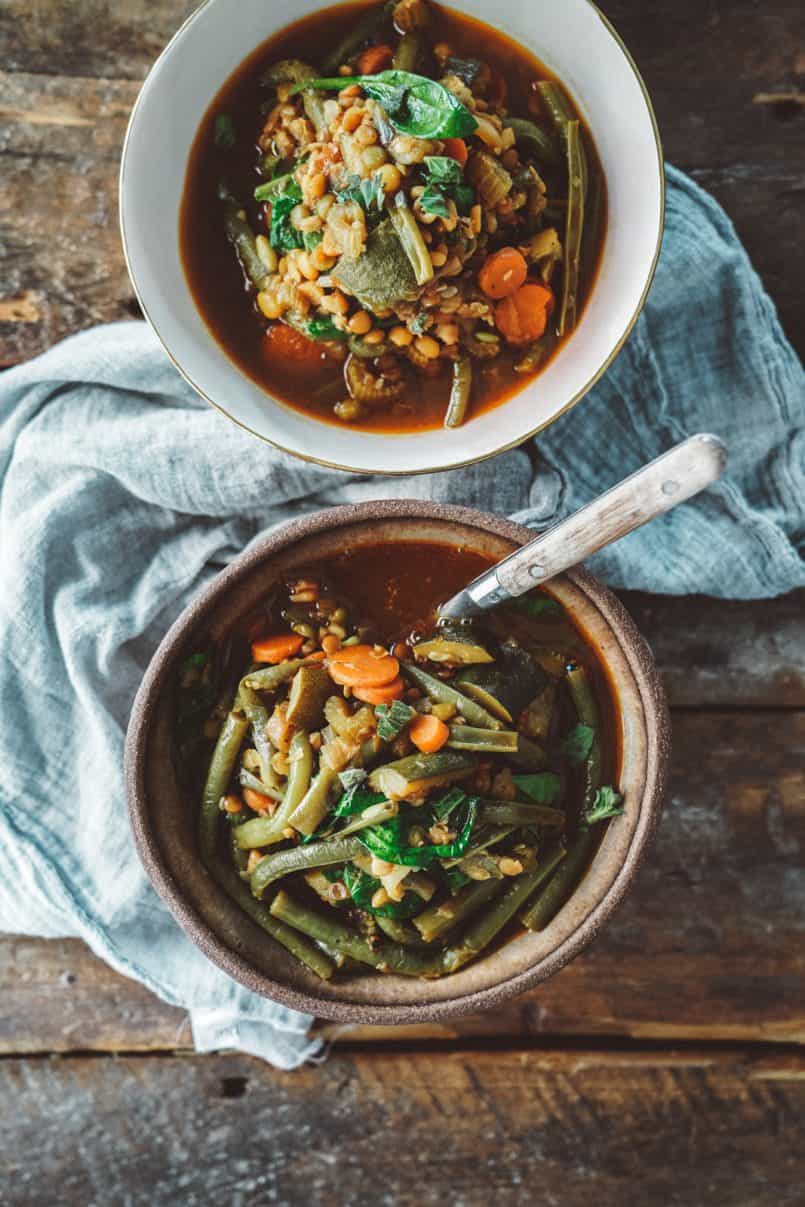 06 Mar

Hearty Vegetable + Mixed Bean Stew

Who doesn't love a hearty bowl of stew? Especially in the cold winter months. Stew is definitely the ultimate comfort food and it can be so easy and tasty to make.

This recipe I made with Bob's Red Mill mixed bean soup mix. This soup mix makes this meal even easier to make! It has 13 different kinds of beans in it which means it's packed with protein (12g per serving) and with beans comes fiber, plus your daily value of iron! What I love the most about using this mix is that it's easy but you can also allow for culinary creativity, and the ability to add your own magic to the recipe with spices.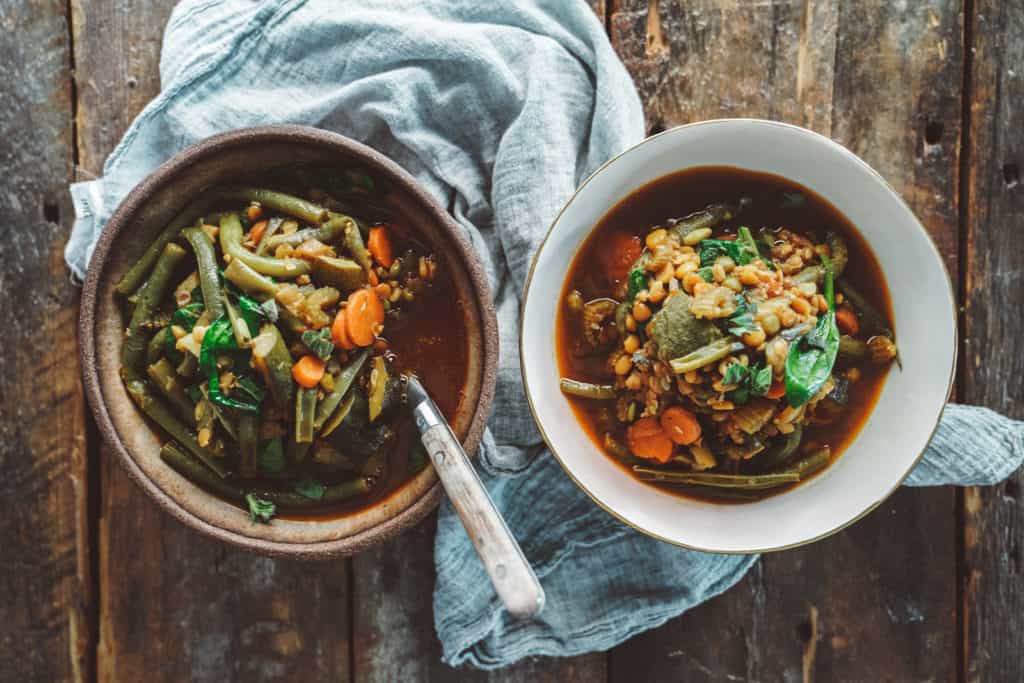 I've thrown in a few green beans to this recipe to make it super jammed with healthy goodness. The green beans are seriously a magical veg. They help with the following:
Reduce heart diseases
Prevent colon cancer
Controls diabetes
Boosts your immunity
Are great for your eyes
Treats gastrointestinal issues
Great for pre-natal care because of the folic acid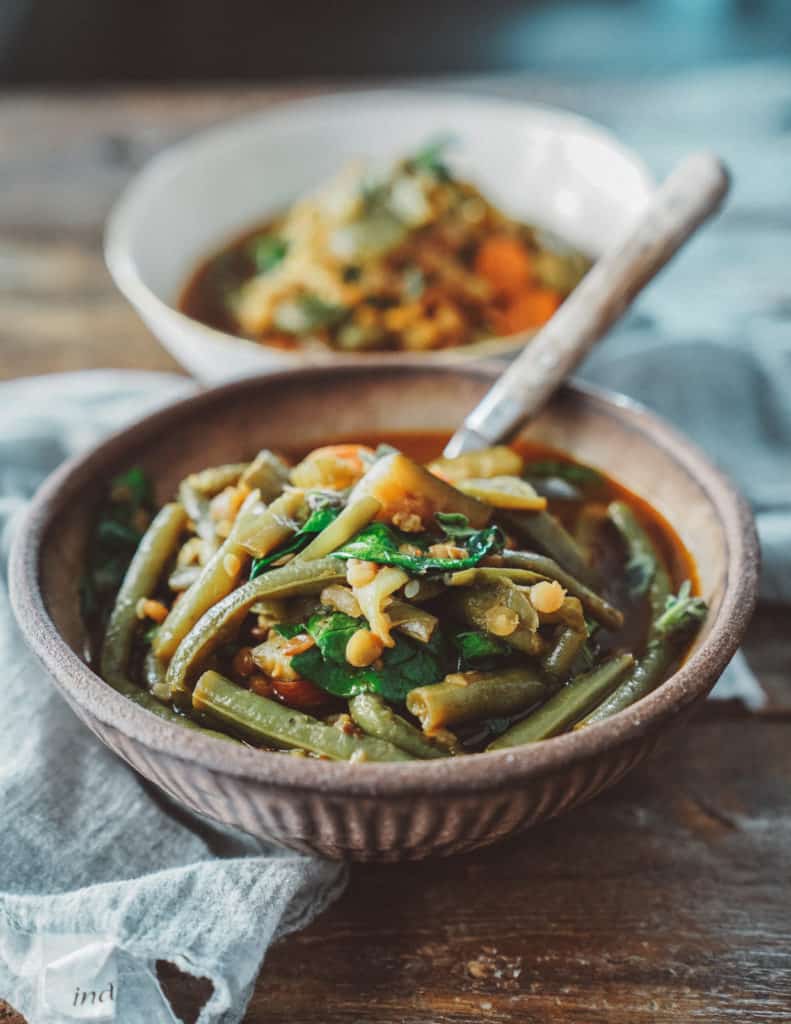 This stew will be one I'm sure you'll add to your bookmarks to make again and again because it's super easy and packed with nutrients. I think you'll also love this soup because it is:
Hearty
Vegan
Easy
Filled with nutrients
Great for digestion
Seasonal
Perfect for meal prep (PS I have a meal prep guide coming out soon, stay tuned)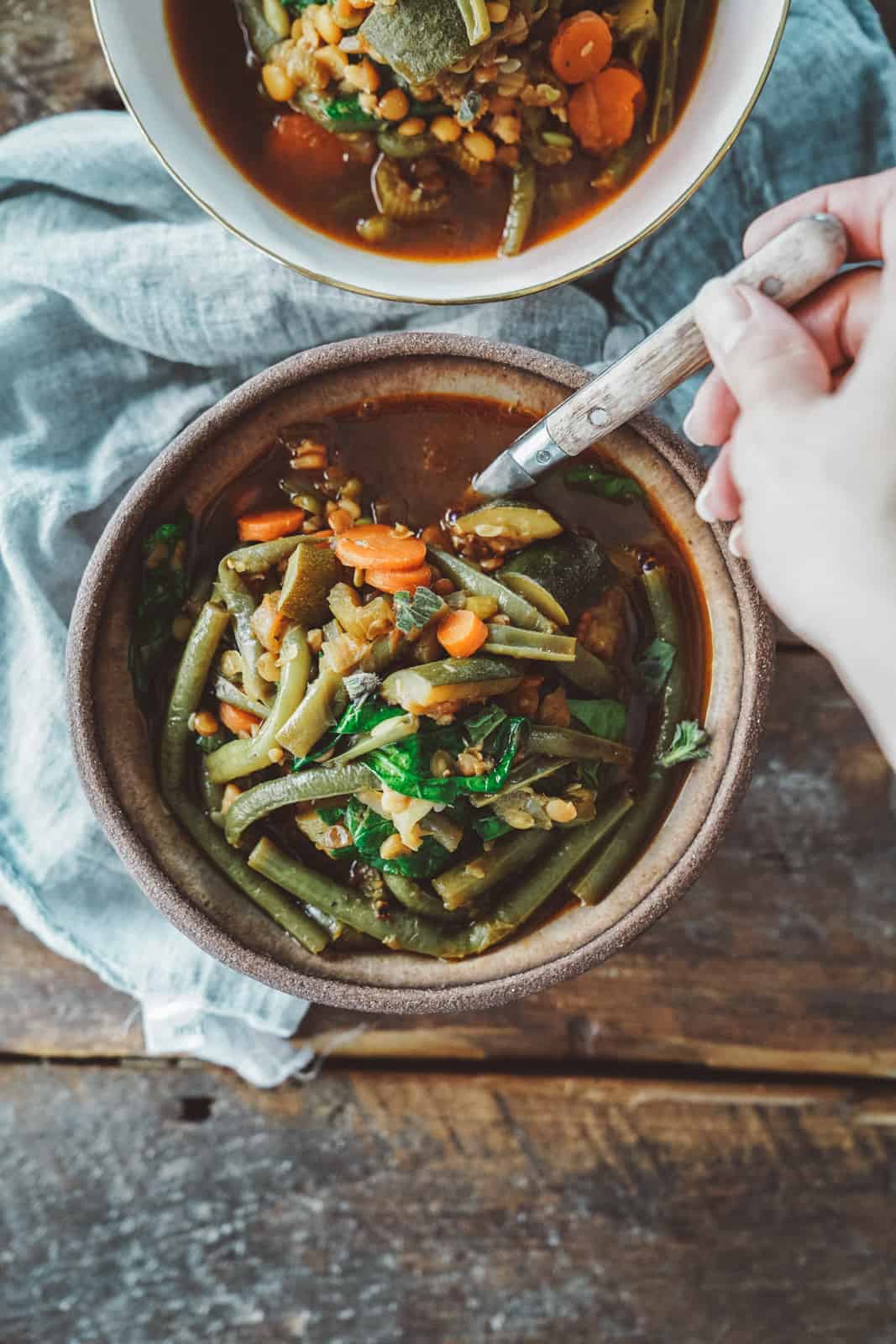 This recipe requires the freshest of ingredients and will surely help you feel better during these last few weeks of that cold, dreary winter. For me, there is nothing better than a warm soup to help bring me out of my seasonal depression funk.
Print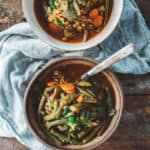 Hearty Vegetable + Mixed Bean Soup
Author:

Prep Time:

20 minutes

Cook Time:

40 minutes

Total Time:

1 hour

Yield:

4-5
---
Description
We're slowly approaching Green Bean season and what better way to incorporate this gorgeous veg into your diet than with a Hearty Stew, filled with other beans that are filled with nutrients and antioxidants.  You can enjoy this dish two ways.  As a soup (just add more water) with gorgeous garlic toast and fresh garnish.  You could also switch things up as serve it on a bed of barley, bulgur or quinoa! Dolloped with some Cashew Cream and fresh herbs! Either option is delicious and sure to please the whole family.
---
Ingredients
2 tbsp. extra virgin olive oil
1 large sweet white onion, finely chopped
2 carrots, cubed
2 celery stalk, cubed
5 gloves garlic, finely chopped
1 heaped tbsp. better than bouillon vegetable stock
season to taste
1/4 tsp. chilli flakes
3 cups green beans, halved and trimmed
3 cups zucchini, cut into cubes
1 cup Bob's Red Mill Mixed Bean Soup Mix
6-8 cups of water, boiled, depending on the consistency you'd like to achieve
4 cups spinach, fresh
garnish with parsley and a dash of lime juice
---
Instructions
Into a large pot add your olive oil and heat on medium for around 1 minute.
Add your onion and cook for around 5 minutes or until translucent and fragrant.  Make sure to continue stirring to avoid burning. Now add your carrots, celery and garlic and cook for another 5 minutes.
In the mean time, prepare your beans by trimming and halving.
Now add your vegetable stock, seasoning and chilli flakes.  Give that a good stir then add your green beans and cook on medium heat with lid on for 5 minutes, just to soften them up.  Remove lid and add zucchini.  Cook for a few more minutes before adding your soup mix and boiled water.  Bring the heat to high and bright mixture to a boil, then simmer on low for 20 minutes or until your soup mix is cooked and soft to the bite. Before serving add your spinach and stir it in.
Serve with fresh parsley and a fresh dash of lime juice!
---
Notes
Will last in fridge for up to 4 days in a tight sealed container.
Rinse and strain your soup mix before adding to the pot.
Pin this below image to save this recipe for later!