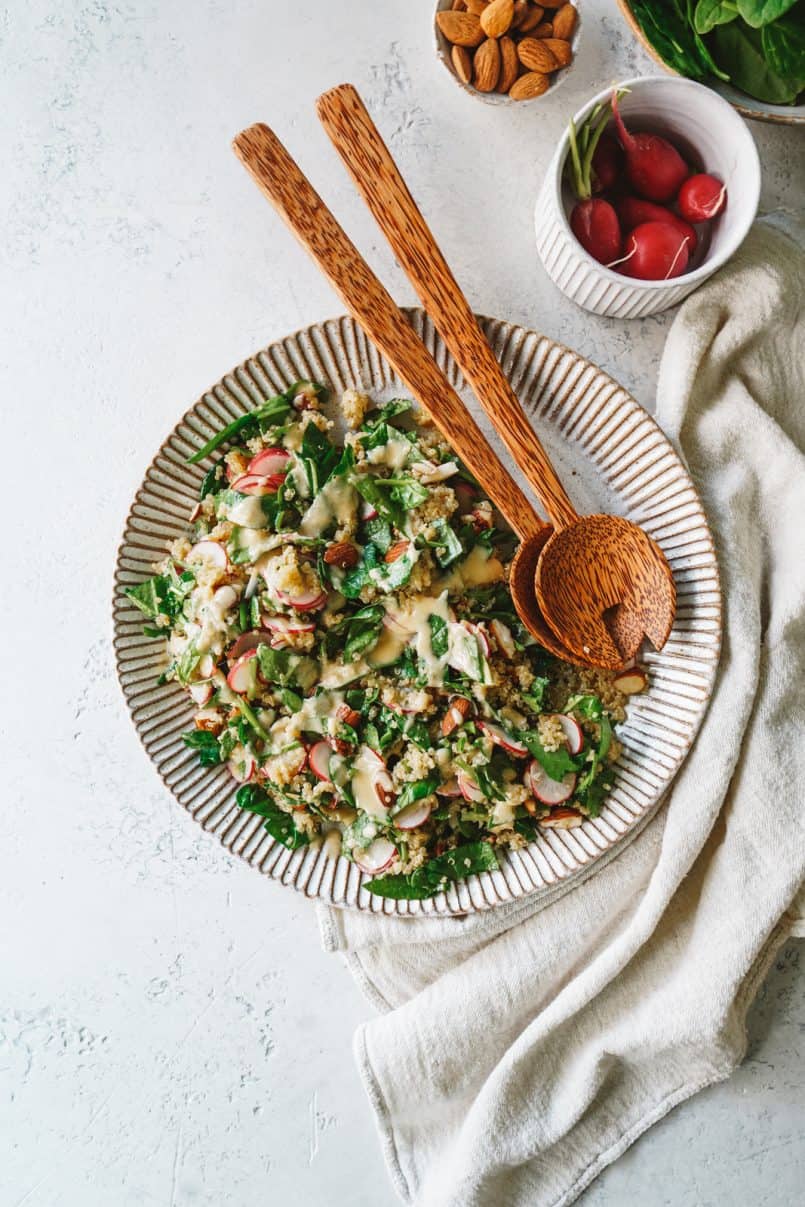 27 Jun

Turmeric Quinoa, Spinach + Radish Salad

Summer is here and this beautiful salad is perfect for a meal on its own, or as a side dish to add some colour to your plate. What's extra special about this salad is that it's jam packed with nutrients from ginger and turmeric tea. Yes, you heard me correctly, I used tea to create this masterpiece of a salad.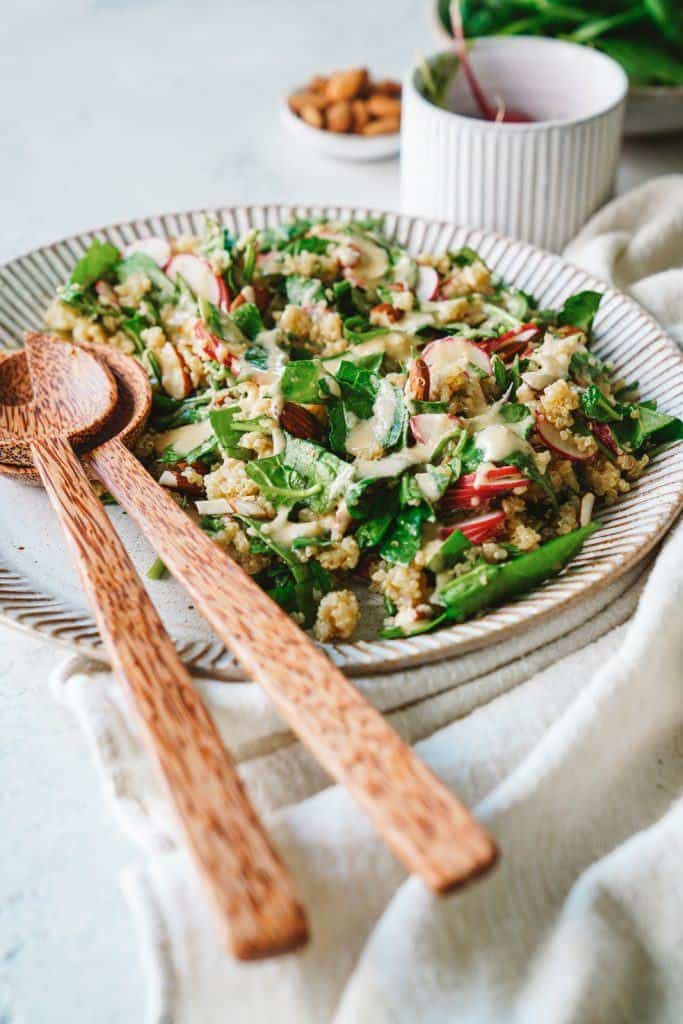 About the beautiful tea
Hain Celestial creates a variety of natural and organic foods that I love, and their tea line is so comforting and delicious. Tea has so many health benefits and that's why incorporating it into your foods can be incredibly beneficial and also flavourful. You don't just need to drink tea out of a mug! For this recipe I cooked the quinoa in Celestial's Ginger & Tumeric Tea. As you likely know, both ginger and turmeric are magic ingredients. The ginger gives this tea blend a spicy kick, and combined with the warmth and aroma of turmeric, it's seriously such a good combo to cook with. Not to mention it's vegan, organic, gluten free and caffeine free.
Benefits of ginger and turmeric
Ginger is one of my favourite ingredients because it has so many different benefits. It can…
Help with nausea naturally
Help reduce muscle pain and soreness due to it's anti-inflammatory benefits
Lowers your blood sugars
Helps with indigestion
Assists in fighting disease
Combine those benefits with the benefits of turmeric:
Prevents blood clots
Reduces depression symptoms
Is an anti-inflammatory
Helps boost your skin health
Helps fight disease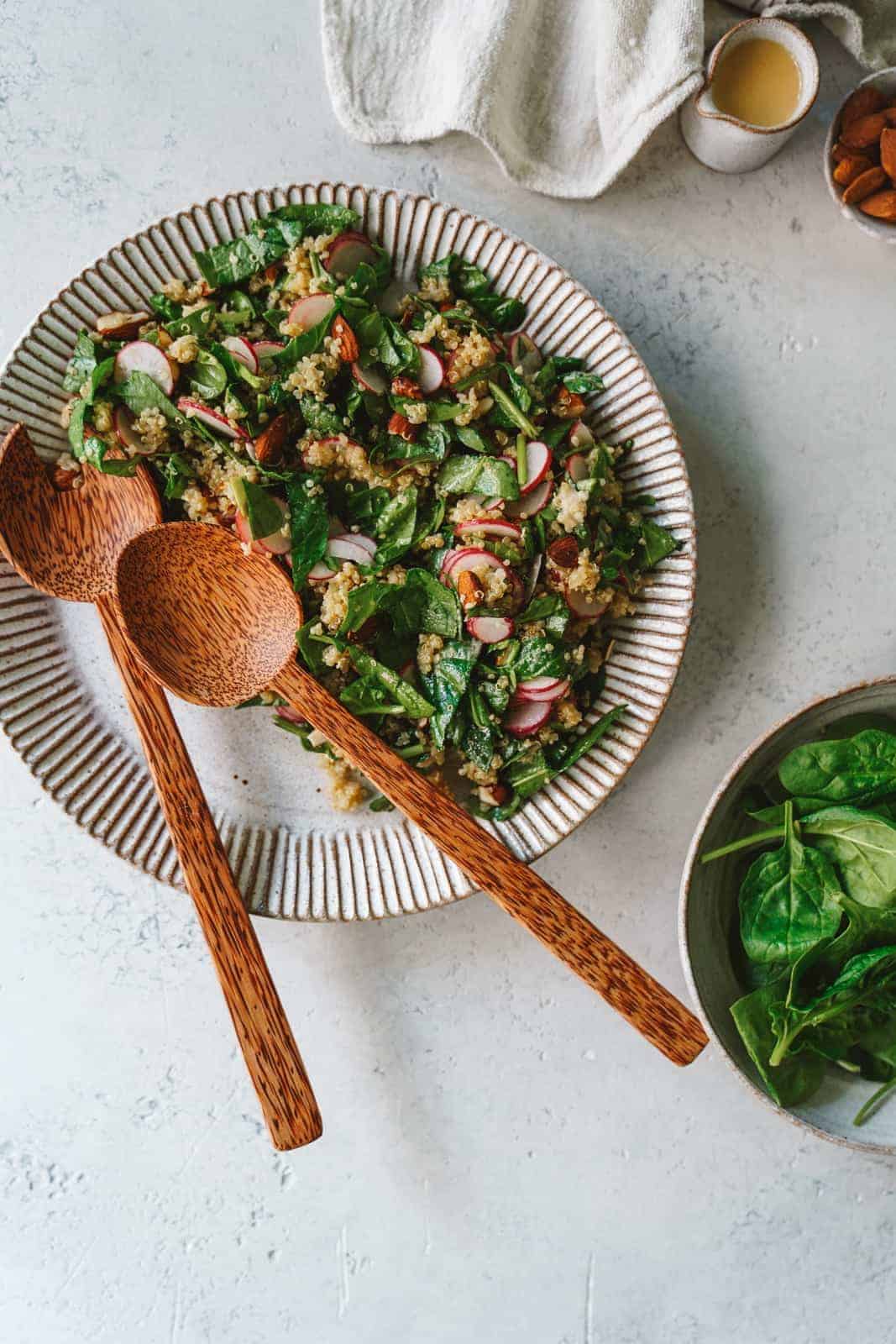 Cooking the quinoa (I used the CASBAH brand by Celestial) in this beautiful (and powerful) tea, really adds a ton of flavour to the quinoa. This quinoa first of all is super quick to make, it only takes five minutes and is incredibly versatile. One of my favourite organic food products to cook with because I can do so much with it… like cook it in tea! That's why teaming up with Celestial for their #HacksToHabits campaign to share this hack of adding tea to your cooking was so fun for me!
Cooking with tea is a creative way to double the benefits of your beautiful organic food you're making. You're seriously killing two birds with one stone by saving time, adding nourishment and also, getting creative in the kitchen and having fun with it.
I hope you enjoy this recipe and are inspired to start finding new ways to add the benefits of tea to your cooking. Have you tried to cook with tea? Share below your ideas and recipes with me!
Print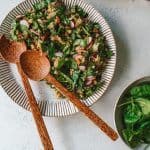 Turmeric Quinoa, Spinach + Radish Salad
Author:

Prep Time:

10 minutes

Cook Time:

25 minutes

Total Time:

35 minutes

Yield:

3-4

Category:

Salad
---
Ingredients
Ingredients:
Quinoa:
3 cups uncooked Quinoa – I used Casbah
3-4 cups vegetable stock
1 bag Ginger + Turmeric tea –  I used Celestial Organics Brand
season to taste
drizzle of olive oil
Salad:
3-4 cups fresh spinach, roughly chopped
10 heads of radish, thinly sliced
1/2 cup toasted almonds, roughly chopped
For the dressing:
3 tbsp. warm water
2 tbsp. tahini
1 heaped tbsp. almond butter
juice of half – 1 lemon
season to taste
dash of hot sauce
---
Instructions
To cook the quinoa, have your stock preheated and boiling in a medium sized pot, then simply the rest of your ingredients.  Cook on low-medium heat with lid on till the liquid has absorbs.  You can also follow the instructions on the Quinoa packet.
For the salad, simply add all your prepared spinach, radish and almonds into a large mixing bowl and set aside.
For the dressing, add all ingredients into a jar and combine using a hand blender, fork or whisk.
To assemble add your cooked/cooled Quinoa to the vegetable bowl and toss with well combined.  Top with your desired amount of dressing and enjoy! It's that simple.
---
Notes
Dressing will last in tight sealed jar, in the fridge for up to one week.
Prepare salad will last in the fridge for up to 5 days.