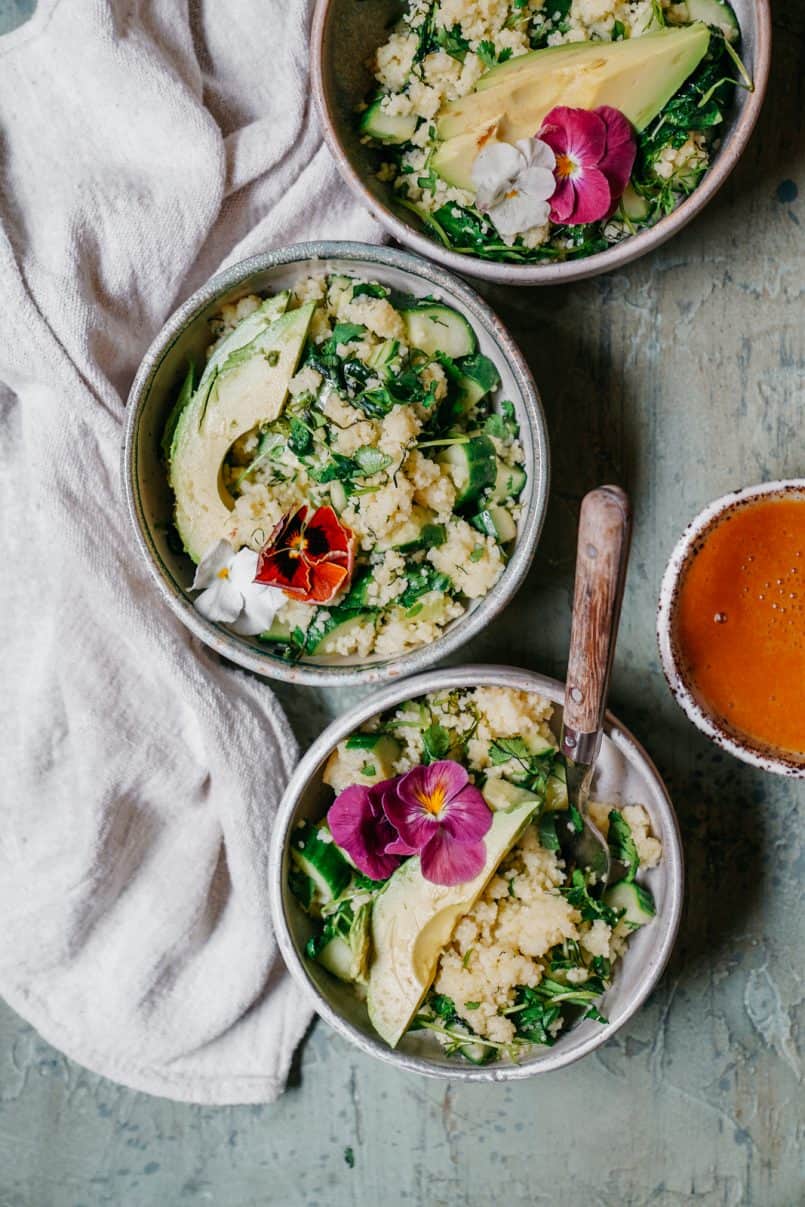 28 Jun

Six Ingredient Couscous Salad

If you're like me, your life, especially in the summer is chaos. I feel like I'm non-stop and constantly on-the-go. Eating a healthy plant-based diet is always a priority of mine but sometimes you just don't have hours to spend in the kitchen and sit down to eat dinner or lunch. That's why I live for simple recipes like this couscous salad that allow me to get the nutrients I need to fuel me throughout my day, but also isn't going to take an arm and a leg to make on a busy day. Plus, it keeps great in the fridge for meal prep!
I made this recipe that's perfect for a plant-based diet using Bob's Red Mill couscous which is a staple I always like to have in my cupboard because it's so versatile to use in salads or other dishes. Plus, it's healthy for you so you don't have to feel guilty when you eat way too much of it. The dressing I used for this salad is great if you like tahini, which is loaded with nutrients. Tahini is actually one of the best sources of calcium out there, and is high in good fat. A few other benefits are:
It's rich in minerals such as phosphorus, lecithin, magnesium, potassium and iron
It's high in  Methionine which helps in detoxing your liver
Loaded with vitamins like vitamin E and vitamins B1, B2, B3, B5 and B15
Promotes healthy cell growth
Can help prevent anemia
Helps maintain healthy skin and muscle tone
It's a higher protein source than most nuts
Easy for your body to digest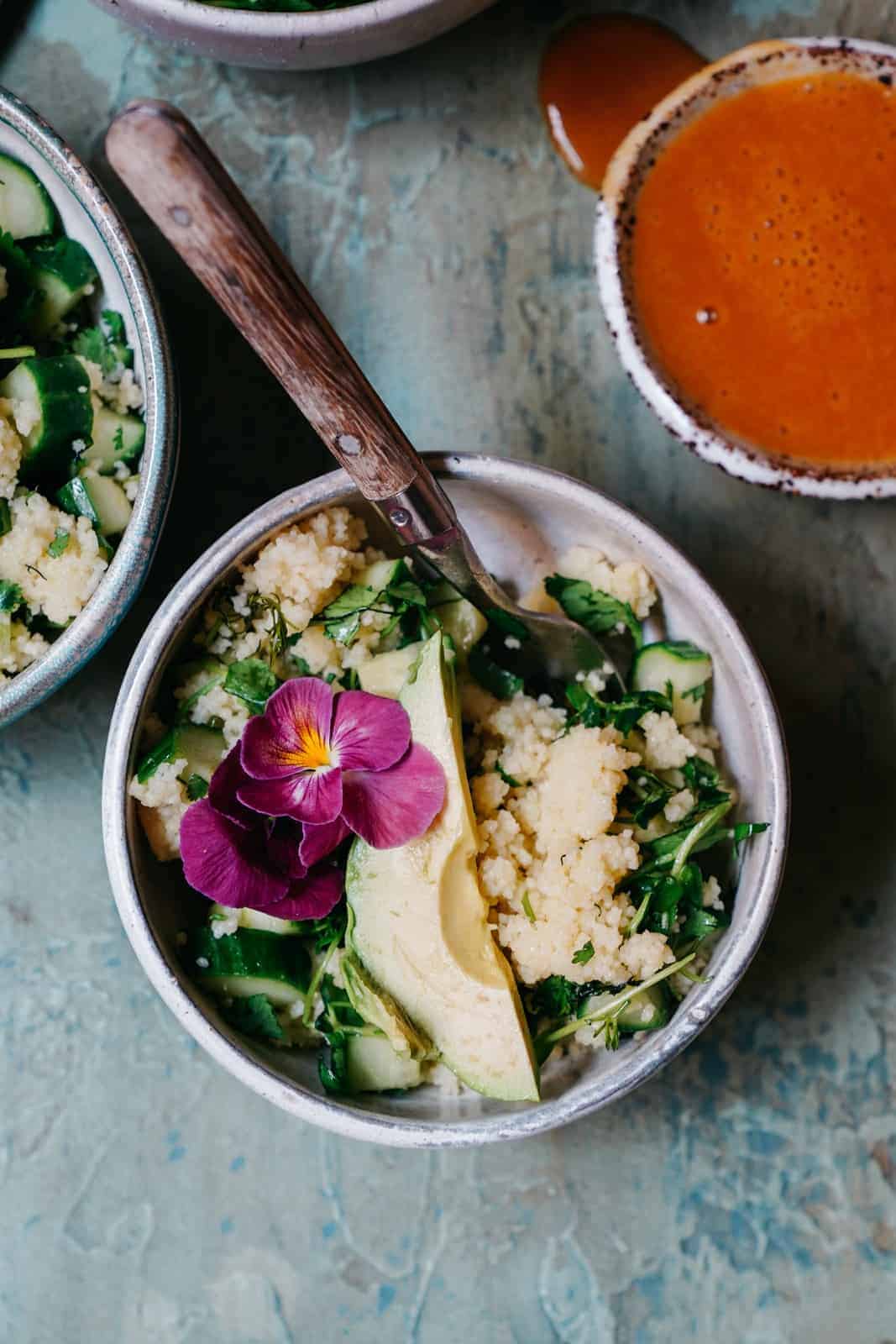 I get it though, tahini has a distinct taste that isn't for everyone. So if you're not into that dressing, no worries, you can simply mix olive oil, lemon, salt and pepper, and herbs into a bowl and service. Use an emulsifier if you want it more thick and creamy.
This salad is great for the summer and will fit perfectly into your plant-based diet. With its balance of fibre, carbs and healthy fats that you need to get through your busy days. If you want to add some protein (or a seventh ingredient) try chickpeas and you're good to go! Try the flavourful chickpeas I used in this recipe if you're looking to spice them up a bit.
Enjoy!
What's your favourite ingredients to throw into a salad? Share in the comments!
Print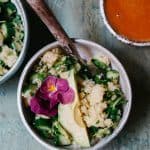 Six Ingredient Couscous Salad
Author:

Prep Time:

10 minutes

Cook Time:

10 minutes

Total Time:

20 minutes

Yield:

4

Category:

Salad
---
Ingredients
For the Salad:
3 cups cooked couscous – I used Bob's Red Mill
1 large avocado, cut into length wise slices
1 cup cucumber, cut into cubes
1/2 cup fresh cilantro, finely chopped
1/2 cup fresh dill, finely chopped
3 cups black kale, massaged in olive oil with your hands for 3 minutes, roughly chopped
For the dressing:
1/2 cup fresh lemon juice
1/4 cup tahini
2 cloves of garlic
3 tbsp. nutritional yeast
3 tbsp. extra-virgin olive oil
1 tbsp. hot sauce (optional) – as seen in photo
season to taste
---
Instructions
For the salad, cook your couscous by following the instructions on the packet.  You want to add all your salad ingredients, apart from the avocado, into a bowl and stir till well combined but don't over do it.  Set aside.
To make your dressing either blend in a food processor or using a hang blending in a deep jar.
Add your dressing to each individual serving!
That's it! Delicious food can be simple and uncomplicated!
---
Notes
Dressing will last up to one week in a tight sealed container in the fridge.