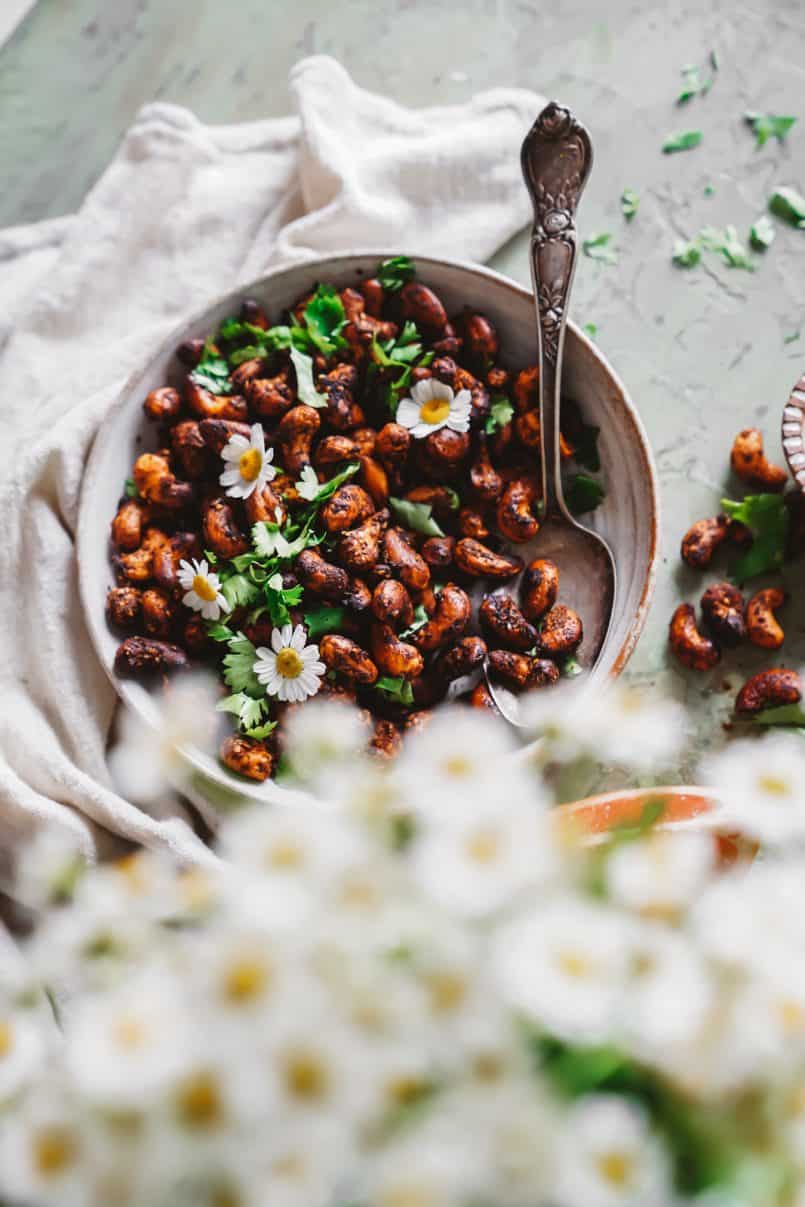 13 Jul

Sweet + Spicy Crispy Cashews

So I looooooooove cashews! I find they are one of the most versatile nuts out there. From cashew cream, to cheese, to smoothies, and the list goes on. You can do so much with them! This recipe is the perfect healthy snack and I'm so excited to share it with you all because I know you'll love it.
I made this recipe with Sunfood cashews which are certified organic and premium-quality. Sunfood cultivates their cashews with small-scale organic farmers to provide you with the best tasting cashews. They are also hand-cracked and Sunfood minimally processes them – they don't pasteurize or steam their nuts which leave all the good nutrients and enzymes intact. Making them the perfect healthy snack! What I love about these cashews as well is that usually I find I have to soak cashews forever when making certain recipes but these ones I didn't have to for as long. They were already so soft and awesome.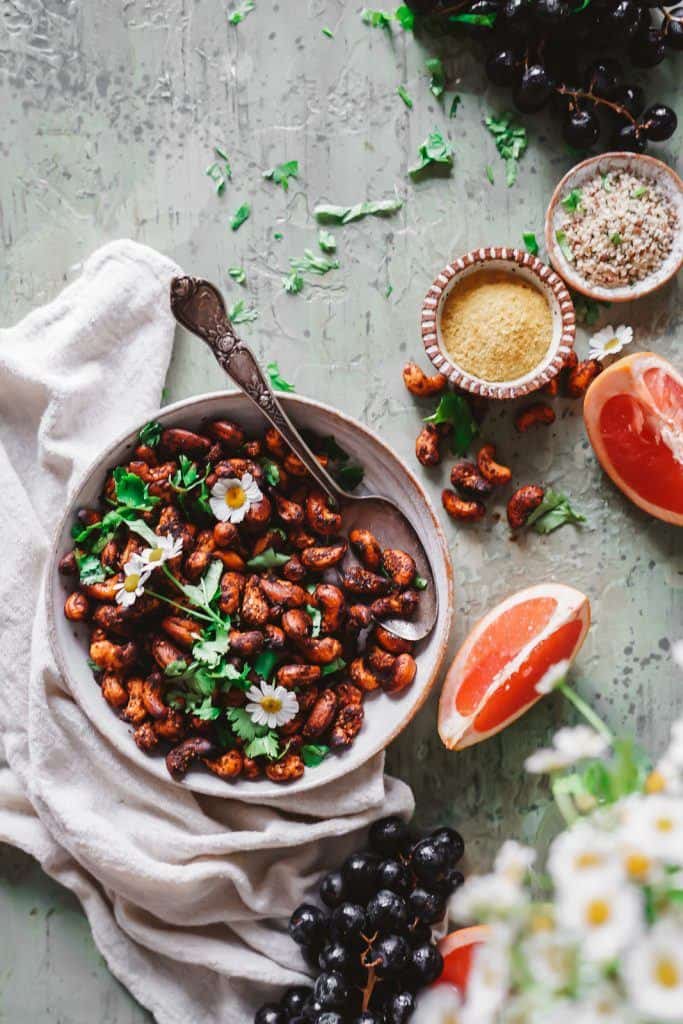 Cashews are super healthy and loaded with:
Vitamin B1 which contributes to mental function and metabolism
Vitamin B6 which contributes to healthy immunity and regulates metabolism
Vitamin K which helps support normal thrombosis
Magnesium which contributes to bone health and immunity
Calcium which assists in supporting strong bones
Potassium which helps maintain normal blood pressure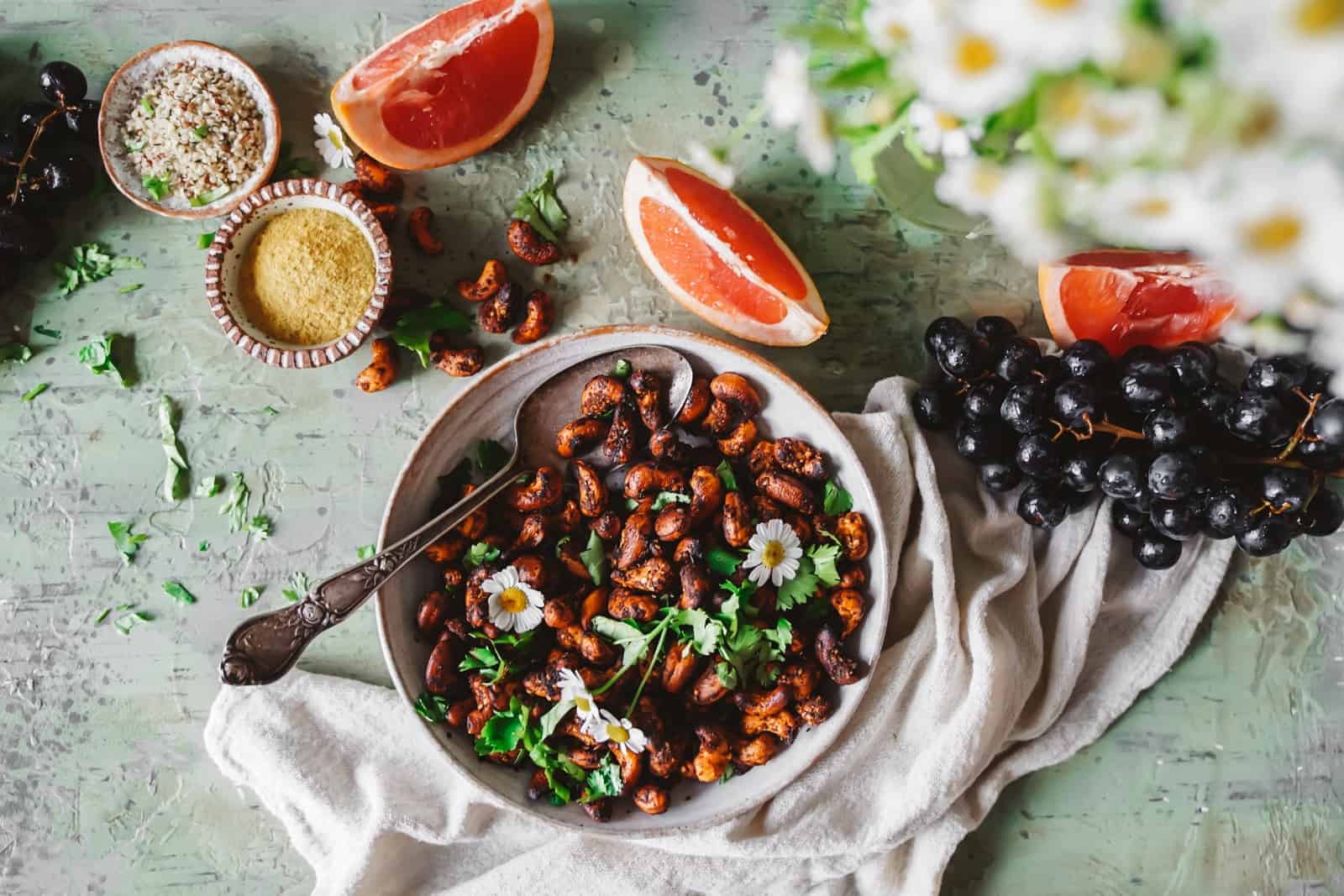 Taking these super healthy cashews and adding some flavour that makes them sweet and spicy makes them seriously mouth watering. These are great to have on-hand for a healthy snack for you or your family. They're kid-friendly and really quick to make and have at home for when you're on-the-go.
Print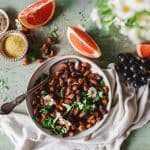 Sweet + Spicy Crispy Cashews
Prep Time:

10 minutes

Cook Time:

25 minutes

Total Time:

35 minutes

Yield:

4
---
Ingredients
2 cups raw cashews- I used Sunfood Whole Organic Raw Cashews
2 tbsp nutritional yeast
1 tsp garlic powder
1 tsp onion powder
1/2 tsp smoked paprika
dash of dried chilies
season to taste
2 tbsp soy sauce
2 tbsp maple syrup
juice of half a lime
dash of liquid smoke
---
Instructions
Preheat your oven to 300F and line a baking sheet with parchment paper.
Into two bowls combine your dry ingredients and your wet ingredients.  Stir them both well.
Add your cashews to the wet bowl and stir till all the cashew nuts are coated.  Let them sit and marry in the mixture for around 10 minutes then remove any excess liquid and transfer cashews to the dry ingredients bowl.  Stir till well coated then transfer cashews to baking sheet.  TIP: do not discard the excess wet mixture that is remaining.  I liked adding some of the liquid to the cooked cashew nuts for extra flavour but that is completely optional.
Cook for 20-25 minutes or until your cashew feel harder to touch and more crispy to taste.  Make sure to stop and flip half way through and keep your eyes on them as they can burn quickly if left unattended.
Serve as a snack, bring with you on a hike, add to salads or crunchy chickpea sandwiches!
Enjoy!
What do you like to do with cashews? Share your favourite recipes below in the comments!