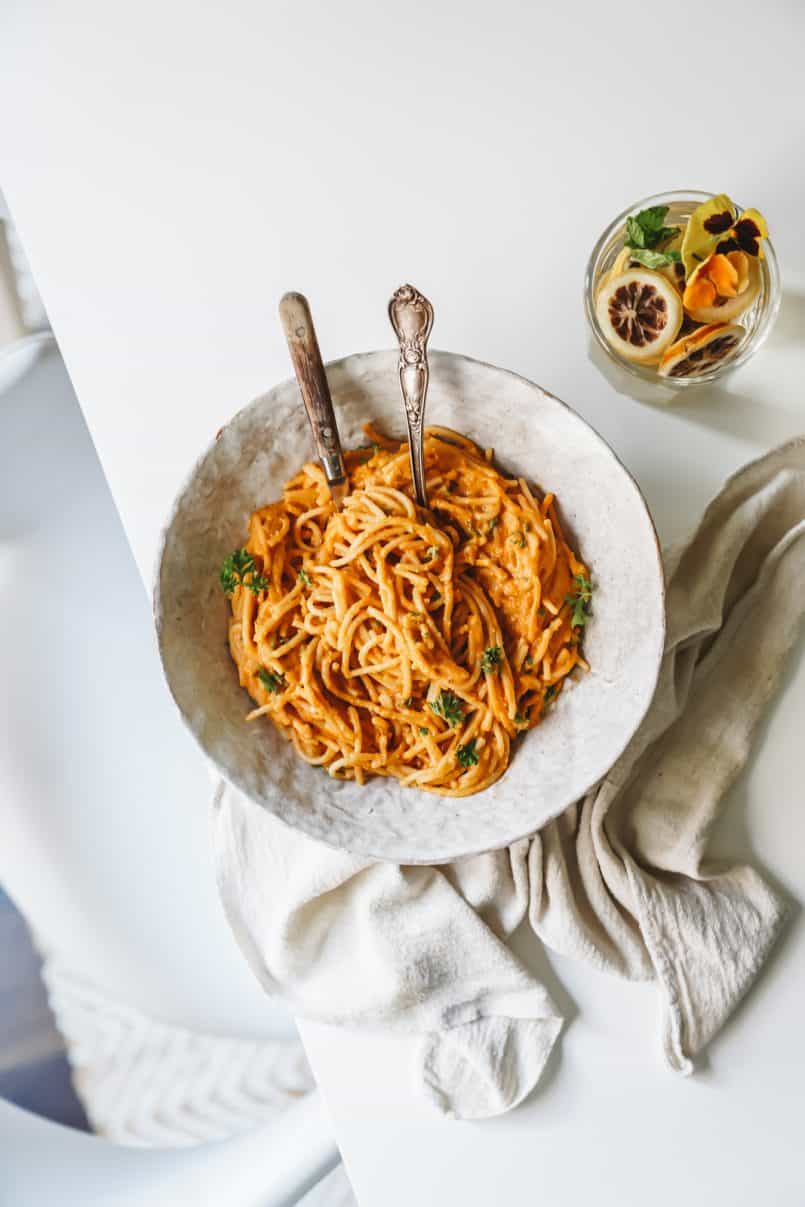 02 Aug

Creamy Cashew Coconut Tomato Sauce

I love this vegan recipe for the summertime, and I know what you're thinking, that pasta isn't necessarily a "summer" food. However, I find this creamy sauce to be perfect for the summertime when you want to get a hearty meal in.

This sauce is seriously the best and it's all thanks to those cashews and Bob's Red Mill's

Nutritional Yeast

. The combination of the two is one of my favs. I love cooking with cashews and if you've followed me before, you know I add nutritional yeast on everything!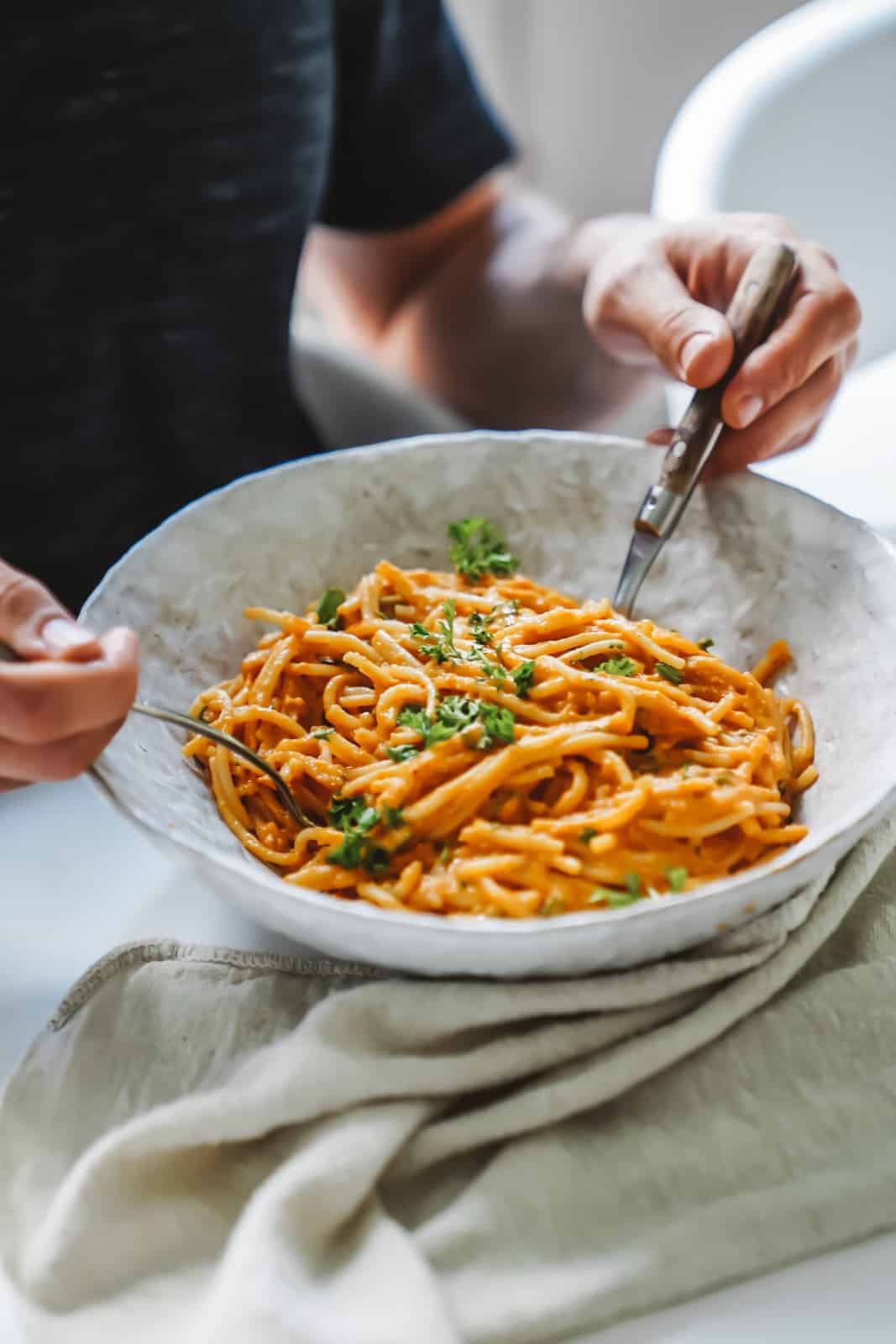 As a vegan, you know I obviously don't eat dairy, and when I decide to make the choice of becoming vegan, I ensured I really educated myself on great dairy substitutes.
Cashews
are so great and versatile because they are buttery, sweet, but salty and they are an excellent source of vitamins, antioxidants and minerals. Cashews include vitamin E, K and B6, plus copper, phosphorus, zinc, magnesium, iron and selenium. All of these are important for maintaining good health!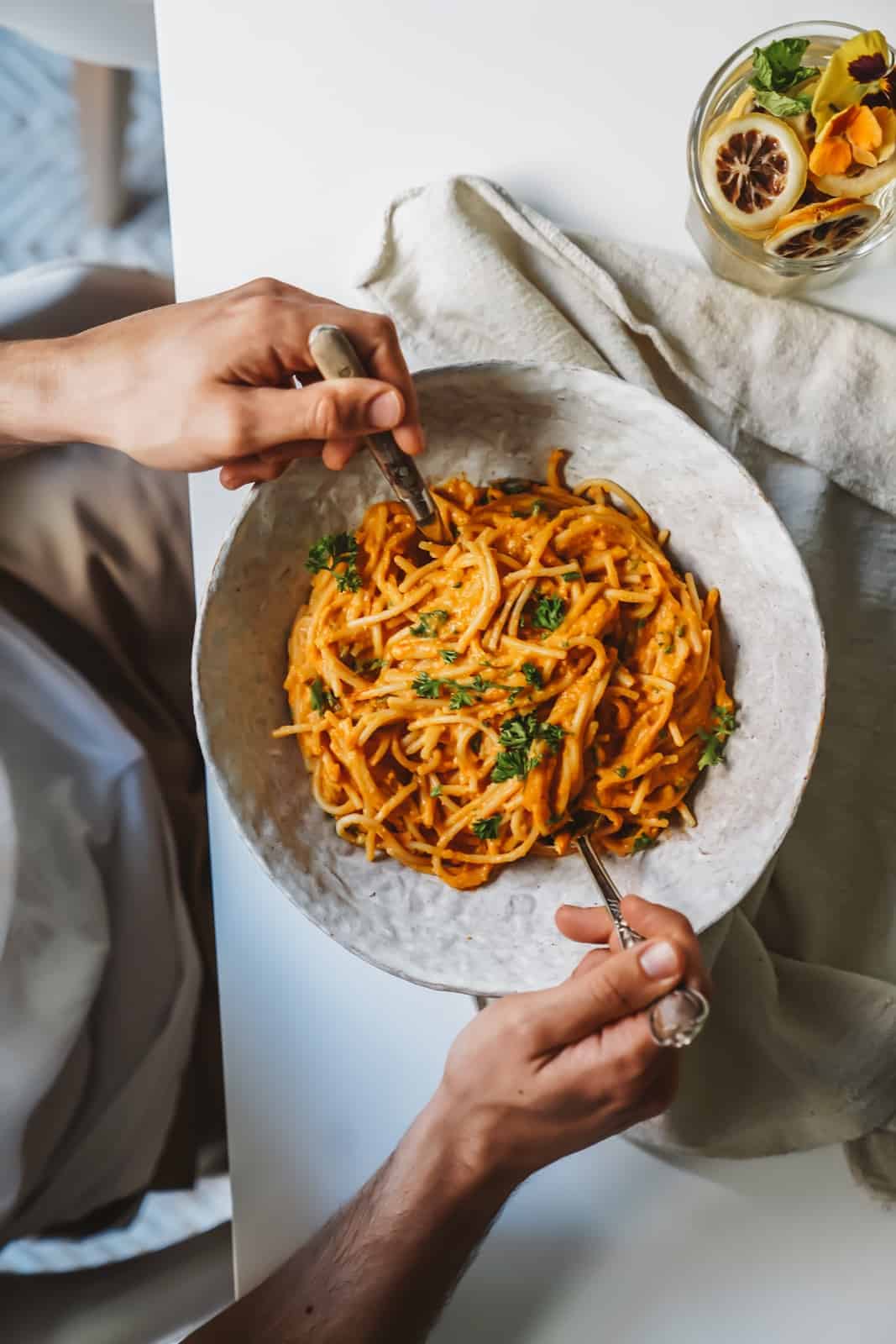 I also used coconut milk in this recipe which is another
great dairy-free substitute.
Coconut milk adds a lot of flavours to a recipe, plus it's healthy fat called lauric acid that can be easily absorbed and used to provide your body with energy! Coconut milk can help you lower your cholesterol levels, improve your blood pressure and even prevent heart attacks and strokes. However, full-fat coconut milk is high in calories so ensure you use it in moderation.
This vegan sauce is super simple, and will make a great dinner, as well as leftovers. Nothing is more comforting than a big bowl of pasta and I love this recipe because I don't feel guilty eating it. It's filled with goodness for your body!
What is your favourite pasta sauce or recipe? Share below in the comments!
Print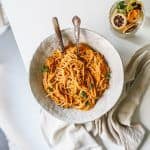 Creamy Cashew Coconut Tomato Sauce
Author:

Category:

Main Dish

Cuisine:

Vegan
---
Ingredients
1 tbsp olive oil
1 large white sweet onion, roughly chopped
4 cloves garlic
3 cups fresh, sweet, tomatoes – I used Roma – roughly chopped
1 tsp. tomato paste
1 tsp. better than bouillon vegetable paste
1/2 cup raw cashews, soaked in water overnight or for 30 minutes in boiling water
3 tbsp. nutritional yeast – I used Bob's Red Mill
3/4 cup coconut milk, the firm part from the top of the can
garish with parsley and vegan parmesan
---
Instructions
Into a bowl add your cashews and water.  Either the night before or add boiling water 30 minutes before cooking.
Into a large sauce pan add your olive oil and heat on medium for around 20 seconds.  Add your onions and cook down for around 5 minute or until fragrant and soft.  Add your garlic and cook down for another minute.  Stir often to avoid burning.  Turn heat to low and add your fresh tomatoes, tomato paste and veggie paste.  Cook for around 10 -15 minutes with lid on till tomatoes are soft and broken apart.Stir for around 30 seconds and set aside.
Into a blender add your cashews, nutritional yeast and coconut milk.  Blend till smooth, this may take up to 2 minutes.   To the blender, add your tomato mixture. Blend for around 30 seconds. You want it smooth but not like a creamy soup. Taste for seasoning and add your salt and pepper as per your palette.
Reheat in the same on low heat for a few minutes while the sauce thickens up.  Serve with pasta or as the tomato sauce for creamy lasagnas or pasta fillings!
Garnish with parm + parsley!
Enjoy!
---
Notes
Lasts in a tight sealed container in the fridge for up to 5 days.
Lasts in a tight sealed container in the freezer for 1 month.
Be sure to cool the sauce completely before refrigerating or covering with lid.