29 Aug

Simple Plant-Based Pumpkin Seed Pasta Salad

Pumpkin season is among us, I know, it's sad summer is coming to an end but there's something magical about fall. For this pasta salad I used Bob's Red Mill pumpkin seeds which add a yummy plant-based nutty flavour and crunch to this super simple, versatile and delicious salad recipe.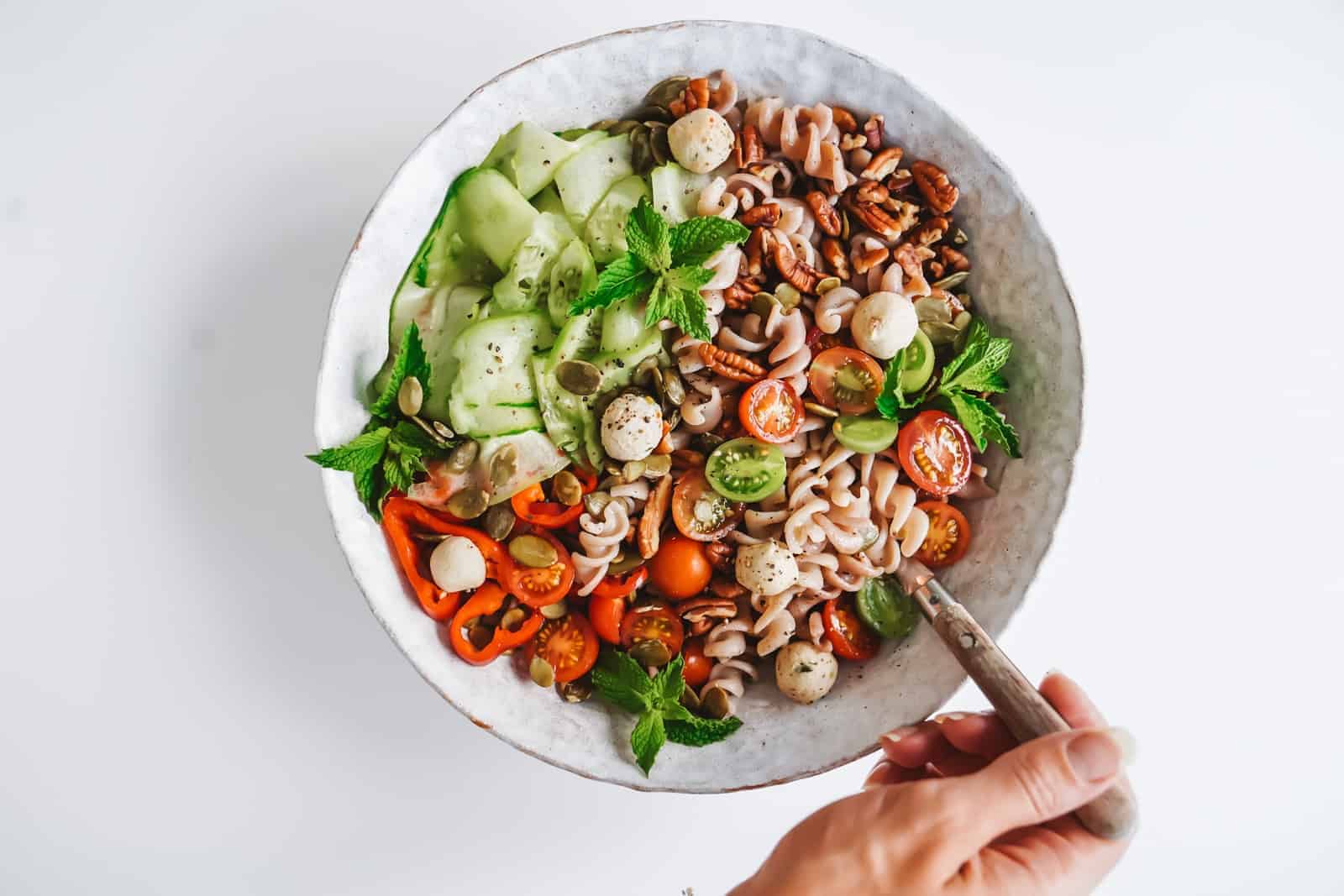 This plant-based recipe is perfect for your weekly meal prep, and with back to school also quickly approaching, it can be a great recipe to throw in your lunches as your schedule gets busier. What's also great about this pasta salad is you can mix and match the ingredients so it can be fantastic for your kids lunches for even the pickiest eater, just pick and choose the vegetables they love and toss them in!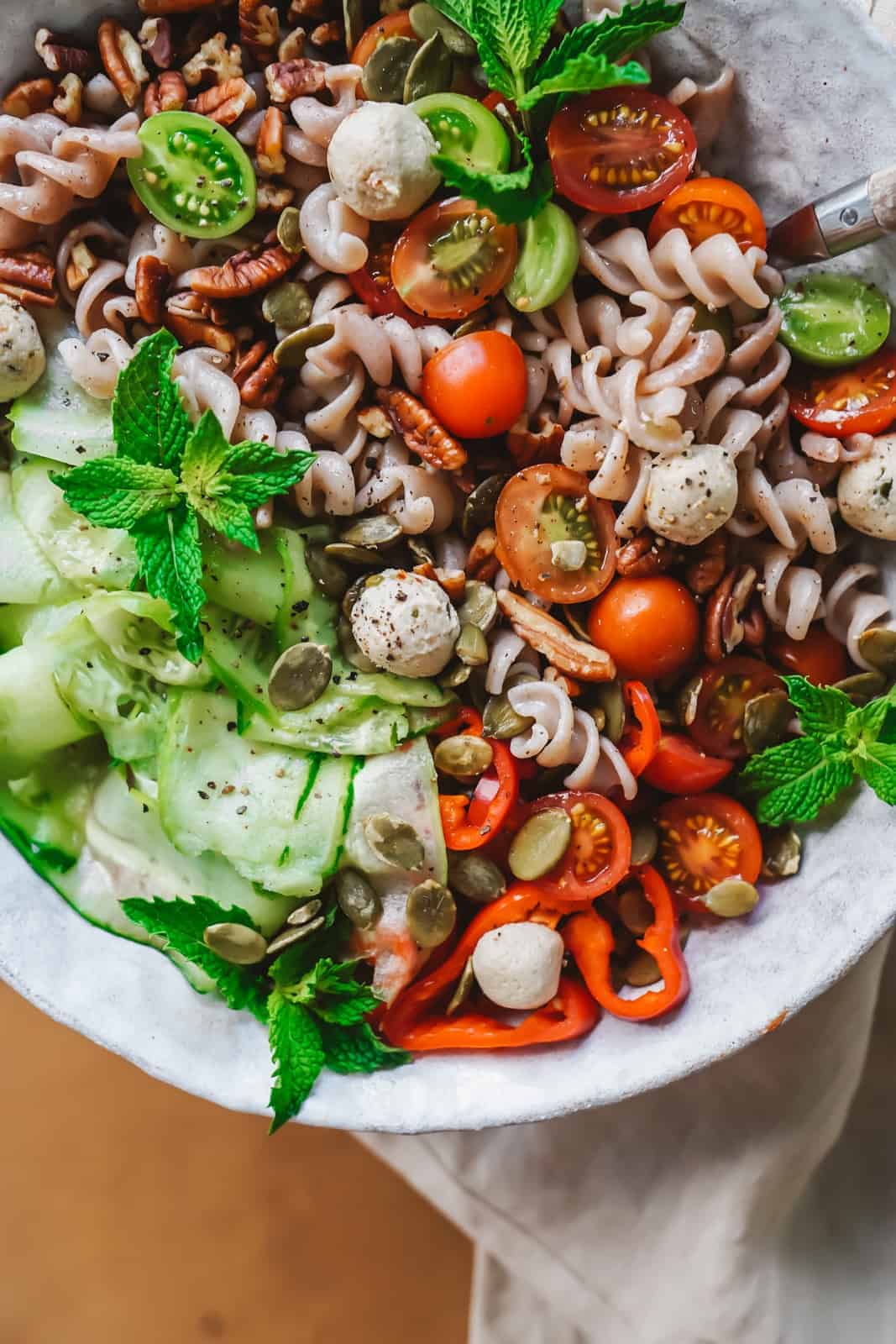 The pumpkin seeds in this plant-based recipe add a ton of nutrients. These little powerhouses are rich in protein and iron, plus potassium, phosphorus, zinc, vitamin E and magnesium. On top of that, if that's not enough, they are an excellent source of B vitamins such as thiamin, riboflavin, niacin, vitamin B6 and folate. Some other benefits that these little seeds bring you are:
High in antioxidants
Linked to reduce the risk of certain cancers
Improve prostate and bladder health
Improves hearth health
Can lower blood sugar levels
May help sperm quality 😉 😉
Can help improve sleep
For my variation of this plant-based recipe, I also added in cherry tomatoes, cucumbers, vegan cheese balls and olives. All of which only add to the nutritional goodness of this recipe.
I've been making a ton of great, simple recipes lately and since it is almost fall and we're thinking about meal prep and getting back into our regular routine, I thought I'd share some other great meal prep recipes for you to make this season:
Hearty Vegetable & Mixed Bean Stew
Turmeric Quinoa, Spinach & Radish Salad
Loaded Zucchini & Quinoa Salad with Prunes
What are some of your fav recipes to make for meal prep? Share them below in the comments! 
Print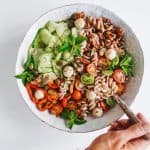 Simple Plant-Based Pumpkin Seed Pasta Salad
Prep Time:

10 minutes

Cook Time:

20 minutes

Total Time:

30 minutes

Yield:

4

Category:

Salad

Cuisine:

Vegan
---
Ingredients
1 packet gluten free pasta – cook as instructed – 227g package
2 cups fresh garden cherry tomatoes, halved and salted
1 cup slivered cucumber, lightly salted
1/2 cup pumpkin seeds – I used Bob's Red Mill
juice of one lemon
3 tbsp olive oil
1 tbsp nutritional yeast – I used Bob's Red Mill
season to taste
fresh mint
1/4 cup plant based cheese balls
1.4 cup chopped olives optional (not pictured)
---
Instructions
Into a bowl simply add all your ingredients, toss and enjoy!