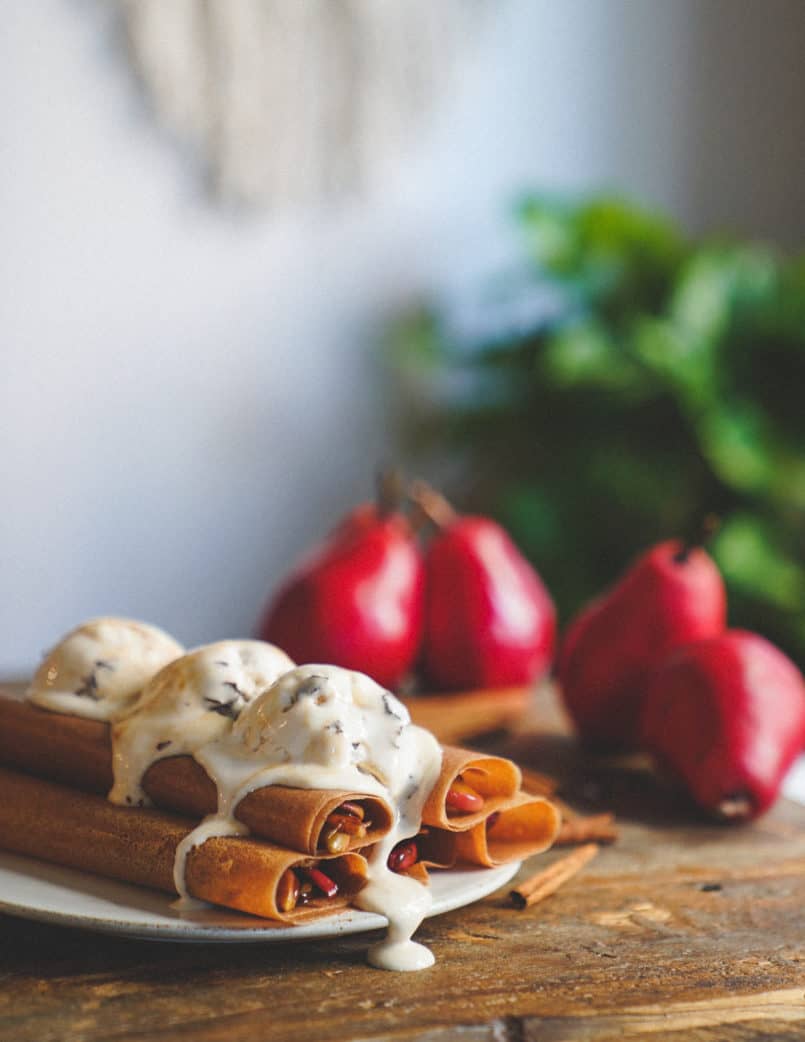 25 Oct

Vegan Stewed Apple & Pear Coconut Wraps

One of the best part about the changing of seasons is the new foods that we begin to introduce back into our lives. For fall and winter, we're always looking for comforting vegan foods like apples and cinnamon. This vegan recipe combines both those fall favourites in a tasty and versatile dessert dish.

About Vegan Coconut Wraps
This recipe was made with Sunfood's Coconut Wraps which are the perfect replacement for bread or tortillas. They are vegan, gluten free, and made with simple ingredients:
Coconut

meat

Coconut water

Unrefined virgin coconut oil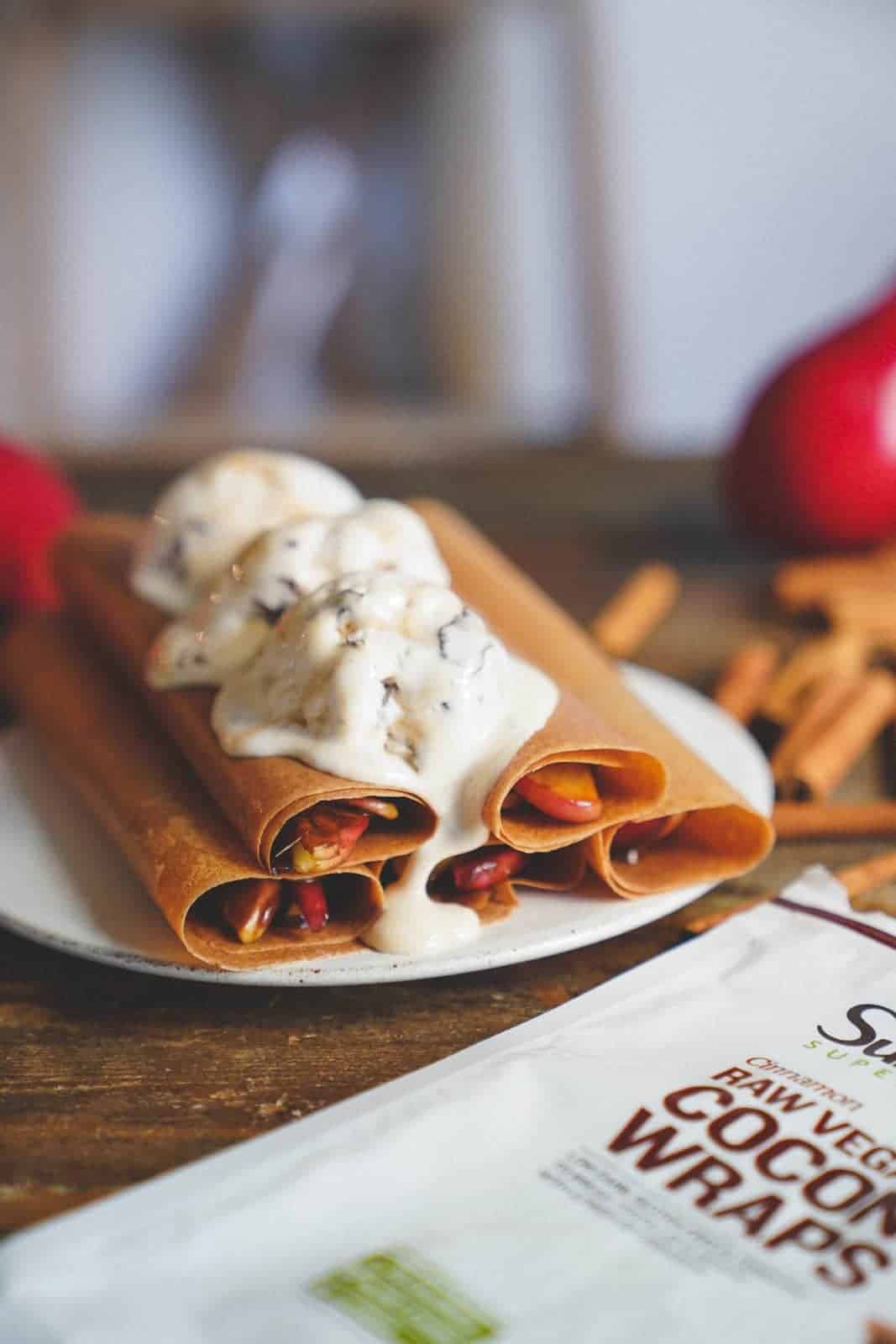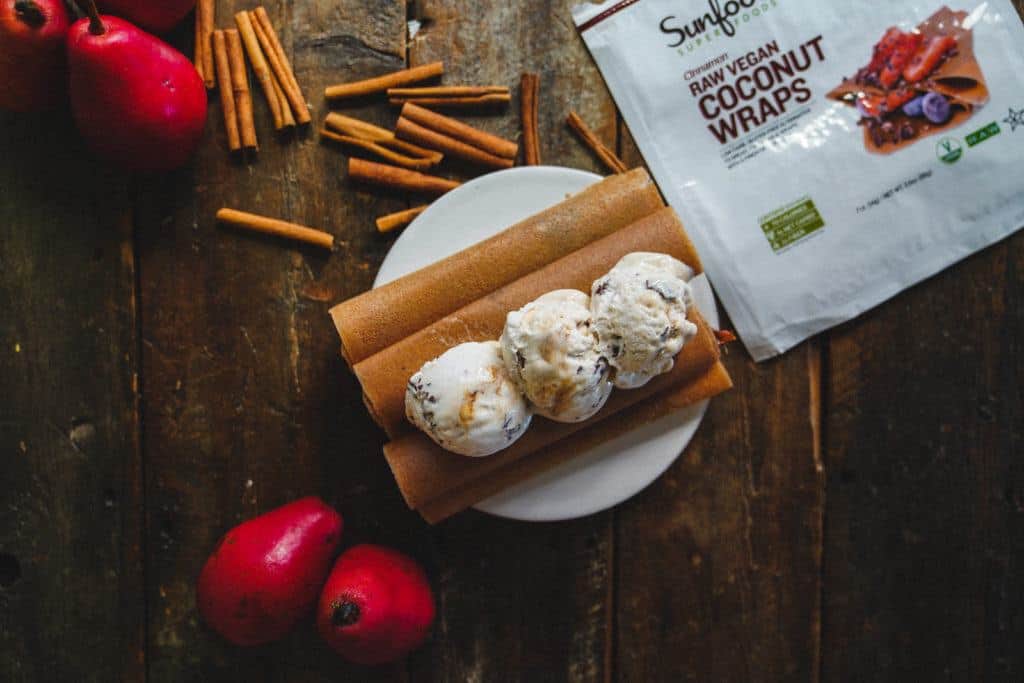 The wraps are also free of added salt, synthetic flavours and preservatives. The best part? They can last nine months without even needing to put them in your refrigerator. They also are available in a variety of flavours that are either sweet or savoury.
Sunfood Coconut Wraps are paleo, vegan, plant-based, gluten free, and more.
I used these versatile coconut wraps for this vegan dessert. Basically with just a few simple ingredients you're able to whip up a comforting dessert dish that'll impress your family and friends. All you need is:
Apples

Pears

Coconut

sugar

Cinnamon

Lemon

Coconut wraps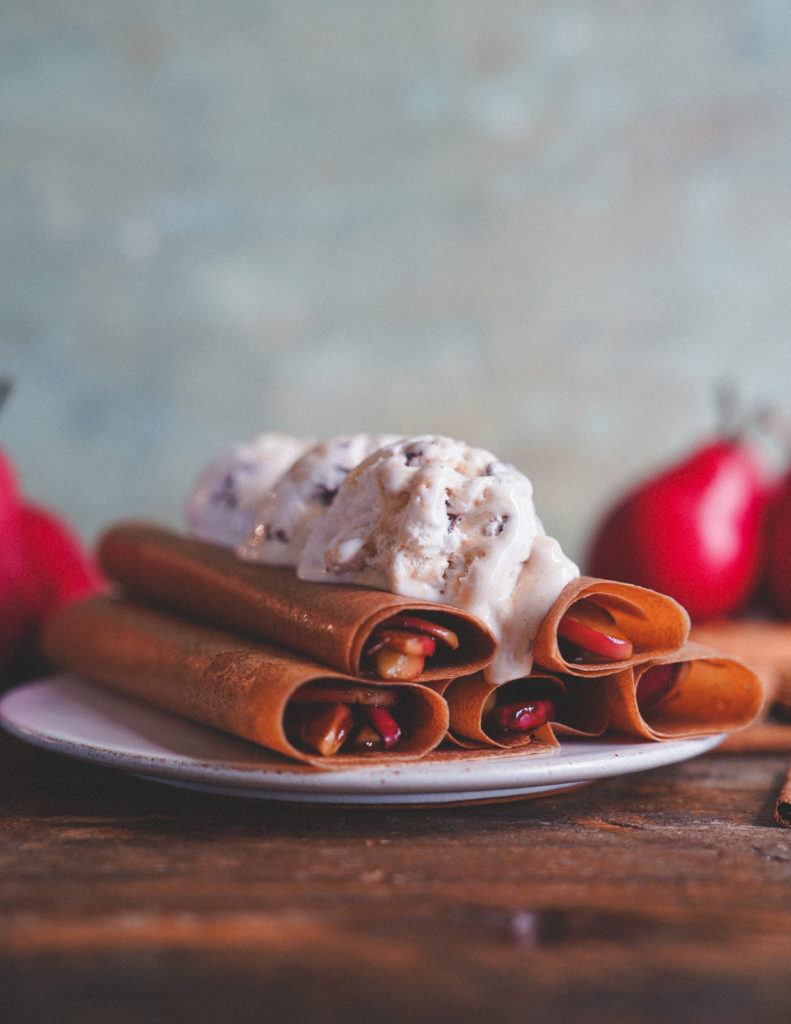 A Look at the Fall Superstars
Why are apples so great? Apples are not only incredibly seasonal, but they are loaded with health benefits. They help with weight loss, digestion, helps fight diseases and control blood sugar levels, plus they're a natural energy producer. On top of that, mixed with the health benefits of pears, which in my opinion is a very underrated fruit, this dish is totally delicious and not as bad for you as the typical vegan dessert.
Did you know there are over 8,000 varieties of apples making it the largest variety of fruit to exist?
What's the benefits of coconut wraps? The coconut wraps by Sunfoods have their own set of health benefits adding to this vegan dessert recipe. They have potassium which helps maintain healthy blood pressure, they have calcium which helps build strong bones, low in calories (70 calories per wrap), and low carb (4g net carbs).
Like this recipe? You'll love some of my other vegan dessert recipes perfect for fall:  
See the recipe card below for how to make this vegan stewed apple and pear coconut wrap recipe. Enjoy!
Print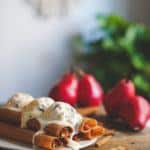 Vegan Stewed Apple & Pear Coconut Wraps
Author:

Prep Time:

5 minutes

Cook Time:

15 minutes

Total Time:

20 minutes

Yield:

7-8

Category:

sweet treats

Cuisine:

vegan
---
Ingredients
2 cups fresh red anju pears, sliced into 1/2 inch pieces
2 cups fresh red apple, sliced into 1/2 inch pieces
2 tbsp coconut sugar
1 tsp cinnamon
1 tsp vanilla
squeeze of lemon
dash of salt
1 packet of Sunfood coconut wraps
---
Instructions
Into a pot combine all your ingredients.
Simmer on low heat until your apples and pears are soft and the sugar has turned into a perfect caramel.
Using a spoon dollop a few spoonfuls into your wrap give it a tight roll!  Repeat till all your stewed apples + pears are gone.  Enjoy with ice cream, coconut cream or mousse!
Pin the below image to save this recipe for later!