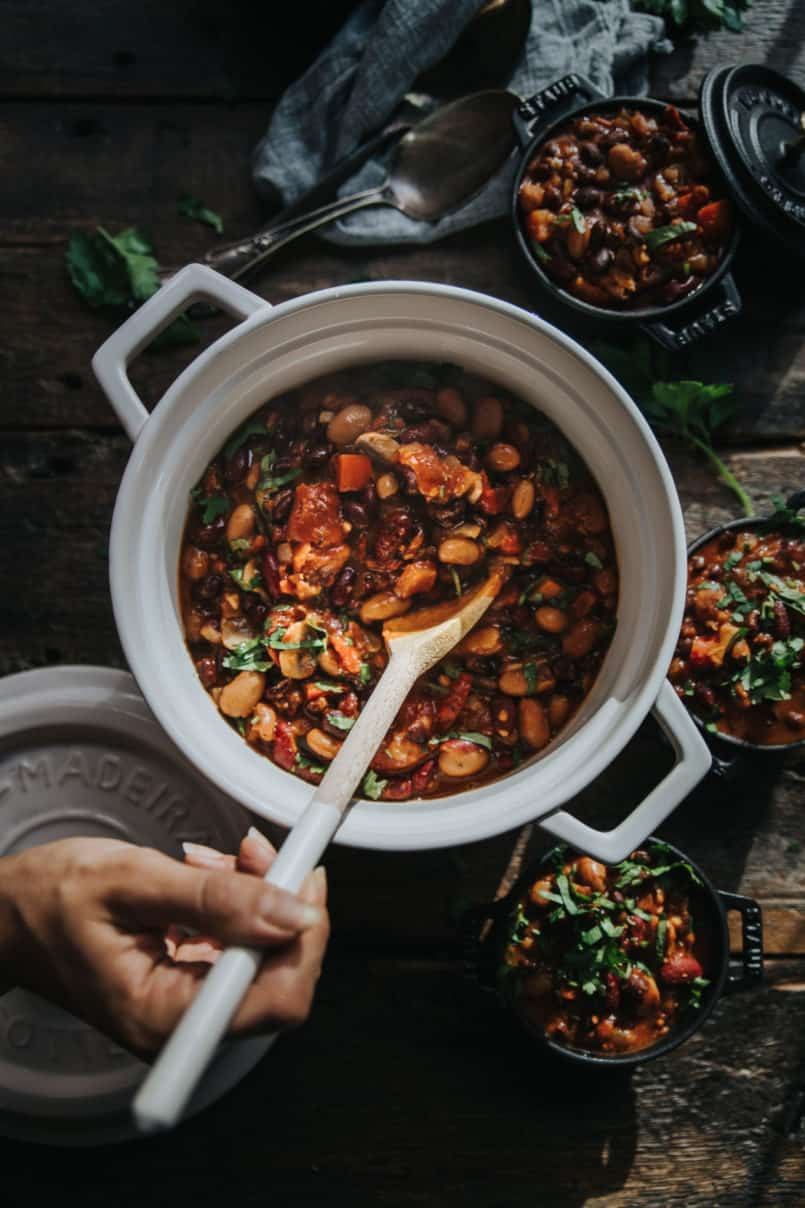 05 Nov

Vegan Bean + Lentil Chili

The weather is gloomy and the leaves are slowly falling off the trees. Guys, it's November. When did this happen? I'm still in denial that it's no longer summer and the year is almost over. However, one good thing about colder weather is cuddling up to a warming bowl of vegan chili. Chili is such an easy and budget-friendly meal to make for the whole family. Plus, it can easily be put in the freezer if you want to meal prep or save some for one of those too-busy weeks. This vegan chili recipe was made with three different beans and Bob's Red Mill lentils, which mean's it's jammed with nutrition.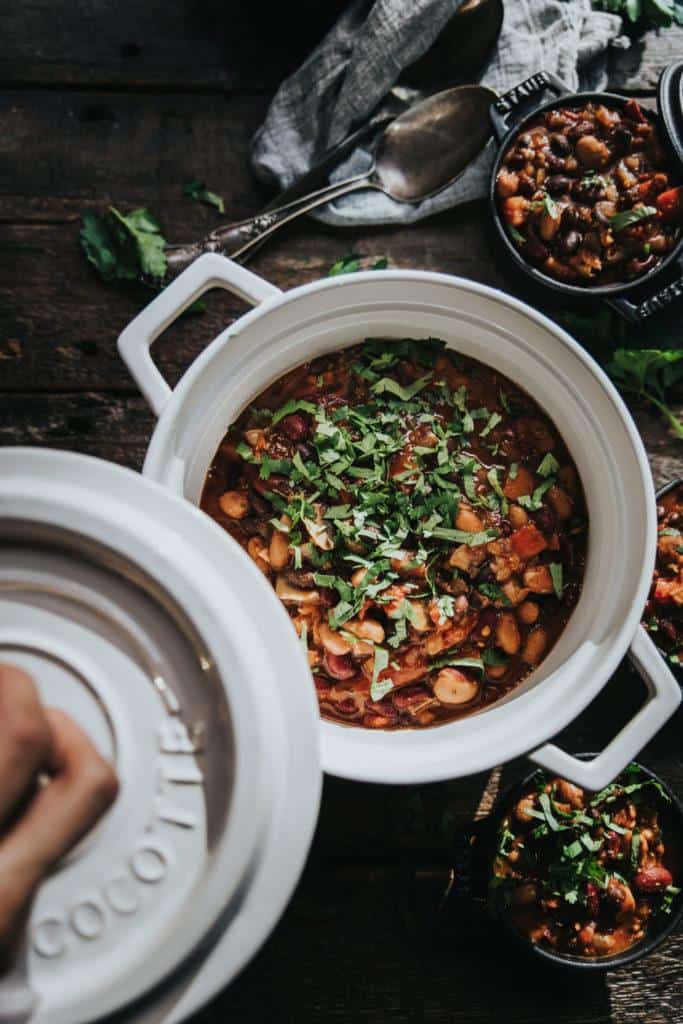 Let's talk about lentils 
Lentils range in colours from green, brown, black, coral, orange, and the list goes on. Bob's Red Mill sells both green and red lentils, and you can use either in this recipe. Is there a difference between types of lentils? Green lentils retain their shape a bit better than red, and red lentils often disintegrate more when cooking but they are still great when using them for soups or chilis like this recipe.
Each type of lentil has different flavours and textures, but all are very versatile when using in a recipe. They also are incredibly easy to prepare, and super easy to digest. I find sometimes almost too easy to digest… if you know what I mean ;)!
Lentils are loaded with nutrients and healthy benefits like:
Protein and fiber
Help support a healthy heart
Good source of iron
Source of molybdenum and folate
Vitamin B1 & B6
Zinc
Pantothenic acid
Potassium
Plus, they're vegan!

Beans, beans the glorious fruit
For this vegan recipe I used three different kinds of beans, however, the best part about chili is that it's so versatile you can throw in whatever vegetables and beans you want or have in the cupboard. I used:
Kidney beans
Black beans
Romano beans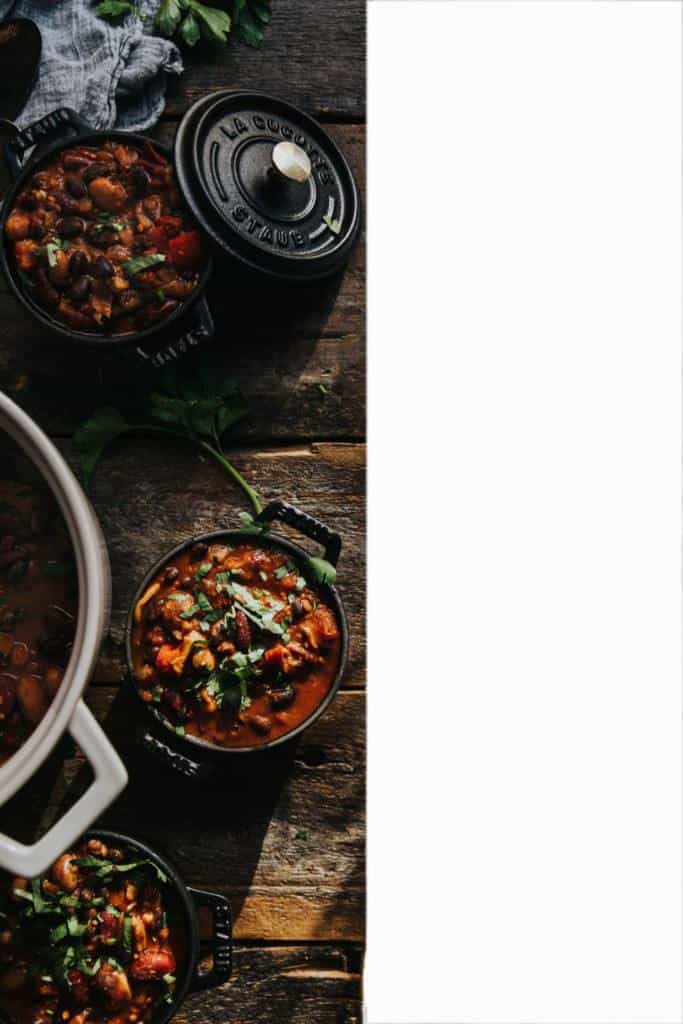 What's so great about beans? Well let me tell you. First off they have so many health benefits, and are packed with protein which is incredibly beneficial in a vegan diet. First off, beans are high in amino acids which are the building blocks of protein. Secondly, they are high in folate which can help with weakness, fatigue, heart palpitations, loss of appetite and irritability.
Fun fact! Dried beans contain nearly double the folate than canned beans. However, both still have folate.
Beans also include:
Zinc
Iron
Magnesium
Fiber
Polyphenols (an antioxidant)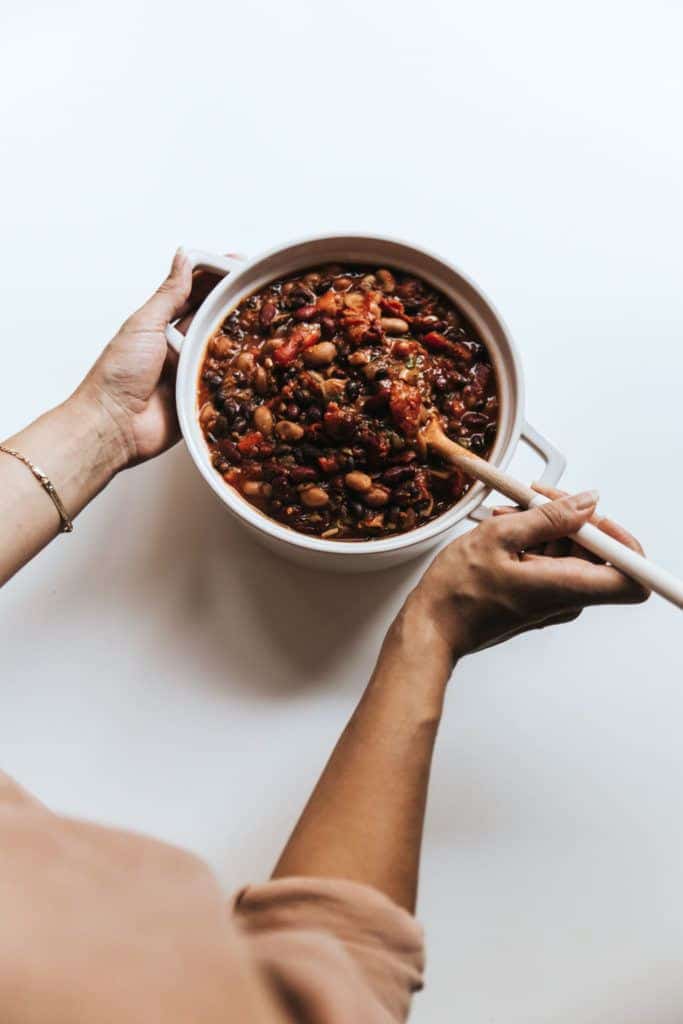 Not to mention that they also help with heart health, reduce your risk of cancer, preventing a fatty liver, and help improve your gut health. Now you know why they call it the "glorious fruit".
I really think you'll love this easy, perfect-for-fall, versatile chili recipe. How do you like to make your chili? Share your tips below in the comments as I'd love to hear! And if you're looking for more recipes to use beans in, I've got a ton. Here are some of my favs:
See the recipe card below for how to make this vegan bean and lentil chili recipe. Enjoy!
Print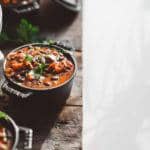 Vegan Bean + Lentil Chili
Author:

Prep Time:

15 minutes

Cook Time:

50 minutes

Total Time:

1 hour 5 minutes

Yield:

6-8

Category:

Main

Cuisine:

Vegan
---
Ingredients
2 tbsp. extra virgin olive oil
1 cup sweet white onion, finely chopped
1 cup red pepper, finely chopped
1 medium jalapeno, seeded, finely chopped 2 tbsp. chili powder
1 tbsp. oregano, dried
1 tbsp. cumin powder
1 tsp. smoked paprika
dash of cinnamon
1/8 tsp. cayenne pepper
2 cloves garlic, pressed
3 cups canned roma tomatoes, unsalted
2 cups vegetable stock – unsalted
1 tbsp. tomato paste
1 (398 mL) can red kidney beans, drained and rinsed
1 (398 mL) can of romano beans, drained and rinsed
1 (398mL) can black bean, drained and rinsed
1 cup cooked green lentils, I used Bob's Red Mill
Garnish with: Cilantro, chopped Green onion
---
Instructions
Into a large pot, sauté the onion on medium heat for around 5 minutes or until translucent.
Add in your finely chopped pepper and sauté for another 5 minutes or until soft.
Now add your seasoning, jalapeno pepper, spices and garlic. Cook for another minute and give it all a good stir.
Next add the canned tomatoes (with juice), vegetable stock and tomato paste. You want to stir this till well combined then increase your heat to high.
Lastly, add your beans and reduce heat to medium. Cook till thickened for another 30-40 minutes. Stir frequently to avoid burning.
Garnish with cilantro and green onion.
Enjoy hot! Tip: if you have some vegan meltable cheese on hand, then this is where you spice things up!
---
Notes
Freezer friendly.  To freeze, let the chili completely cool before transferring into a tight sealed container and place into your freezer.  To reheat simply thaw and transfer to a pot and cook till hot throughout.