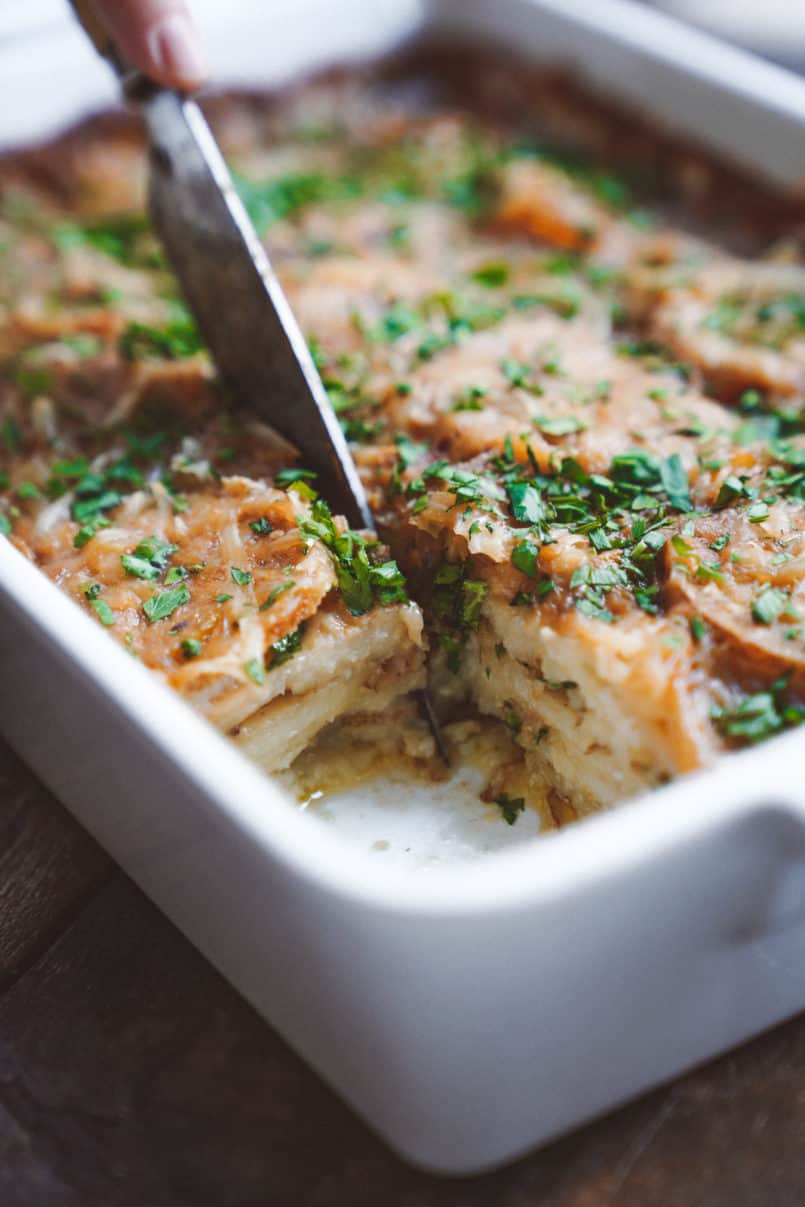 18 Nov

Vegan Potatoes Au Gratin

Tis the season for family gatherings and plates on plates of your favourite comfort food. Most of my holiday events revolve around food, let's be honest my entire life revolves around food, so this year I wanted to put my spin on some classic American Thanksgiving side dishes. Welcome to the party, Vegan Potatoes Au Gratin! This super easy dish is sure to impress your family this year and will probably become a staple long past the holiday season.

What's your favourite holiday dish to prepare? Share with me in the comments! A few of my other go to side dishes to "wow" the crowd are:


Potatoes, the Ultimate in Comfort Food
No matter how you serve them, potatoes have long been a staple in the North American diet. They are easy to grow, keep well in the pantry, and have so many different uses. By eating just one medium sized russet potato you will get:
5 grams of protein and 4 grams of fiber
31% of your daily dose of vitamin B-6
24% of your daily dose of vitamin C
1o% of your daily dose of Iron and so much more
Sometimes potatoes get a bad wrap when deep fried, coated with salt, or finished with fatty and unhealthy toppings. That isn't the case with this Vegan Potatoes Au Gratin. By using a vegan plant-based butter, you'll get all the creamy deliciousness without the saturated fat.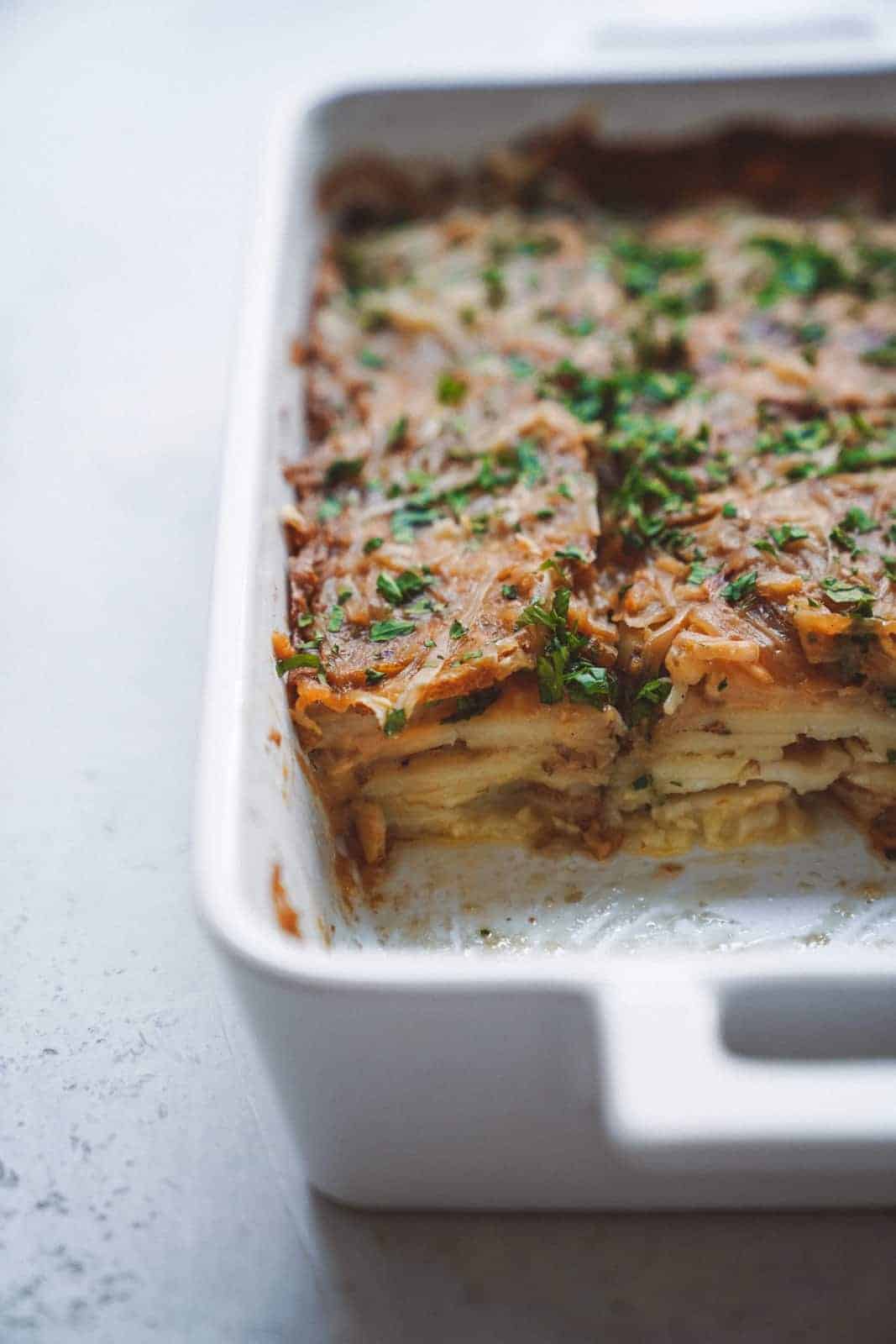 Are Vegan Butters Healthy?
First off let me start by saying not all vegan butters are made equal, and it is important to read labels and do a bit of research. Just because something says vegan or organic doesn't always mean it is healthy. For this recipe I used Melt Organic Vegan Butter because not only is it made of great ingredients, they are also a company that believes in making a bigger impact on our environment through sustainability. On top of all that they are doing it with BUTTER!! Can I get an "Amen".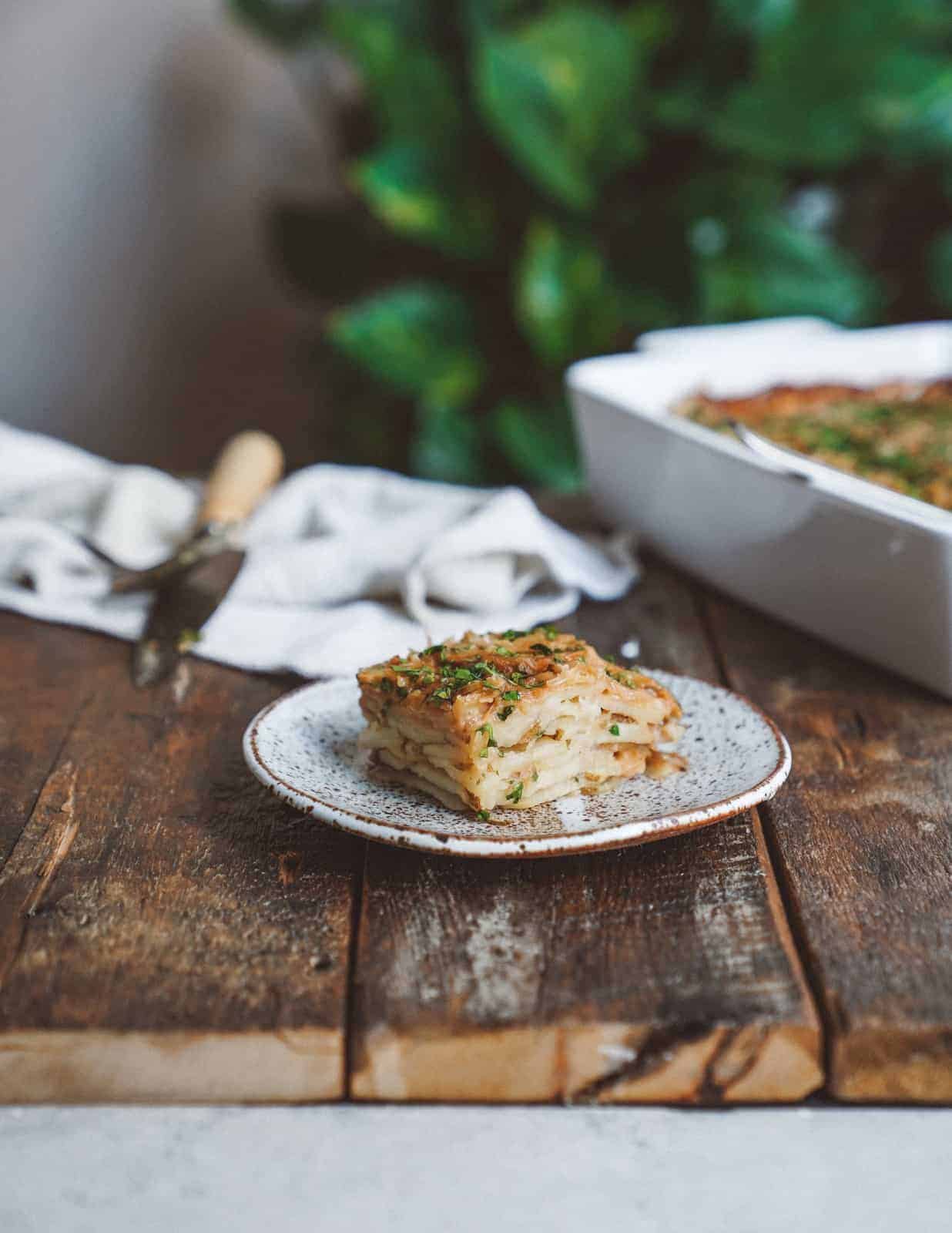 So pull out that veggie mandoline, or your sharpest knife, and start slicing potatoes. This Vegan Potatoes Au Gratin is calling your name and the rest of your family will be asking for the recipe.
See the recipe card below for how to make this warm and buttery Vegan Potatoes Au Gratin!
Print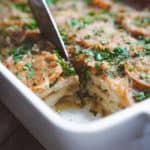 Vegan Potatoes Au Gratin
Author:

Prep Time:

20 minutes

Cook Time:

1 hour

Total Time:

1 hour and 20 minutes

Yield:

9

Category:

Main

Cuisine:

Vegan
---
Ingredients
7 russet potatoes, washed and thinly sliced
1 tbsp. olive oil
1 medium sized white sweet onions, finely chopped
2 cloves of garlic
1 tbsp. vegetable stock paste
1/2 cup Melt Butter
4 tbsp. all purpose white flour
3 cups unsweetened almond milk
3 tbsp. lemon juice
1 tbsp. soya sauce or coconut amonios
1/3 cup vegan parmesan cheese
---
Instructions
Preheat oven to 400F and butter a 12 X 8 baking dish with.  Set aside.
Cut russet potatoes in thin, round slices and layer with drizzles of olives oil and a dusting of salt and pepper.  Repeat till your reach around 1/2 inch from the top of the dish.
In a pan, heat your olive oil for a few seconds and add your onions.  Cook on medium heat for around 5-7 minutes, or until golden.  Add your garlic and veggie stock.  Cook for another minute or two, stirring to avoid burning and to ensure everything is well coated with the flavour from the stock paste.
Plop in your knobs of butter and reduce heat to low.  Once your butter has melted add in your flour and stir till all the onions are coated with flour.  Increase heat to medium.
Slowly begin adding your almond milk and stir consistently as you do so. Once all your milk has been added a thicker sauce has formed you can go ahead and add your lemon and soya sauce.
Stir again just before pouring over your potato layers.  Top off with some vegan parmesan cheese and cover with tin foil.  Cook covered for 45 minutes and under covered for around 10 minutes.  To add that golden brown affect you can broil just before serving!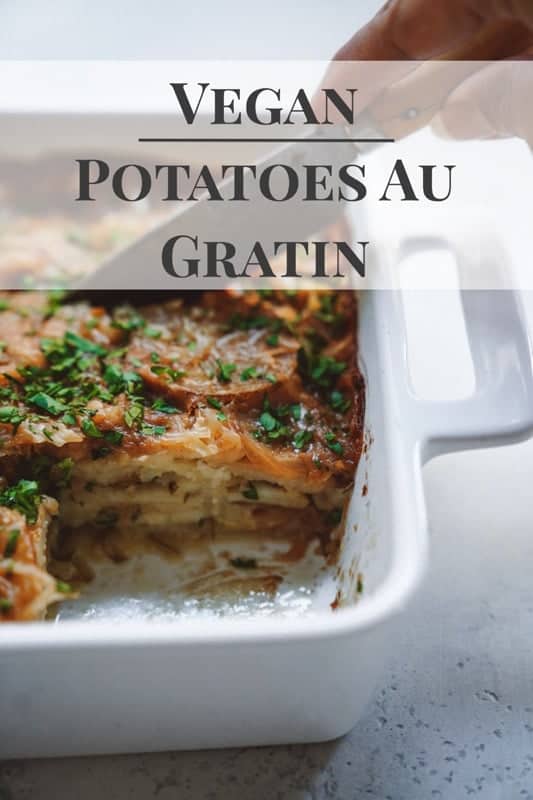 Disclaimer: This post was sponsored by Melt Organic