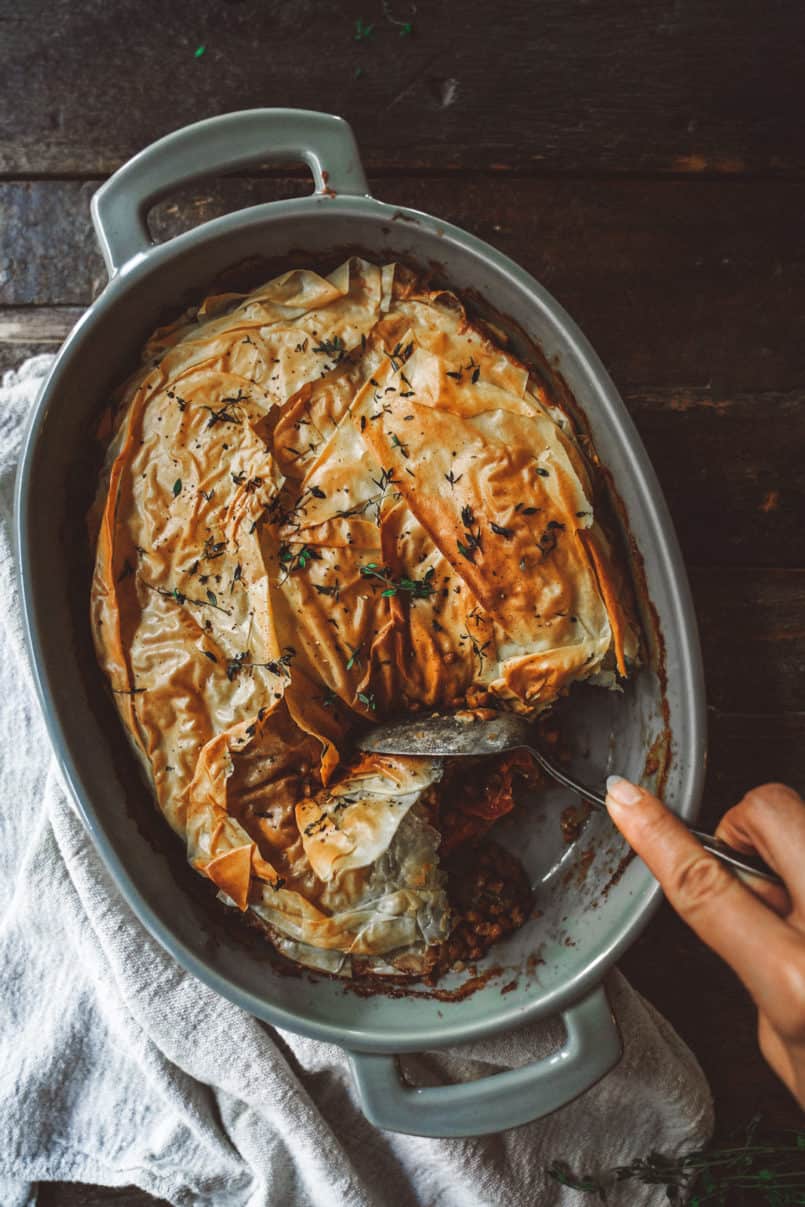 07 Dec

Creamy Lentil Phyllo Dough Crusted Casserole

Who doesn't love a warm creamy dish this time of year? This plant based lentil casserole is a great option to bring to any Christmas dinner. With all the gatherings and eating, this vegan dish will definitely stand out. Really anything with a phyllo dough crust is sure to be delicious, but thanks to the lentil filling you can dish up seconds without any added guilt.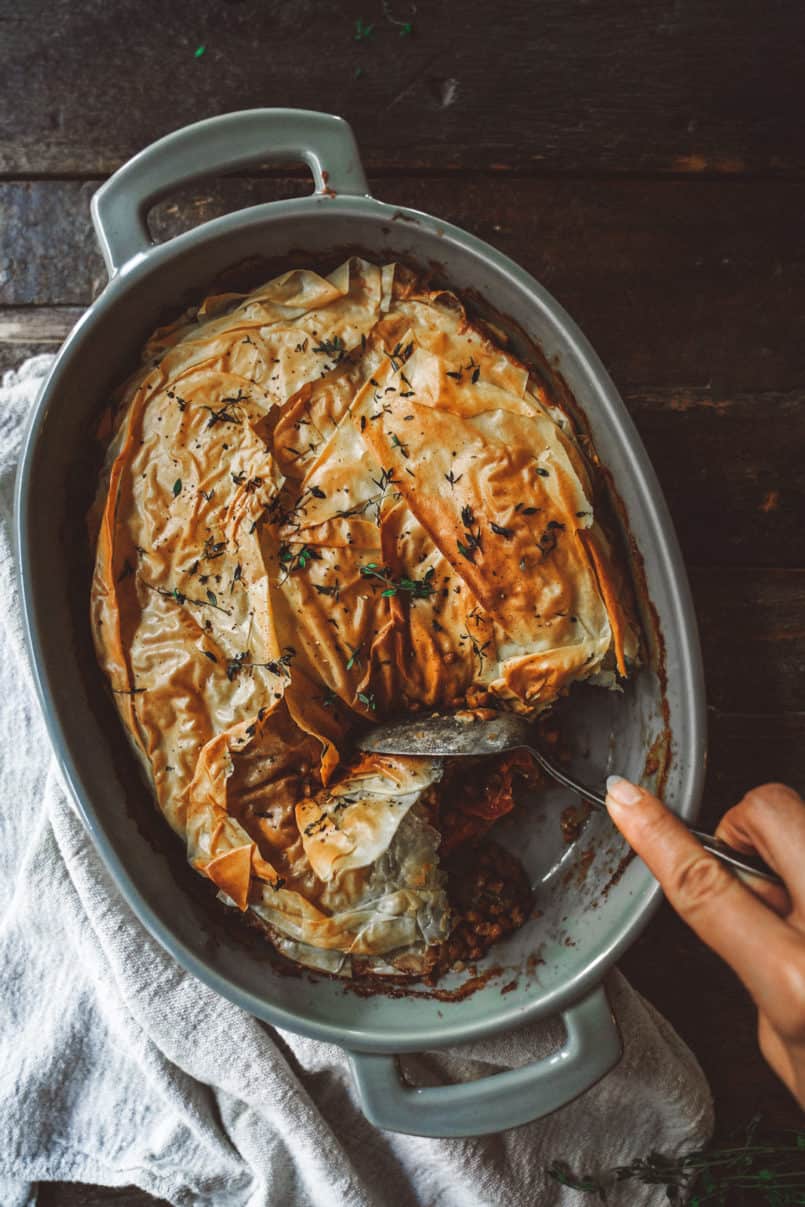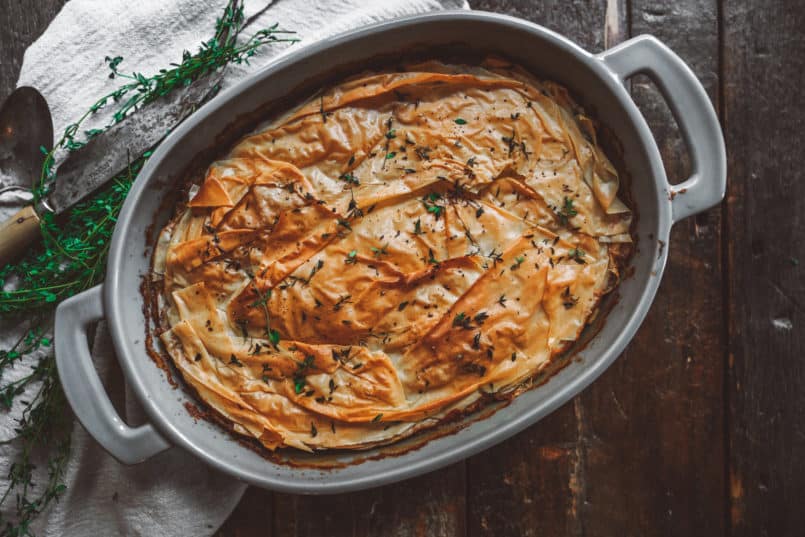 Why You Should Be Eating Lentils
If you've been following me for a while you might notice that I use lentils in a lot of my recipes. If you are vegan or thinking about switching to a more plant based diet you might be concerned about making sure you are getting enough high quality protein."Where do you get your protein from?" is usually the first thing people ask me about when I tell them I eat mostly plant based meals. Lentils have been a long time source of plant based protein and are super versatile, that's why I've spent so much time finding different ways to cook them up. I really like using Bob's Red Mill Lentils as they offer both red and green versions of the grain legume. If you're looking for other ways to use lentils, here are some of my other favourite recipes:
Like I said super versatile! Before you know it you'll be putting lentils in everything!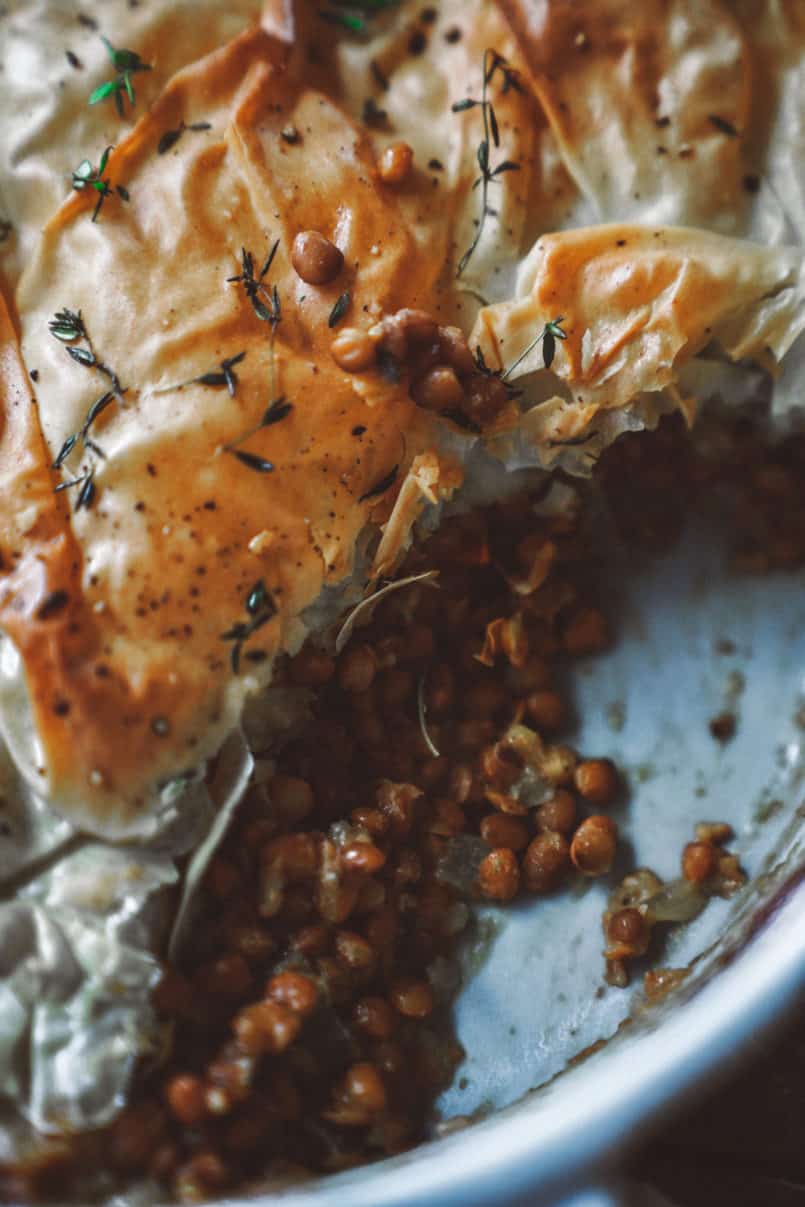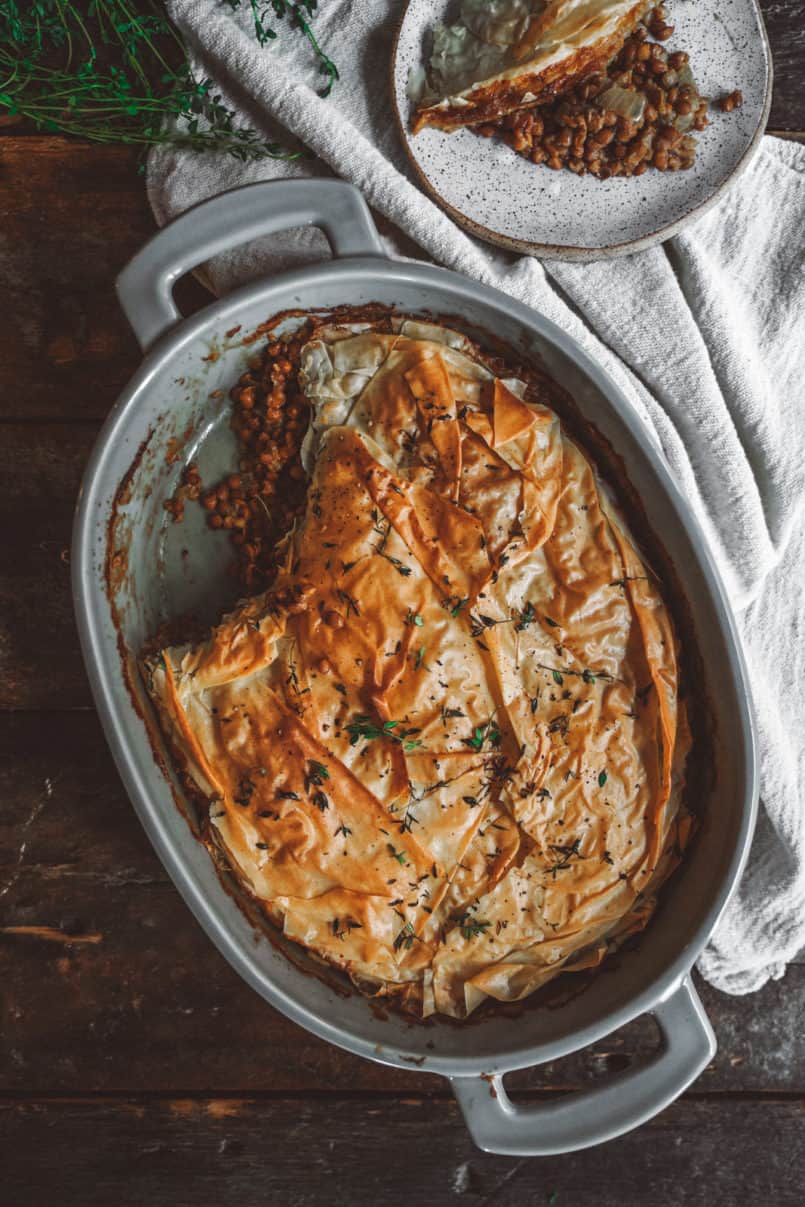 Coconut Milk Dream
I used coconut milk in the recipe not only because of its dreamy creamy texture, but also because it's a great vegan substitute for dairy and has a list of health benefits. Coconut milk comes from the white meat found in old brown coconuts. This is not to be confused with coconut water, which comes from young green coconuts. The fatty meat of the coconut is mixed with water and ground up to produce "milk". Just one cup of coconut milk contains:
22% of the RDA of Iron
10% of the RDA of Folate
22% of the RDA of Magnesium
18% of the RDA of Potassium
Coconut milk is also high in saturated fats called medium-chain triglycerides, better known as MCT's. You've probably heard of MCT oil, which usually comes from coconut oil. Unlike longer-chain fats, MCT  go straight to the liver where they are processed into energy instead of potentially being stored as fat. Coconut milk is also high in calories though so it is always good to consume everything in moderation.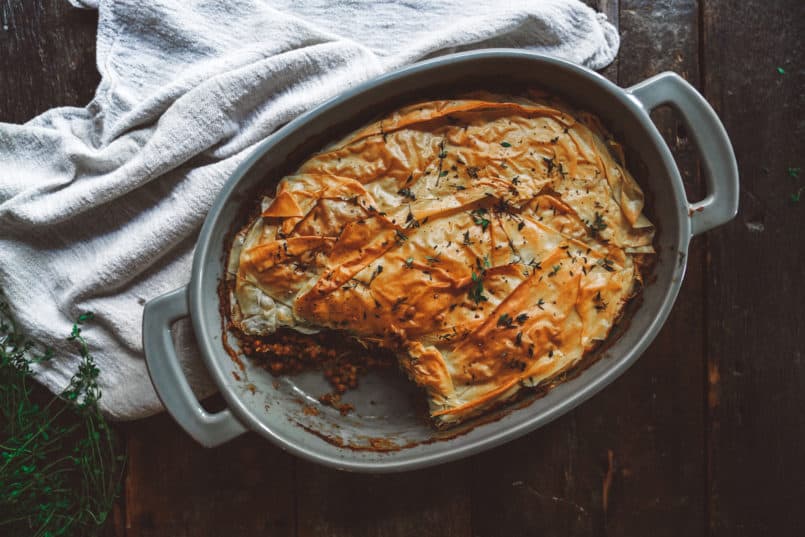 Lentils have long been a favourite in the vegan community and it's about time to make them mainstream! They are super easy to prepare and can be used in every season. For your next gathering this winter, whip up this lentil casserole for a warm, cozy, nutrient rich dish that all of your friends and family will love.
Print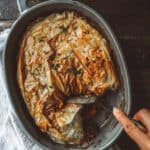 Creamy Lentil Phyllo Dough Crusted Casserole
Author:

Prep Time:

5 minutes

Cook Time:

1 hour

Total Time:

1 hour and 5 minutes

Yield:

5-6
---
Ingredients
2 tbsp. olive oil
1 medium white sweet onion, finely chopped
1 cup celery, finely chopped
3 cloves of garlic, finely chopped
3/4 cup cherry tomatoes, halved
season to taste
1 tbsp. vegetable stock paste
dash of soya sauce
dash of hot sauce
1 tsp. thyme
1/2 tsp. cinnamon
pinch of ground clove
5 cups cooked brown lentils – follow the instructions on the Bob's Red Mill packet
1 1/2 cups thick coconut milk
5 sheets of phyllo, halved
2 tbsp. melted butter or olive oil
---
Instructions
Preheat your oven to 400F.
Into a large pan add 1 tbsp of olive oil and heat on medium for 30 seconds before adding your onions.  Cook them for 5 minutes, stir frequently.  Add celery, garlic and cherry tomatoes.  Cook for 5-10 minutes or until the celery is soft.  Add your seasoning, stock paste, soya sauce, hot sauce, thyme, cinnamon and clove.  Give it all a good stir before adding your lentils and coconut milk.  Pop the lid on and reduce heat to low and cook for 10 minutes.
Grease a baking dish with olive oil or butter.  Add a layer of phyllo to the base of the dish, brush the phyllo layer with either butter or oil and repeat for 5 pieces.  Pour the lentil mixture into the baking dish and then repeat the steps for the phyllo dough for the top layers of the pie.
Bake at 400F for 25 minutes or until the phyllo is golden brown and the filling is bubbling.
Garnish with fresh thyme and serve hot with gravy, mash, stuffing and more deliciousness!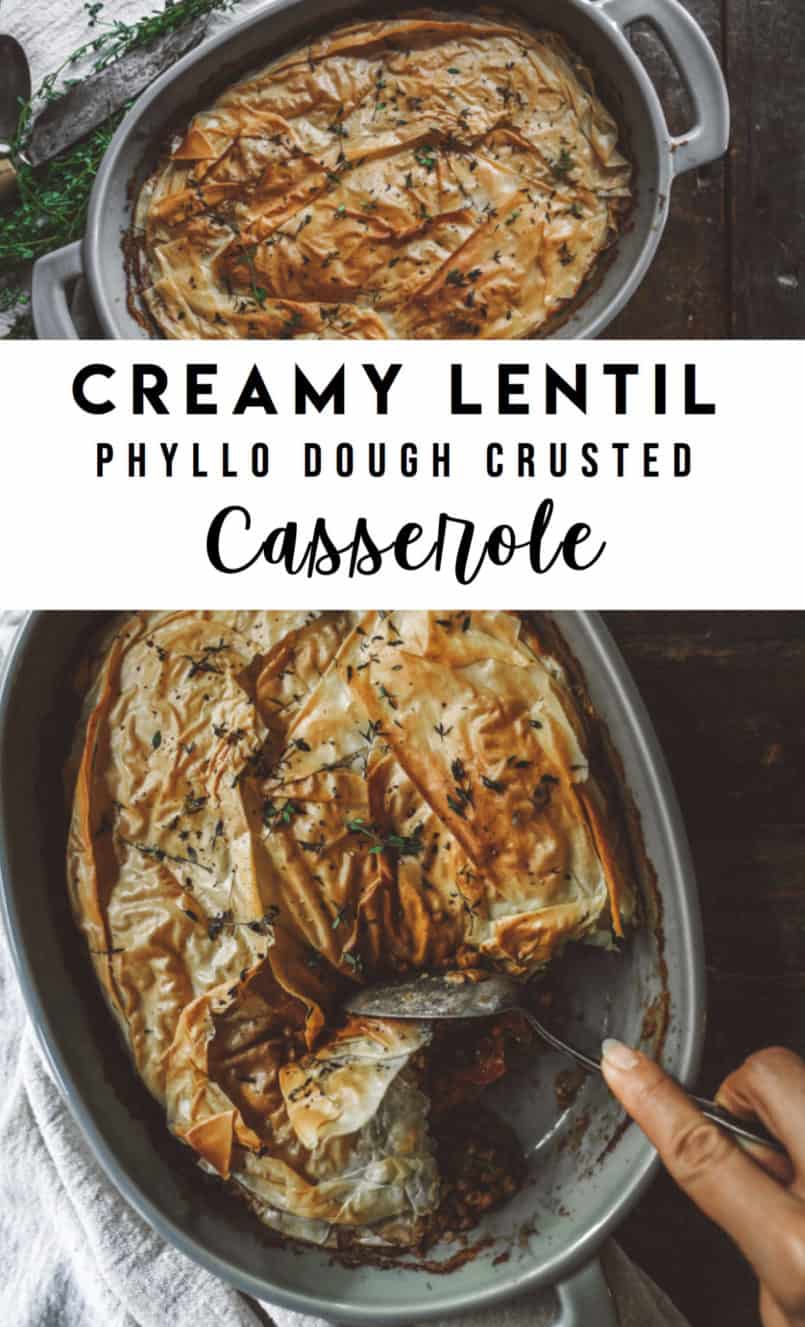 Disclaimer: This post was sponsored by Bob's Red Mill