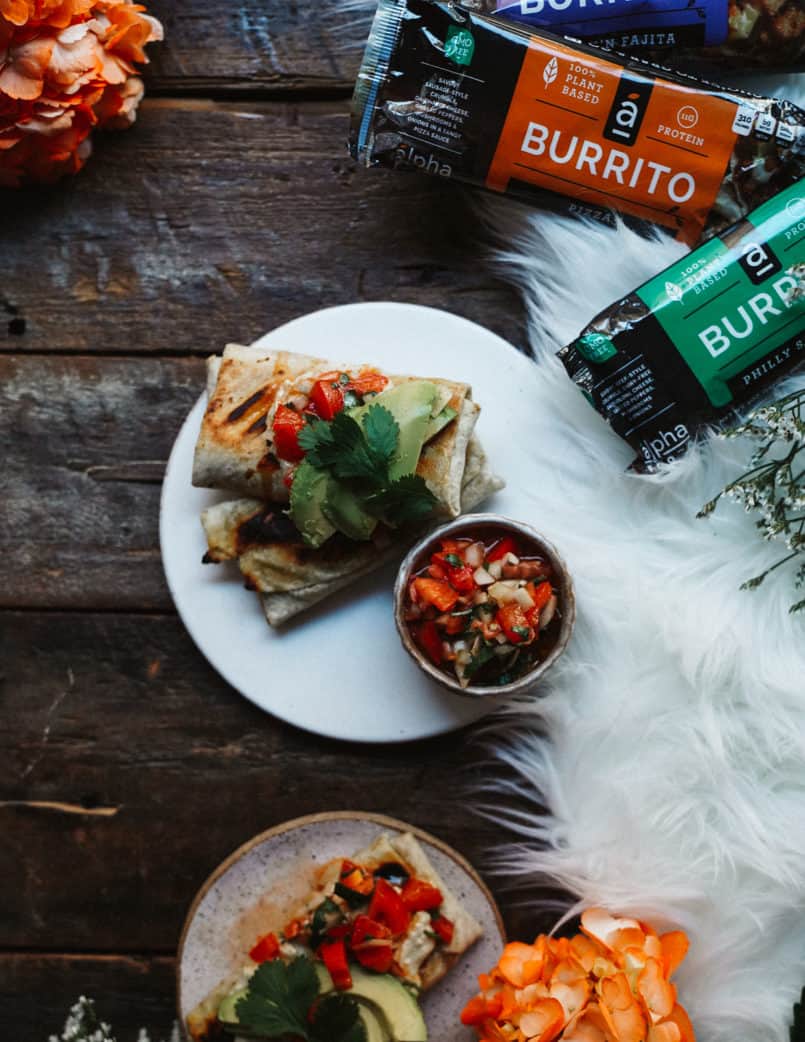 27 Dec

Cashew Chipotle Burrito Sauce

If I'm not in the kitchen creating new plant-based recipes, I am either taking photos of food, eating food, or talking with someone about food. What can I say, food is not only the fuel that keeps me moving but it's also the inspiration for how I choose to live my life. I take what I put in my body very seriously because what you put in determines what you get out via energy levels, mood, and overall health. For this reason I prepare most of my own food, and have been doing so my entire life. When I was younger I actually did most of the cooking for myself and my siblings. But let's be real, life is busy and it's not realistic to make every meal at home from scratch.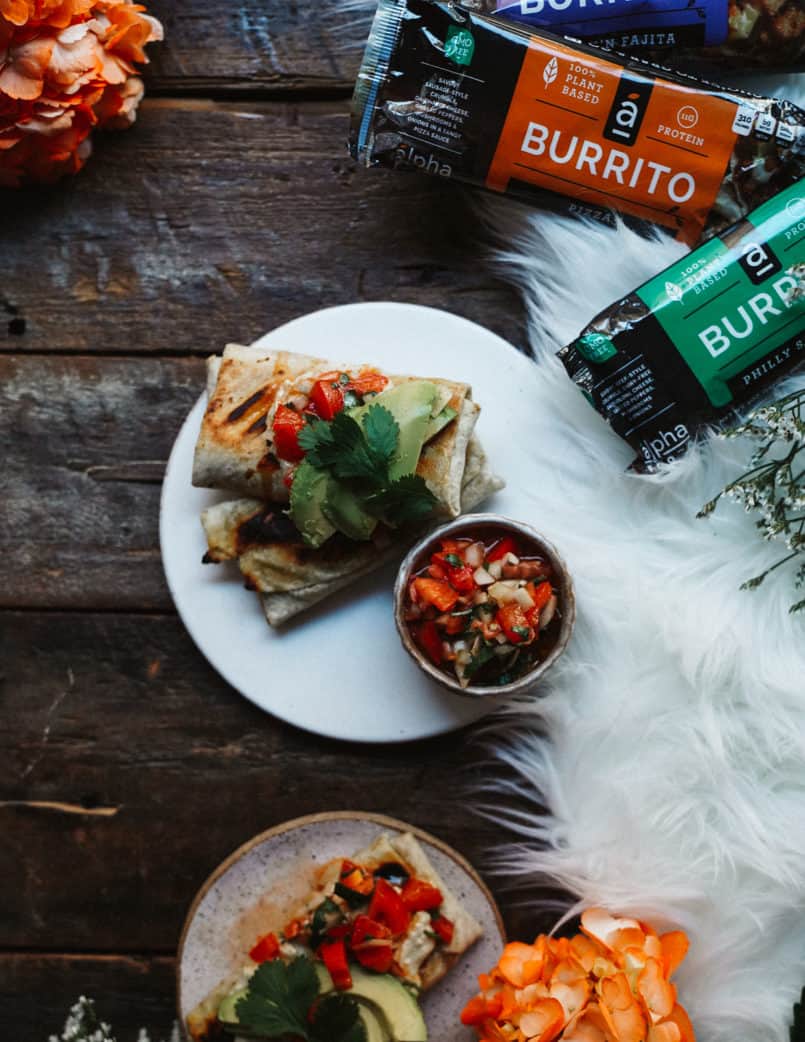 Plant-Based Convenience Food to the Rescue
When I am crunched for time and need something to grab and go I don't want sacrifice eating something that is plant-based and delicious. When I first tried these plant-based All Day Burritos from Alpha Foods I actually had to re-read the package to make sure they were meatless and the cheese was dairy-free! The flavour and texture are so bang on. This is such a win for the plant-based movement, combining plant-based ingredients without sacrificing taste. They come in four different flavours:
Mexicali: My current favourite.
Philly Sandwich: my inspiration for this cashew chipotle sauce but it goes great with all four flavours.
Pizza: Andrew's favourite! A quick and easy option for his lunch.
Chik'n Fajita: You can stick this burrito in the oven or microwave and both options give you that authentic fajita flavour!
These All Day Burritos not only check a lot of important boxes and have flavours and textures for everyone- plant and meat eaters alike.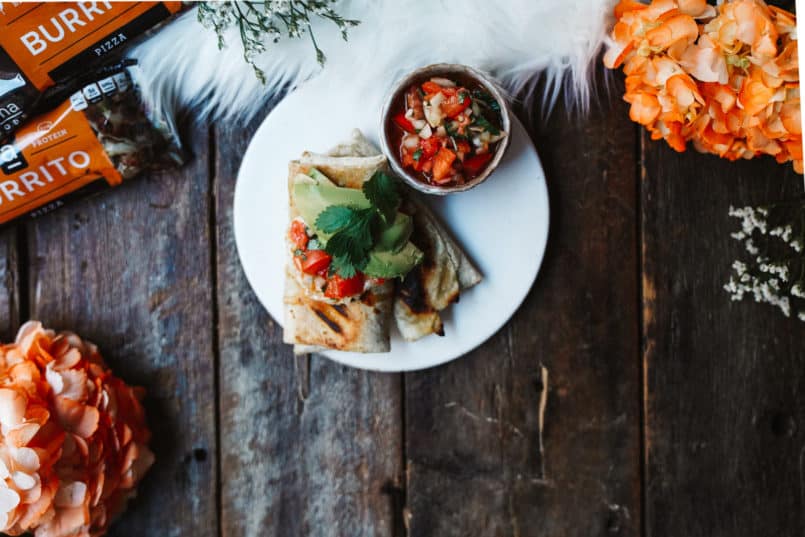 Going Plant-Based
If you are thinking about moving towards a more plant-based diet, don't get overwhelmed or intimidated. Start with one meal or one day of the week like "meat-less Monday". Set yourself up for success by having these easy All Day Burritos in your freezer just in case you're short on time and need something on the go. They are really great for everyone, and can help the whole family get on board with eating more plant-based foods. My boyfriend isn't vegan and he gladly brings these to work when I haven't prepared his lunch.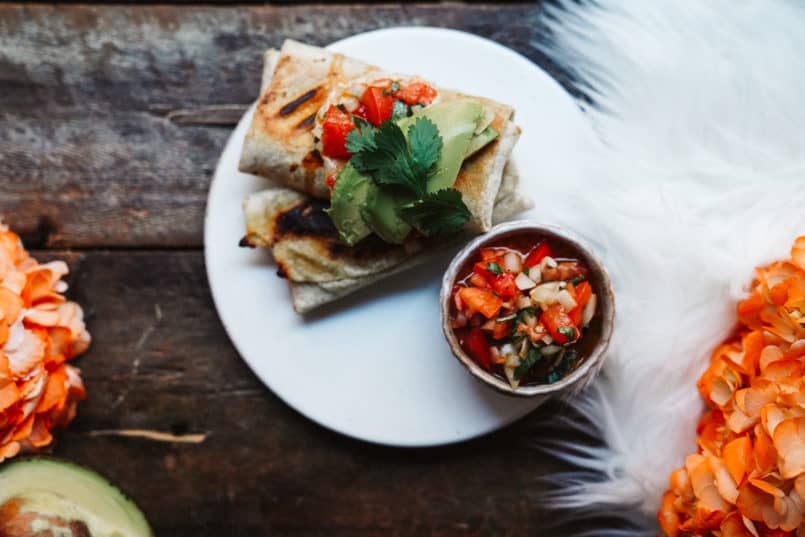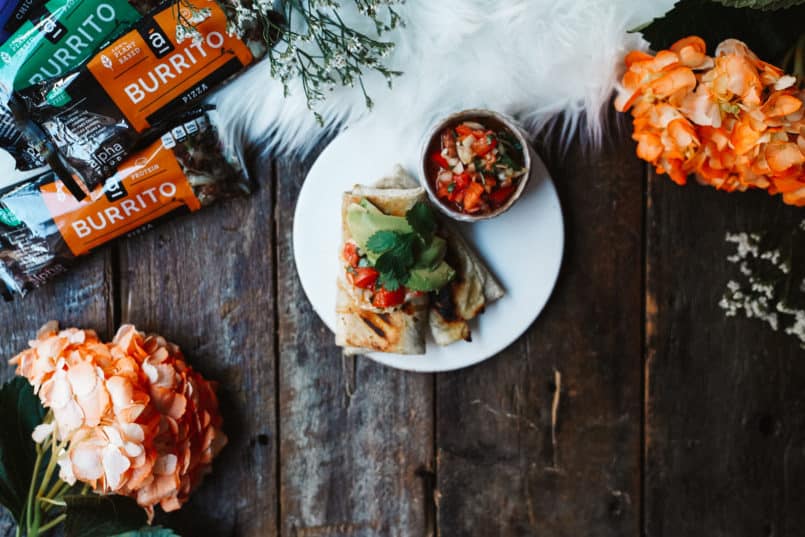 Chipotle Sauce
While I was warming up my burrito in a panini press (hello gooey melty dairy-free cheese), I was inspired to make this cashew chipotle sauce. The flavours in the burrito are so amazing, but Iwanted a little something extra to really kick it up a notch. Below are a few other good sides to go with these burritos: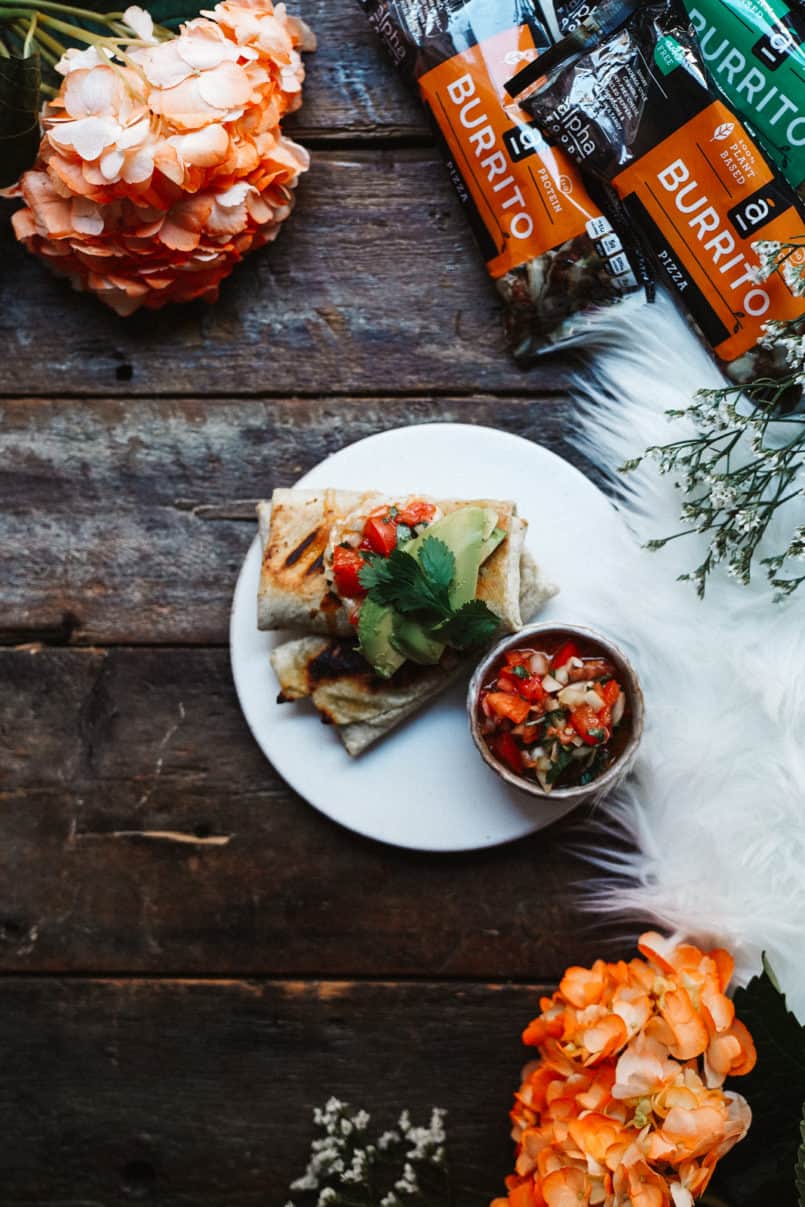 I am just so thrilled to see the plant-based movement making such incredible waves. It feels like only months ago I was struggling to find on-the-go meals to bring along while adventuring, traveling, road tripping and now I have BURRITOS!  If you get a chance try them and let me know what you think below!
Check out the recipe here and don't forget to let me know what you think over at @foodbymaria! Tag #foodbymaria and #fearnotfoodisyourfriend so I can see all your beautiful creations.
Print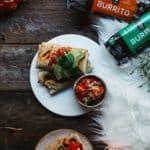 Cashew Chipotle Burrito Sauce
Author:

Prep Time:

15 minutes

Cook Time:

0 minutes

Total Time:

15 minutes

Yield:

1

Category:

Sauce

Cuisine:

Vegan
---
Ingredients
For the Chipotle Cashew Sauce
1 cup raw cashews, soaked for at least 3 hours in water then strained and rinsed
1/4 cup filtered water
1 tbsp. olive oil
1/4 cup coconut cream, solid form from a can

1

 

chipotle chile in adobo sauce

1 clove of garlic
season to taste
1/2 tsp cumin
dash of fresh lemon
1tbsp. maple syrup
For the Spicy Pico:
1 1/2 cup fresh tomatoes, finely chopped, seeds removed
1 tbsp. olive oil
1/2 cup sweet white onion, very finely chopped
2 cloves of garlic, finely chopped
1 cup green pepper, finely chopped
1 jalapeno, seeds removed, finely chopped
Juice of half  a lime
1/4- 1/2 cup fresh cilantro
season to taste
1/4 tsp-tbsp. cayenne pepper
1 tsp. hot sauce
---
Instructions
For the Chipotle Sauce:
Add all the ingredients into a high speed blender and blend for 1-2 minutes.  You want to reach a perfect smooth and creamy consistency!  Great on wraps, toasts, with burritos in salads or on pasta!
For the Pico:
Add your ingredients into a mixing bowl, gently stir and set aside for 30 minutes before enjoying with your burrito or as dip for your chips! YUM! Can I just say it?  This Pico is super addicting.
---
Notes
The Chipotle sauce will last up to one week in the fridge in a tight sealed jar or container.
The Pico will last 1-2 days in a tight sealed container in the fridge.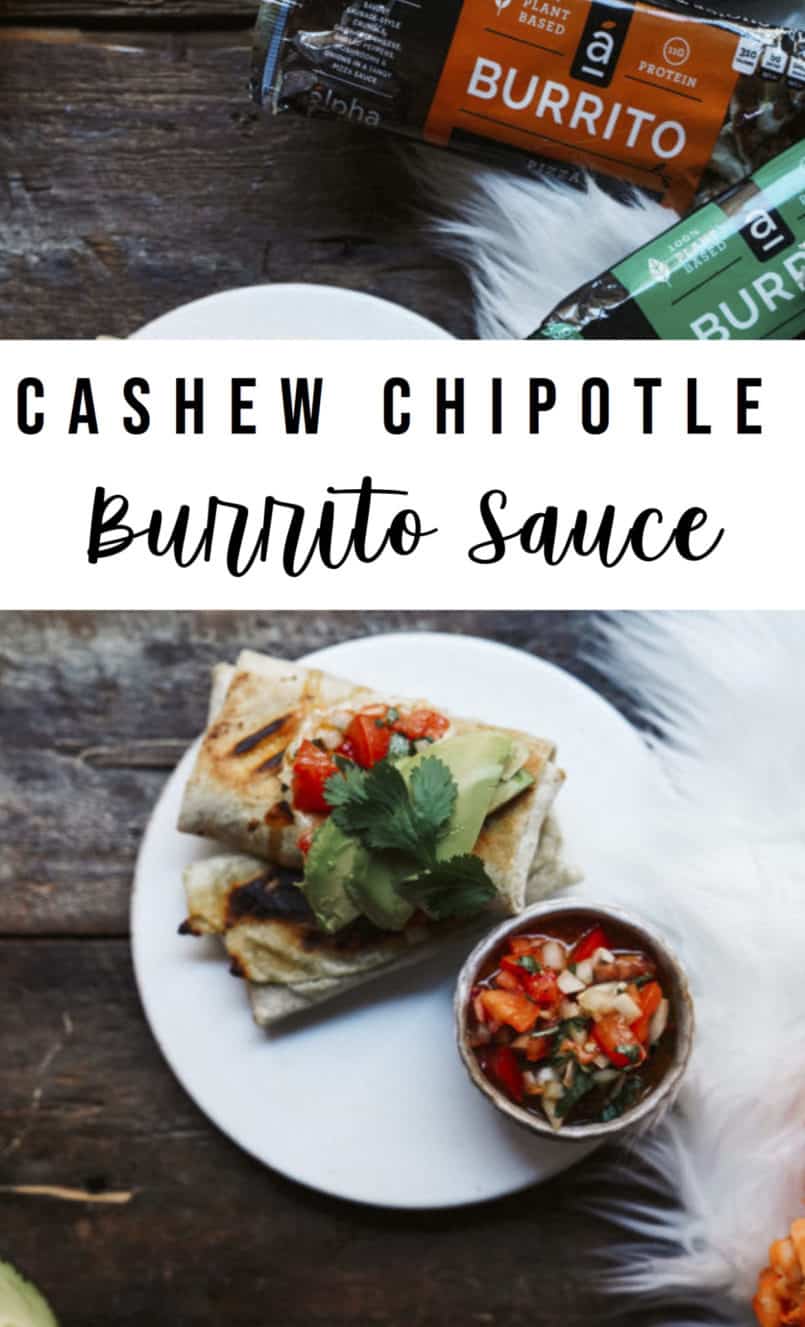 Disclaimer: This post was sponsored by Alpha Foods