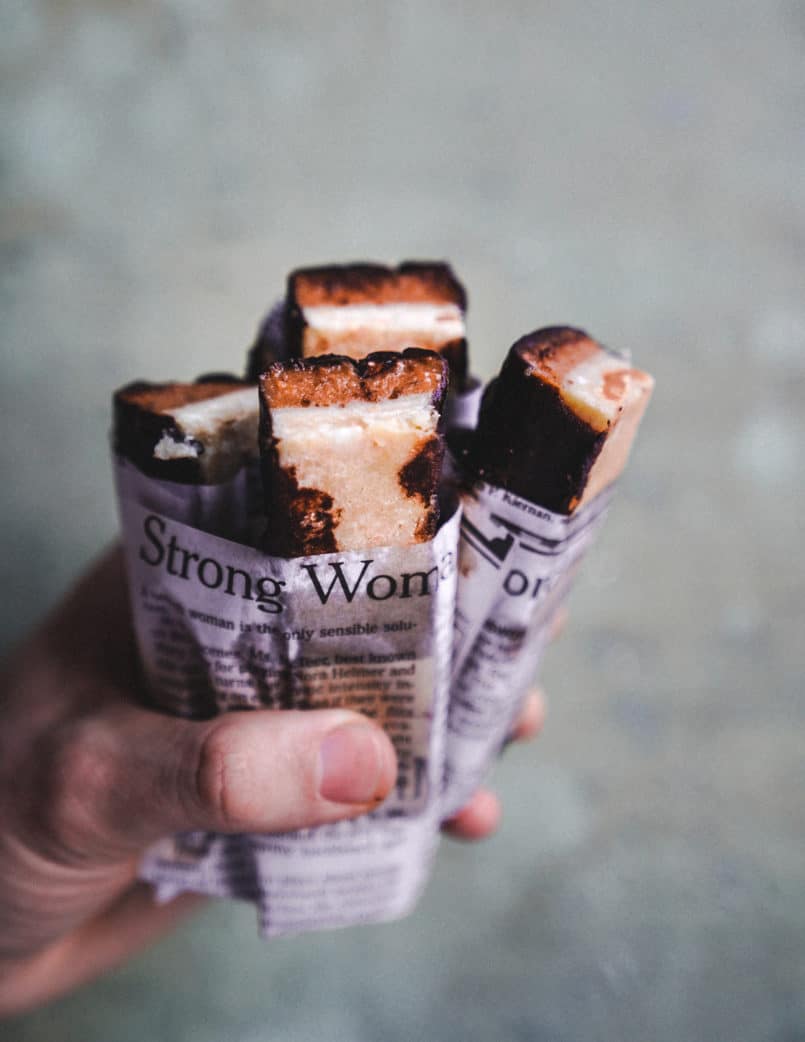 08 Jan

Plant Based Salted Caramel Almond Bars

For me, the new year brings a clean slate and a fresh start. It's about reflecting and rewarding yourself for the hard work you put in the past year and also taking the steps to plan for an exciting and productive year ahead. This year I am starting off with Clean Program's January Group Cleanse -a 21 day challenge! Don't worry this is not your average cleanse, let me tell you why. They don't promote weight loss or focus on dieting, instead it's a nutrient dense meal planning program to help kick start our lives.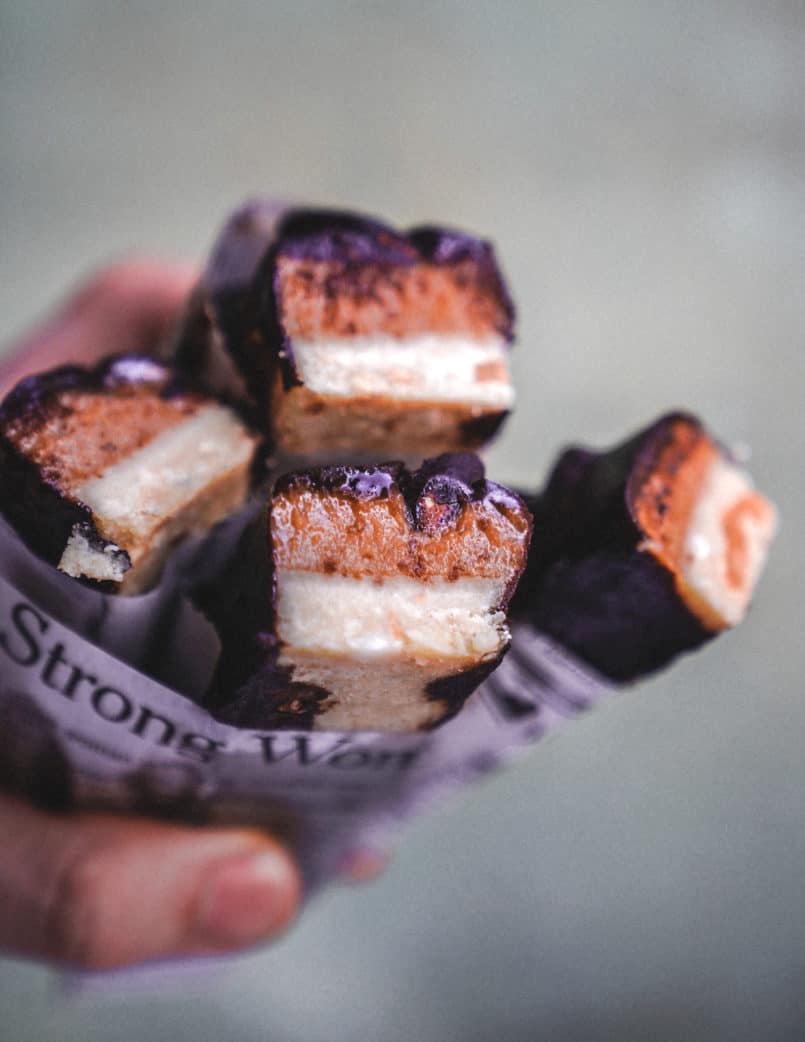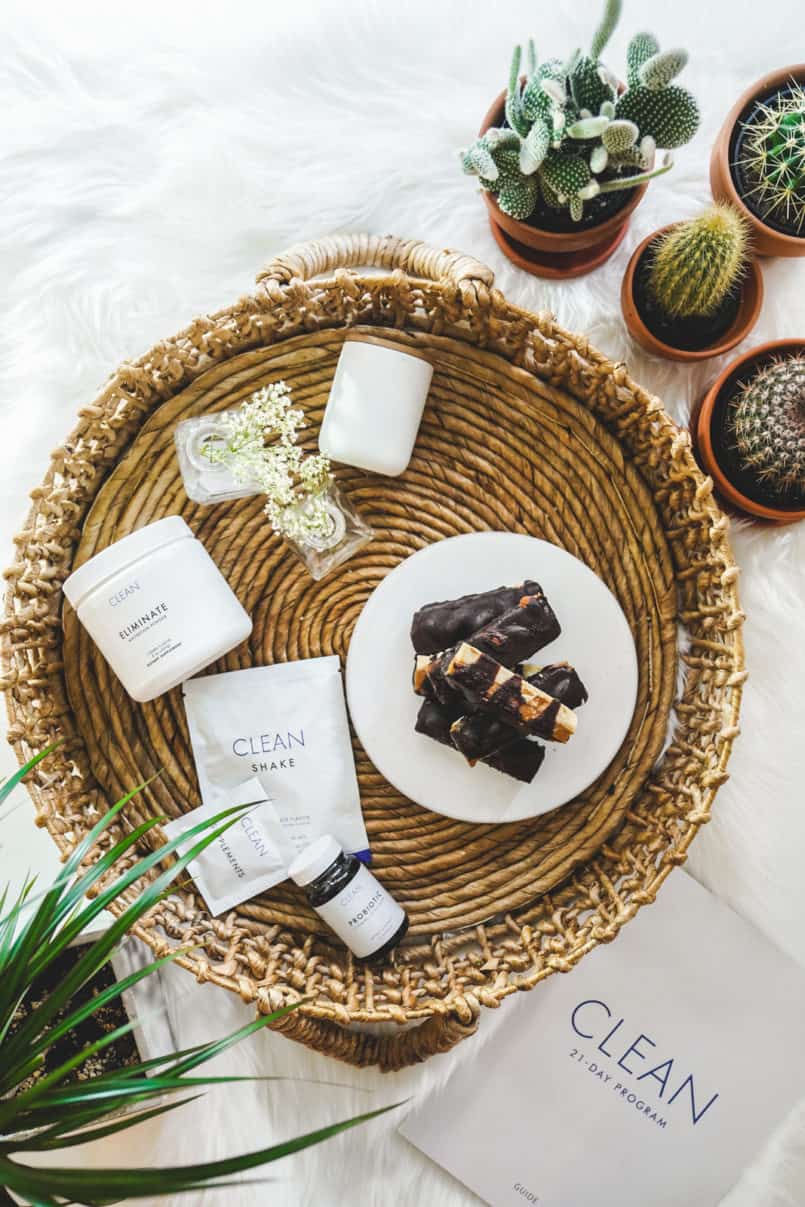 Why I'm Doing the 21 Day Challenge in 2019
I eat pretty clean all year long, but it's important to take a moment and check in with yourself- that's why I love the 21 day program by Clean Program. It's all about recharging, kickstarting and cleansing our bodies. They provide you with supplements, shakes, and guidelines for clean eating. An average day on the program looks like this:
Morning: I get to wake up have my tea and dance around my kitchen while I blend up my first smoothie (I went with chocolate because who doesn't like chocolate for breakfast!)
Noon: I typically don't eat just three meals a day. I like to do a lot of snacking and that's one thing I really like about this program. As long as it's an approved food you can eat all the snacks, along with a filling lunch.
Evening: After a busy day, I finish off the program with another delicous shake.
I'm so on board with the idea of adding the right supplements and giving you the tools to be healthier this year. It's time to get over the thought that we need to restrict or feel ashamed about our diets.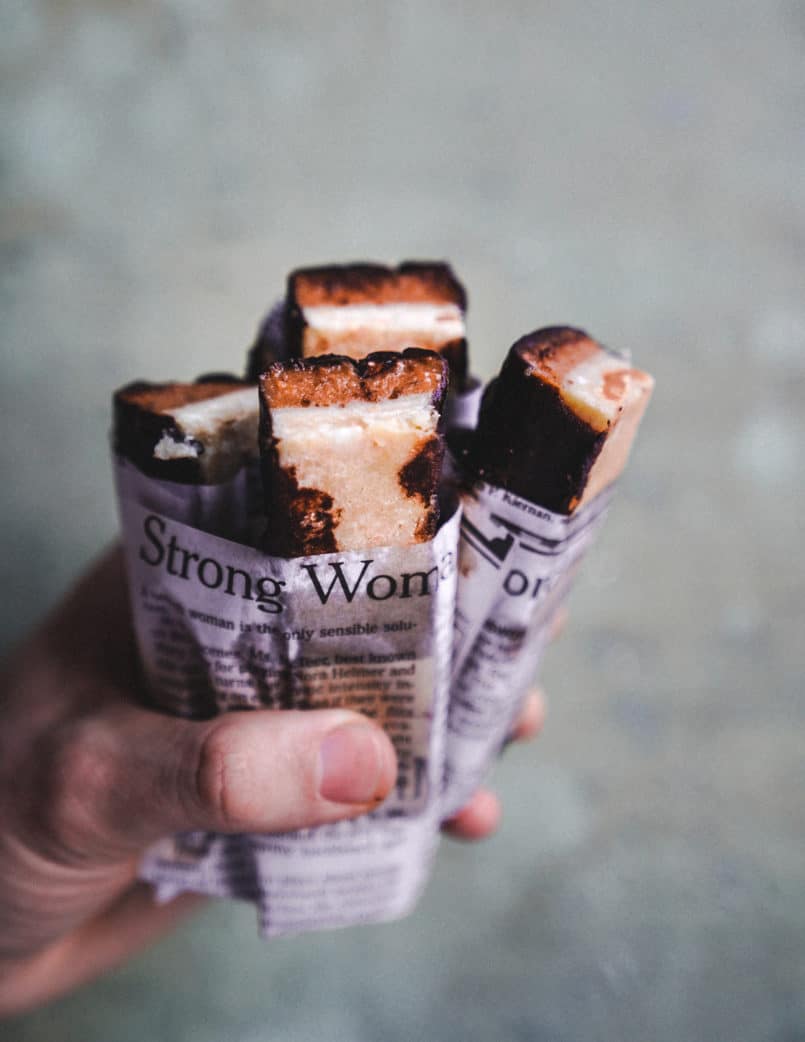 Plant Based Can Be Easy
I made these plant based Salted Caramel Almond Bars to enjoy during my January 21 day program. Not only are they delicious, but they totally fall in line with the Clean Program's guidelines. When thinking of healthy, easy, plant based snacks and meals don't get overwhelmed or think you have to be super fancy. You probably already have most of the ingredients for this recipe in your pantry. The trick to eating healthy and plant based is just keep it simple! I guess that really isn't a trick at all, just eat clean, real, whole foods.
Make sure to follow along on my Instagram page as I make my way through these 21 days. I will keep you posted on my progress, from bloating to changes in my skin and energy levels. A few days ago I also gave a run down on my stories of what was included in my 21 day program package. If you missed that here's a quick list of what you can expect to receive:
63 Supplement packs
42 Cleanse Shake Packets (you get to choose chocolate or vanilla or a mix)
A Cleanse Guide
Recipes
Special-Strength Probiotics
Their website is also a great resource for what to expect during your cleanse, tips for getting your body ready to cleanse and a list of what you can eat/what to avoid. I personally love the grocery list they provide because it makes the entire process so easy.


Cheers to 2019
This is the time of  year where there is a lot of talk about goal setting, resolutions, and starting fresh. Although it is a great time to focus on these type of positive changes remember that you don't have to wait for the new year, or Monday, or anything to start taking action to become the best version of you. For more motivation and inspiration check out some of my other posts:
If you missed the January start for Clean Program's challenge don't worry! You can start the 21 day program whenever it makes sense for you. Use the code FOODBYMARIA for $75 Off the 21-Day Program for any first-time Clean customers, it is active through Feb 4, 2019. And like I said, you don't need a new year to start just take action. Cheers to 2019, let's make it our best year yet!

Print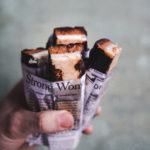 Plant Based Salted Caramel Almond Bars
Author:

Prep Time:

1 hour

Cook Time:

0 minutes

Total Time:

1 hour

Yield:

12-14

Category:

Raw

Cuisine:

Vegan
---
Ingredients
Nougat base:
2 cups almonds
½ cup coconut cream
1/3 cup walnuts
¼ cup coconut oil
¼ cup coconut nectar or maple syrup (if you're not doing the 21 day challenge)
¼ cup almond meal
1 tsp. vanilla extract
Caramel:
3 cups medjool dates
2/3 cup almond butter
½ cup coconut cream
¼ cup coconut oil
½ tsp. vanilla extract
Pinch of sea salt
Dark Chocolate Coating:
½ cup cacao powder
¼ cup coconut oil – melted
¼ cup coconut nectar or maple syrup (not 21 day challenge complaisant)
Toppings:
Raw almonds
Dark Chocolate
Season Salt
---
Instructions
Line an 8×8 baking tin with parchment and set aside.
Into a high-speed blender add all your ingredients for the nougat base. Blend this for around 2-3 minutes or until completely smooth and silky. It's worth it, trust me. Once your mixture is ready transfer it to your baking tin and flatten out till even. This is a bit of a sticky process but I added a spray of coconut oil to my spatula and it made the process a bit easier. Place in the freezer while you make the caramel.
Now let's make that golden nectar, caramel. Nice and simple, once again, just add all the ingredients into a high-speed blender and blend till completely smooth. The dates break down easily here but you still want to stay patient and blend for around 2 minutes so you achieve that really silky effect when eating these bad boys. Transfer this mixture onto the nougat base and spread until flat and beautiful.
Cover with parchment and set in freezer for around 4 hours.
To add the finishing touches we can do a few things here. 1) Coat with chocolate 2) Coat with almonds.
For the chocolate, you're going to need a cooling rack set aside. Remove your snickers from the freezer, using a knife cut the sides of the pan for removal and set onto a cutting board. Cut just centimetres from each side for the precise look (eat those bits, of course) and then you're left to choose how you want to cut them. I went for the longer/skinny look because they are quite thick. So once you've cut the bars put them back into the freezer.
Into a saucepan add your coconut oil and let it melt. Then add the rest of your chocolate ingredients. Stir on low heat till combined. Remove from heat and once cool enough to handle begin dipping your bars into the chocolate. Place your coated bars onto the cooling tray and watch them dry up quickly! You can sprinkle some with whole almonds and salt and some not. Have fun with these and do what you think your family will like most!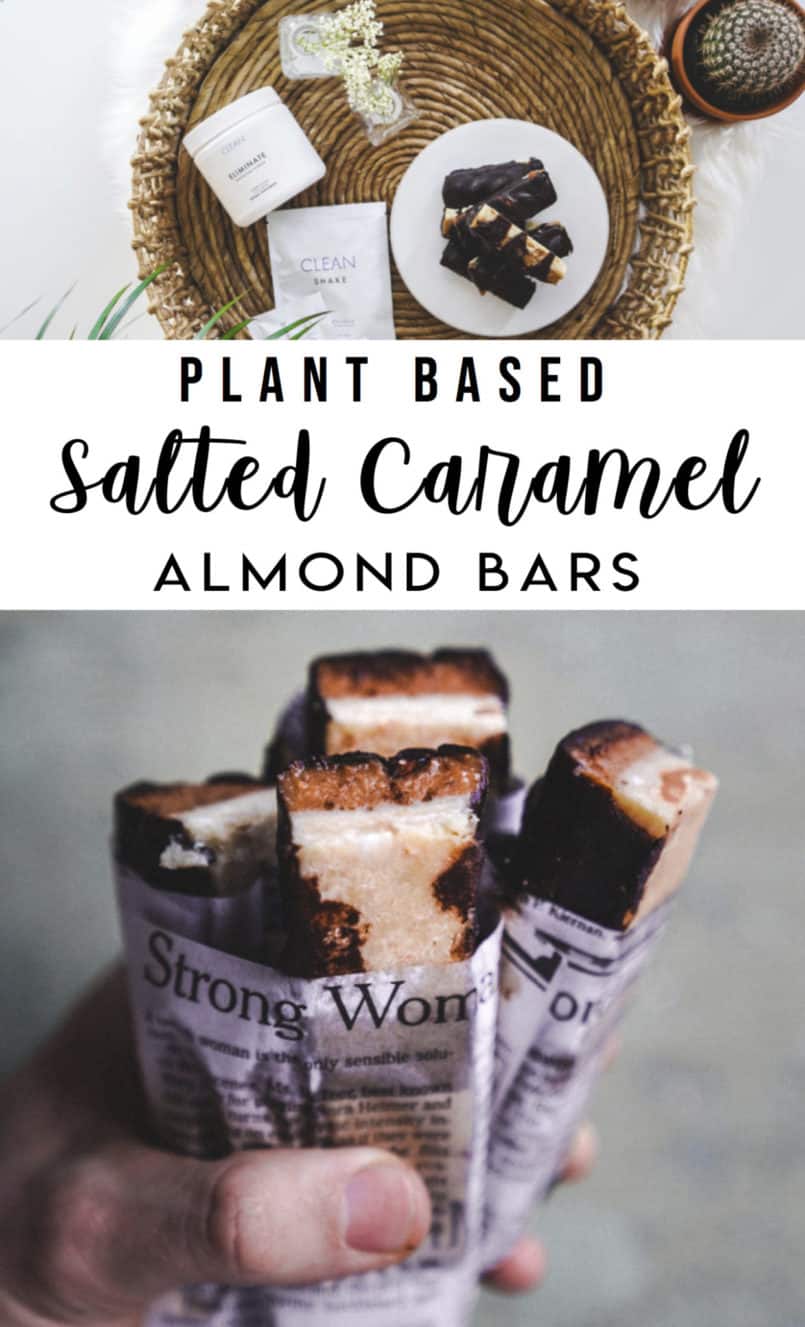 Disclaimer: This post was sponsored by Clean Program