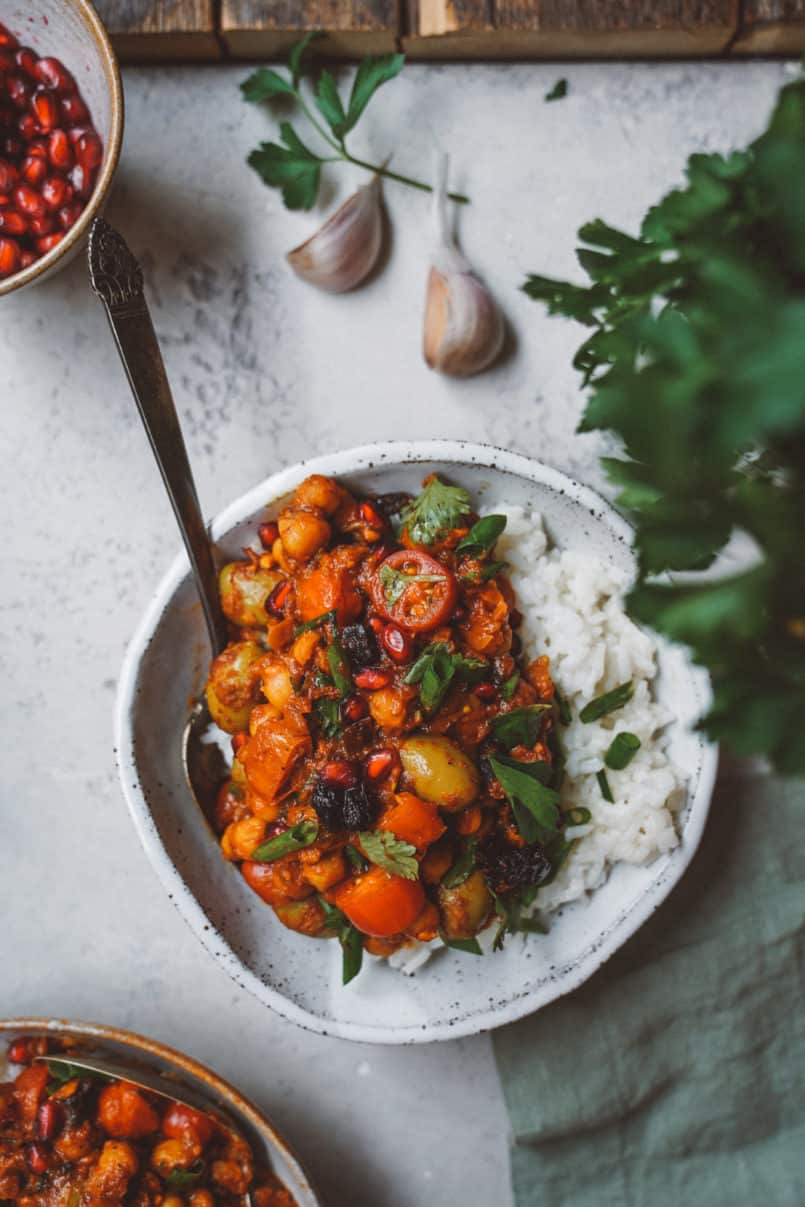 21 Jan

Three Easy Plant Based Meal Planning Ideas

Sometimes when I am testing new recipes I have to get very specific products or ingredients. Then I am left with an almost full container of something I may or may not use again. I am trying to be more aware of waste and using everything I have in my house, for this reason, I am trying to get creative and come up with multiple recipes with a few of the same key ingredients. So when I saw my big jar of California Prunes I knew I had some work to do!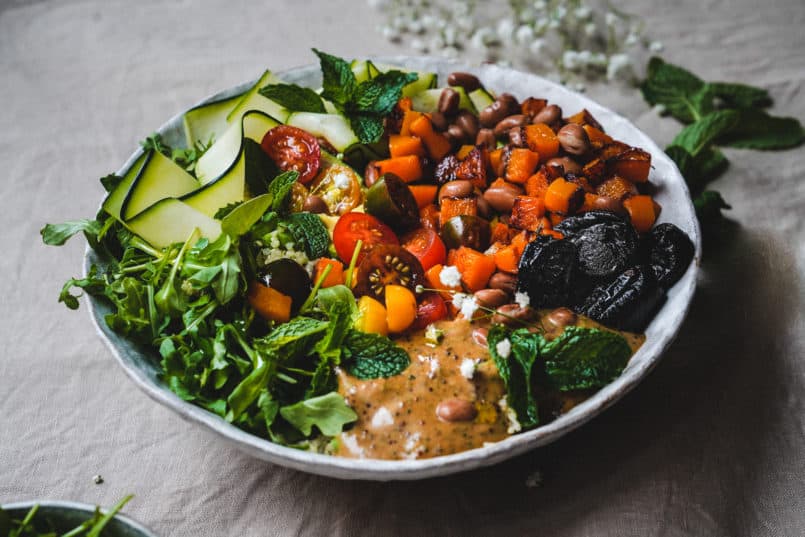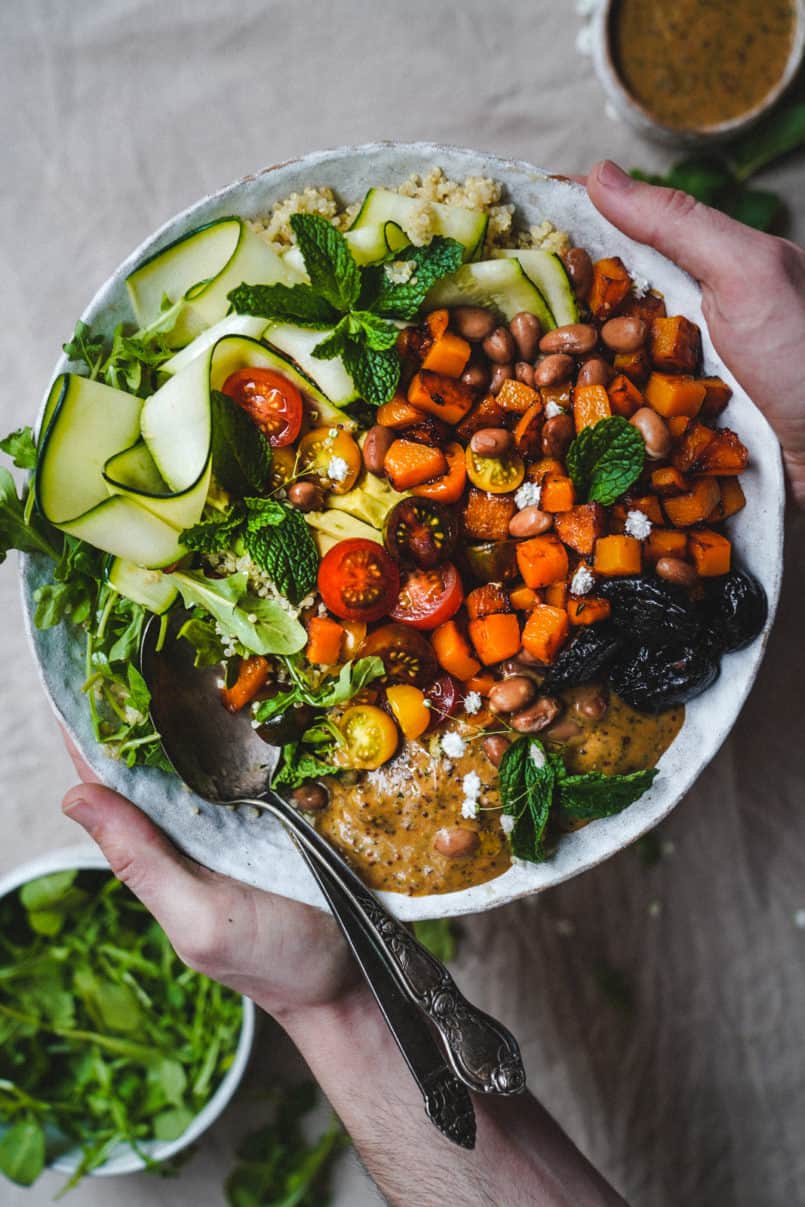 Let's start with this colorful and fresh salad that is packed with nutrient dense veggies. The zucchini ribbon gives a nice crunch while the roasted sweet potatoes add a nice hearty texture. You don't normally see prunes in a salad but I think they are a nice switch up from other sweeter dried fruits like cranberries.
Hearty California Prune Salad
3 cups cooked quinoa
2 cups cubed roasted sweet potato
1 zucchini, ribboned
1 cup white kidney beans, strained and drained
1 cup cherry tomatoes, halved
1 cup fresh arugula
1/4 cup fresh mint leaves
50g or 1/4 cup California prunes
1/2 an avocado, sliced
Dressing:
handful of fresh mint
4 California prunes
1/4 cup extra virgin olive oil
juice of one lime
3 cloves of garlic
season to taste
1/4 cup water
Method:
Into a large bowl place your quinoa then bed on your arugula and beans. Add the remainder of the ingredients in no particular order and set aside.
For the dressing simply add all the ingredients apart from the water into a wide jar and combine using a hand blender.

 

Your mixture will be thick so slowly add water till you reach your desired consistency.
Serve by dishing up the salad and then topping with dressing.
This salad will last up to 4 days in the fridge in a tightly sealed container. The dressing will last up to a week in a tightly sealed jar in the fridge.
 

I love this recipe, it is such a fun twist on roasted butternut squash! Next time you have a family gathering and need to bring a side dish, this is the perfect crowd pleaser. The prune glaze gives just the right amount of sweetness to balance the starchy squash. When you're reducing it over the oven your house will smell amazing!
Glazed butternut squash
Ingredients:
For the squash:
1 butternut squash, halved lengthwise.
3 tbsp. olive oil
5 sprigs of rosemary
One bunch of thyme
Season to taste
California Prune glaze:
8-10 California prunes, coarsely chopped
1/4 cup butter

1/2

cup

 

brown sugar

dash of maple syrup

1/4

 

tsp 

onion powder

2

 

cloves

 

garlic,

 

smashed

rosemary stick, whole, use as a stir stick to infuse flavor
Method:
Preheat your oven to 400F.
Line a baking sheet with parchment paper and place your butternut squash cut side down. Drizzle your squash with oil and massage throughout. Lightly dust the whole squash and bake in the oven till fork tender.
Once fork tender, remove the squash from the oven to cool slightly.
Using a very sharp knife begin to cut 1/4 inch strips from, top to bottom. Make sure you're not cutting all the way through. You may want to use a set of tongs in one hand to hold the squash stable while cutting with the other.
Before heading back in the oven, place sprigs of thyme and rosemary into the cuts of squash.
Cook for 15 minutes.
To prepare the glaze, add all your ingredients into a small saucepan and reduce on low heat for 3-5 minutes. Use rosemary as a little stir stick to really infuse it with flavor.  Stir often to avoid burning.  Once thick and luscious you're ready to go!
Just before serving your squash pour your reduced mixture over and using a spoon make sure to get all the juice into the crack –  (you can also baste your squash in this reduction for 5 minutes before serving).
Serve with fresh salad and your choice of grains or legumes like barley or lentils.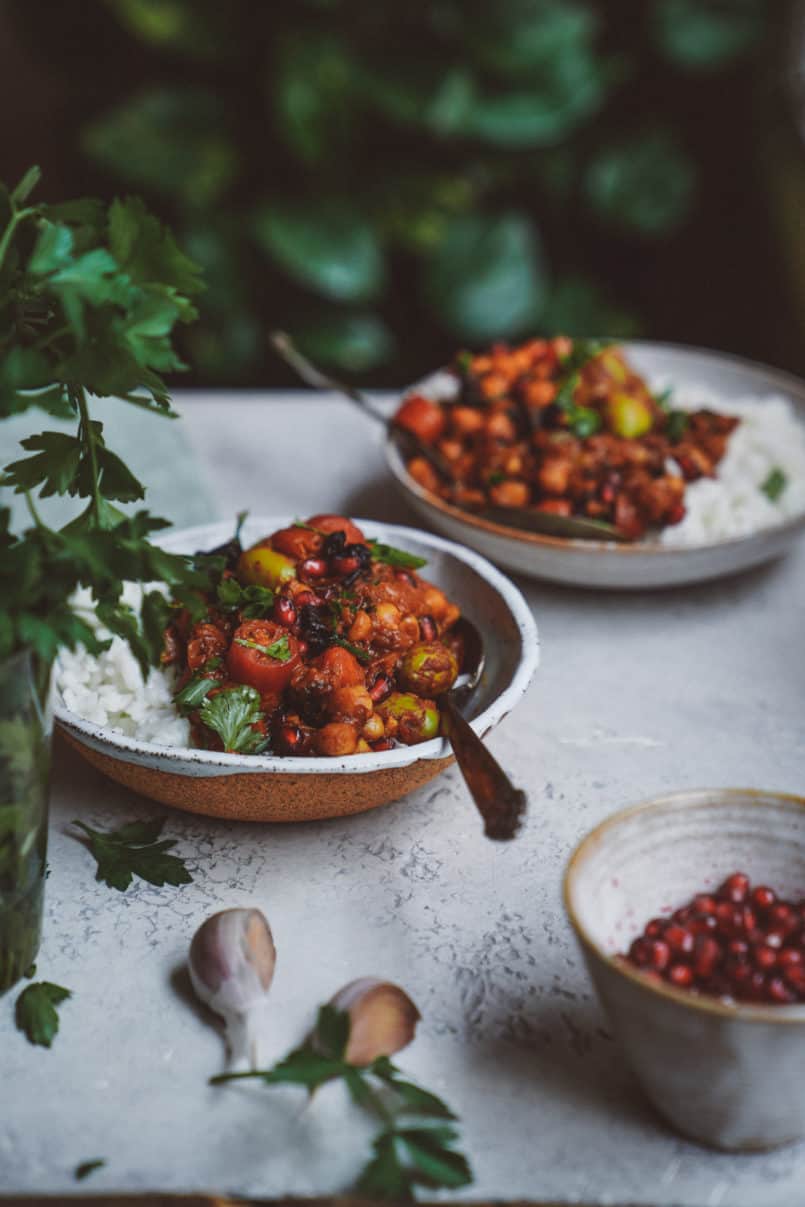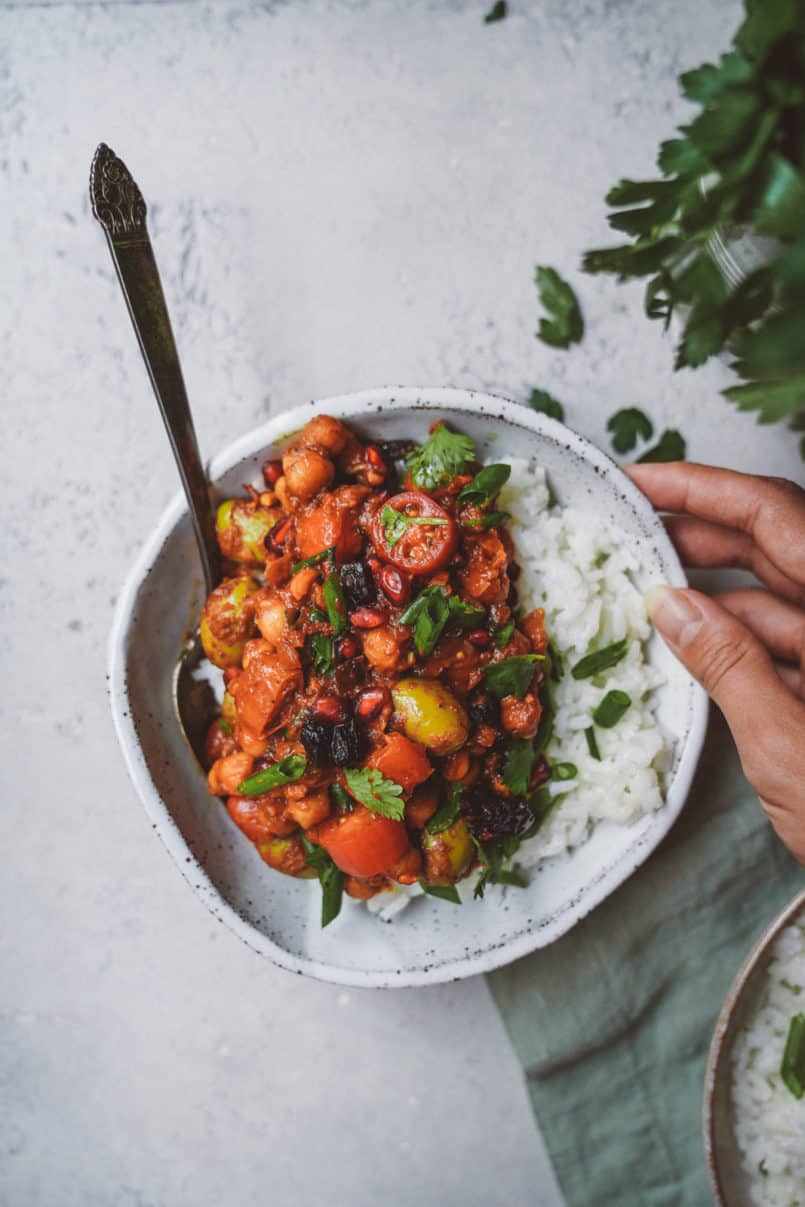 My last California prune dish is a Moroccan Vegan Chickpea Tagine. A Tagine actually refers to both the traditional North African pot as well as the stew that is cooked in it. Obviously, you don't need a Tagine to make this dish but if you feel like getting real authentic, you should be able to find one at an ethnic food shop. As an added bonus they are just a beautiful piece of cookware to help up your shelf game.
Moroccan Vegan Chickpea Tagine
Ingredients:
2 tbsp. olive oil
1 medium-sized sweet white onion – finely chopped
3-4 large cloves of garlic
1 tbsp. vegetable stock paste
2 tbsp. curry powder
1 tbsp. turmeric powder
1 tbsp. cumin spice
1 tsp. smoked paprika
1/2 tsp. cinnamon
pinch of chilli flakes
2 398 mL can of chickpeas, drained and strained
1/4 – 1/2 cup green olives
1 cup crushed tomatoes
1 400 ml can coconut milk
1-2 cups hot water
8 California prunes – roughly chopped
1/4 cup green onion + more for garnish
season to taste
1/4 cup cilantro
seeds of one pomegranate
1/2 cup cherry tomatoes, halved
fresh lemon juice
Method:
In a large Moroccan Tangine or Dutch Oven, heat olive oil over medium heat until just shimmering. Add onions and increase heat to medium-high. Saute for 5 minutes, stirring regularly to avoid burning.
Add garlic, vegetable stock paste, and spices.  Stir till the onions are well coated. Cook for 2-3 minutes.
Add your chickpeas and olives and cook for 5 to 7 minutes on medium-high heat, mixing regularly with a wooden spoon.
Add crushed tomatoes, coconut milk, water, and prunes. Stir well, bring mixture to a boil and simmer with the lid on for around 15-20 minutes.
Stir in green onion and cilantro. Taste and adjust seasoning, adding salt to your liking.
Transfer to serving bowls and top each with pomegranates, parsley, fresh lemon, and tomatoes.  Serve hot with your favorite bread, couscous, or rice. Enjoy!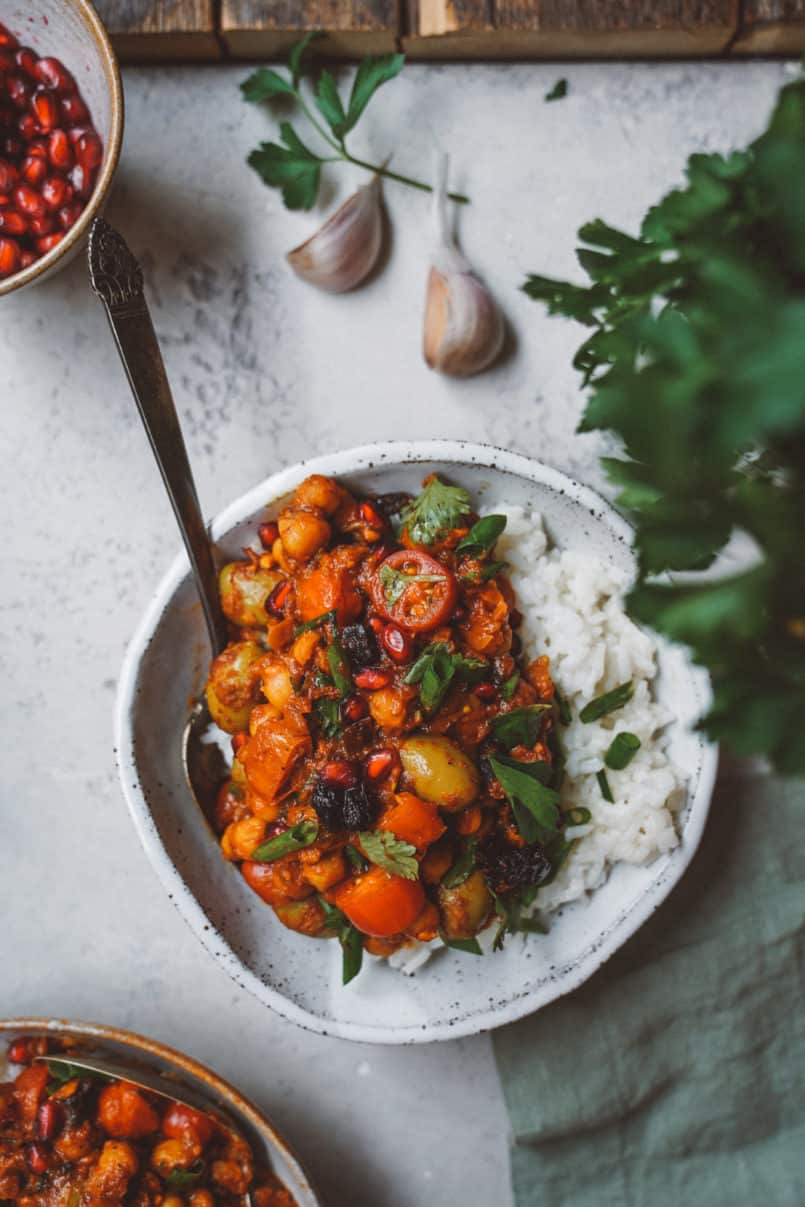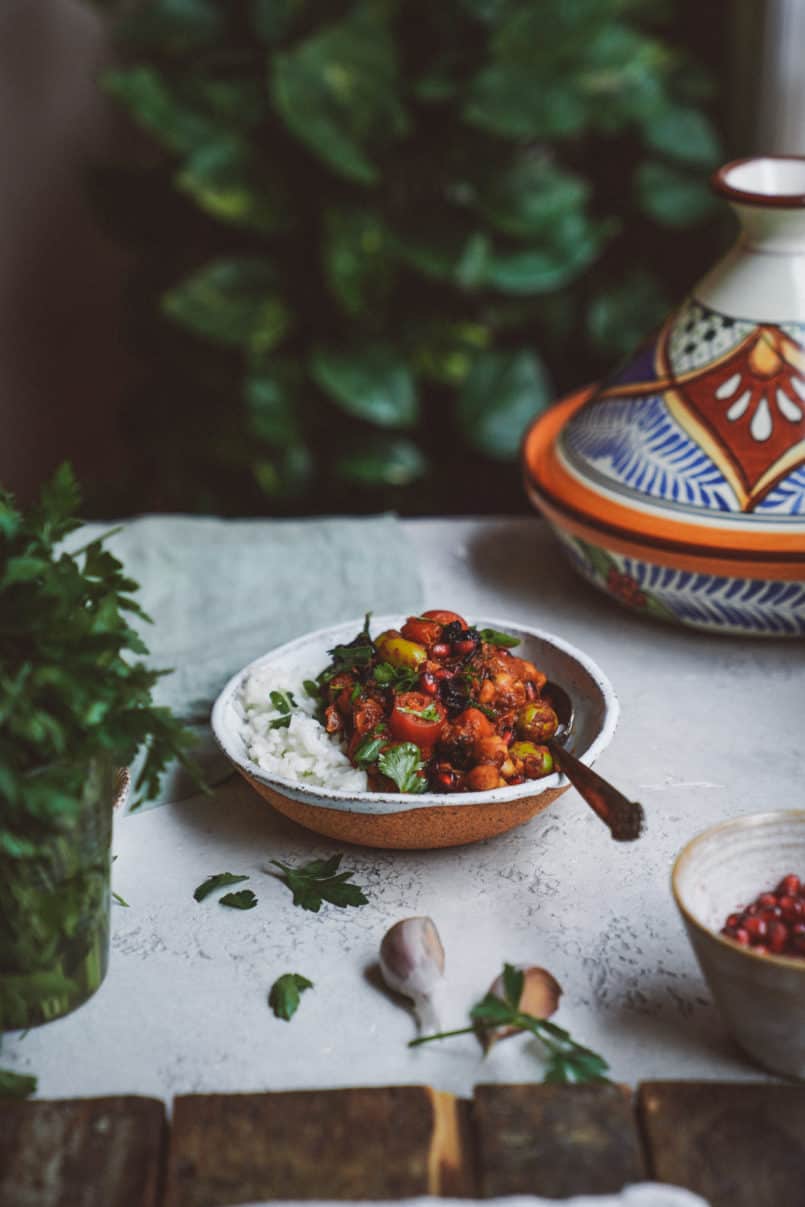 Prunes, Not Just For Juice
California Prunes were a fun ingredient to use for all three of these recipes. As you can see, they are so versatile and can be used so many different ways. Try adding them to baking, smoothies, juices, or dip in some nut butter and enjoy them on their own. They also keep really well in an airtight glass container. I also love using them because they are just so good for you:
Research shows that a serving of about 5 California prunes helps build bone health and slow bone loss in postmenopausal women.

In addition to helping support healthy bones, California prunes help support heart and digestive

health. Prunes low glycemic index and dietary fiber help manage blood sugar levels.

California Prunes are naturally sweet and contain no added sugar. A source of dietary fiber, a serving of 5 prunes is only 100 calories.
California produces the highest quality prunes in the world.
I hope I've inspired you to look in your fridge or pantry and pick out an ingredient that you bought for a specific recipe that you could use for something else. When I first decided to use California Prunes I was a little stumped as to what I could make. Once I started playing around with different flavors though, the creative juices started flowing. So, get in your kitchen and start playing around, who knows what amazing recipes you might come up with!
Check out the recipe here and don't forget to let me know what you think over at @foodbymaria! Tag #foodbymaria and #fearnotfoodisyourfriend so I can see all your beautiful recreations.
For more California prune recipes, check out californiadriedplums.org and follow @CAforPrunes!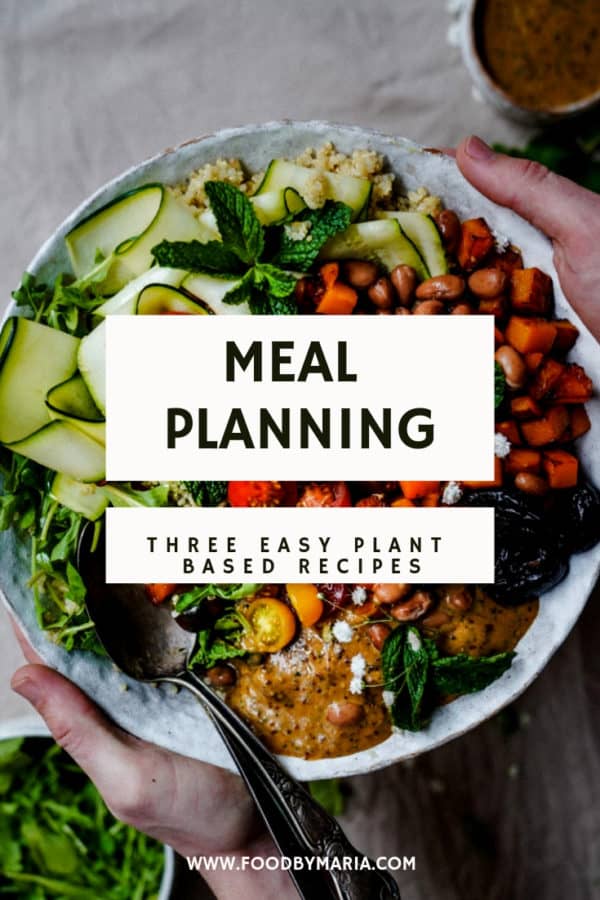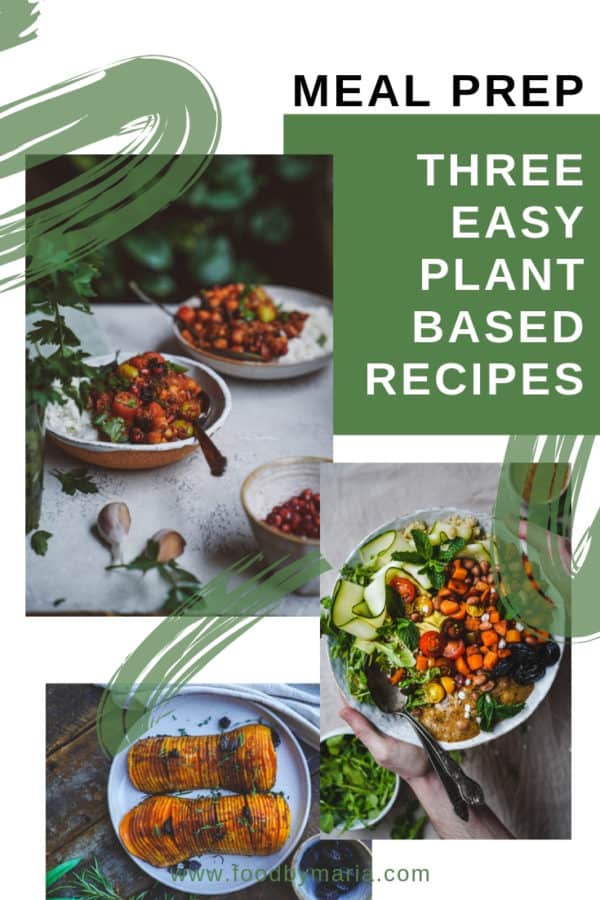 Disclaimer: This post was sponsored by California Prunes