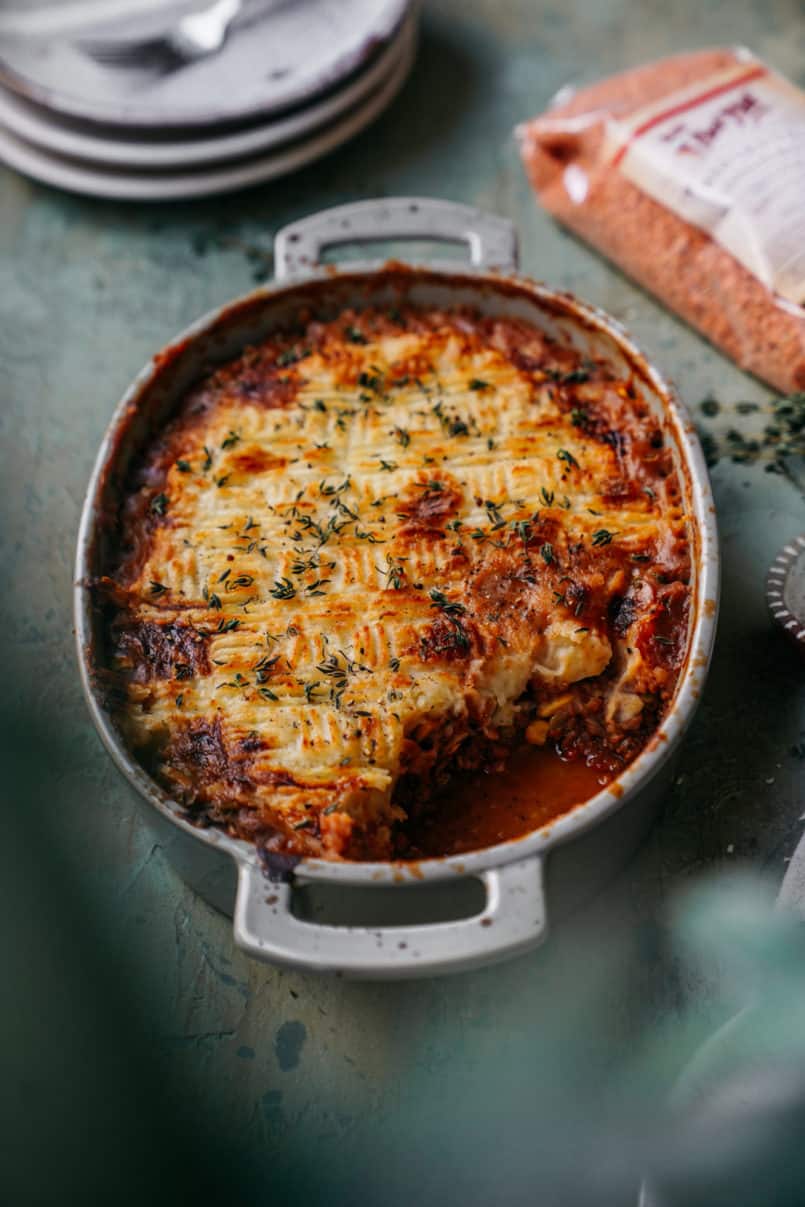 15 Feb

Plant-Based Shepherd's Pie

We are stuck in the middle of a polar vortex and all I want to do is eat this warm, plant-based, comfort in a casserole dish, shepherd's pie. A traditional British shepherd's pie is usually the complete opposite of what you'd think a vegan or plant-based dish should be, good thing I like a challenge! This hearty version is super easy to whip up any night of the week and is packed with nutrients and bursting with flavour.

The Low-Down On Lentils
I have some serious love for lentils! They come in red, brown, and green, and are such a great addition to casseroles, soups, or anything you want to add some texture to. For this recipe I used red lentils from Bob's Red Mill, my go to brand for pantry staples, but you can use whatever color of lentil you have on hand.
Lentils are a legume from the bean family and are a fibre powerhouse. Because of this I recommend soaking your lentils for at least 4 hours to remove the outer covering of anti-nutrients. It's these compounds that have given beans a bad reputation of causing gas and bloating. By soaking your lentils you are mimicking their natural germination process and not only removing the hard to digest compounds but activating the good compounds and increasing the nutritional value. Soaking will also cut down on cook time, but it is totally optional. If you've got a belly full of lentils and a gut full of gas don't say I didn't warn you!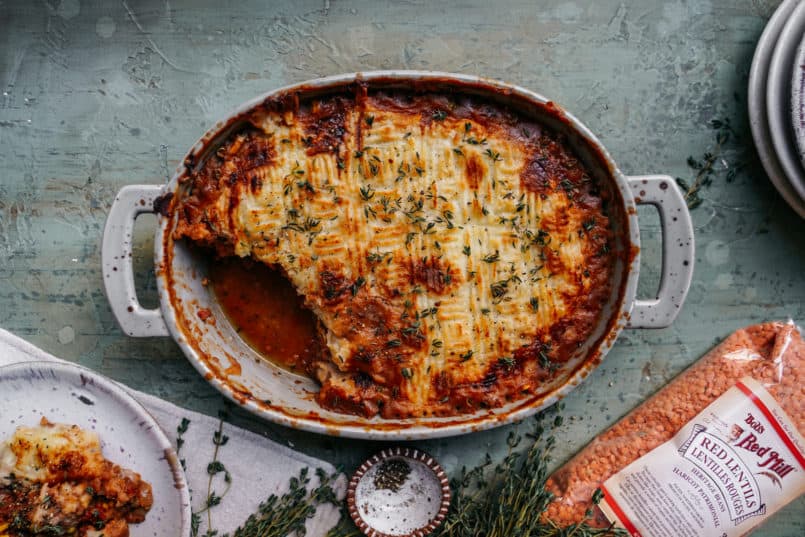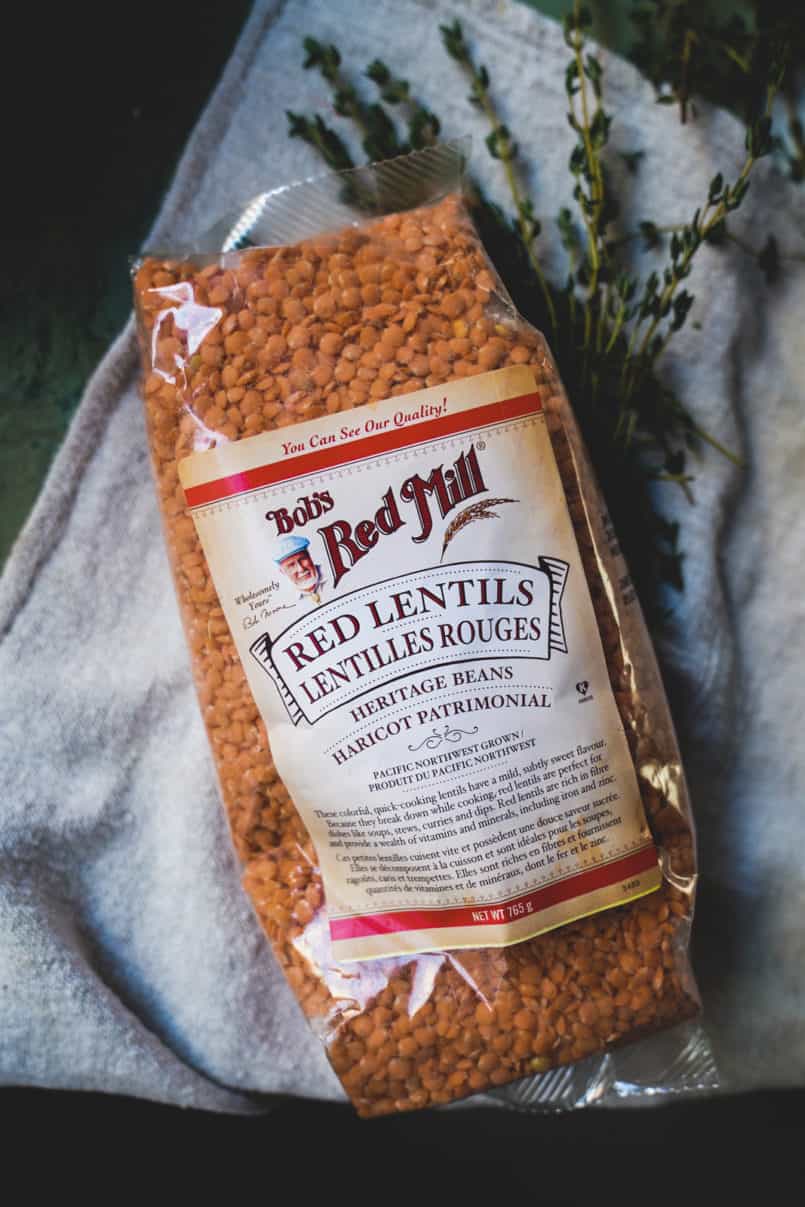 Two British Thumbs Up
I am always cooking and recipe testing at home and luckily for my boyfriend, he is my number one test subject! Andrew is my biggest fan and best critic because he will always tell me exactly what he thinks. If you've seen Andrew on my stories you already know he's British and has probably enjoyed more authentic shepherd's pies than you or I could imagine.
So when I decided to tackle a plant-based version of a shepherd's pie, I knew he would really let me have it. I actually tested this recipe twice so we've been eating a lot of it and I'm happy to report Andrew has given this plant-based shepherd's pie two thumbs up!  He's been having it for lunch and dinner, as this recipe makes a large casserole and I love leftovers as a lunch option. It's Andrew approved so I know your whole family will love this hearty, warm, and not so traditional shepherd's pie.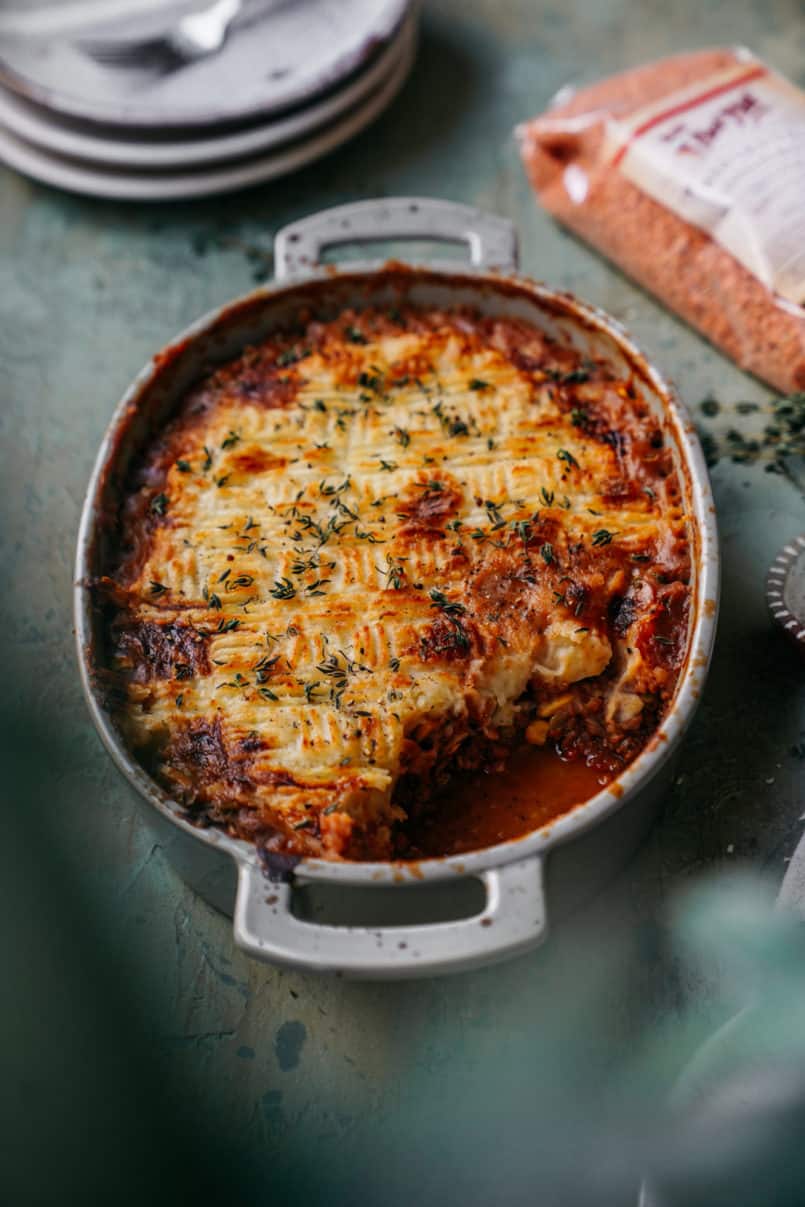 Easy Mid Week Meals
Like I mentioned above this recipe makes a large casserole so it can been saved for leftovers or frozen for another cold day. It can also be made ahead, kept in the fridge, and then thrown in the oven for a fast dinner. It is super easy to make and is mostly all prepared in one pot (the mashed potatoes take up another pot, sorry I tried). By using a mix of lentils and the Yves ground round in a tomato puree you'll have a delicious "meat" sauce that you won't believe isn't meat. Don't be afraid to add other beans or veggies like corn or peas to the filling, get creative! For more easy mid week meal inspiration be sure to check out my Pinterest board here and try some of my other recipes: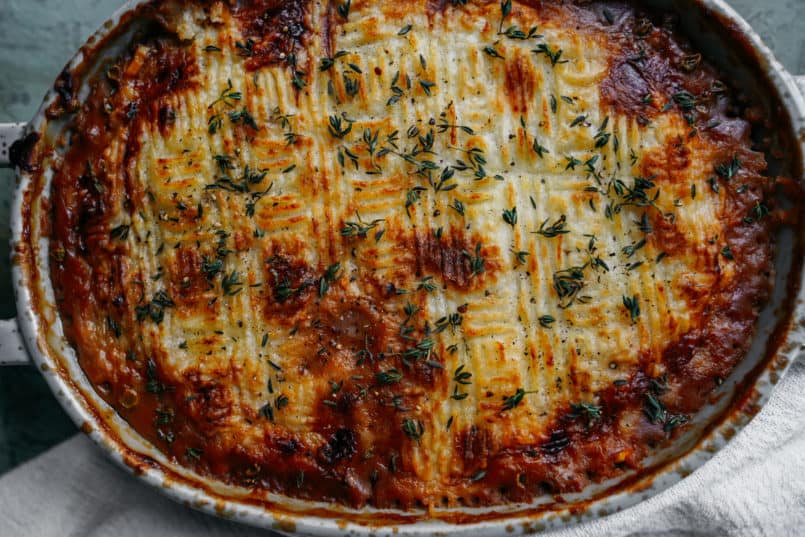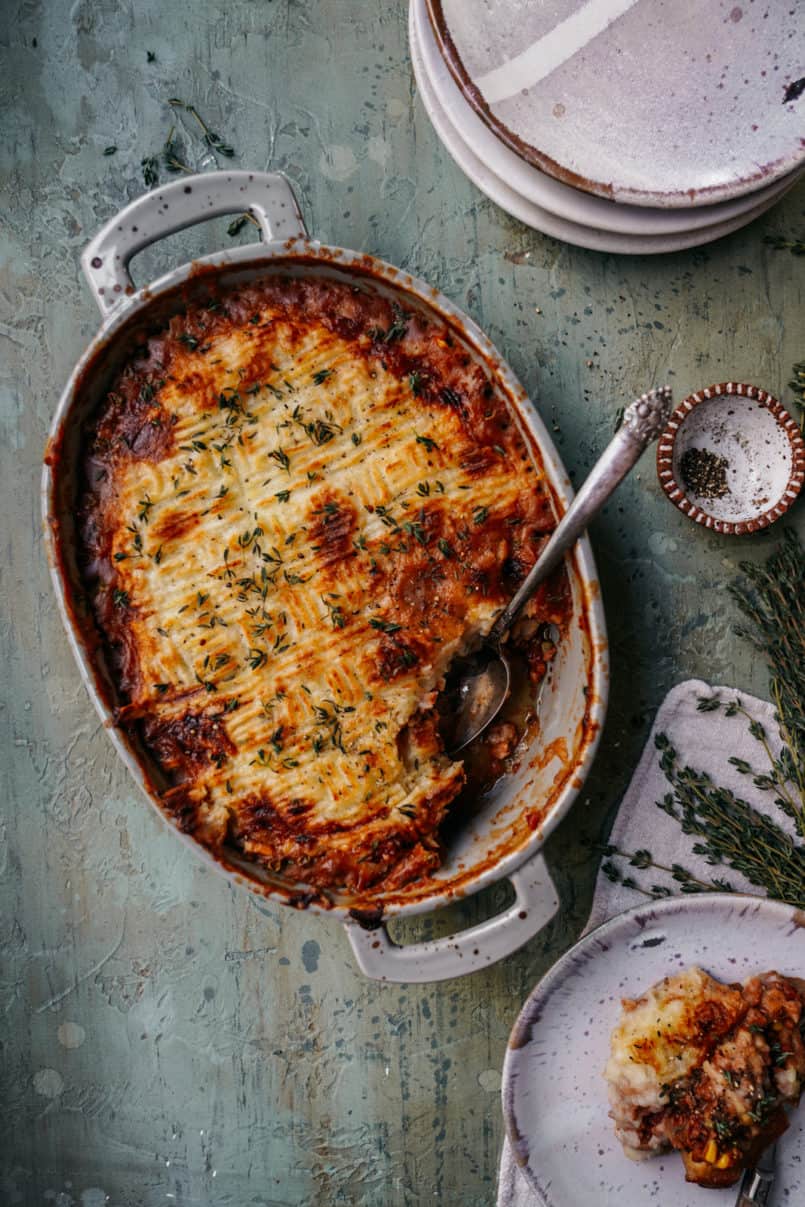 Give this plant-based shepherd's pie a try and I know you will be happy to eat it for the entire week! Not only is it super easy but it is so good for you. Healthy and convenient, win win. Check out the recipe below and don't forget to let me know what you think over at @foodbymaria! Tag #foodbymaria and #fearnotfoodisyourfriend so I can see all your beautiful recreations.
Print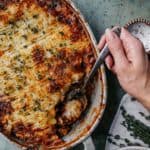 Shepard's Pie
Author:

Prep Time:

20 minutes

Cook Time:

50 minutes

Total Time:

1 hour 10 minutes

Yield:

8

Category:

Mains

Cuisine:

Vegan
---
Ingredients
2 tbsp. olive oil
1 medium sweet white onion, finely chopped
3 cloves of garlic, pressed or finely chopped
2 tbsp. dried basil
1 tbsp. dried oregano
1 tsp. cumin
1/2 tsp cinnamon
1/4 tsp cloves
season to taste – this may be best to do at the end!
3/4 cup tomato puree
2 heaped tsp. tomato paste
2 tbsp. vegetable stock paste
1 1/2 cups cooked lentils – I used Bob's Red Mill
1 packet Yves Ground Round
2-3 cups hot water
season to taste
5 large white potatoes, peeled and cubed
season to taste
1 tbsp. olive oil
1/4 – 1/2 cup almond milk
1 heaped tbsp. butter
1 tsp fresh thyme
garnish with 2 tbsp. fresh thyme
---
Instructions
Into a large pot add olive oil and heat for 30 second on medium-high heat.  Add your onions and cook for around 5 minutes or until soft and translucent.  Add in your garlic, basil, oregano, cumin, cinnamon and cloves. Stir until onion is well coated and turn heat to low to cook and marry for around 3 minutes.  Stir often to avoid burning.
Into the pot add your tomato puree, tomato paste and stock paste paste.  Give this all a good stir and then increase heat to high before adding your lentils and Yves Ground Round.  Let them sautéed in the pan for two minutes before adding your water.  Stir, stir, stir, bring to a boil then simmer for 20 minutes until thick and luscious like a traditional meat sauce. Set aside once done.
Preheat oven to 400F and line a baking sheet with parchment paper.
While your "meat" sauce in simmering prepare your mashed potatoes by boiling water in a large stock pot.  Season your water and cook your potatoes till very tender, could take 15 minutes or so.  Strain your potatoes but absolutely do not rinse and return to pot.  Add the remainder of the ingredients and mash till extremely rich and creamy!  Remember, when adding your liquid that you must have a more solid mash to add on top of the first layer! Set aside.
Into a 13″L x 7.75″W x 2.25″H baking dish transfer your "meat mixture" and lay it flat using a spatula. Begin dolloping your mashed potato onto the mixture and using a flat tool flatten it all out.  I like using a fork to carve marks vertically and horizontally across the pie.  This adds fun texture and when it cooks gets nice and golden brown! Before cooking spray the mashed potatoes with an oil of your choice for that added golden colour (you will thank me later if you do this).
Cook for 25 minutes before setting oven to broil for 5 minutes.  Watch closely so nothing burns but this is an amazing adding touch to the recipe!
Enjoy with fresh thyme garnish and your choice of steamed greens or veg!
---
Notes
Will last up to 1 week in a tight sealed container in the fridge.
This recipe is freezer friendly, lasts up to 2-3 months.
If you don't have vegetable stock paste then use 2-3 cups of your own vegetable stock! Just make sure it's strong, good quality stuff!
Disclaimer: This post was sponsored by Bobs Red Mill