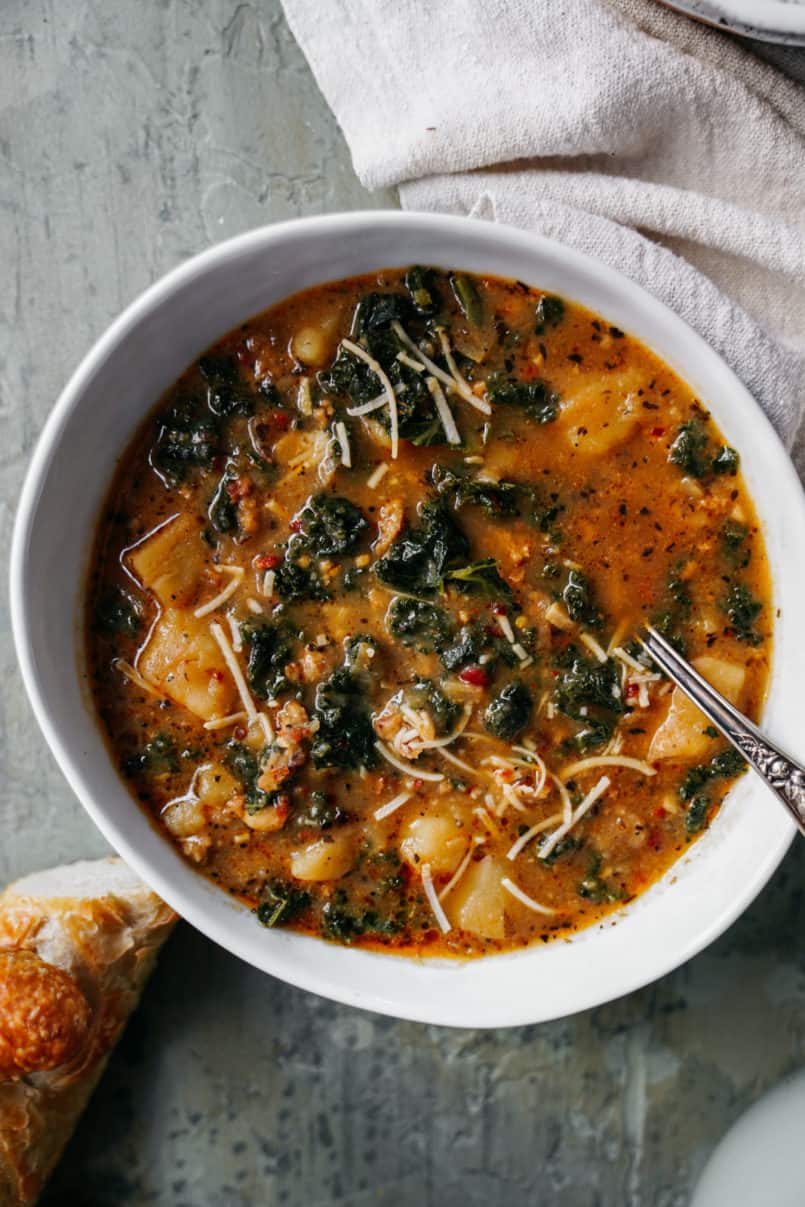 02 Mar

Vegan Zuppa Toscana Soup

It's that time of year again when one sunny day gets everyone thinking about Spring. Unfortunately for us up in Canada we have a few months left of chilly snow-filled days. It was on one of those -20 days that inspired me to create a new soup recipe. I'm a huge fan of soups, all year round, and have made almost every kind out there. I stumbled on a traditional Italian Zuppa Toscana on Pinterest and decided to try out my own vegan version. Let me tell you, this soup is warm, hearty, and super easy to make. All you need is one pot, about 30-40 minutes and your dancing shoes (just kidding you don't need shoes to dance)!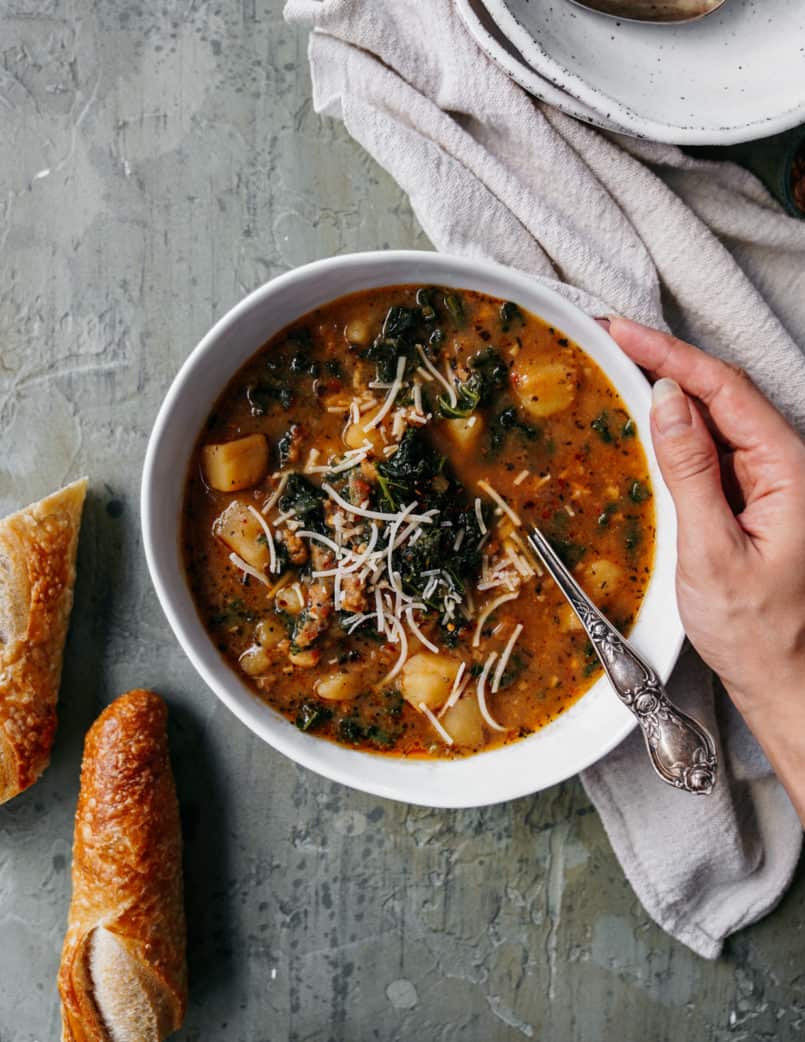 What Is A Zuppa Toscana?
The name Zuppa Toscana in Italian is actually a broad term that means "Tuscan Soup". This kind of soup got its North American popularity thanks to Olive Garden, who knew. Well hunny, this ain't no Olive Garden and I'm here to take us back under the Tuscan sun for a more traditional vegan option made with rich greens and earthy root veg.
Zuppa Toscana is known for its sausage, bacon, and heavy cream. I used Field Roast sausage but omitted the bacon, and subbed non-dairy milk for the heavy cream. Honestly, you can't even tell the difference. Field Roast sausage is an unreal meat replacement and the veggie broth gives the perfect amount of umami flavoring. For this recipe, I went with coconut milk but you can use almond or cashew, whichever you prefer. It's recipes like this that I love sharing with my readers, not only are you going to make a delicious meal, you are learning how easy it is to take a popular recipe and customize it for your specific dietary choices.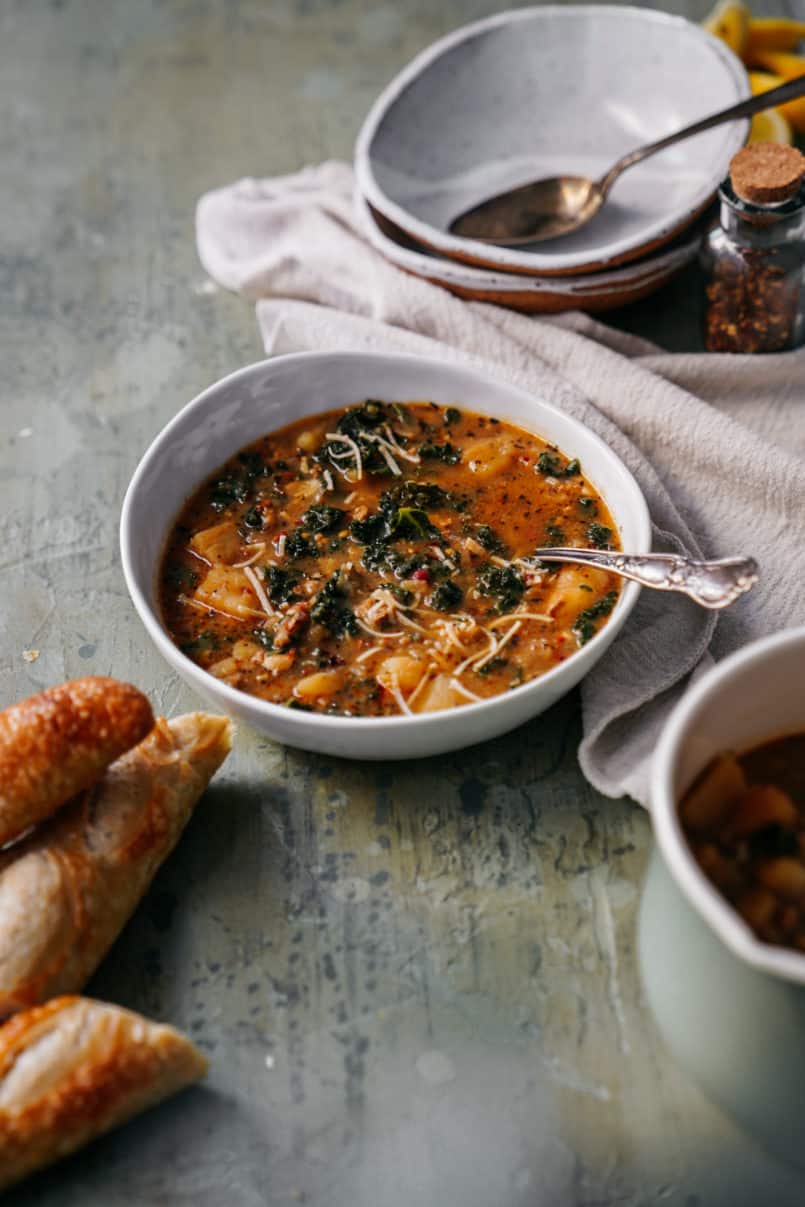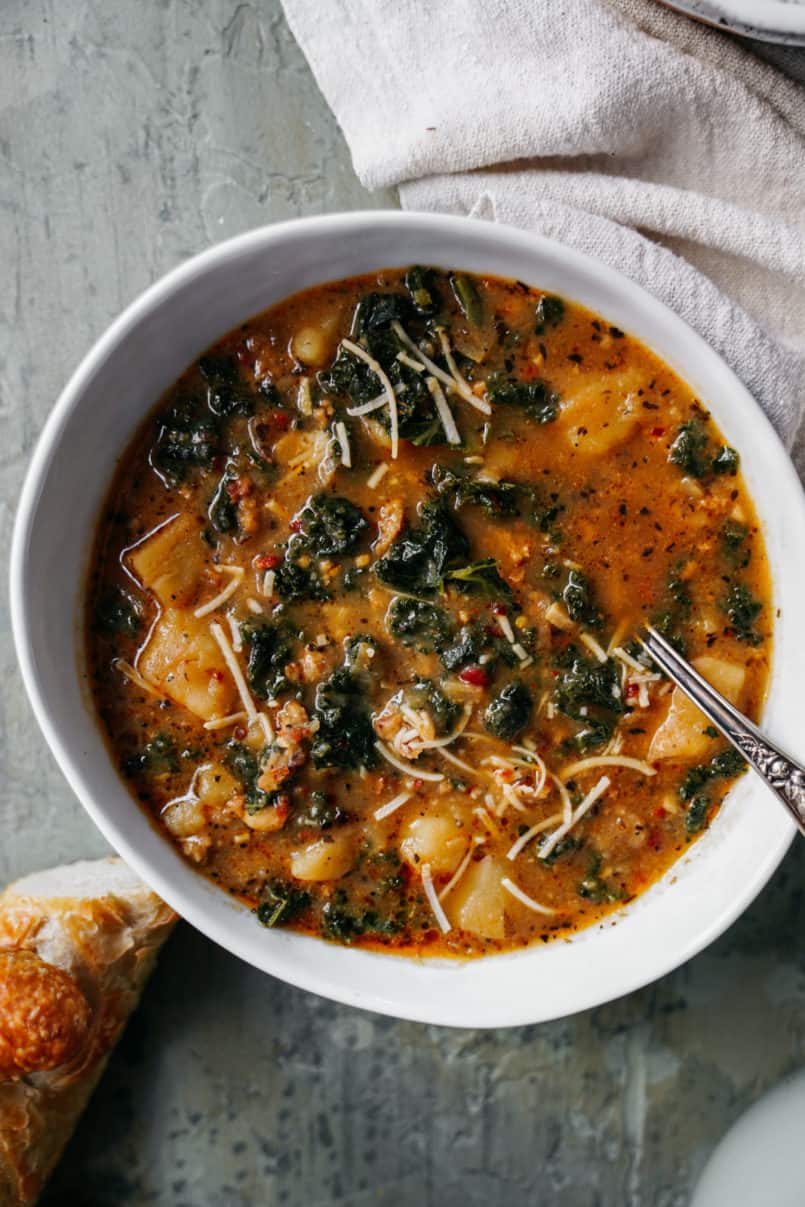 Greens In Soup
I used kale for this soup recipe because that is what a traditional Zuppa Toscana is made with. A lot of people are on the kale train but I thought we could take a second to chat about why this beautiful green roughage is so popular today. It wasn't that long ago that kale was used strictly for presentation at restaurants and not as the main ingredient. So why did kale take center stage? A single cup of raw kale contains:
Vitamin A: 206% of the DV (from beta-carotene)
Vitamin K: 684% of the DV
Vitamin C: 134% of the DV
Vitamin B6: 9% of the DV
Manganese: 26% of the DV
Source: Healthline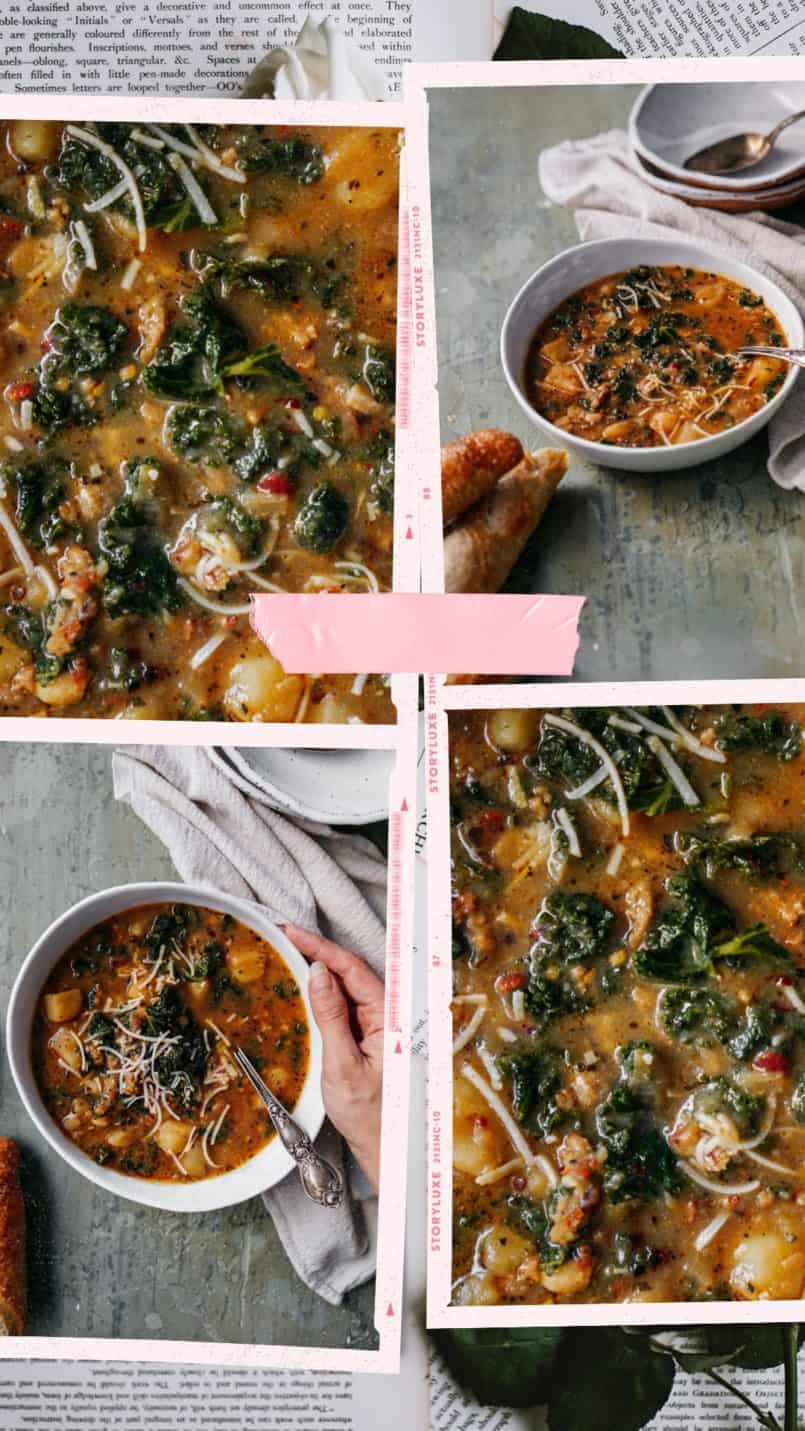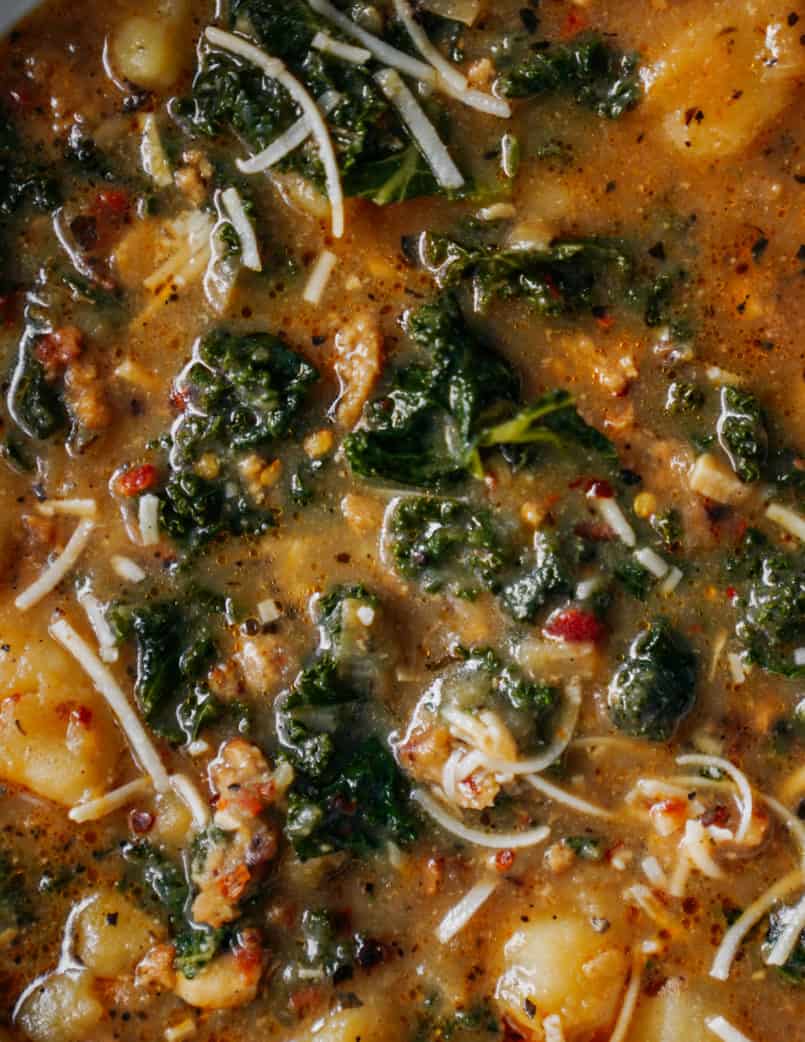 Soup For All
Like I said above, I really love soup, like REALLY love soup. So why not share a few of my favorite recipes. Please give a few of these a try. Not only is soup easy to make and store (batch make your soup and freeze it for another day), I always feel like I'm getting all the vitamins I need in one bowl. Veggies, legumes, broth, you really get it all from a soup. So pick a soup du jour and stay warm friends!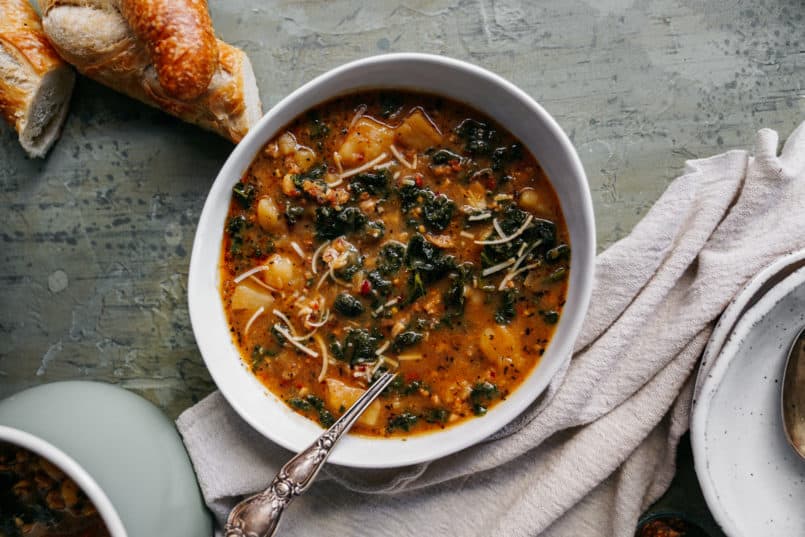 Check out the recipe below and don't forget to let me know what you think over at @foodbymaria and below in the comments! Tag #foodbymaria and #fearnotfoodisyourfriend so I can see all your beautiful recreations.
Print
Vegan Zuppa Toscana
Prep Time:

10 minutes

Cook Time:

35 minutes

Total Time:

45 minutes

Yield:

4-5

Category:

Main Dishes, Soup

Cuisine:

Vegan
---
Ingredients
2 field roast Italian sausges
2 tbsp. olive oil
1 large onion, finely chopped
2 large of cloves garlic, finely chopped
1/2 cup dry white wine, optional
1 1/2 tbsp. vegetable stock paste
3 large russet potatoes scrubbed, rinsed and cubed – cut evenly
season to taste
2 tbsp. dried basil
1 tbsp. dried thyme
1 teaspoon red chili flakes optional — adjust to your taste
enough water to cover the potatoes (around 4-5 cups)
1 can coconut milk or oat milk
3 cups chopped kale hard stems removed – can also use spinach or chard
garnish with fresh lemon and vegan parmesan
---
Instructions
Break up the sausage using your hands, then fry the sausage in a deep pan medium-high heat while stirring frequently with a wooden spoon. When browned (around 5-6 minutes) remove sausage and place onto a plate.
Add your olive to the pot and heat on medium-high for around 20 seconds before adding the onion. Cook until soft and translucent (about 5 minutes). Add the garlic and cook for 1 minute, until fragrant.
OPTIONAL: Add your white wine of choice and let reduce to half (about 2 minutes).
Increase the heat to high, add vegetable stock paste, potatoes, seasoning and herbs and cook for around 5 minutes until potatoes are fully coated. Add enough water just to cover the potatoes and bring to a boil.
Reduce heat to medium and simmer for 15 minutes or until potatoes are tender. Stir in the coconut or oat milk, cooked sausage, and kale. Let simmer for 2 minutes, until kale leaves have softened.
Serve hot with vegan parmesan and a dash of lemon!