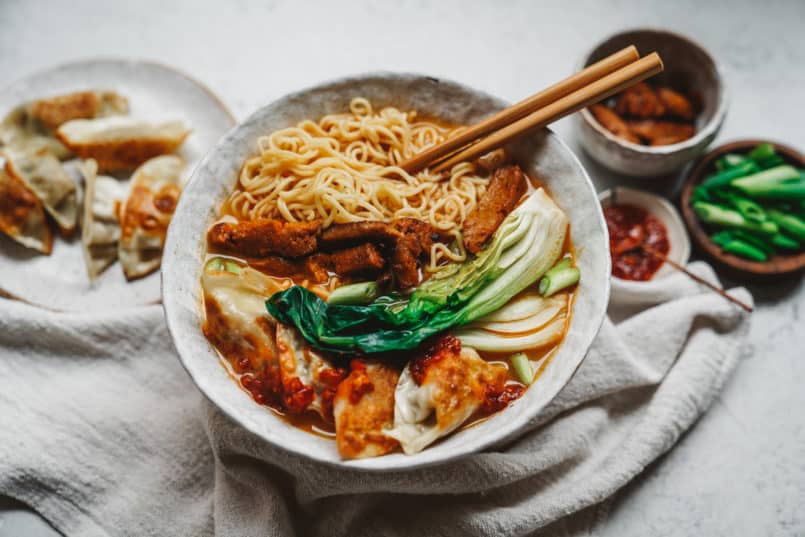 05 May

Creamy Vegan Ramen Bowl

Let me preface this post by saying this recipe is NOT meant to be made in a microwave. Gone are the days of instant ramen noodles, put down that styrofoam cup Linda! The ramen dishes you hear about today are beautifully crafted noodle bowls, filled to the brim with all the veggies and flavours of the world. As always, I've taken this trendy dish and put my FoodByMaria vegan stamp on it and let me tell you it's absolutely fabulous. It has all the components of traditional ramen; broth, toppings, and ramen noodles, but each component is prepared vegan style with no compromise on flavour.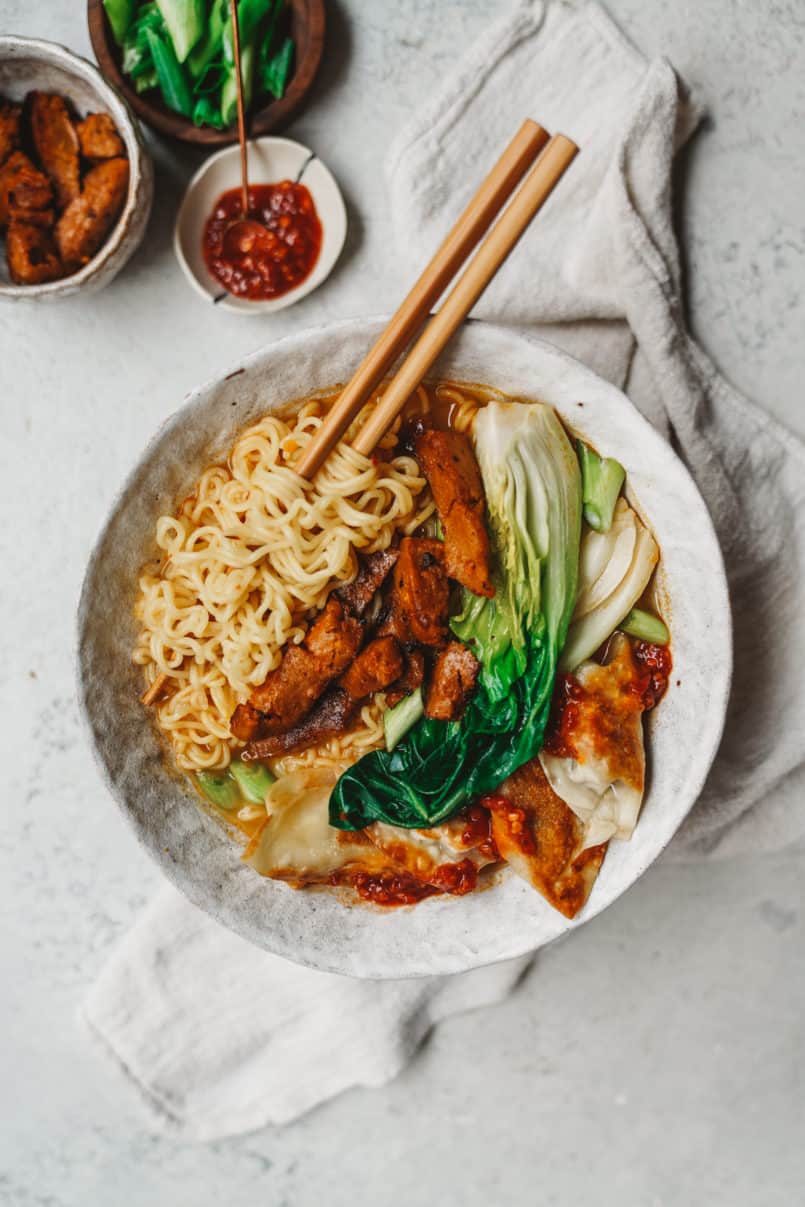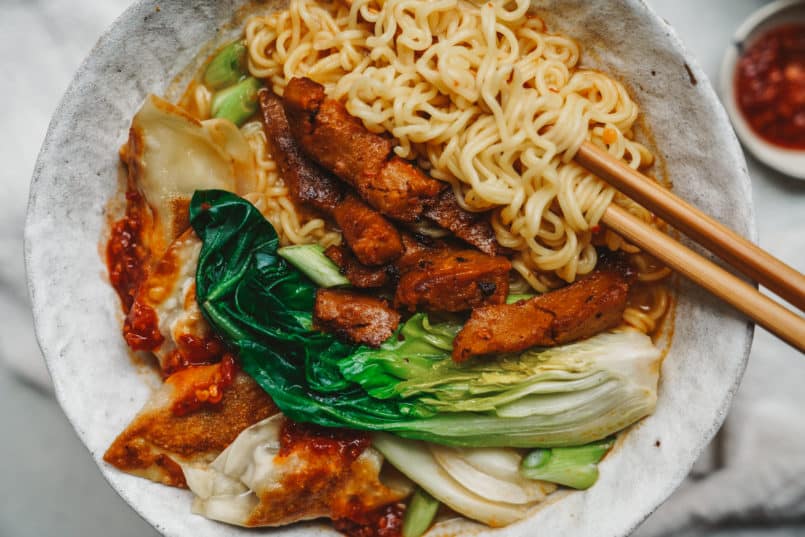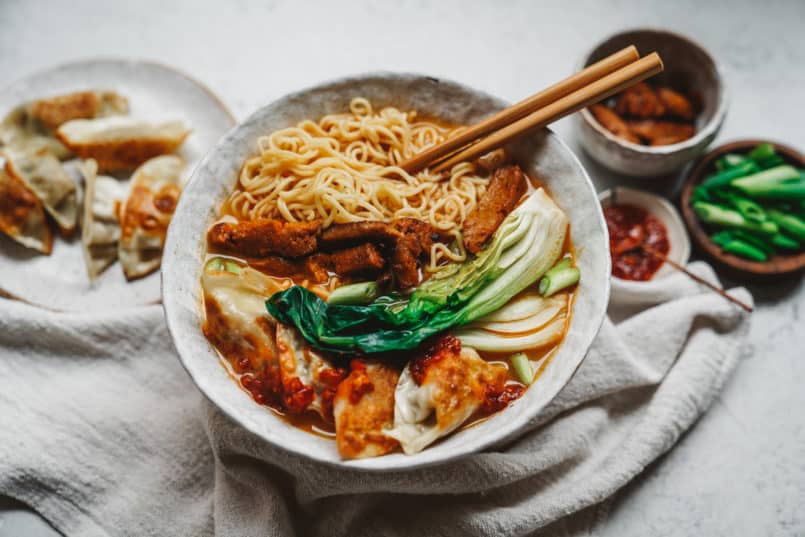 Broth
Let's start at the beginning. Every great steaming bowl of ramen starts with the perfect broth. You can always go out and buy a pre-made version but I really urge you to take the time and give this one a try. You can even make it in large batches and freeze it for later use. TRUST me you will be able to taste the difference. This vegan ramen broth recipe has a lot of components that build in a creamy umami base that will highlight all of the other toppings.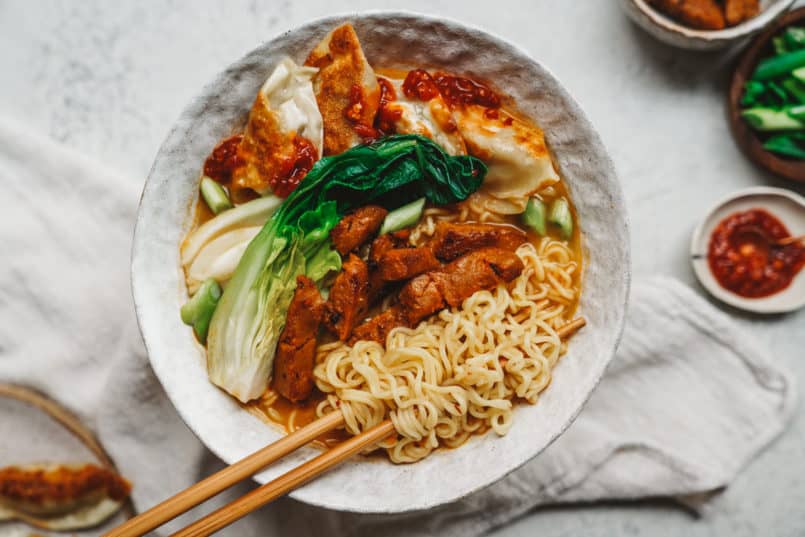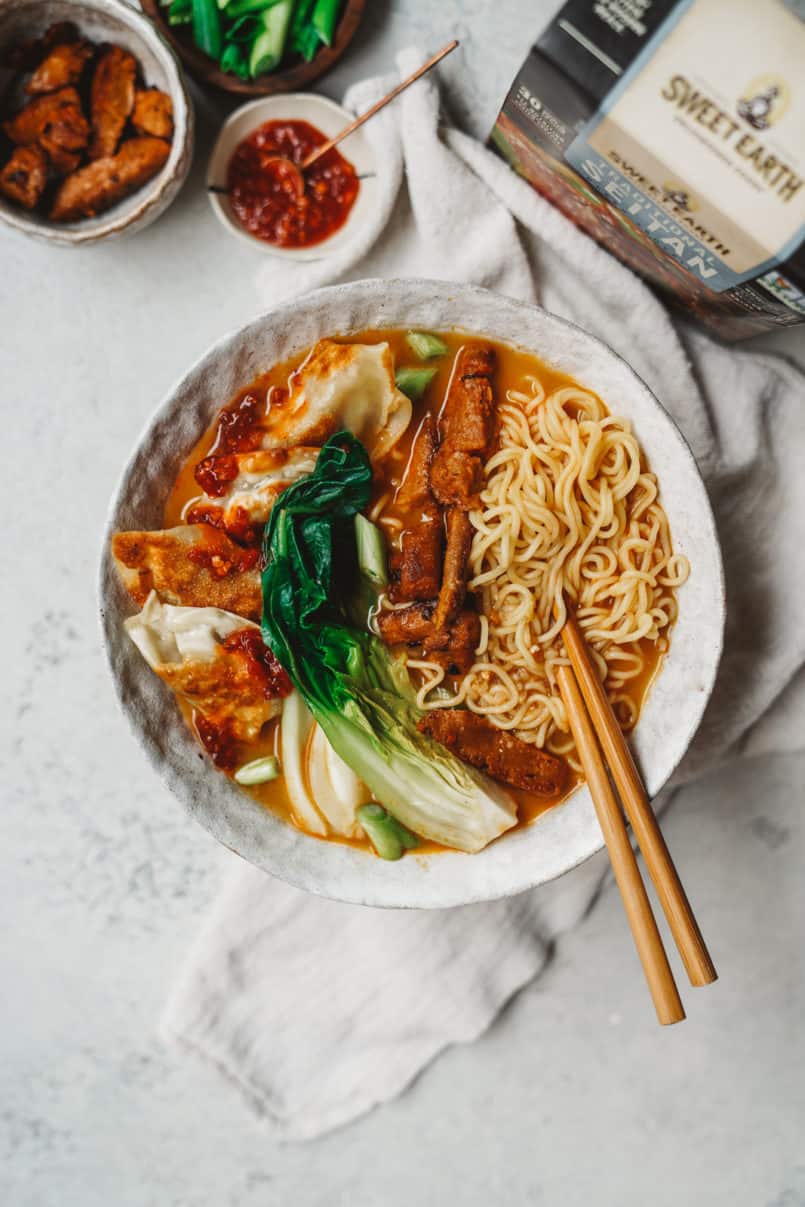 Vegan Value
If you don't know by now, just because something is "vegan", that doesn't mean it has to be complex, fancy, or intimidating. Making small substitutions in all of your cooking can be really easy, and ingredients you thought you couldn't live without (see: dairy, meat, cheese etc) won't feel so necessary. People are so used to their norms, and eating what they grew up eating, making these types of changes can seem scary. Fear not! You have the power to make these changes and decide how you want to live your life.
This Creamy Vegan Ramen was actually so easy to create. I was inspired by my Vegan Potstickers and my favourite vegan plant-based seitan strips.
I wanted to create one dish that incorporated Sweet Earth Foods protein packed seitan strips with an Asian flair. A lot of people think of tofu when they hear vegan substitute, seitan is like the cool older sister. I wanted to use seitan for this vegan ramen for a few reasons:
It's high in protein, for example, 3oz of tofu contains only 40% the amount of protein in the same amount of seitan
Seitan is ancient plant-based protein developed by Buddhist monk or seitan is a clean-plant based protein.
It is a good source of iron, manganese, phosphorus, magnesium, and calcium.
I used bok choi, Vegan Potstickers, and Sweet Earth Foods seitan strips

Toppings
What makes Ramen so fun and always changing is the wide array of toppings you can choose from. For this vegan ramen recipe, I used bok choi, Vegan Potstickers, and Sweet Earth Foods tempeh. Get creative and switch any of these out for other veggies like corn, broccoli, spinach, kimchi, basically all the things. I think that's why ramen is so relevant right now, there are no rules on how to make it. So go turn on some good music, get in your kitchen, do a dance, and make this bomb ass Creamy Vegan Ramen!
Check out the recipe below and don't forget to let me know what you think over at @foodbymaria and below in the comments! Tag #foodbymaria and #fearnotfoodisyourfriend so I can see all your beautiful recreations.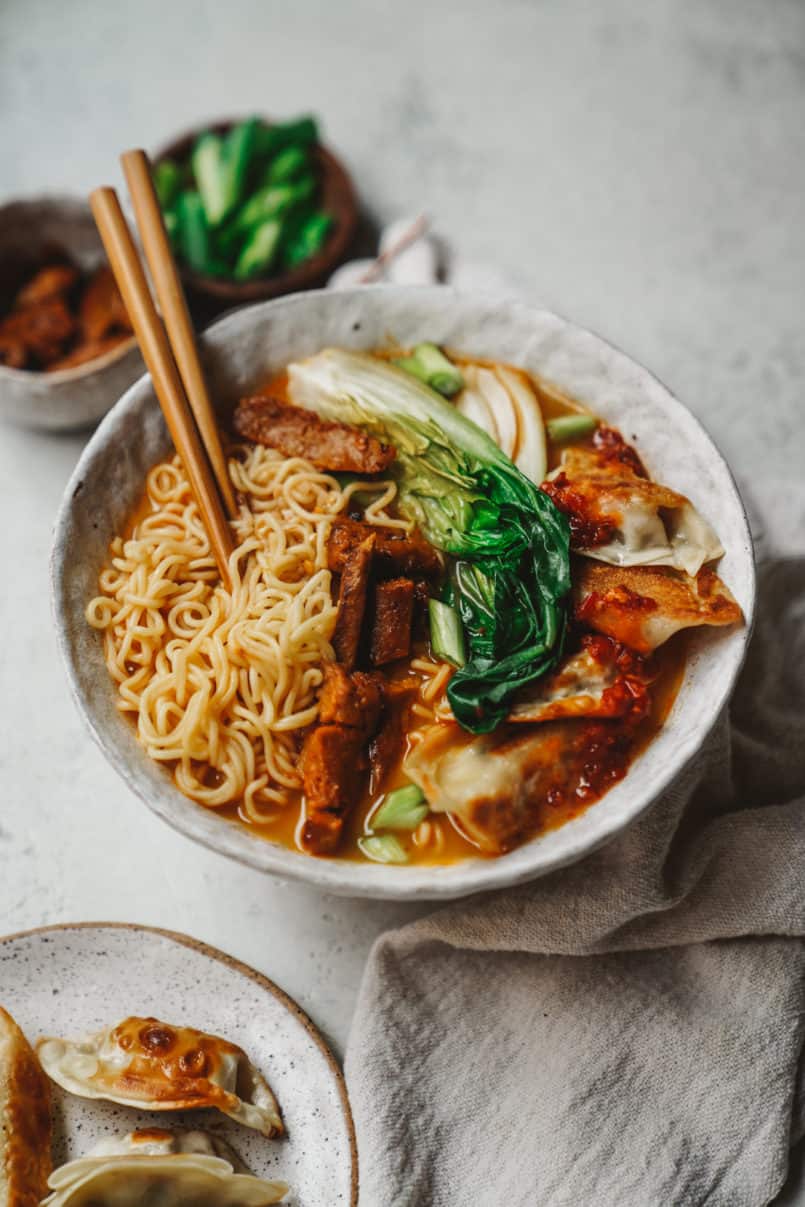 Sponsored and made in collaboration with Sweet Earth Foods
Print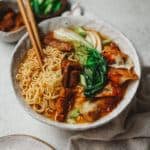 Creamy Vegan Ramen Bowl
Author:

Prep Time:

15 minutes

Cook Time:

35 minutes

Total Time:

50 minutes

Yield:

4

Category:

Main Dishes

Cuisine:

Vegan
---
Ingredients
Ramen Broth:
1 tbsp coconut oil
2 cloves of garlic, finely chopped
1 inch cube of ginger, finely chopped
1 heaped tbsp. white miso paste
1 tbsp. vegetable stock paste
1 tbsp. peanut butter
1 tbsp. coconut aminos
1 tbsp. chili sauce
3 tbsp. lime juice
4 cups of water
1/4 cup green onion, finely chopped
1/2 cup cilantro, fresh
For the Seitan:
1 tbsp. coconut aminos
1 tsp. hot sauce
1 tsp. olive oil
season to taste
Toppings:
Steamed dumplings
Steamed boy choi – can also add vegetables like corn, cooked spinach, mushroom and brocolli.
2 packets cooked ramen noodles
---
Instructions
Add your Seitan into a small bowl with coconut aminos, hot sauce and oil.  Stir and let marinate for  20 minutes.
Into a medium sized sauce pan add your coconut oil and heat on medium for 30 seconds before adding the ginger and garlic.  Cook for 1 minute, stirring frequently to avoid burning. Reduce heat to low and add your miso paste, vegetable stock paste and peanut butter.  Stir, removing clumps and combining all ingredients. Now add your coconut aminos, chili sauce and lime.  Cook on low heat for 3 minutes or until extremely fragrant. Add water and bring mixture to a boil then simmer for 10 minutes.  Add green onions and cilantro before turning off heat and setting aside.
Heat a cast iron skillet on medium for 30 seconds before adding the marinated seitan.  Cook for 4-5 minutes on each side. You want it crispy but still soft.  Once cooked set aside.
Steam your vegetables and dumplings of choice, season lightly and set aside.
Cook your noodles, strain and set aside.
To assemble your Ramen, add your noodles to a bowl, followed by your desired amount of broth. Top with veggies, dumplings and Seitan. Serve topped with fresh green onion, cilantro and chili oil.
Enjoy!
---
Notes
Double or triple broth for freezing.  Simply let it cool then store in tight sealed jar or container in the freezer.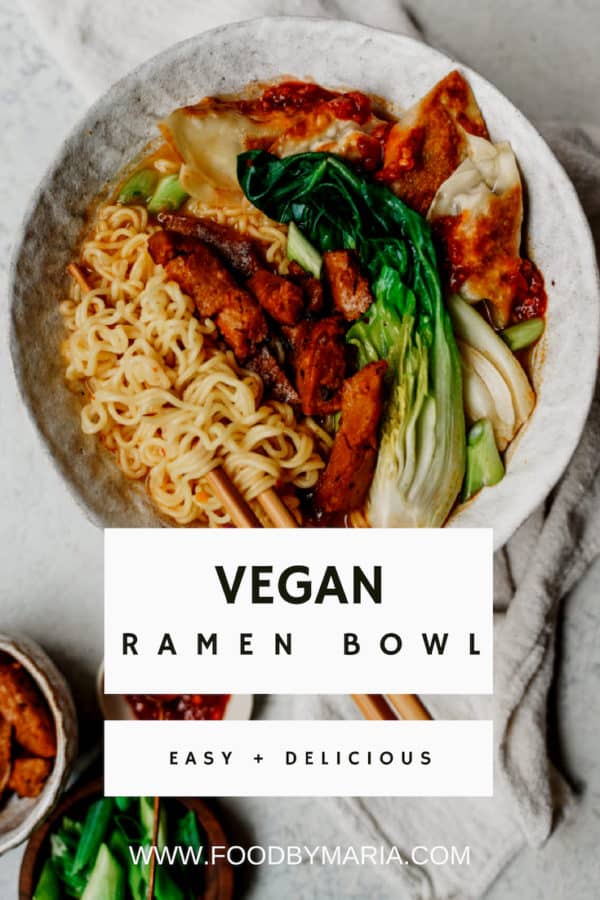 Disclaimer: This post was sponsored by Sweet Earth Foods