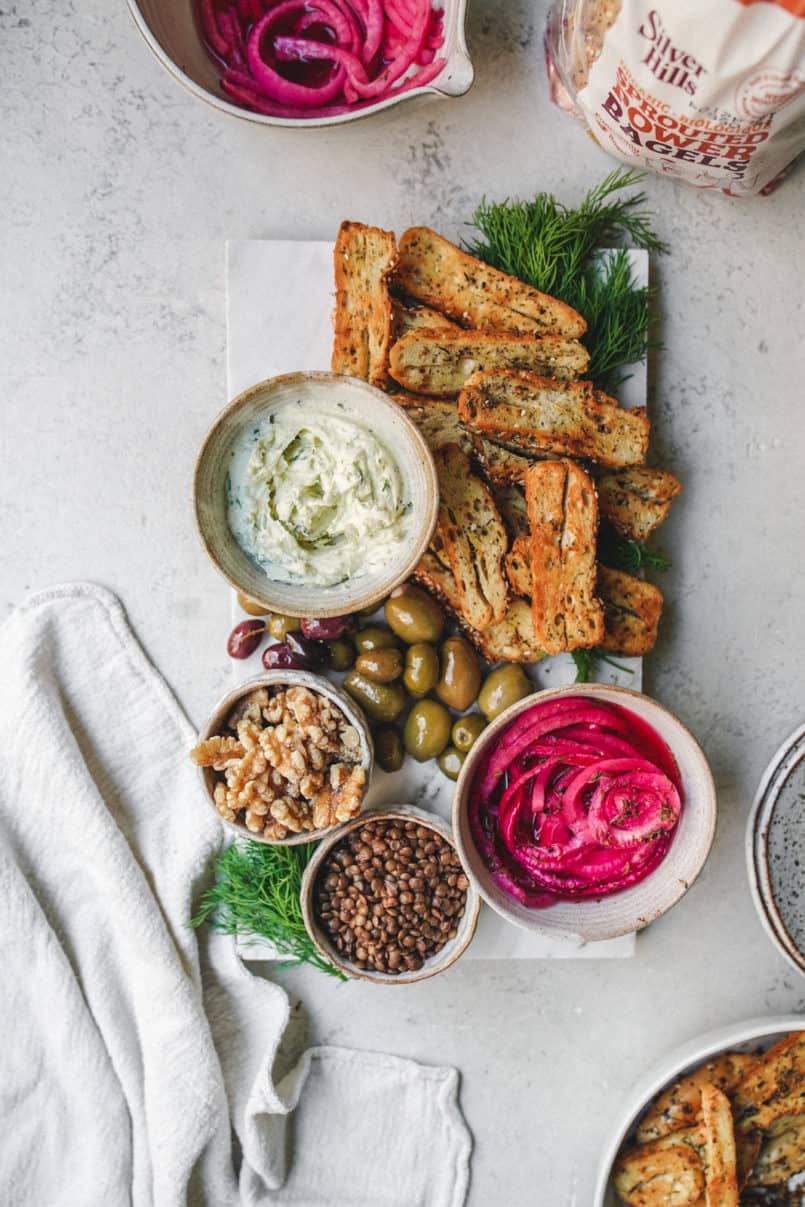 05 Jun

Bagel Bites + Vegan Garlic Herb Cream Cheese

Do you know anyone who doesn't have a soft spot for bagels? Me neither, which is why I was inspired to bring bagels outside of my morning routine with these Bagel Bites! Crunchy, savoury Silver Hills Organic Everything Bagels–topped with Vegan Cream Cheese, of course. Patios, BBQ's, you name it– these bagels belong at all your summer gatherings.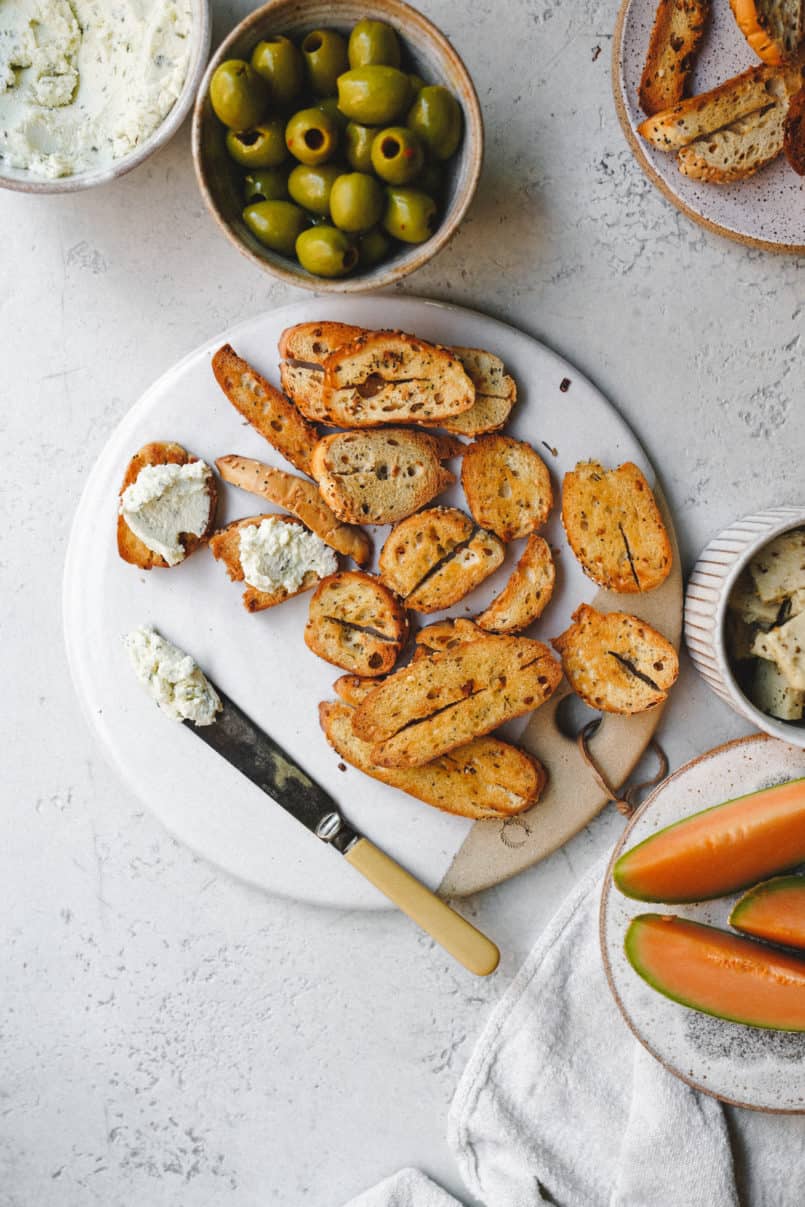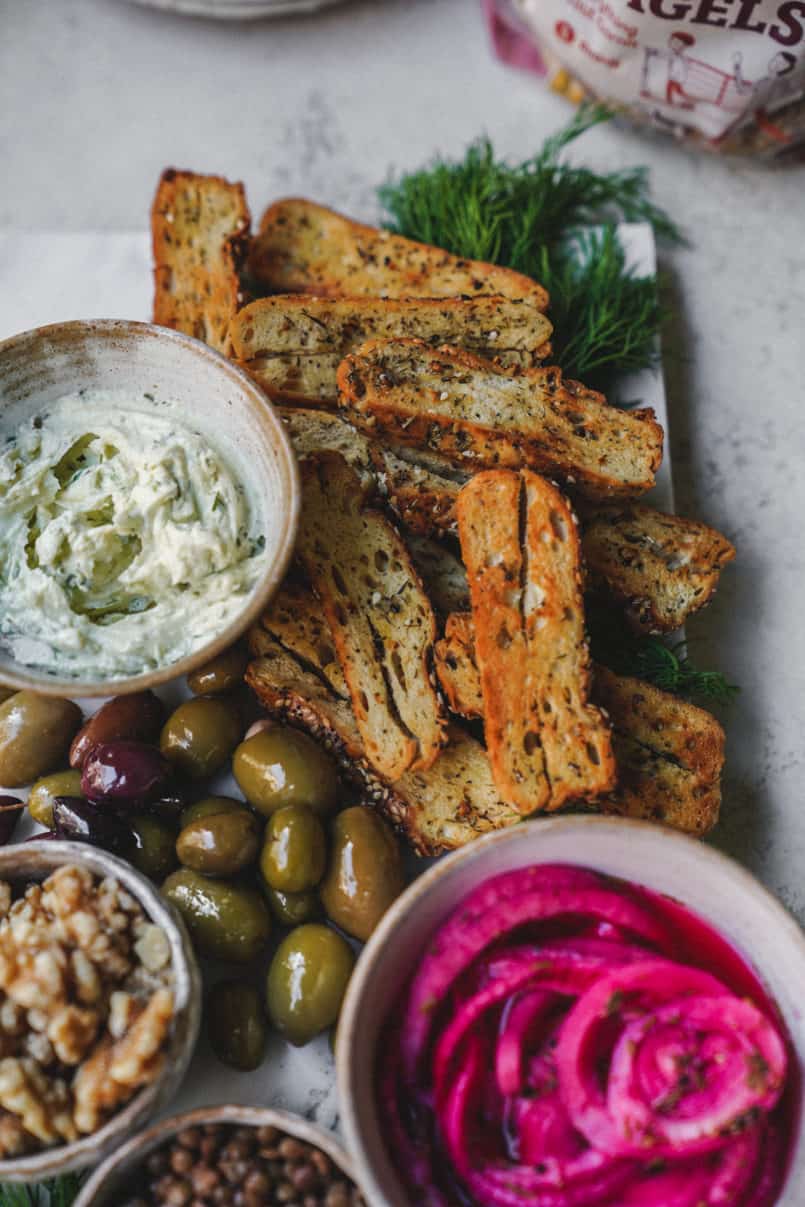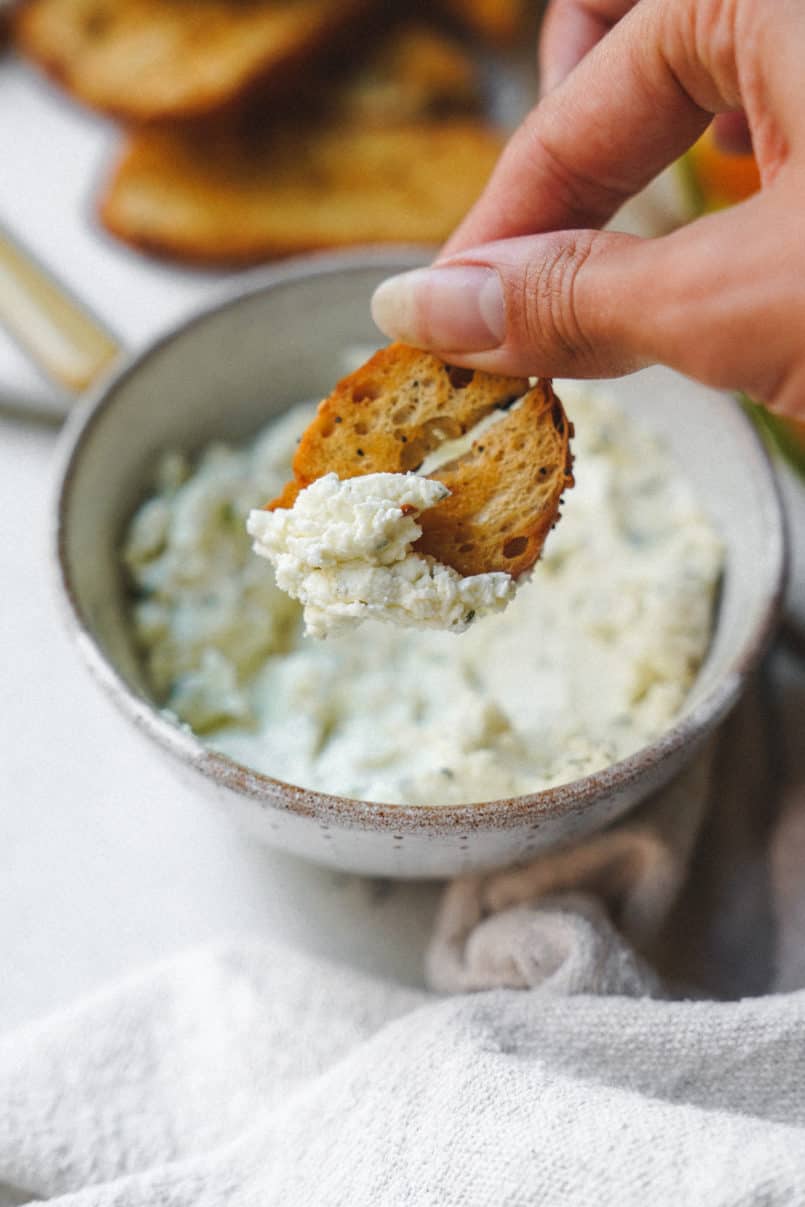 Vegan Cream Cheese
What would a bagel be without cream cheese! This vegan garlic herb cream cheese is so smooth and rich, it is perfect for spreading over the Silver Hills Organic Everything Bagels. The cream cheese gets most of its texture from soaked cashews. Soaking the cashews does more than just soften them to be blended when you soak any nut it "activates" it. What does this mean? Let me break it down:
Soaking nuts and seeds removes or reduces phytic acid and tannins and neutralizes enzyme inhibitors.
This process will encourage the production of beneficial enzymes, increase the number of vitamins, especially B vitamins, and make digestion easier.
It will also make the proteins more readily available for absorption.
So don't forget to soak your nuts!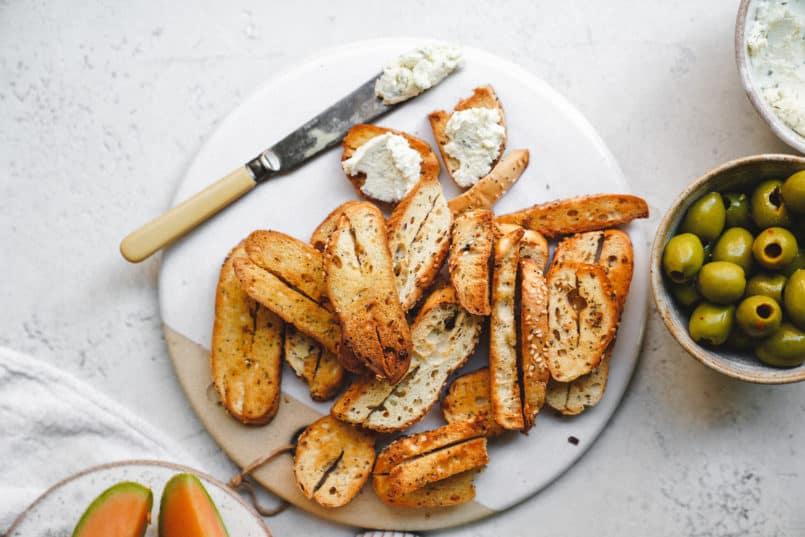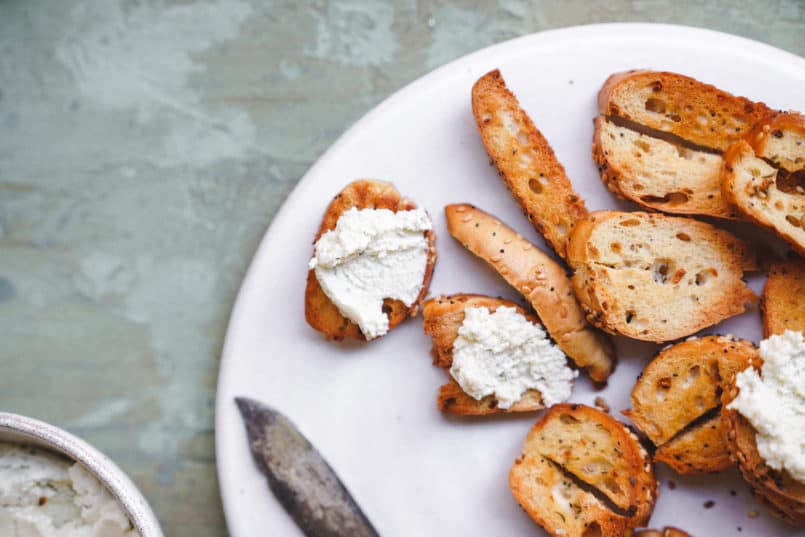 Sprouted Bread
Guess what!?!? You should also be soaking your SEEDS! This is the process Silver Hills Organic Everything Bagels uses for all of their products, and that's why they call themselves a "sprouted" bakery. Like nuts, when you soak/sprout seeds you unlock all of the nutrients, vitamins, and minerals. Sprouted grains also have a lower glycemic index, increased soluble fiber, and protein. This will help regulate your blood sugar levels and help you maintain your energy level throughout the day. Talk about baked goods that are actually good for you.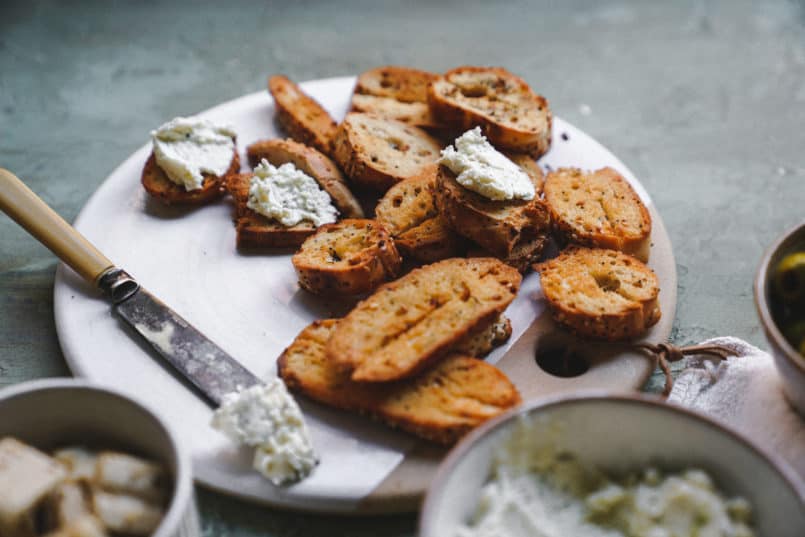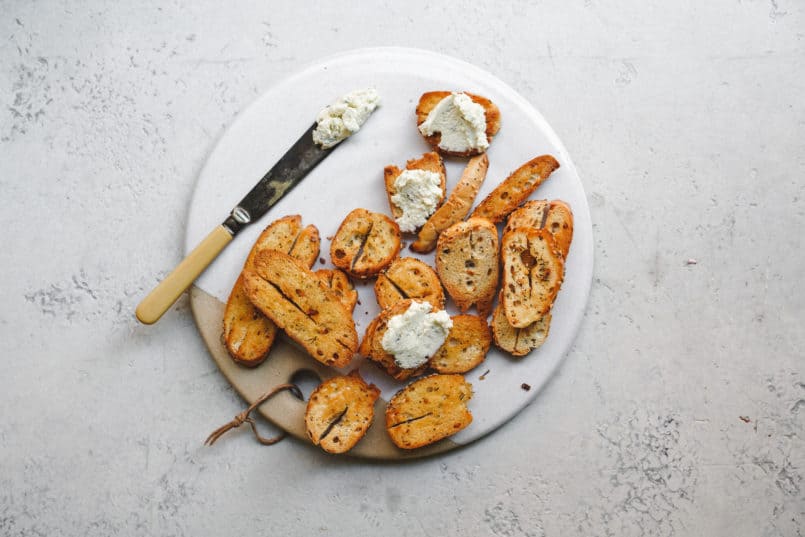 Patio Spread
This recipe is so quick and easy to make it seriously only takes about 14 minutes, and can be me well in advance. The bagel bites will last one to two weeks in an airtight bag, making them great for a last minute summer snack. They are the perfect alternative to super processed crackers and can be used for all your dips and salsas. Try them with my:
So grab some water and get soaking all the nuts and seeds, and enjoy this delicious summer snack. Check out the recipe below and don't forget to let me know what you think over at @foodbymaria! Tag #foodbymaria and #fearnotfoodisyourfriend so I can see all your beautiful recreations.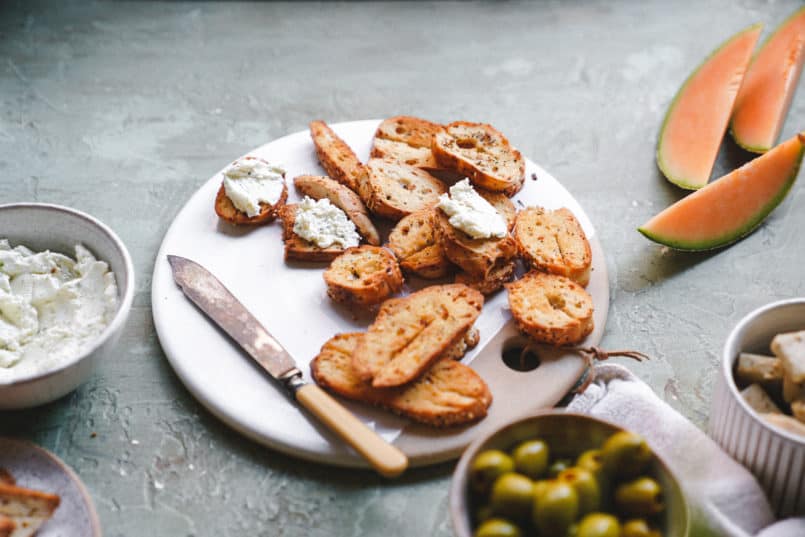 Disclaimer: This post was sponsored by Silver Hills Sprouted Bakery
Print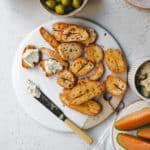 Bagel Bites + Vegan Garlic Herb Cream Cheese
Author:

Prep Time:

30 minutes

Cook Time:

0 minutes

Total Time:

30 minutes

Yield:

1

Category:

Dips and Spreads

Cuisine:

Vegan
---
Ingredients
For the bagel bites:
3 Silver Hills Organic Everything Bagels, chopped into chip bites
3 tbsp olive oil
2 tbsp everything bagel spice
2 tbsp dry thyme
For the Tofu:
200g firm tofu
1 cup raw cashews, soaked for 4 hours or overnight
2 tbsp coconut oil
2 tbsp olive oil
1 tsp salt
1/2 tsp fresh cracker pepper
1 tbsp lemon juice
3 tbsp apple cider vinegar
1 tbsp dry dill
1 tbsp dry oregano
1 small handful fresh thyme, finely chopped or course
1 small handful fresh chives or green onion, finely chooped or course
---
Instructions
Preheat oven to 325F.
Place tofu on a cutting board lined with a kitchen cloth, place a plate onto the tofu and then a heavy book onto the plate.  Less this press for 30 minutes.
Into a large bowl combine your bagel bites, oil and spices.  Toss till well coated.
Transfer between two baking sheets and cook for 15 minutes, flipping half way through.  Use judgement, this may take longer than 15 minutes depending on your oven.
Once cooked, remove from oven and set on a baking tray to cool.
Once 30 minutes have passed transfer your tofu and the remaining ingredients into a high speed blender and blend till well combined.  Could take up to 1-2 minutes.
Transfer to a tight sealed container, pat till flat and set in fridge for up to 6 hours or overnight before serving.
Enjoy with veggies and bagel bites on a fabulous platter!
---
Notes
Cheese will last in fridge for up to one week  in a tight sealed container.
You can add your herbs in after blending and simply fold into cheese.  Up to you.
Recipe adapted by the fabulous Lauren Toyota of Hot For Food.