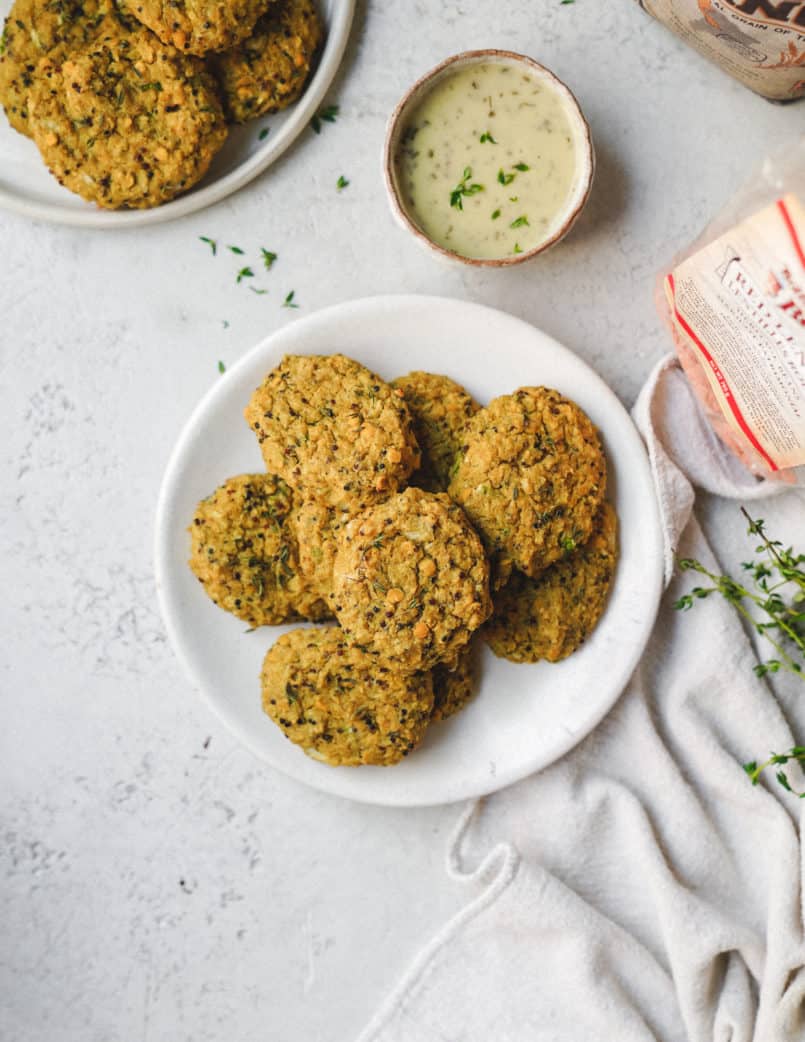 12 Jun

Three Bite Vegetable Fritters

BBQ season is here and one of the best parts about summer is being able to hit the grill and be outdoors while cooking up a storm. This super simple BBQ vegetable fritters recipe is perfect for your 4th of July BBQ, and it'll definitely please the vegan friends or family. Made with some of my favourite products by Bob's Red Mill, I think you're going to love it!

A little work will go into this vegan vegetable fritters recipe, but you can make loads at once and they'll last one week in the fridge, or you can freeze them for up to three months. Note that if you freeze them you should cook in the oven from frozen.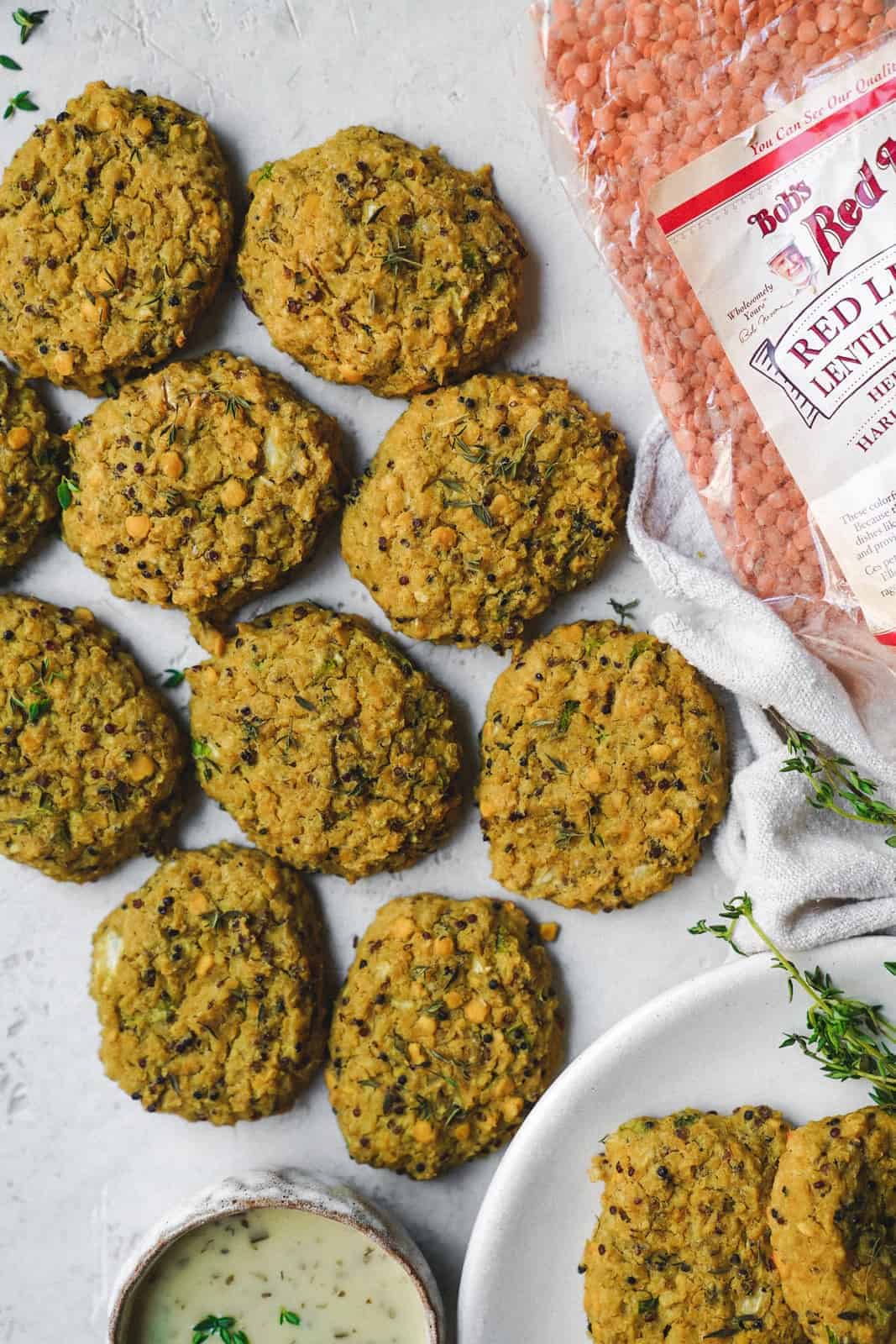 Bob's Red Mill's Lentils
This recipe I made with my fav, Bob's Red Mill's lentils and quinoa for their #RedMillAndBlue celebrations for the 4th of July. These ingredients serve as a great base to bind the fritters together, and are loaded with health benefits for your plant based diet. Their lentils are one of my go-to's in my pantry. Lentils are used extensively in Indian cooking and can be thrown into soups, curries, salads, and more. They also serve as a great base and nutrient source in vegan, plant based cooking.
Lentils are rich in dietary fiber, and have 19 grams per 1/4-cup serving, plus 11 grams of protein.
Wowzers! They also are loaded with amino acids, iron and calcium, and it's no surprise why lentils are a popular protein source for vegans. What do I love about lentils the most? They are so versatile, take a look at this recipe for example. Lentils can be soaked, boiled, fried, baked, and the list goes on. Some of my other favourite lentil recipes are: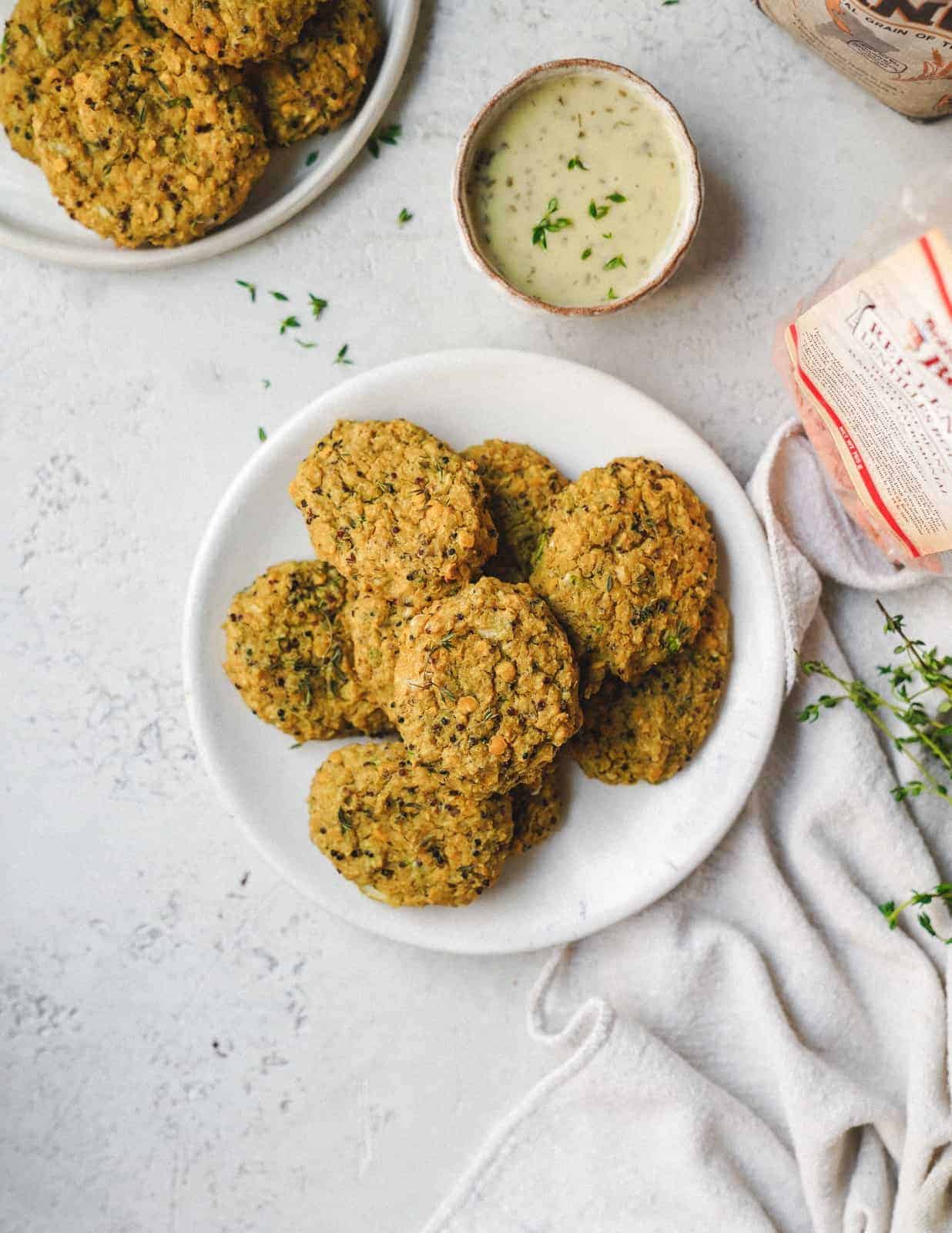 Bob's Red Mill's Quinoa
The quinoa in this vegetable fritters recipe is another star ingredient. Quinoa is a go-to in my plant based diet. Bob's Red Mill has three different varieties of the grain you can use, but I used their organic quinoa grain. What's great about quinoa is it doesn't take much time at all to make, plus it's a nutritious alternative to couscous and white rice in many recipes.
Quinoa is a source of complete protein and a good source of dietary fibre. It's naturally gluten free, and is great in any vegan diet. Some of the benefits of quinoa is:
One of the most protein-rich foods you can eat
Contains almost twice as much fibre as most other grains
Contains iron
Rich in magnesium
.. plus, the list goes on.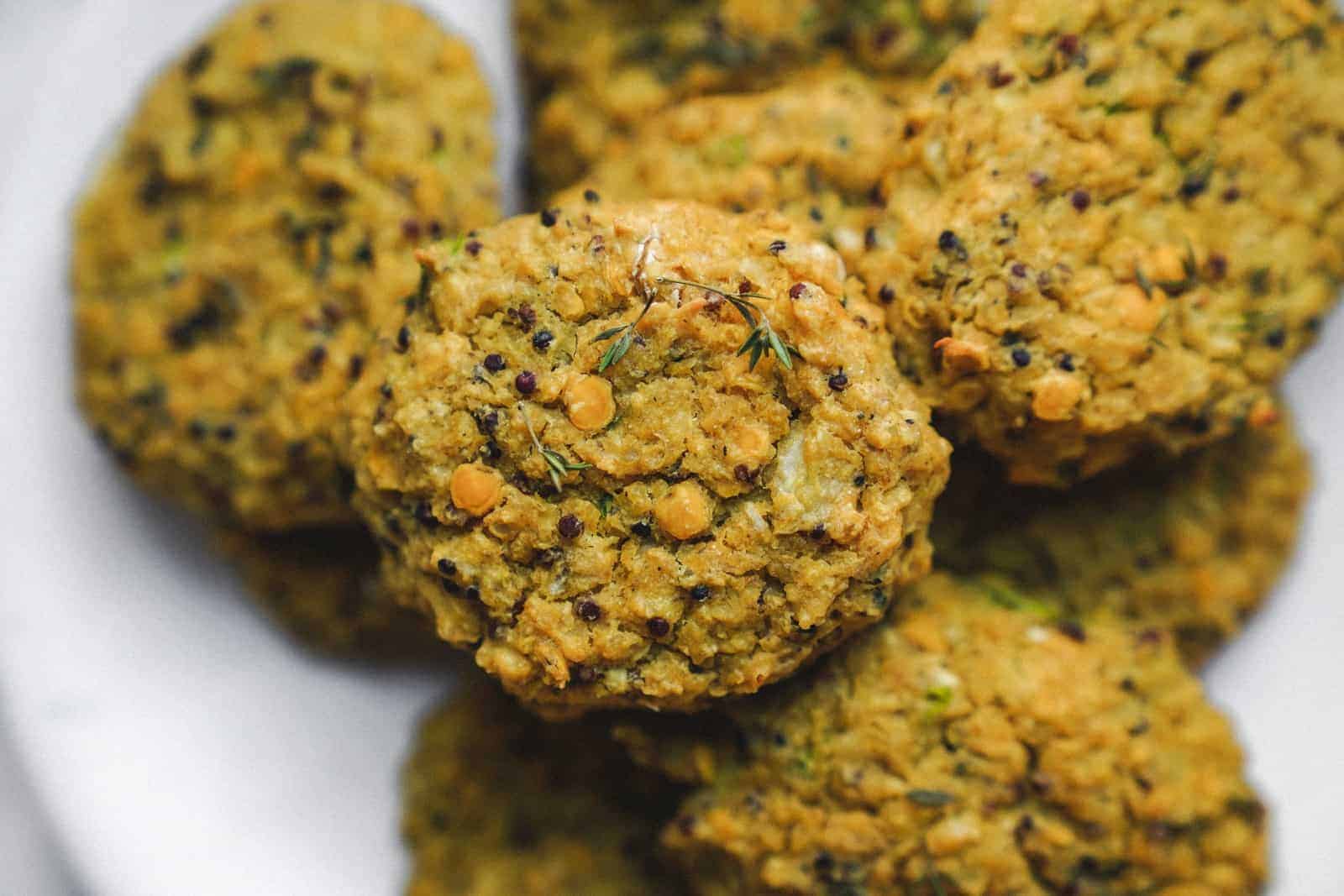 This recipe for vegetable fritters is super versatile and easy to make. Most of the ingredients you can find in your own pantry! I also Bob's Red Mill's chickpea flour versus regular flour as I find that it's sweet and rich in flavour. Plus, it adds more nutritional benefits than regular flower since it's packed with protein and dietary fibre, and is a good source of iron.
Although I'm based in Canada, and we celebrate Canada Day on July 1st, versus the 4th of July, this recipe is perfect for wherever you may be based and whatever holiday you're celebrating, and can help you keep your BBQ cooking healthy (and vegan) with Bob's Red Mill products.
See the recipe card below for how to make this Three Bite Vegetable Fritters. Enjoy!
Print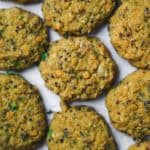 Three Bite Veggie Fritters
Prep Time:

30 minutes

Cook Time:

30 minutes

Total Time:

1 hour

Yield:

15

Category:

Main Dishes

Cuisine:

Vegan
---
Ingredients
For the rice + quinoa mixture:
1/2 cup uncooked quinoa – I used Bob's Red Mill
1/2 cup cooked red lentils – I used Bob's Red Mill
2 bay leaf
1 tsp. turmeric powder
1 tsp cumin powder
1/2 tsp cinnamon
1/4 tsp cloves
season to taste
2 tbsp. olive oil
1 tbsp. vegetable stock paste
2 tbsp. fresh lemon juice
For the patty:
1 medium sweet white onion, quartered
4 garlic cloves
half a large cauliflower, cut into florets
1 vegan egg or egg
1 cup chickpea flour – I used Bob's Red Mill
1/4 cup fresh thyme – before removed from stem
2 tbsp. nutritional yeast
1 tbsp. olive oil
---
Instructions
Into a medium sized sauce pan add all the ingredients for the quinoa and lentil mixture. Bring to a boil then simmer with lid on till the lentils and quinoa are fully cooked.  You want them to be tender but not overly mushy. Once cooked removed from pan and set to cool on the counter.
Preheat oven to 400F and line baking sheet with parchment paper.
Into a food processor add onion, garlic, and cauliflower – pulse till small pieces develop. Transfer onion mixture into a large bowl, add quinoa mixture and stir till well combined.  Add the remaining ingredients and stir till well combined.
Using a large ice cream scoop scoop out the mixture and form 15 balls (oval shape).  Pat them lightly on the baking sheet and top with some fresh thyme before baking.
Cook for 10 minutes on each side or until golden and cooked throughout.
Enjoy with favourite sauce of choice, with salad or simply as a snack/side!
---
Notes
These can also be cooked on piece of tin foil in the BBQ.  Slather with sauce of choice and enjoy.
They will last up to 10 days in the fridge in a tight sealed container.
Will last up to 2 months in the freezer in a tight sealed container.
I suggest cooking before freezing.
You can pre-make the patties and store "mixture" in fridge for up to 2 days before baking or BBQ.