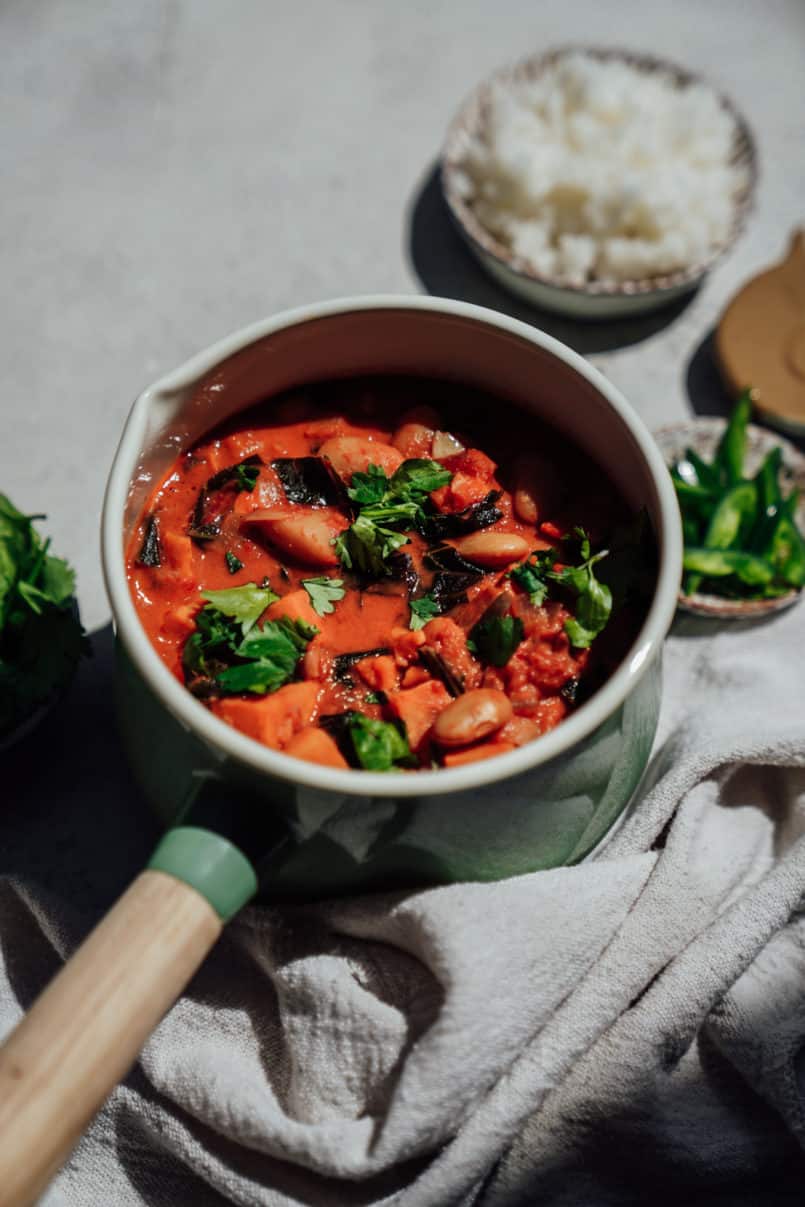 14 Jun

Vegan West African Stew – Allergen Free

One pot recipes are one of my favourites because they are so simple! And what if I told you that you can make a delicious nutty vegan stew, the ultimate comfort food, that's completely allergen free? Yes, you heard me correctly! This stew uses a plant based butter called SunButter that adds that nutty taste but doesn't use nuts to make this creamy product. SunButter is made with roasted sunflower seeds, grown in the United States.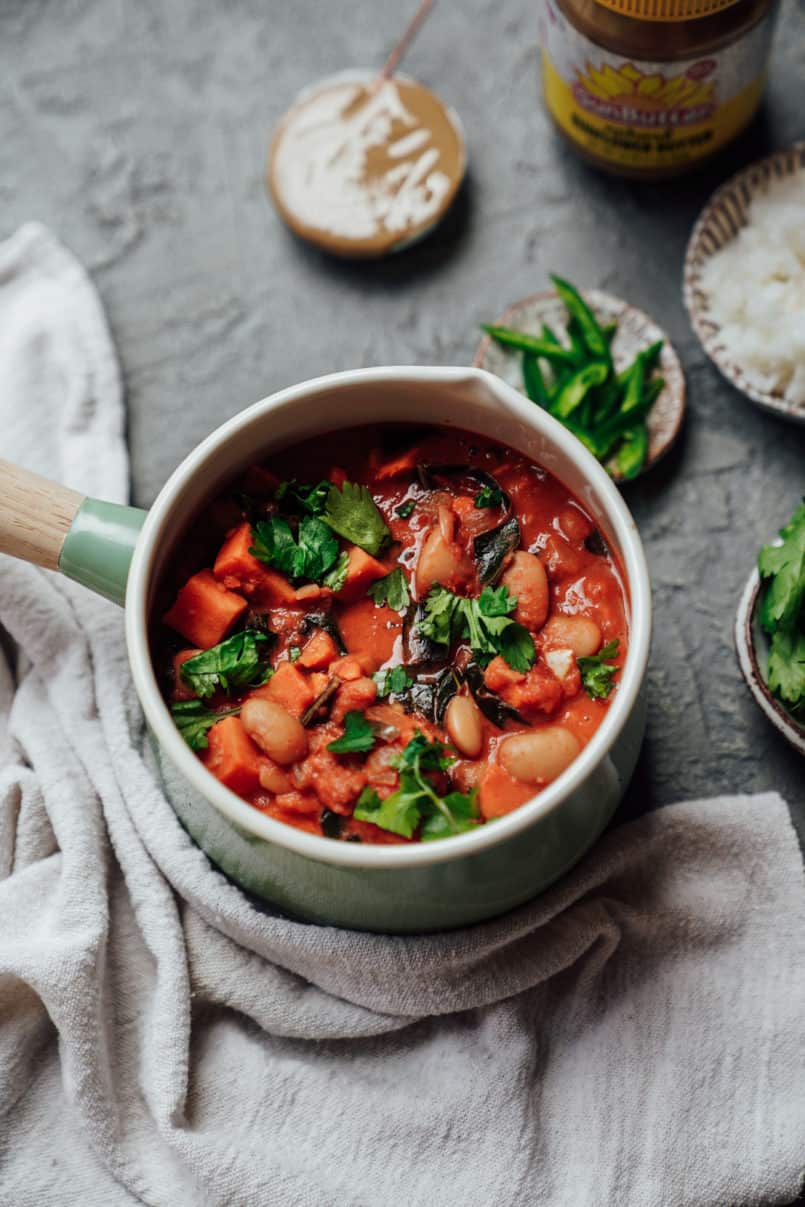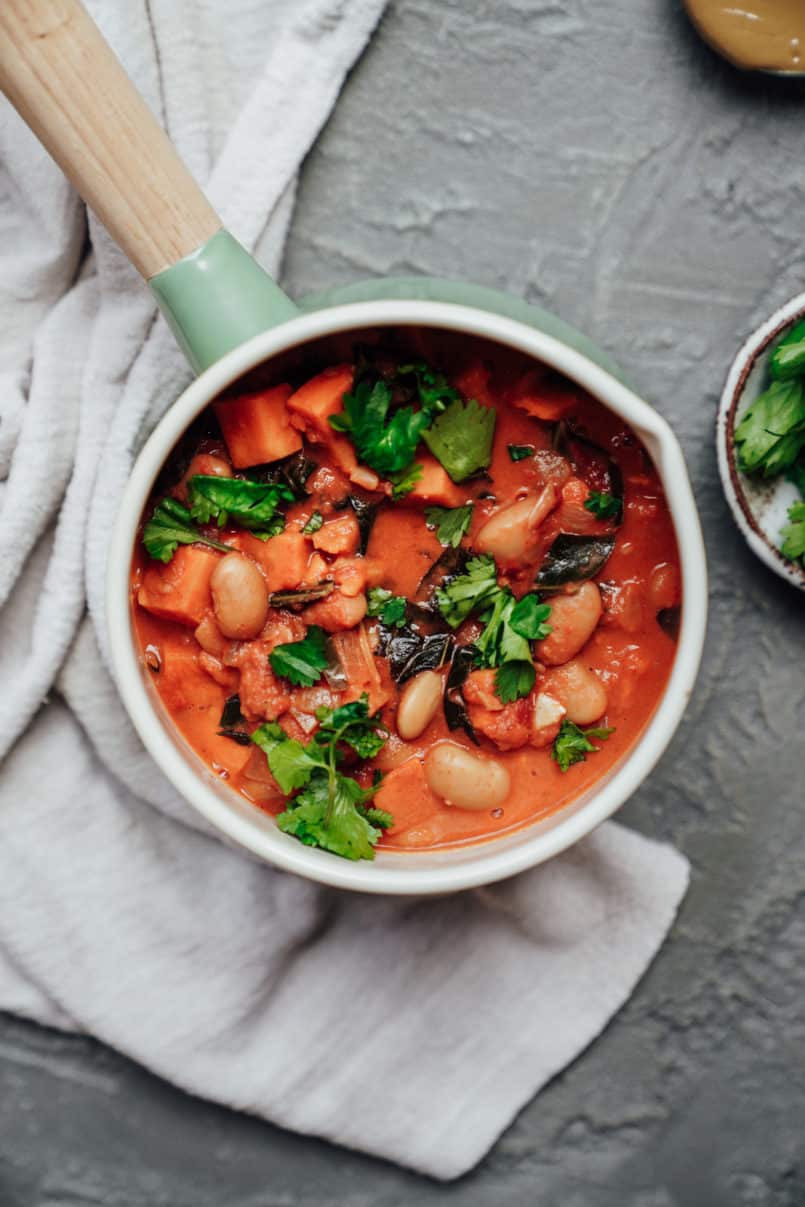 Stew is one of my favourite things to make because you can jam a lot of flavour into a simple dish. Not to mention that it's one of the best comfort foods. For this recipe I made a vegan, plant based West African stew that is a simple one pot recipe you can make for the entire family. Even those family member that may have nut allergies.
Plant Based West African cuisine
West African cuisine encompasses a diverse range of foods split between 16 countries. In West Africa, families usually grow and raise their own foods, and know exactly where their fresh ingredients are coming from. With West Africa's diverse history playing a huge role in their cuisine, such as the interactions with Middle Eastern and European cultures over the centuries which have introduced new flavours and fusions to their food they eat today. Some of the popular ingredients used in many vegan dishes are:
These plant based ingredients are often the base of many recipes and considered essential in cooking techniques among the region. For this recipe I used tomato paste versus fresh tomatoes, which really gave it that authentic flavour. In places like Ghana in particular, ginger is a staple among recipes, which I incorporated in this flavourful one pot vegan stew as well. This recipe really is a dish that makes me feel all warm and fuzzy inside, and I love that it's allergen free so I don't have to worry about serving it to any of my friends with nut allergies.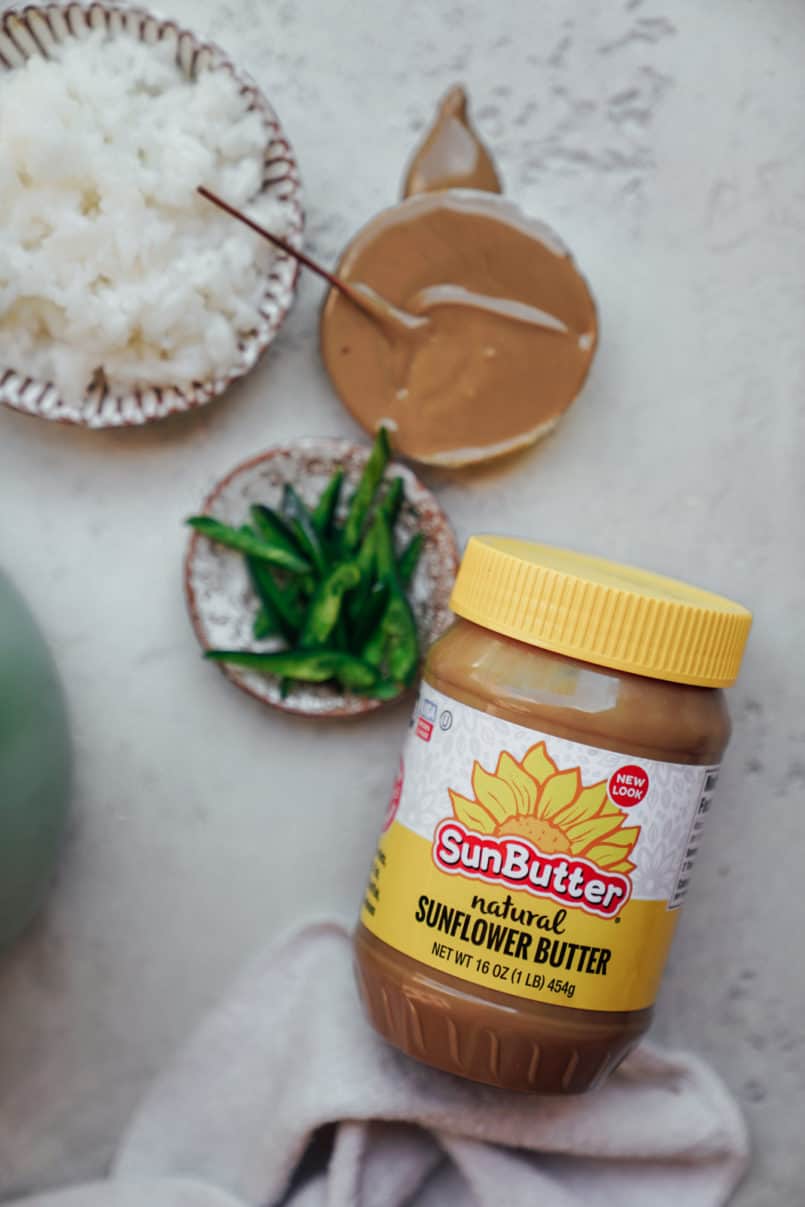 Vegan SunButter
Another popular ingredient in West African cuisine is peanuts. Since peanuts are hard to use in cooking here in North America where there are so many allergies, I used SunButter for this recipe to give the creamy, nutty taste I was trying to achieve in this one pot stew. SunButter is a natural sunflower butter with 7g of protein per serving and more vitamins and minerals than a regular nut butter. Plus, it's safe from the top 8 main food allergens.
This is the same butter I used in my Spicy Thai Sunflower Noodle Salad that I posted a couple of months ago. If you tried that recipe and loved it, you'll totally love this one too because it's extremely full bodied, flavourful, and really, really delicious. This stew is great served with fufu or fluffy rice, and makes a wonderful and colourful main dish.
And I know what you're thinking, sure stew is a go-to for comfort food in the fall or winter, but what about the summer? But did you actually know that eating hot food can actually cool down your body from the inside and out?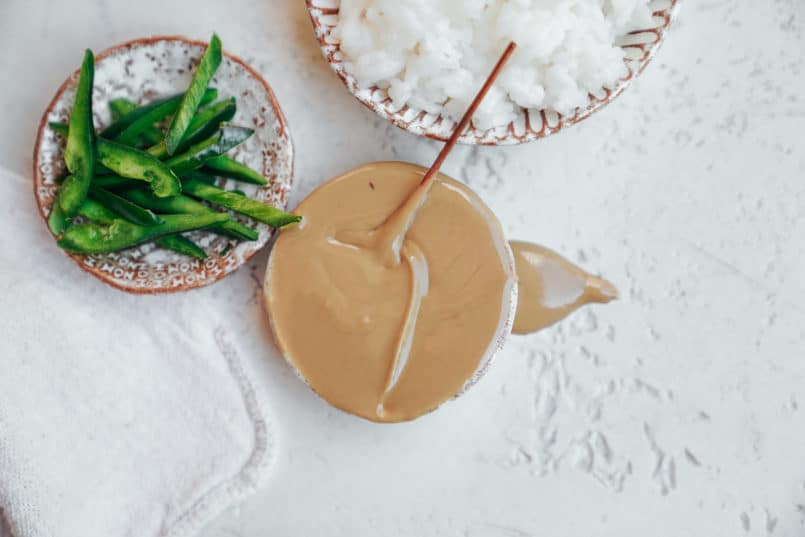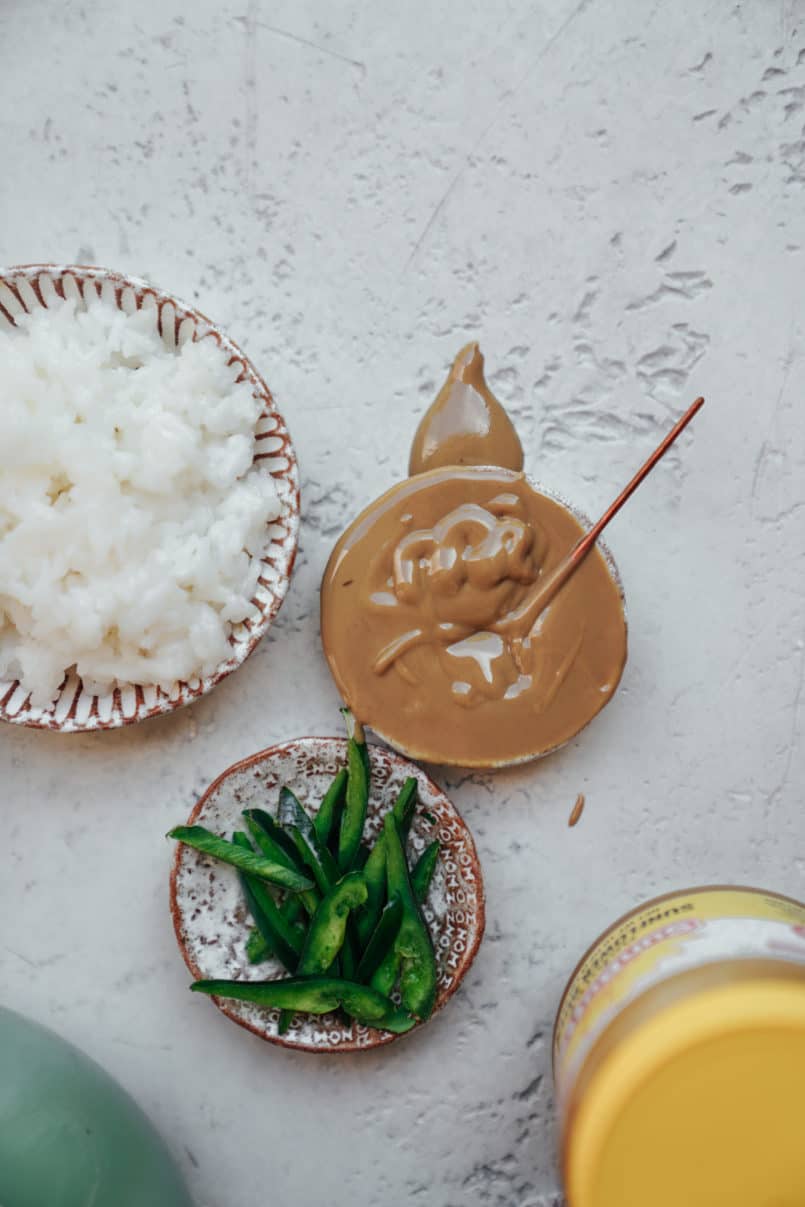 I love this one pot allergen free recipe that is totally adaptable to what your family likes and dislikes are, and if you're looking for some of my other favourite stew recipes for you to try out:
See the recipe card below for how to make my Vegan West African Stew. Enjoy
Print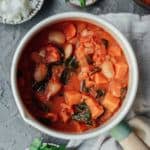 Vegan West African Stew – Allergen Free
Author:

Prep Time:

15 minutes

Cook Time:

35 minutes

Total Time:

50 minutes

Yield:

6

Category:

Main Dishes

Cuisine:

Vegan
---
Ingredients
1 Tbsp olive oil
1 cup white sweet onion, finely chopped
4 cloves garlic, finely chopped
1 Tbsp grated fresh ginger
2 cups, cubed sweet potato
season to taste
1 tbsp. vegetable stock paste
1 tsp cumin
1/4 tsp crushed red pepper
dash of cayenne
28 oz. can roma tomatoes
1/4 cup Sunbutter
2-3 cups hot water
3 cups chopped collards or kale or spinach
28 oz can butter beans or chickpeas
Garnish:
Cilantro
Cooked Rice or Quinoa
---
Instructions
Into a large pot heat your olive oil on low-medium heat for 30 seconds.  Add your onions and sweat down for 5 minutes.  Add your garlic and ginger.  Stir to mix well and cook for another 2-3 minutes.  Add potato, stir, and and add vegetable stock paste, spice and seasoning.  Stir well and cover with a lid.  Cook on low for 5 minutes.
To the mix add roma tomatoes, sunbutter and water.  Bring the pot to a boil and simmer on low for 5-7 minutes.  Add your collards and beans.  Stir and cook for 5-7 minutes. Your home should smell fragrant and beautiful.  You will know your stew is ready when the potatoes are soft and the beans are buttery as ever!
Serve with cooked rice or quinoa.  Top with fresh cilantro. Enjoy!
---
Notes
If you do not have vegetable stock paste then use 2-3 cups of vegetable stock and no hot water.  I suggest using homemade to ensure you are getting the most flavour possible.
Lasts up to one week in a tight sealed container in the fridge and up to 3 months in the freezer.
Disclaimer: This post was sponsored by SunButter.