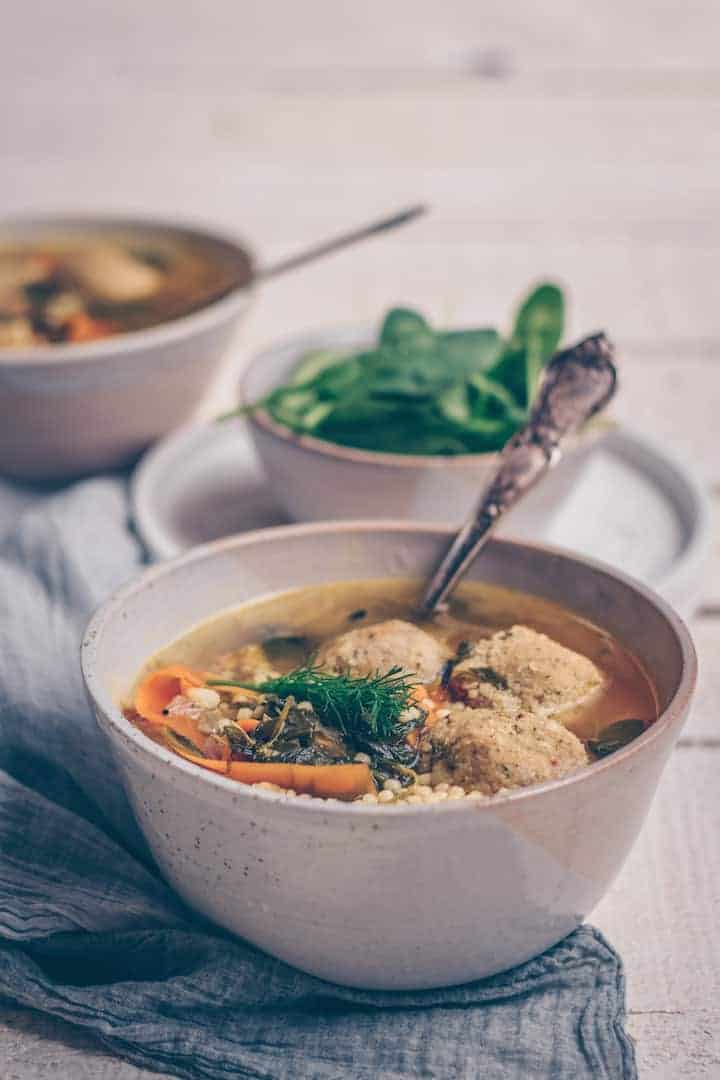 09 Jul

Delicious + Easy Vegan Italian Wedding Soup

Hello everyone and Happy July!! Can you believe it, I've officially gone nuts and made soup in the middle of this heat wave but Andrew proved a good point to the other day, to help justify my madness.  "Baby, it's not Summer everywhere in the world" so this recipe is for everyone but for half the world to enjoy now and perhaps for my Summer experiencing dare devils!

I went into this vegan + vegetarian soup recipe quite scared if I am honest.  Creating a traditional recipe and transforming it into something its not technically meant to be can be quite frightening but it was all worth it because this recipe is bomb AF!

I guarantee, guarantee, everyone in your family is going to fall in love with it.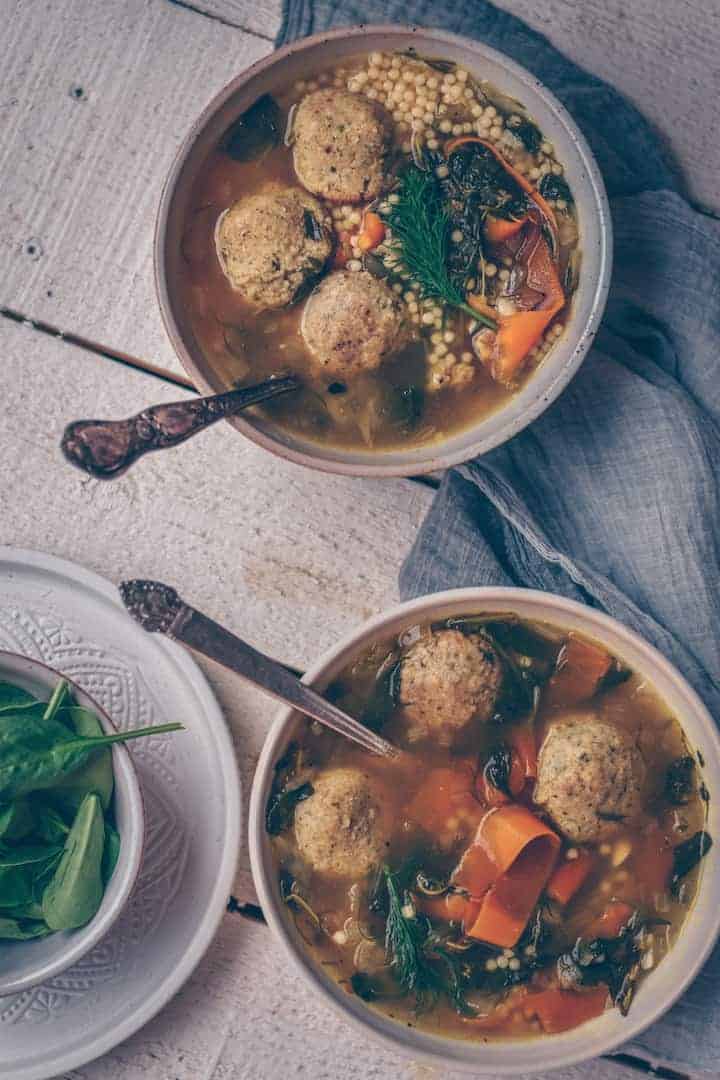 The ball recipe is a bit more tedious and proves to need a bit more attention but even then its still really easy.  I mean all you do is add the ingredients into a food processor, blend and then wait till you can roll them into little balls of love and cruelty free heaven.  This whole recipe is made using natural food and organics foods when you can (like the beans and the veg).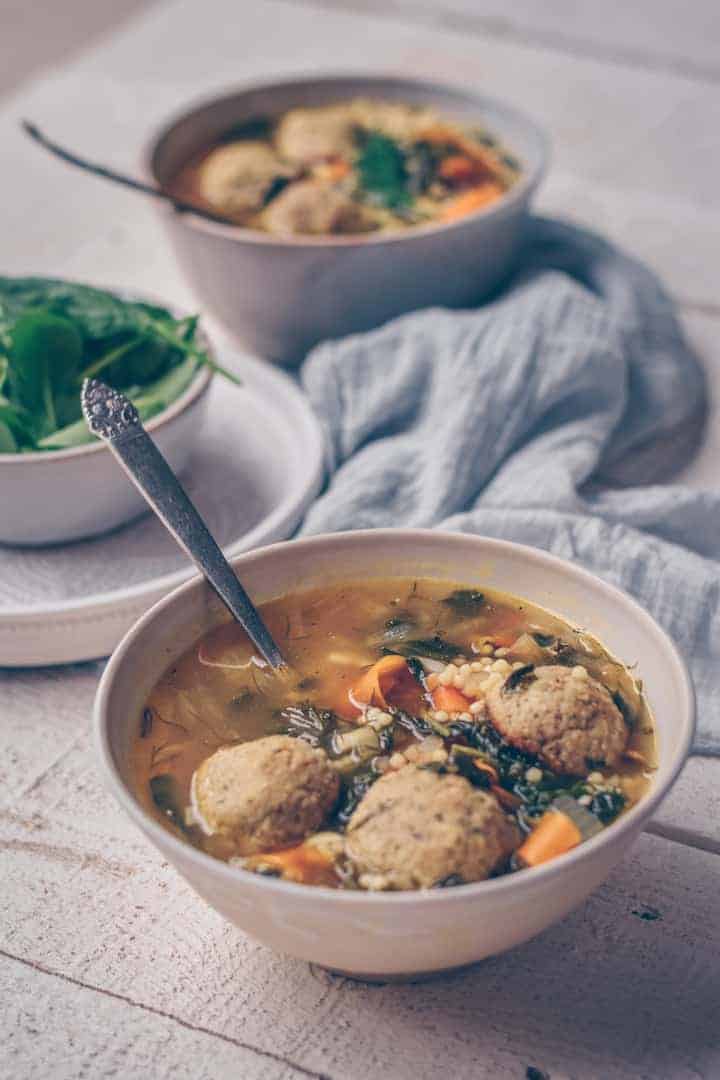 I added some extra hints of aroma by throwing in the white wine, this is to tease your palette while you're eagerly awaiting to eat this soup.  Wine mixed with onion and garlic is truly the best combo and even just with this you're almost always guaranteed to have the best soup ever.  They're the gateway to flavour town, people!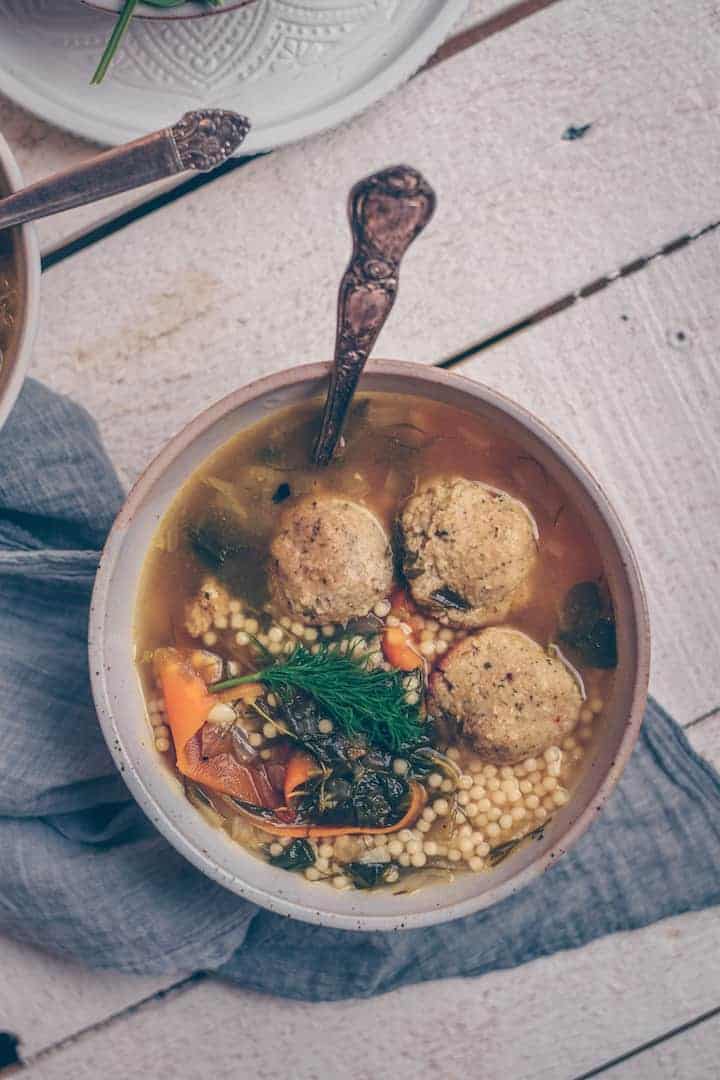 You're going to love this Vegan Italian Wedding Soup Recipe because it is:
Nourishing and flavourful
Cruelty Free –  which makes is especially fabulous
Simple and fuss free
The perfect addition to your plant based diet recipes list
Made using natural and organic foods
Comforting and warming
I hope you enjoy this recipe as much as we did! As always if you try the recipe please leave us a comment below, tag #fearnotfoodisyourfriend so we can find your remakes! Thank you stopping by!
Love from Your Greek Food Goddess XOX
Print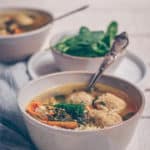 Delicious + Easy Vegan Italian Wedding Soup
Author:

Prep Time:

3 hours

Cook Time:

30 mins

Total Time:

3 hours 30 mins

Yield:

4

Category:

Soup

Cuisine:

Plant Based
---
Ingredients
For the Balls:
1 (14 oz.) can white beans, drained and strained
1 small onion, chopped
4 garlic cloves, minced
1/2 cup chopped fresh dill and parsley
1 cup panko breadcrumbs or gluten free bread crumbs
1 tsp salt
1/2 tsp basil powder
1/2 tsp smoked paprika
1/2 tsp red pepper flakes
1-2 tbsp olive oil
For the Soup:
2 tbsp Olive Oil
1 large white onion, finely chopped
2 carrots, ribboned, use a vegetable peeler
3 cloves of garlic, pressed or crushed or finely chopped
1 tsp salt
1/2 tsp black pepper
1 bay leaf
1 1/4 cup white wine
1/4 cup fresh dill
1/4 cup fresh thyme
8 cups vegetable stock – unsalted
3/4 cup acini de pepe
6 cups fresh spinach
---
Instructions
Into a food processor add all the ingredients and blend till completely combined. You want it to be sticky but well blended. You will have to stop a few times to scrape down the sides.
Transfer the mixture into a bowl, cover with parchment and let sit in the fridge for 2-3 hours.
Before removing from fridge preheat your oven to 375F.
Remove mixture from fridge, roll into 2 inch balls and place onto a baking sheet lined with parchment paper – I sprayed my parchment with a bit of coconut oil.
Cook for 30 minutes turning balls halfway through – you want them to look like they've been boiled, not baked (aka not too golden).
In the meantime begin preparing your soup.
Into a large pot add your olive oil and let it heat up for a few seconds.
Add your onions and carrots and let them sweat down on medium heat for 3-5 minutes.
Turn your heat to high and add your garlic, salt and pepper. Stir for a few seconds.
Now add your wine and fresh herbs. Your house is now smelling fabulous and you are becoming increasingly excited to eat this soup!
Let the wine cook down for about 5 minutes and then add your stock and bring it to a boil. Once boiling add your Acini De Pepe and let it cook on low heat for around 10 minutes.
At the last minute add your spinach and add your balls to the soup.
Serve with fresh dill and a few drops of lemon!
YUM!!