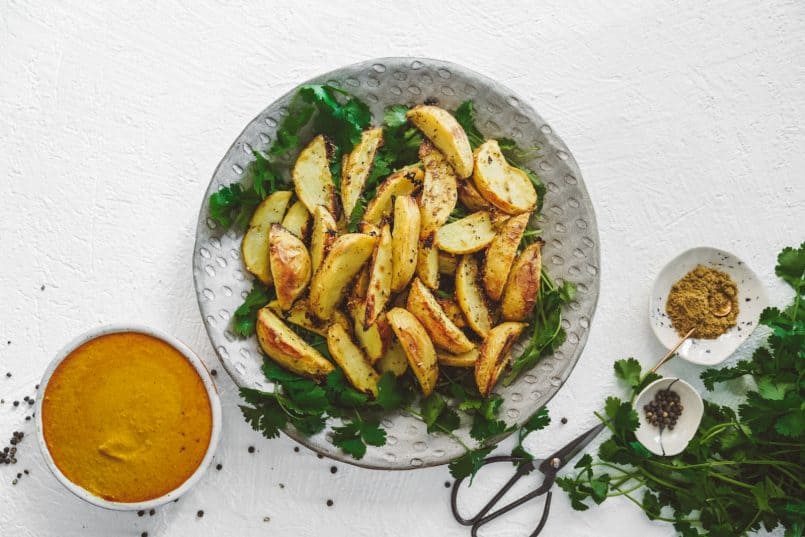 05 Apr

Homemade Takeaway Curry Sauce and Chips

If there is one thing I've learned from my boyfriend Andrew is that he LOVES his chips with curry sauce. This combo is super common in England (where he is from) but is so damn good that I feel like we need to bring this tradition over into other parts of the world because we're seriously missing out!

The key to the perfect chip (or fry or wedge.. we all call it something different) is that it's crispy on the outside but fluffy on the inside and I find this recipe to master that just perfectly so you can get the best damn chips with vegan curry sauce you'll be able to make at home. I mean, we can't always fly to England for chips right?
What makes this recipe crispy, yet fluffy is the use of all-purpose flour that they're coated in just before baking them. I like to use Bob's Red Mill flour because I always trust their products, and they have gluten free options available!
The magical curry sauce
Now enough about the potatoes, lets talk about the vegan sauce that is the perfect sidekick to the potato and really takes this recipe to the next level. The curry sauce for this recipe has a combination of different spices, it's creamy, it's fragrant and it's nourishing and nutritious. Yes, it's possible to have nutritious sauce!
Some of the super star spices in this curry cause are cumin, curry, turmeric and cayenne, to give you an idea of what each of these offer you and your body…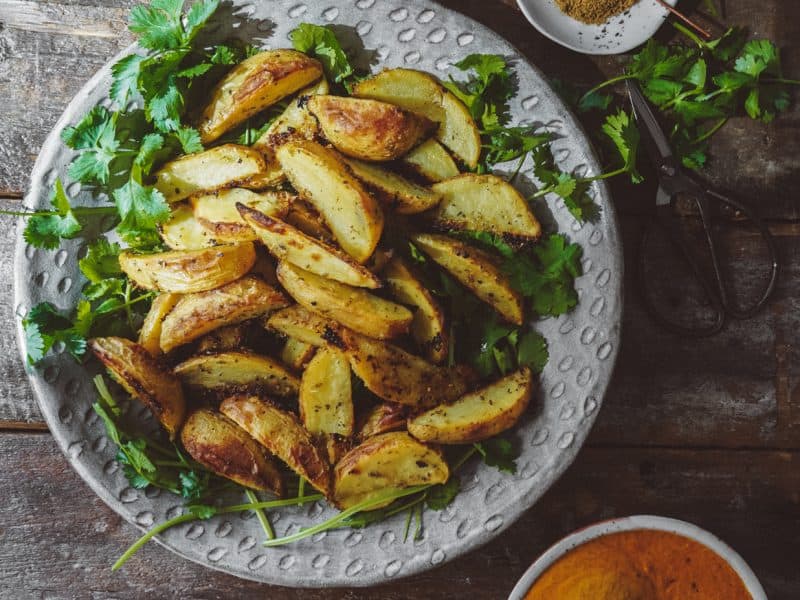 Cumin is a great source of energy, vitamin A, C, E and B6. On top of that is is filled with thiamine, riboflavin, niacin and minerals like iron and potassium. It's also rich in protein and amino acids, and the list keeps going. With all these great vitamins and minerals, cumin helps improve digestion, immunity and has even been known to help treat skin disorders. Fun fact, eh?
Curry powder is made up of a number of ingredients which is part of why it's always so damn flavourful. Because of the diversity of what goes into this powder, it comes with a ton of benefits too. Curry helps prevent alzheimer's and cancer, it relieves pain and inflammation in your body, helps keep your heart, bones and liver healthy, and is antibacterial.
Turmeric is no surprise a magical spice that has so much to offer your body. It can help slow or prevent blood clots, improve your mood, fight inflammation in your body, boost the health of your skin, and the list goes on and on. Turmeric is jammed with goodness that your body will thank you for.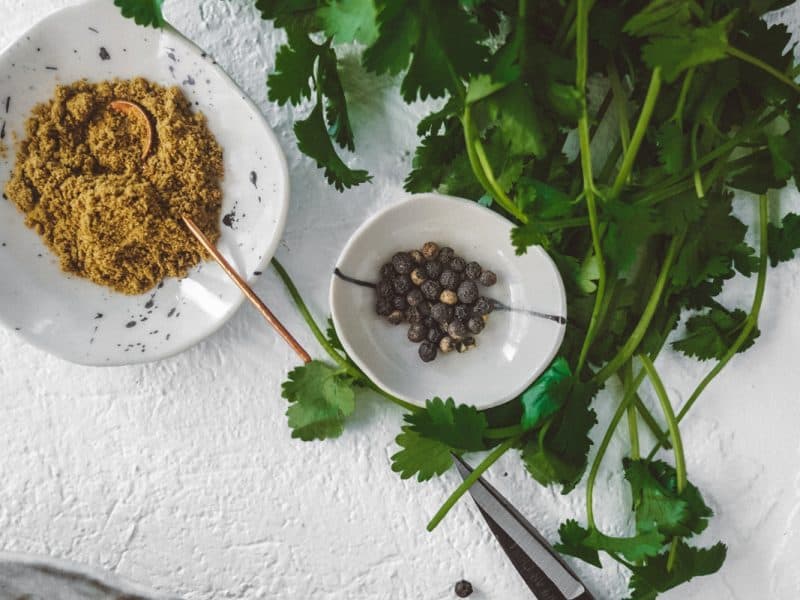 Cayenne is loaded with vitamins such as A, C, K, B6, and more. It also contains potassium, and fiber! Cayenne pepper helps with digestion, blood clots, relieves pain, and that's just to name a few of the great benefits of this spice.
Now I need to warn you! These are delicious, vegan, and so so so addicting. But I love them, Andrew loves them, and I promise you'll love them too. This may just become one of your go-to recipes because it's definitely become one in my house!
Print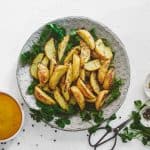 Homemade Takeaway Curry Sauce and Chips
Author:

Prep Time:

15 minutes

Cook Time:

45 minutes

Total Time:

1 hour

Yield:

4
---
Ingredients
For the sauce:
2 tbsp extra virgin olive oil
1 medium white onion, quartered
4 gloves garlic, whole
4 tbsp. vegan butter
1 1/2 cups tomatoes, assorted, chopped
juice of half a lime
1 tbsp. red curry paste
1 tbsp. curry powder
1 tbsp. cumin powder
1 tsp. turmeric powder
1/4 tsp. cayenne powder
season to taste
1/4 cup cilantro, fresh
1 cup coconut cream
For the potatoes:
6 large russet potatoes, peeled and cut into sixths or eight's depending on size of wedge you'd like
1 tsp salt
1 tsp fresh cracked pepper
1/4 cup lemon juice
dash of paprika
2 tbsp. olive oil
3 tbsp. Bob's Red Mill All Purpose Flour
---
Instructions
Preheat over to 425F, line a baking sheet with parchment and grab a 10 inch cast iron skillet.
Into a large bowl mix all your ingredients for the potatoes apart from the flour.  Once ingredients are well combined add your flour.  Make sure everything is well coated then transfer to baking sheet.  I like transferring over the juices from the bowl and all because it really makes everything crispy but if you're not into that then just make sure you use tongs or a spoon to make sure you avoid excess liquid. Cook your potatoes for 45 minutes, flipping half way through.
For the sauce, simply add all the ingredients, apart from the coconut milk,  into your cast iron skillet and cook in oven for 25-30 minutes.  Stir every 10 minutes to avoid burning.  Then remove skillet from oven, add coconut milk, stir gently and reheat in oven for 2-3 minutes. Once coconut milk is hot remove the skillet from oven and transfer to a high speed blender.  I suggest letting your sauce cool a bit to avoid burner or harming yourself/blender.  Blend till smooth (around 2 minutes) and transfer to a bowl.
Once your potatoes are ready transfer to a serving dish, garnish with cilantro and enjoy with your sauce!
I found those sauce to be extremely addictive, so enjoy with caution.
---
Notes
Sauce lasts in Fridge up to 3 days in tight sealed container but recommended fresh.
How do you like your chips/fries? Share below in the comments!