26 Jun

Crispy Mini Burrito Bites with Avocado Cilantro Lime Sauce

Whoever doesn't love burritos is not human! At least, in my opinion. This recipe is very vegan and vegetarian friendly; sponsored by the California Avocado Commission in celebration of California Avocado Month. California Avocado season seems to be just one of the happiest seasons, doesn't it?
I'm actually super excited about this vegetarian recipe because I made it for the first time the other day and they are honestly to die for. Such a good snack, perfect for appetizers, and seriously, you won't be able to put them down until your plate is empty! The star of these Burrito Bites is obviously the California Avocado cilantro lime sauce that is used to pour on top or on the side as a dipping sauce.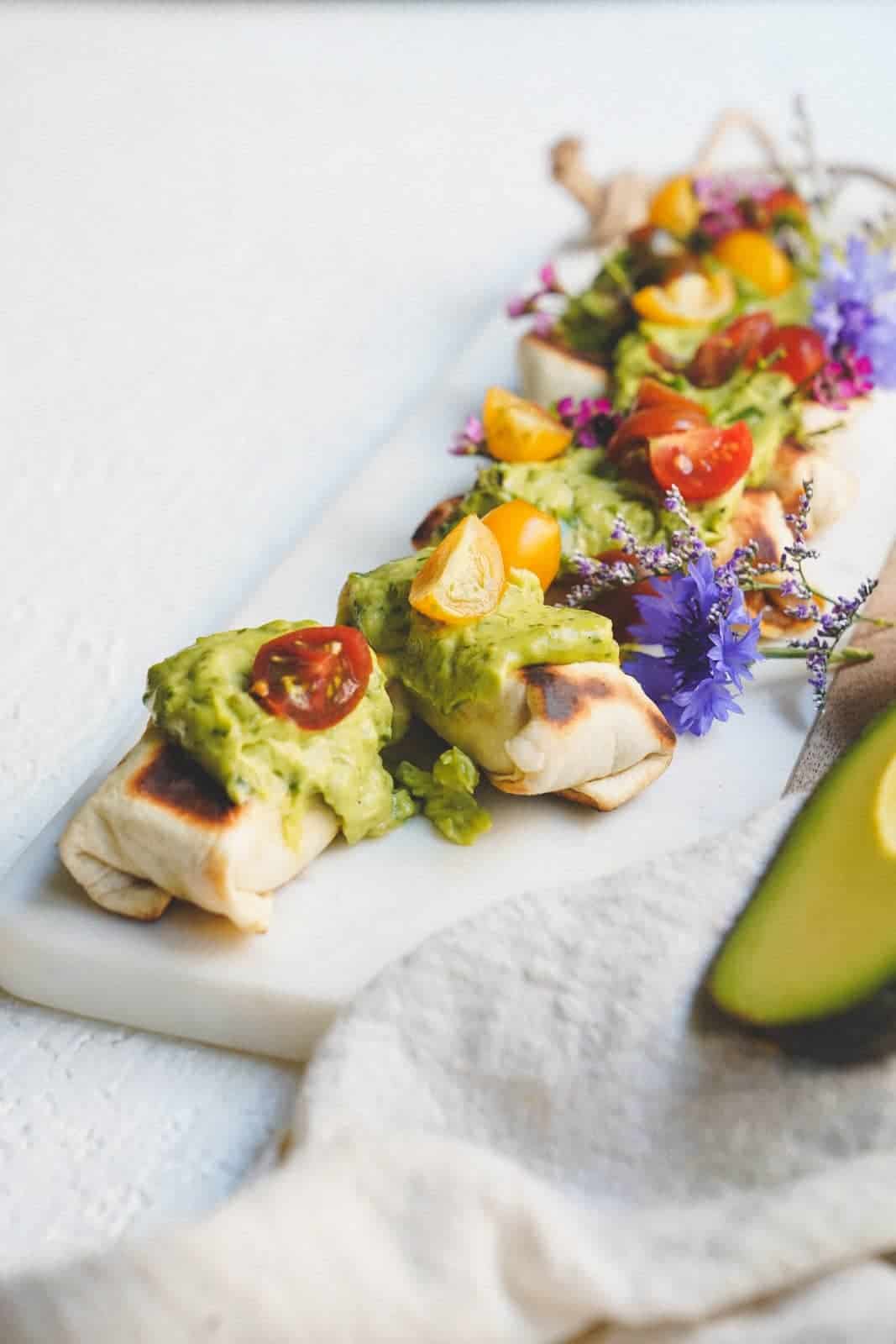 This vegetarian and vegan friendly sauce is loaded with nutrients thanks to our friends, the avocado. Avocados are nutrient dense which means they are loaded with vitamins and minerals, low in calories, and contains good fats (yes, there is such thing). Sauces can often be your worst enemy in terms of health, especially on things like burritos, however, you don't have to feel guilty about smothering these burrito bites with this sauce. And I mean, who doesn't love the combo of cilantro and lime? So fresh, and perfect for summer!
Print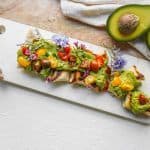 Crispy Mini Burrito Bites with Avocado Cilantro Lime Sauce
Author:

Category:

Appetizers

Cuisine:

Vegan
---
Ingredients
2 tbsp. olive oil
1/2 cup white onion, finely chopped
2 cloves garlic, finely chopped
1 tbsp. jalapeno, seeded, finely sliced
1 1/2 cups brown rice
1 cup baked beans
1/2 cup cilantro, finely chopped
juice of half a lime
2 tbsp. hot sauce
3/4 cup daiya cheddar cheese
season to taste
4 large tortillas, just into quarters
1 tbsp. olive oil
1 1/2 avocados – I used California Avocados
1/2 cup cilantro
juice of one lime
season to taste
2 tbsp. olive oil
---
Instructions
Into a frying pan heat your olive oil for 30 seconds.  Add the onions and let sautee on medium heat for around 5 minutes.  Add the garlic and cook for another minute.
Add your jalapeno, rice and beans.  Cook down for around 5 minutes, till well combined.  Then add your cilantro, lime, hot sauce and cheese.  Stir till cheese is melted and mixture is hot throughout.  Turn off the heat and set aside.
Prepare your tortillas by quartering.  Take around a heaped tsp of your burrito mixture and place into the corner of the tortilla.  Take the corner of the tortilla and roll in towards the middle, then grab the right side and told it over and repeat with the left.  Pinching both sides, complete the roll as tight as possible and place flap side down onto a plate.  Repeat till you have made 16.
For cooking, add olive oil to a clean frying pan and let it heat up on medium heat.  Depending on the size of your frying pan begin cooking your Burrito Bites.  Place flap side down at first to seal.  Cook for 1-2 minutes on each side till it's completely crispy.
To make your avocado sauce simply add all your ingredients into a jar and blend using a hand blender.  I blended for around two minutes to achieve that perfect, silky consistency.
Serve with your Avocado Cilantro Lime Sauce.  You're officially a hero.
---
Notes
Sauce will last up to 2 days in the fridge in a tight sealed container – Avocado has the tendency to go brown so enjoy as soon as possible.