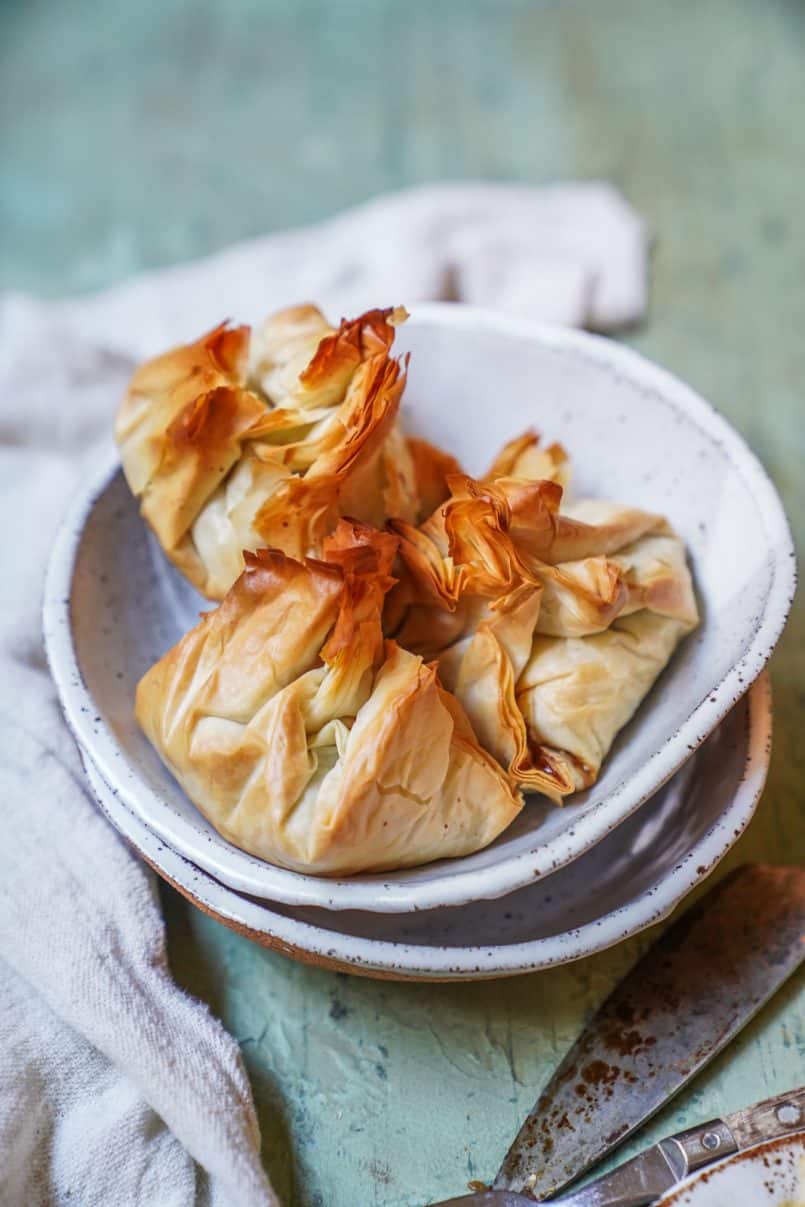 29 Jun

Vegan Crispy Mushroom Phyllo Bites

Do you ever find in the summer you seem like you're hosting dinner guests and company all the time? I do! I love being a host, but sometimes you just want to be able to whip together something that tastes great, looks impressive, but didn't take you a million hours to prepare. The suns out, I want to be outside, not always in the kitchen! So that's where these little vegan mushroom phyllo bites come in.
These are perfect for parties, gatherings, events or just to demolish all yourself. They're super simple to put together despite how fancy they look, and are filled with crunch, flavour and comfort. I also used Bob's Red Mill's nutritional yeast which if you know me, you know I love me some nutritional yeast because it's so good for you, especially in a vegan diet. Nutritional yeast has a good source of vitamin b12 and it has a yummy cheese flavour which means it's super versatile to toss on or in just about anything.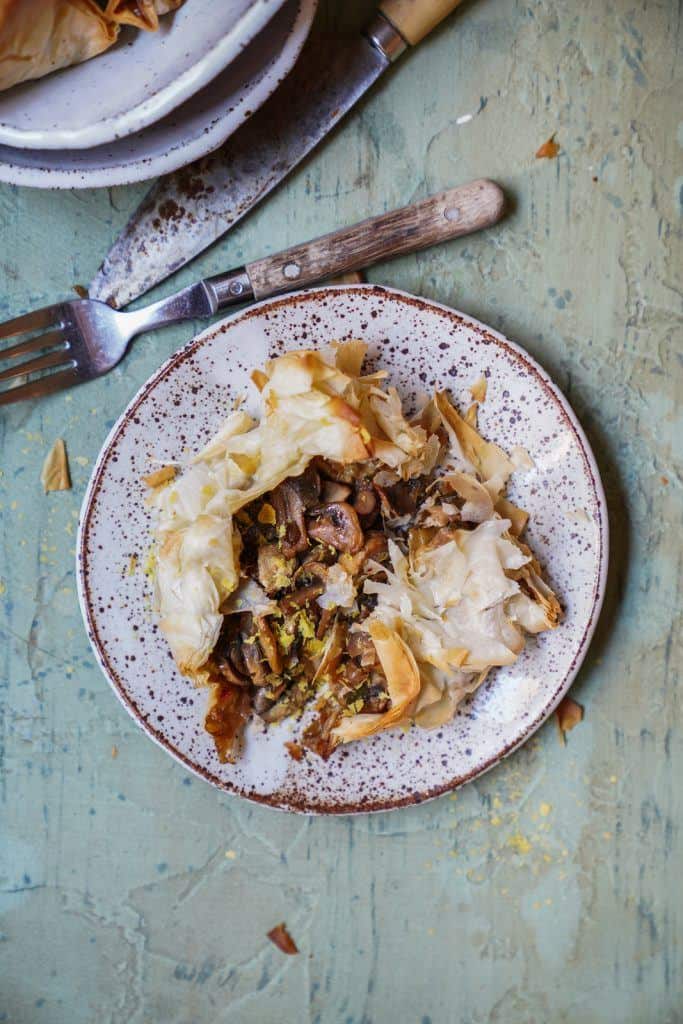 This recipe in particular was inspired by my Greek roots and spanakopita (PS I have this recipe in my cookbook), but I wanted to do something different and create a fun fish with mushrooms and the crunch of phyllo. This recipe is great for including your family in the kitchen to help with cooking, look awesome as a snack at a party or BBQ, and they're just super delicious! You can eat them in around three bites and they pair nicely with a cold beer!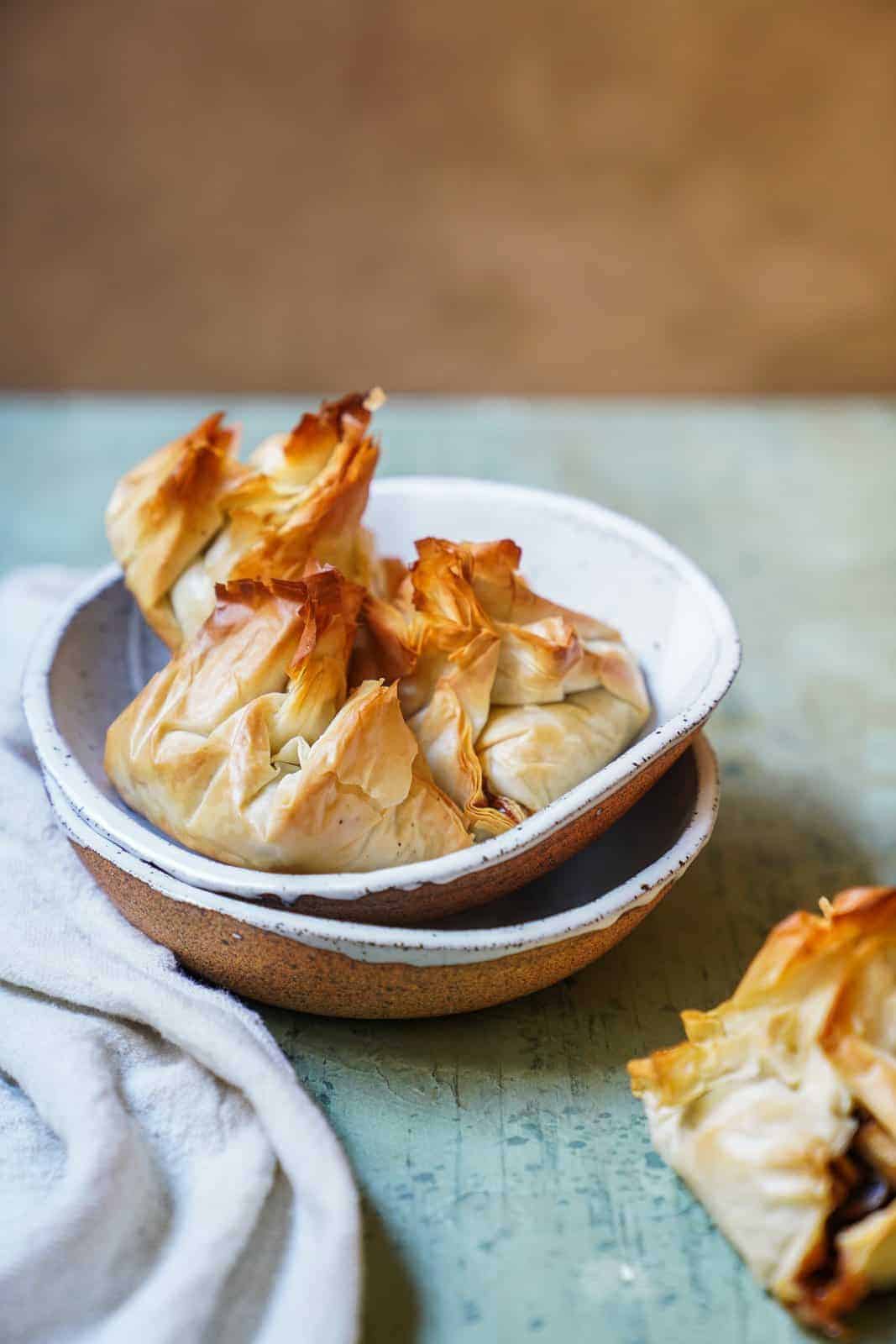 If you're looking for a few other ideas for your summer party, check out these recipes: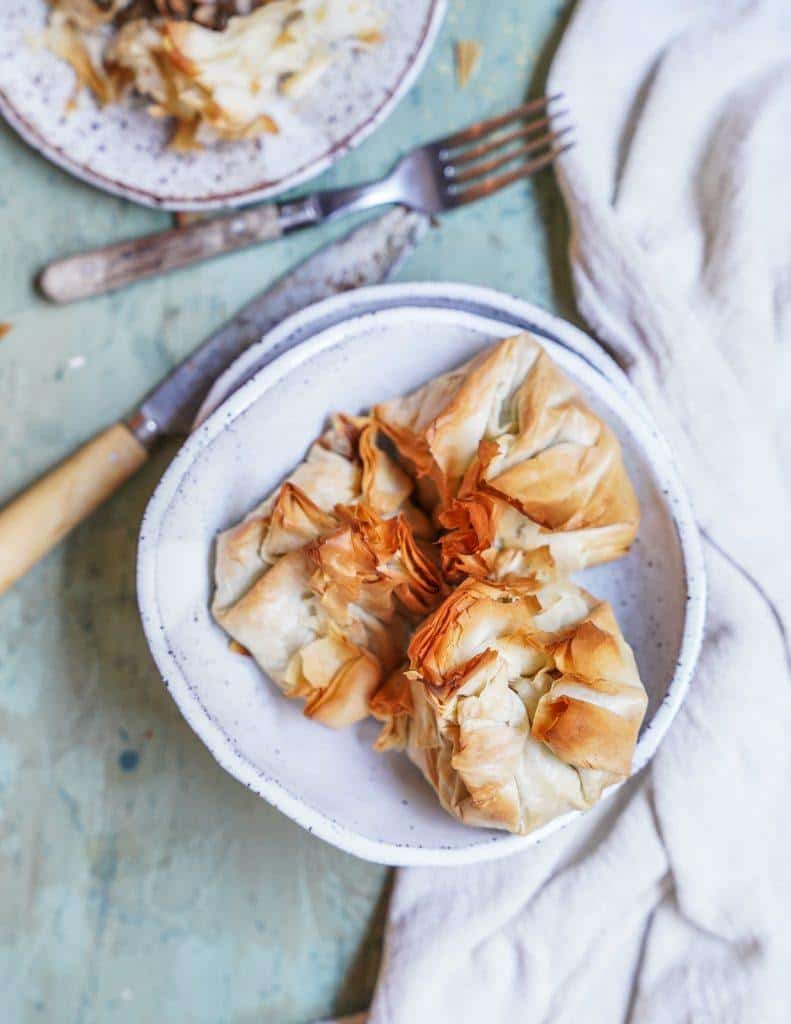 What's your favourite appetizer to make for entertaining in the summer? Share below in the comments!
Print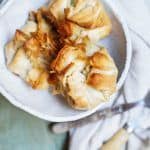 Vegan Crispy Mushroom Phyllo Bites
Author:

Prep Time:

15 minutes

Cook Time:

35 minutes

Total Time:

50 minutes

Yield:

4
---
Ingredients
1 packet vegan phyllo pastry – thawed
1/2 cup vegan butter melted – set aside
For the filling:
2 tbsp. olive oil
3 cups mixed mushrooms, I used cremini and shitaki, roughly chopped
1/2 cup fresh green onions, finely chopped
1/2 cup sweet white onion, finely chopped
2 cloves of garlic, finely chopped
season to taste
1 tsp thyme
3 tbsp. nutritional yeast  – I used Bob's Red Mill
---
Instructions
Into a small sauce pan add your ingredients for the mushroom filling.  Cook on medium heat for around 10 minutes or until your mushrooms no longer hold any moisture and your onions are soft and brown.  Set this mixture aside to cool while you prepare your phyllo.
Remove your phyllo from the package and lay flat on a flat surface.  If you're unfamiliar with phyllo are work a bit slower with it then set a damp cloth on top of the phyllo sheets to avoid drying.
Grab your butter and place a pasty brush into it.
Grab your first piece of thin phyllo and place onto a large, wooden, cutting board.  Brush with butter and repeat around 6 times.  You may need more butter depending on how liberal you are. Cut your phyllo sheet into quarters.  Place your mixture into the middle of each piece and gather all four corners at the top and pinch to stick together.  Note: Phyllo is very delicate so move slowly if you feel nervous, you want to avoid the pastry from tearing.
Place in the freezer for 10 minutes while your oven preheats to 400F.
Cook for 15 minutes (depending on your oven) or until golden brown and perfectly crispy.
Enjoy hot!
---
Notes
I suggest doubling or trippling this recipe.
Do not over stuff, you want to make sure they stay closed while baking.
Will last for a couple days in the fridge but best enjoyed fresh.
They will last up to 3-4 weeks in a tight sealed container in the freezer.  Cook from frozen in the oven.