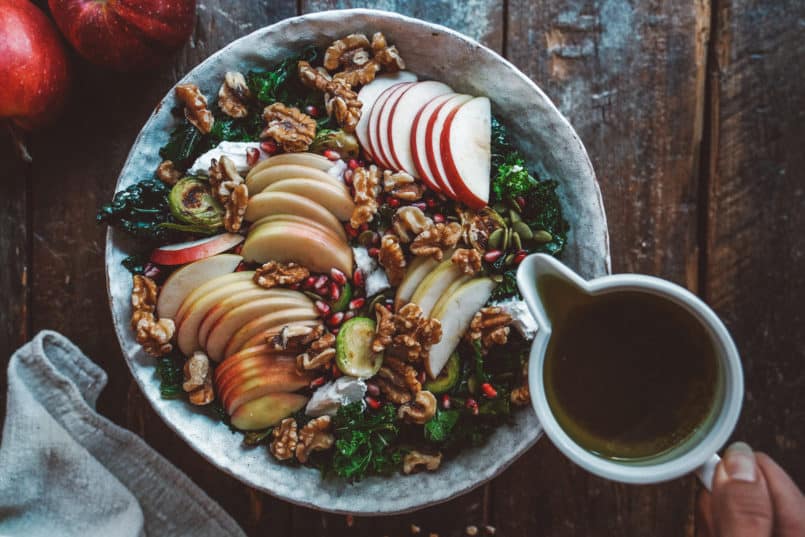 23 Nov

Warm Kale Salad in a Lemony Mustard Thyme Dressing

You've probably never heard anyone describe a salad as cozy, but after enjoying this Warm Kale Salad drizzled with a Lemony Mustard Thyme dressing you'll be adding it to your weekly winter meal plan. I've topped it with a zesty and refreshing dressing made with both fresh and dried ingredients that really give it a unique flavour. Filled with different textures and hearty nuts and fruit, this salad is not only nourishing but very filling.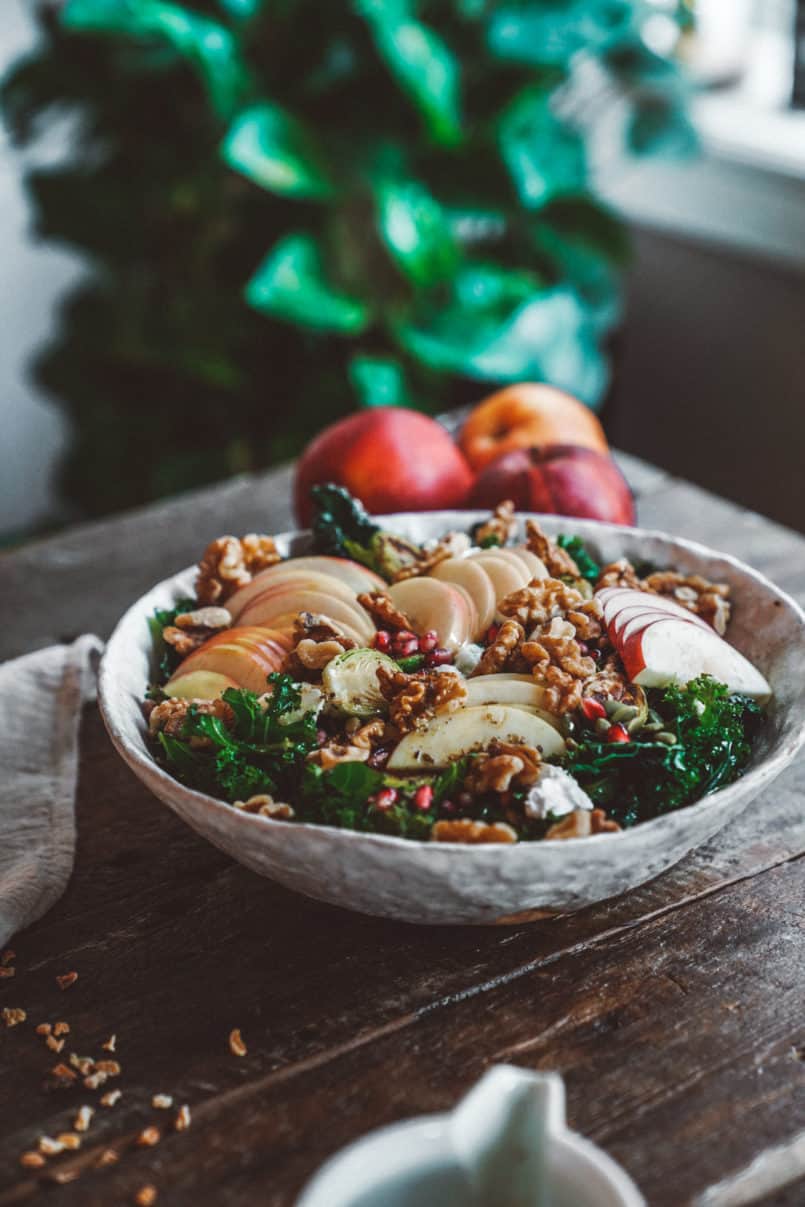 Pumpkin Seeds aka Pepita
Some recipes call them pumpkin seeds and others refer to them as pepita seeds. Call them what you like, these little seeds pack some serious punch in the nutrition department. Just a handful added to your dish can give you some major health benefits:
High in antioxidants like carotenoids and vitamin E
One of the best natural sources for magnesium
Great source for zinc and fiber
SUPER easy to add to any dish


Dressing Up Your Salad
Gone are the days of store bought salad dressing! With just a few simple ingredients and herbs that can be kept all year long, making your own salad dressing is just too easy. I usually start with a base of oil mixed with an acid, either vinegar or citrus. From there you can add in different herbs and spices that will really take your dressing to the next level. I love ordering my herbs from Mountain Rose Herbs, I can get all of my staples as well as some unique flavours I can't find anywhere else. For this recipe I used their lemon peel, lemon thyme, sea salt, and mustard seed to give this dressing a fresh taste.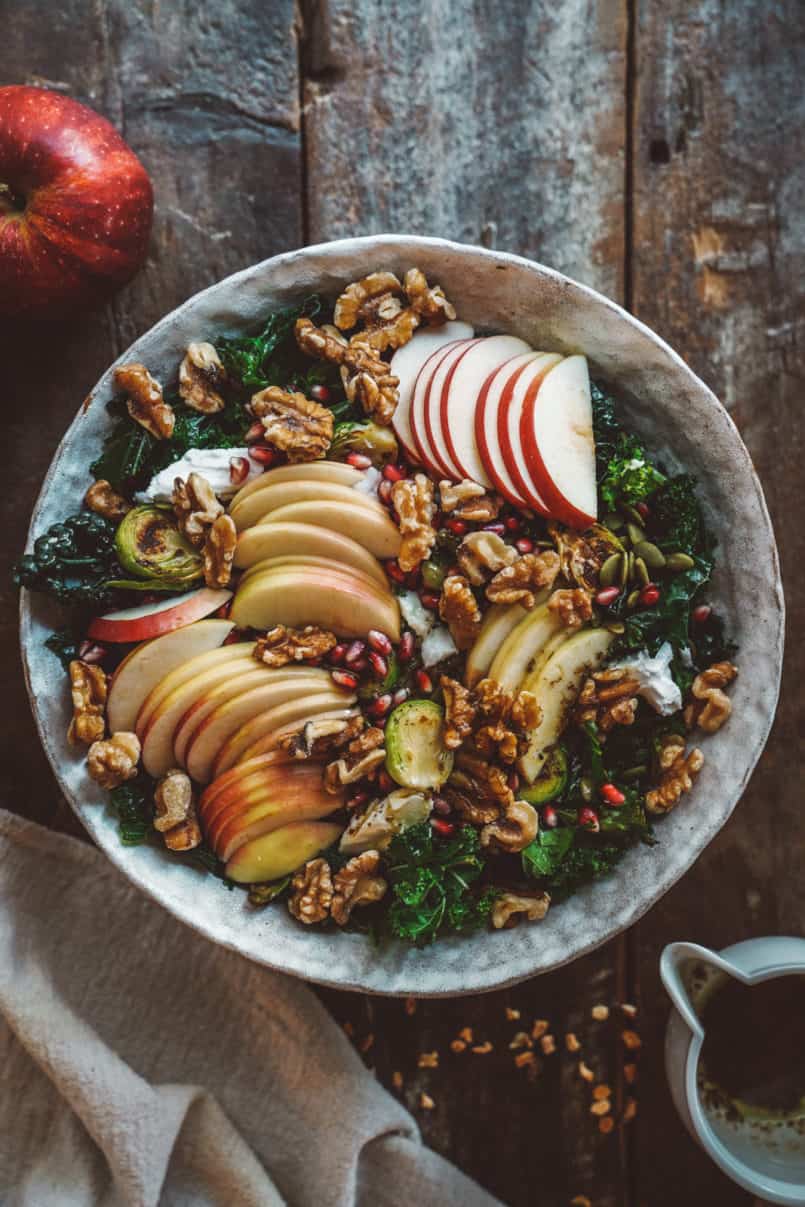 If you are vegan or trying to eat a more plant based diet, salads seem like an obvious meal option, but that doesn't mean you have to just eat leafy greens. By filling your bowl up with different textures of seasonal fruits and veggies your belly will be full and your palette satisfied. Check out some of my other favourite salad recipes and try mixing out some of the toppings or switching up the dressing:
See the recipe card below for how to make this delicious Warm Kale Salad with a Lemony Mustard Thyme Dressing and let me know how you enjoyed it in the comments!
Print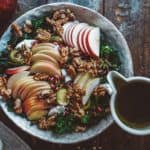 Warm Kale + Squash Salad in a Lemony Mustard Thyme Dressing
Author:

Prep Time:

10 minutes

Cook Time:

20 minutes

Total Time:

20 minutes

Yield:

4-5

Category:

Salad

Cuisine:

Vegan
---
Ingredients
For the Salad:
2-3 heads of washed black kale, spines removed, sautéed in olive oil and garlic till soft
3 cups of brussel sprouts cooked in olive oil and very well seasoned.  Cook till it reached the consistency of your liking!
1 apple, thinly sliced – I used a honey crips apple as they're currently in season
3/4 cup of raw walnuts
1/3 cup pumpkin seeds
1/3 cup vegan feta
1/4 cup pomegranate seeds
For the dressing:
3-5 tbsp olive oil, depending on preference and how emulsified you want your dressing
juice of 1 lemon
1/2 tsp mustard seeds
1/2 tsp dried lemon thyme
1/2 tsp dried lemon peel
4 cloves roasted garlic
season well as the salad will not be overly seasoned
---
Instructions
Into a large salad bowl place/assemble your ingredients in a gorgeous arrangement.
For the dressing simply add all your ingredients into a jar and using a hand blender blend till smooth and creamy (around 30-40 seconds).
---
Notes
In order to keep your salad fresh I suggest adding your dressing separately and after platting.  It keeps the apples crunchy and the kale from wilting.
Lasts up to two days in a tight sealed container in the fridge.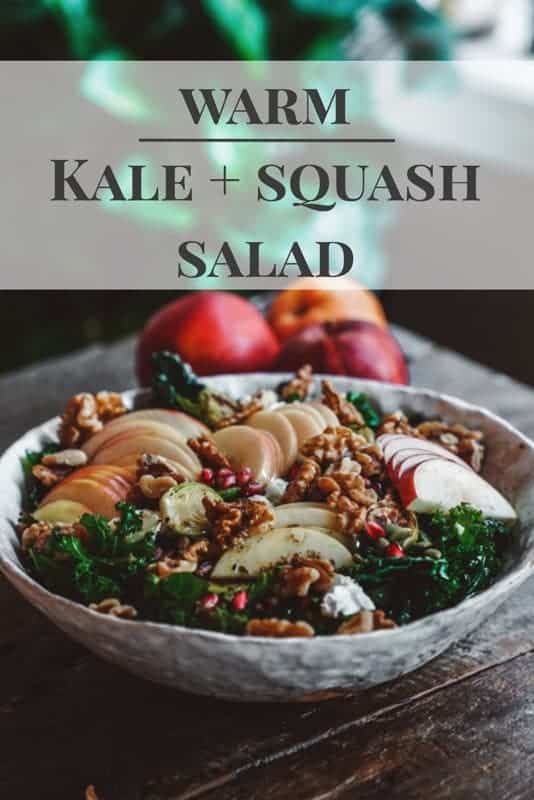 Disclaimer: This post was sponsored by Mountain Rose Herbs