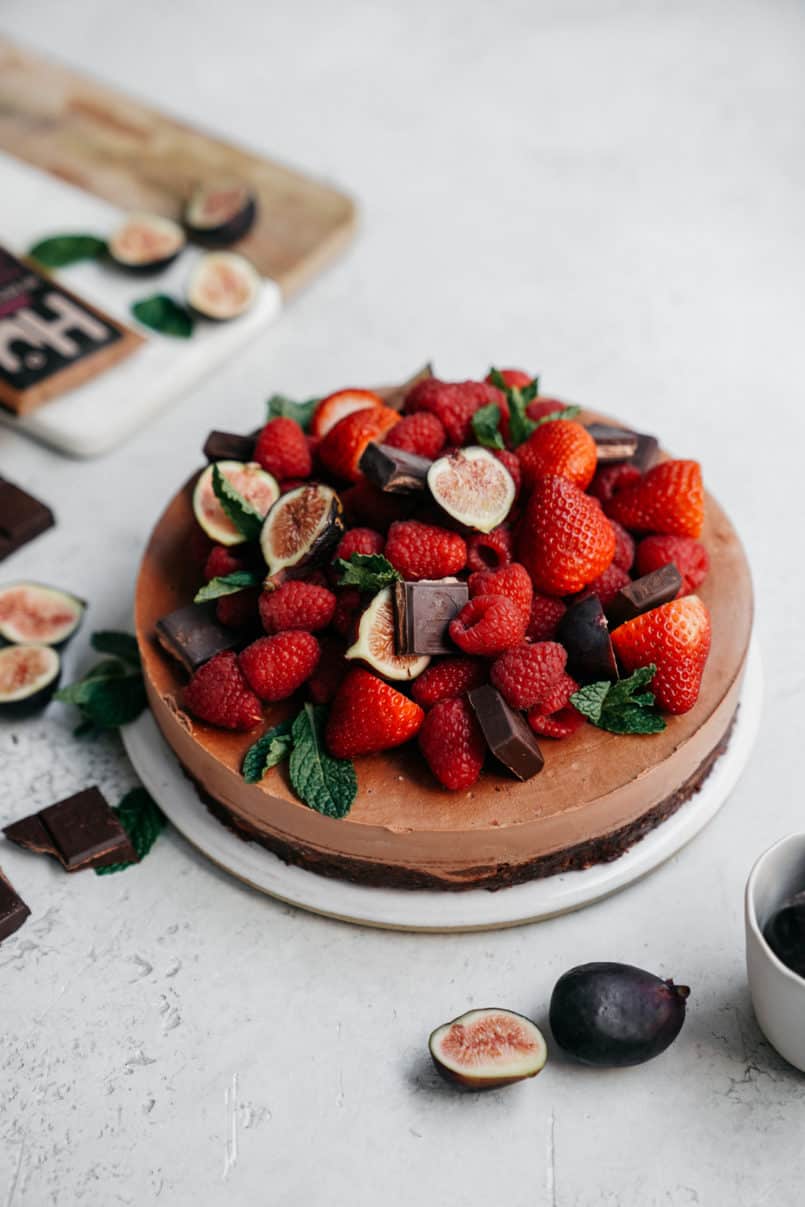 12 Feb

Vegan Cashew Chocolate Mousse Cake

Let me introduce you to your new favourite, super easy, VEGAN dessert! Since I'm not a huge fan of Valentine's Day, I figured if I must participate it will be to demonstrate my love for food. What better way to celebrate love than a rich and creamy vegan cashew chocolate mousse cake. This decadent vegan chocolate cake is made with just a few simple ingredients that won't have you feeling bad for having a second slice. After all, life is about balance and the heart wants what the heart wants!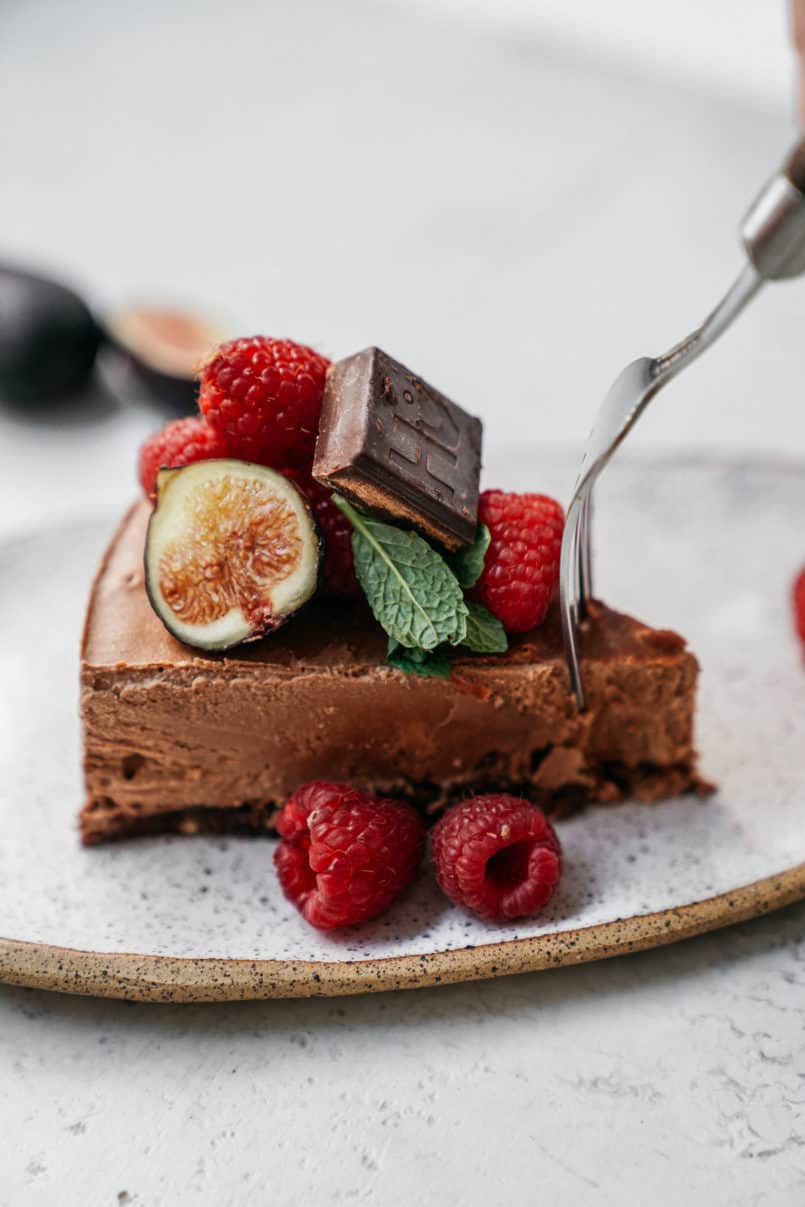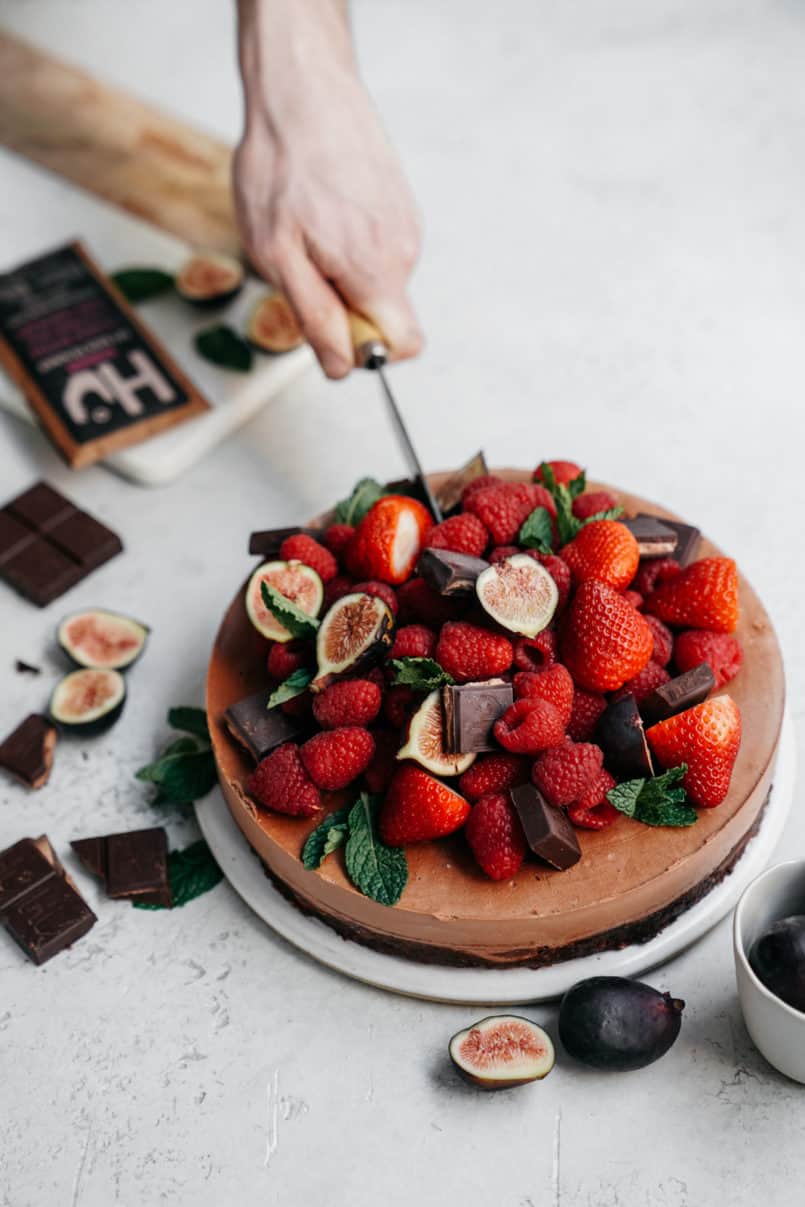 Coo Coo for Coconut Milk
The chocolate mousse in this cake is airy, smooth, and absolutely perfect! Sometimes vegan mousse recipes can leave your cake filling a little flat and dense. To avoid this I used a combination of cashew cream, melted dark chocolate, and coconut milk. Coconut milk is gaining popularity as a dairy substitute and for good reason. It's creamy, rich, and has a thick consistency. Coconut milk comes from the flesh of mature brown coconuts, not to be confused with the liquid found in young green coconuts, that's coconut water. The milk is high in calories, but don't let that scare you, it's almost entirely made up of fats including medium-chain-triglycerides (MCT's). Medium-chain-tri-WHAT?? Here's the low down on MCT's:
They are different than long-chain-triglycerides (LCTs) which are found in most of the food we eat
Because they are shorter they can be broken down faster and turned into energy
This makes them a fast energy source and less likely to be stored as fat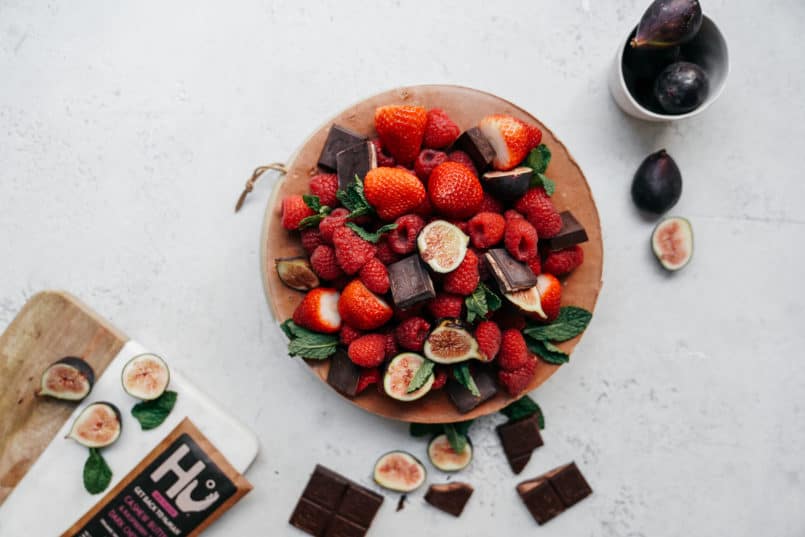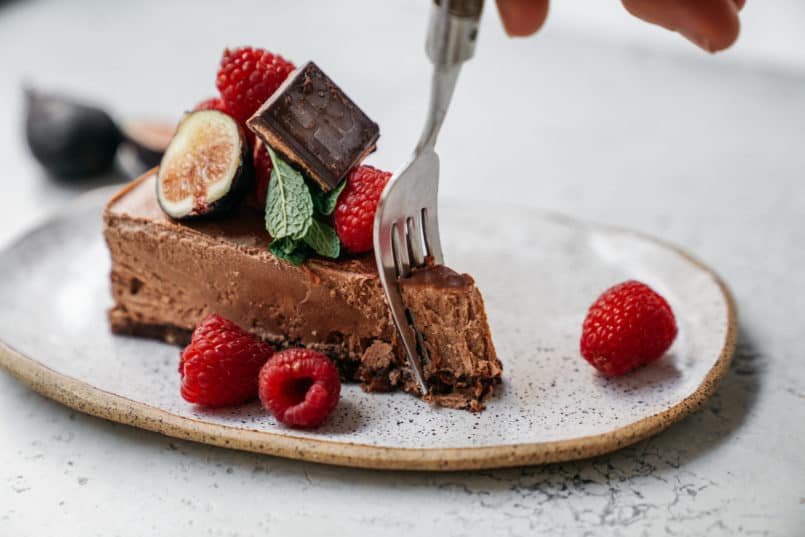 Get Back to Human
Please tell me we are over the "New Year, New You" thing. Just because of a date on the calendar we can't expect ourselves to magically turn into a new person. I made this cake as a reminder that living our best life doesn't mean we have to deprive ourselves of the food we enjoy. Indulging in treats is all a part of the balance! Indulging in treats made with real ingredients is even sweeter. That's why I was so excited to use Hu Dark Chocolate for this mousse. Not only is their chocolate vegan and dairy free their company philosophy aligns so well with FBM, "Get back to human." We need to be experiencing life through an unprocessed and unfiltered lense.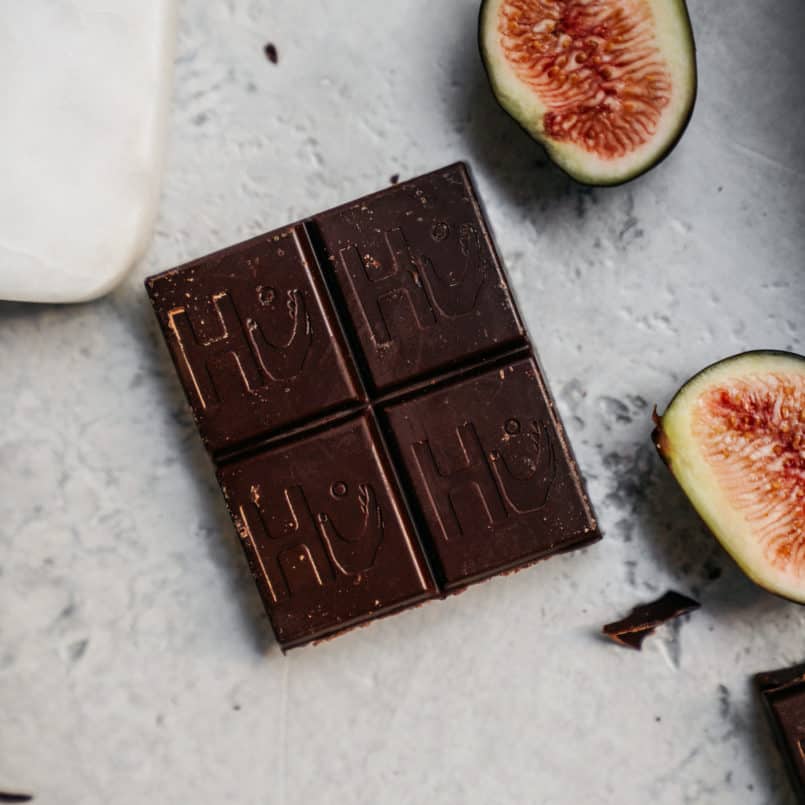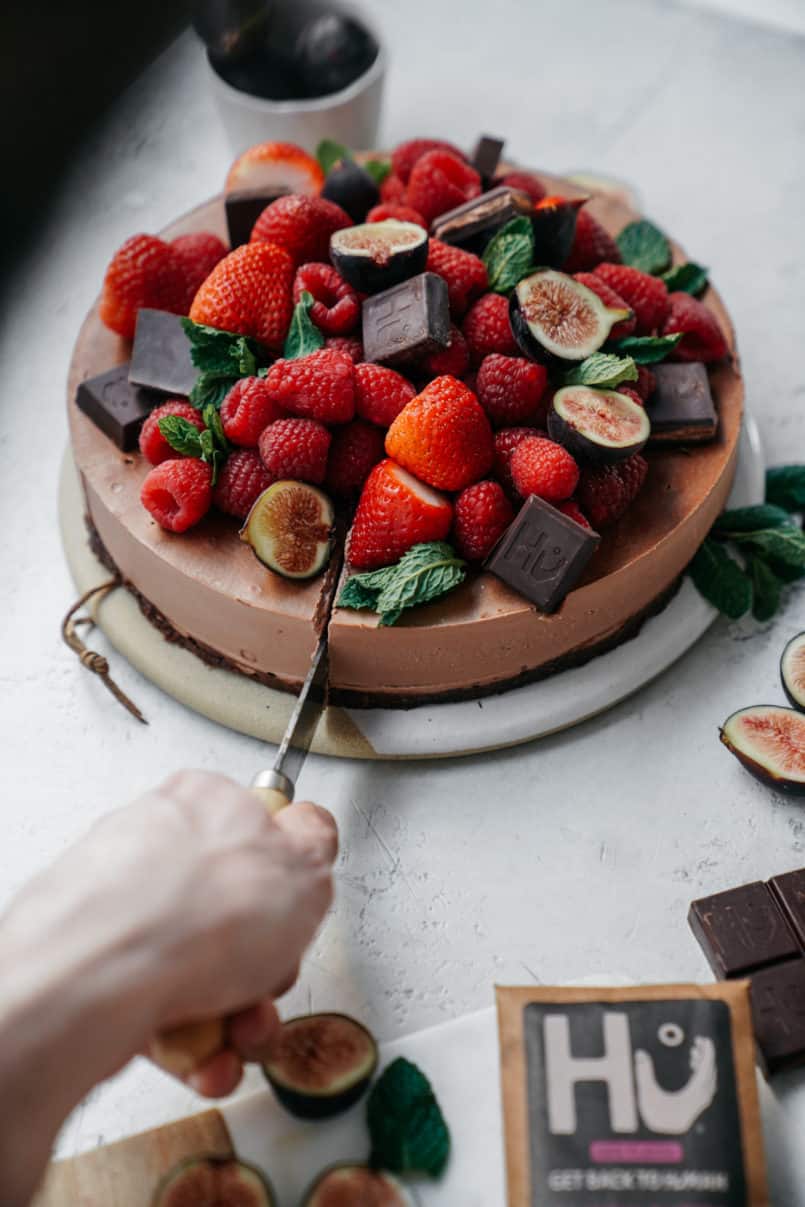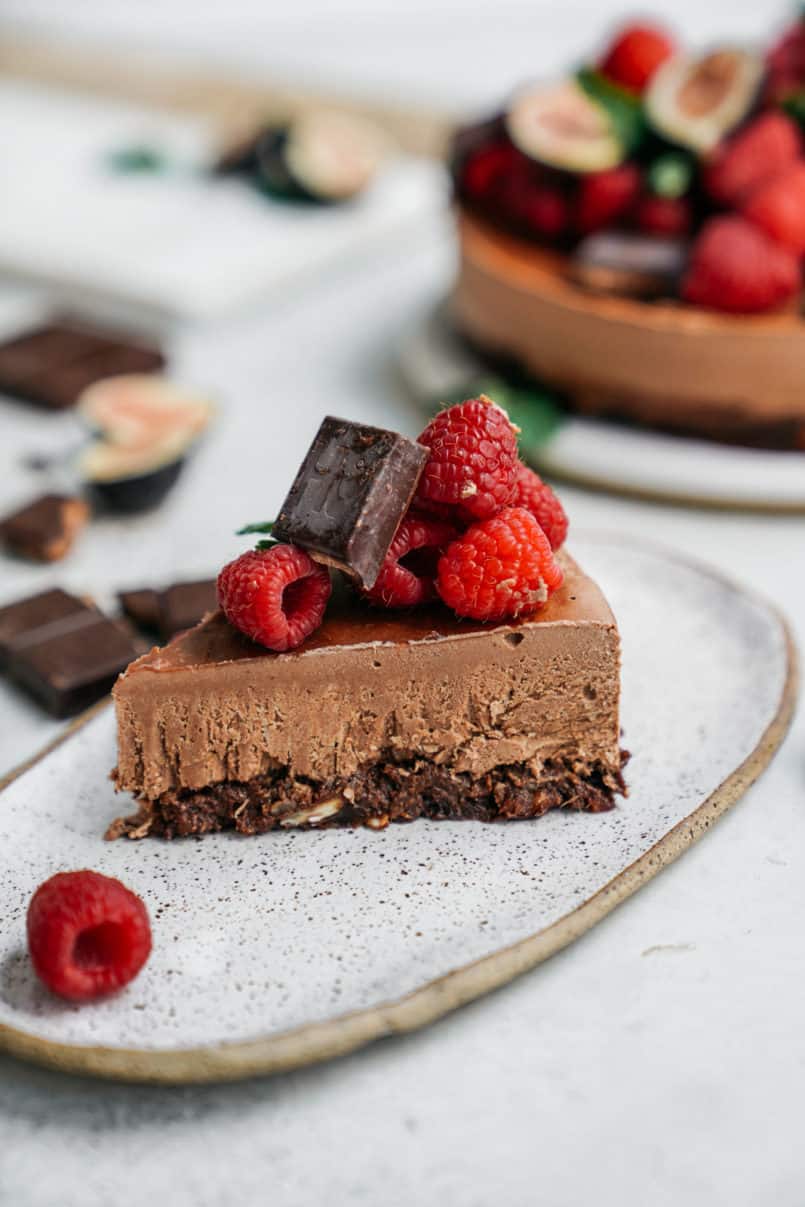 Sharing is Caring
Like I mentioned above, I'm not big on heart day, but this vegan cashew chocolate mousse cake is too good not to share. So make this cake any day of the year to show that special someone how much you love them! You can also make this recipe into bars and really spread the love. Because this cake isn't sugar filled like your typical Valentine's Day treats, it makes a great sweet to share with your little ones. The base is made out of dates and some mixed nuts, so even though it tastes sweet thanks to the dates, it actually has a pretty low glycemic content. You don't have to tell your kids that though.
This cake is truly picture perfect! I topped it with strawberries, raspberries, figs, mint, and some pieces of the Hu Cashew Butter and Raspberry Jelly Dak Chocolate bar. You can really top it with whatever you'd like as the dark chocolate goes so well with so many different flavours. Try a citrus blend, or passion fruit mix for a hit of antioxidants. I also think a chia jam would be amazing with the added brain healthy benefits of omega 3 fatty-acids.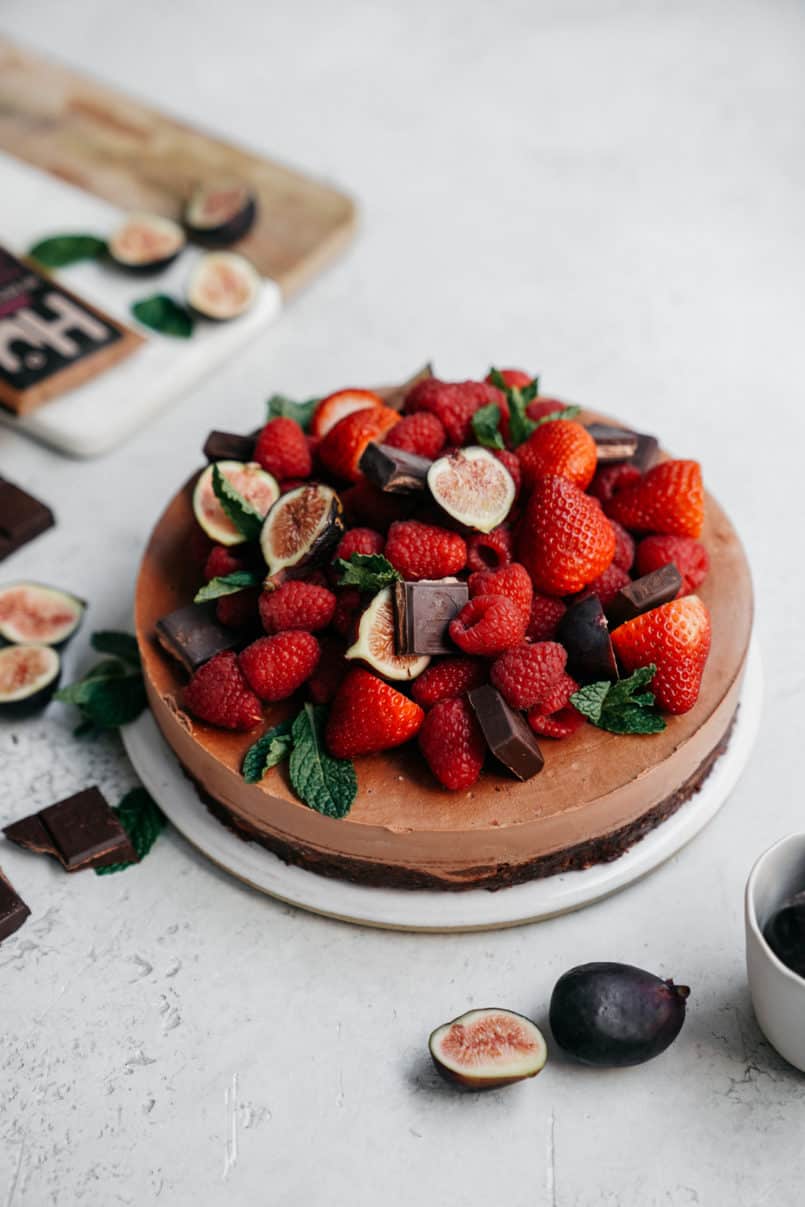 So what are you waiting for! Get in the kitchen and make this delicous vegan cashew chocolate mousse cake to show someone or yourself some love. For some more of my favourite chocolatey treats be sure to try:
Check out the recipe below and don't forget to let me know what you think over at @foodbymaria and below in the comments! Tag #foodbymaria and #fearnotfoodisyourfriend so I can see all your beautiful recreations.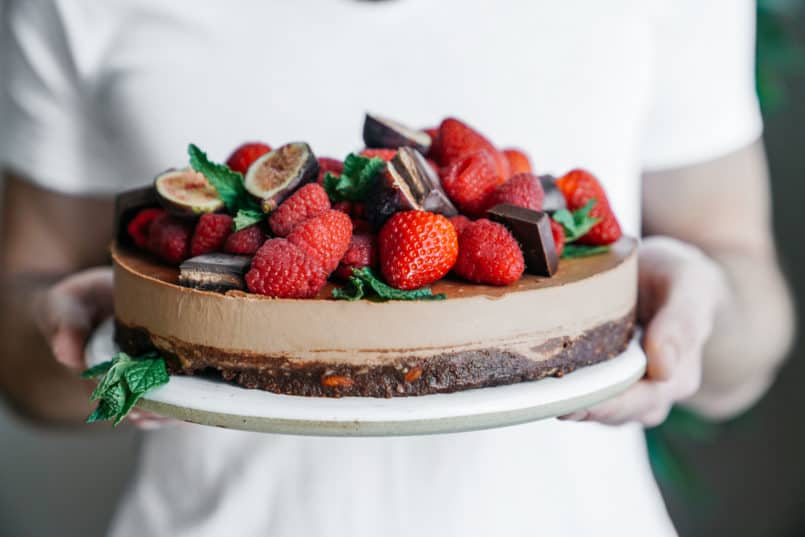 Print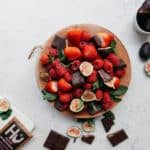 Cashew Chocolate Mousse Cake
Author:

Prep Time:

20 minutes + 3 hours

Total Time:

3 hours + 20 minutes

Yield:

10-12

Category:

Raw, Sweet Treats

Cuisine:

Vegan
---
Ingredients
For the Base:
2 cups of medjool dates, soaked for 30 minutes in warm water if they are hard
1/2 cup walnuts
1/2 hazelnuts or almonds
1 tbsp. maple syrup
2 tbsp. cacao powder
1/2 tsp cinnamon
dash of salt
dash of vanilla
For the Mousse:
3 cups of raw cashews, soaked for at least 3 hours
1/2 cup coconut cream
1 1/2 cups coconut milk
1 tbsp. vanilla
1 tbsp. coconut oil
120 g melted HU Dark Chocolate
Toppings:
Raspberries, strawberries, figs, mint and chocolate
---
Instructions
For the base of the cake:
Line the base of a 9 inch spring pan with parchment and set aside.  Into a food processor and all your ingredients and blend till a large ball forms (if your processor is not very strong this will not happen) or until well combined. You should still be able to see the nuts but make sure the dates are nice and smooth. Using your hands flatten out the based of the cake into the tin. Tip: you can use a cup or mug to make sure everything is even. Place in freezer while you prepare your mousse.
For the Chocolate Cheesecake:
Add all your ingredients into a high speed blender (add your liquids first) and blend till smooth -around two minutes. You may have swoosh down the sides of the blender a few times to make sure everything is well blended.Once blended transfer your mixer to the cake tin. A quick trick to flattening the cream is by slamming the tin down on the table a couple times, does the trick for me ;). If you have no stress to release just use the back of a spoon.
Place in freezer to set for at least 3 hours but I prefer leaving it over night!
Garnish the cake with fresh berries or choice, some mint and chocolate!  You can refer to photo for inspiration!
Enjoy.
---
Notes
Lasts up to one week,  in the freezer, covered with wax paper or in a tight sealed container.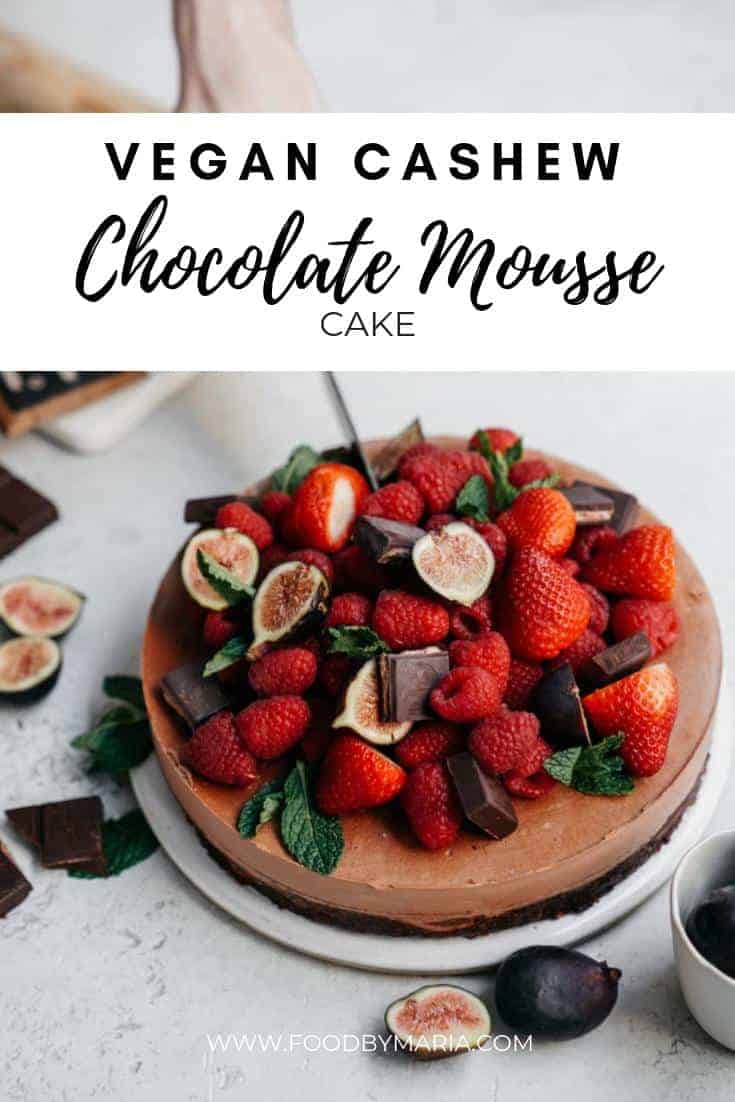 Disclaimer: This post was sponsored by Hu Kitchen