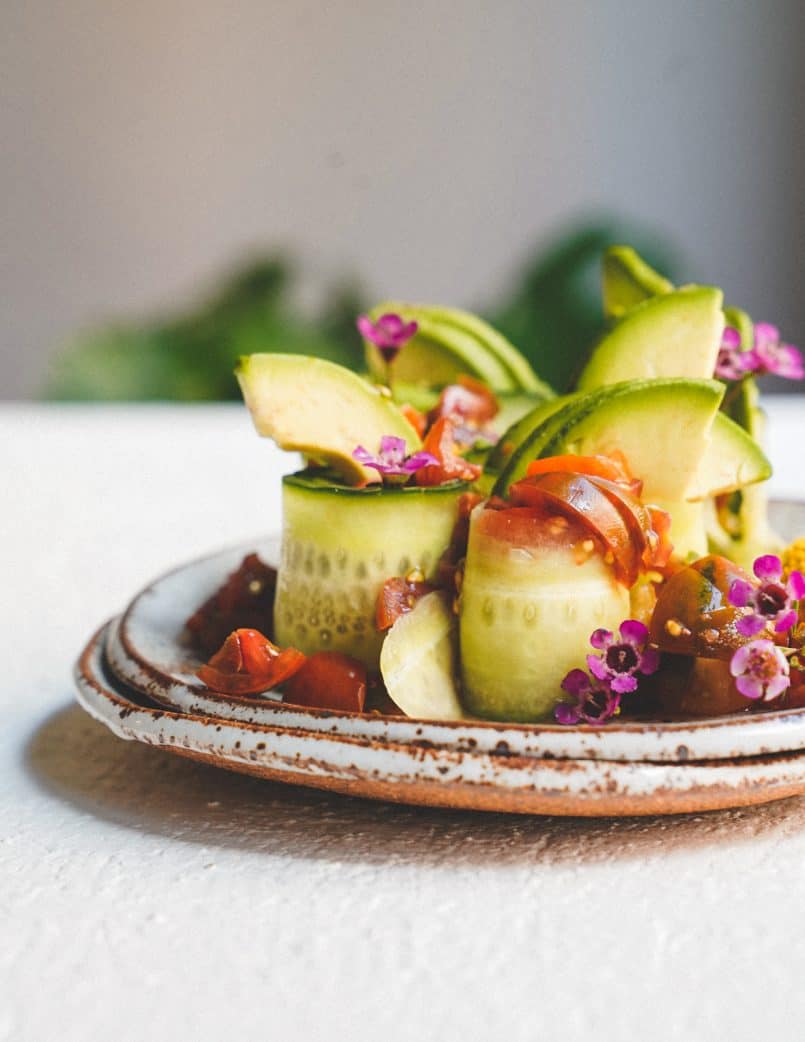 20 Jul

Cucumber Rolls with Creme Fraiche Pesto

Friends, I have the perfect fun and refreshing vegetarian/vegan recipe for you that is perfect for the summer, especially if you're looking for something quick to whip up for your guests, or if you're heading to a pot luck or BBQ.

This appetizer was inspired by one of my favourite types of music to jam out to in the summertime, the ska genre. This is similar to reggae, and has some elements of jazz and even punk rock in it. I find that by combining these unique sounds you get such a cool sound that's perfect to listen to under the sun or at the beach. Similarly, this recipe brings together surprising ingredients for a cohesive creation that I think you'll love.
Health benefits 
This recipe is vegetarian and vegan friendly and is made with beautiful California avocados. Avocados are one of my favourite ingredients for the summer because they are so refreshing, colourful, and jammed with health benefits. Avocados are nutrient dense which means they provide large amounts of vitamins, minerals and other nutrients, and have relatively few calories. In fact, in only 1/3 of an avocado, you'll only get 80 calories and nearly 20 vitamins and minerals. Some of the other benefits the avocado brings to the table are:
They contain good fats, and basically the only fruit that contains heart-healthy monounsaturated fat, aka good fat!
They are naturally free from sodium, sugar and cholesterol.
Act as a nutrient booster by increasing the absorption of fat-soluble nutrients like vitamins A, D, K & E.
They're kid-friendly!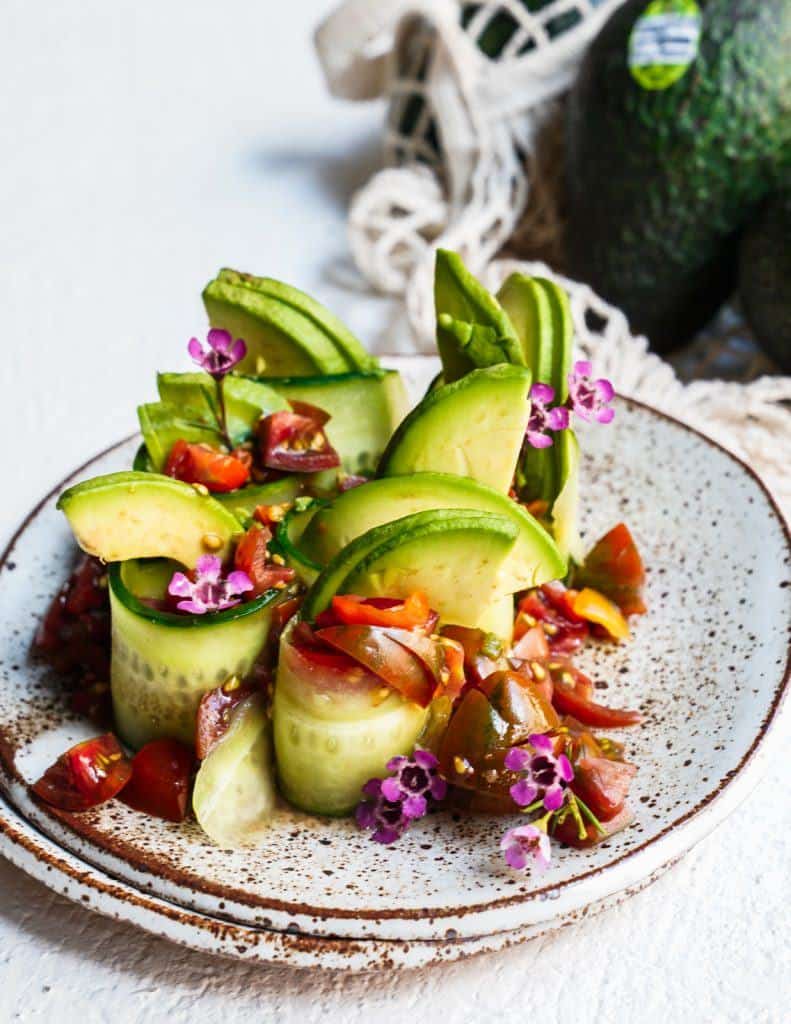 The Creme Fraiche Pesto
One of the superstars of this recipe is the sauce. I love this sauce! Basically it's made with simple and healthy ingredients like cashews, pine nuts, and nutritional yeast. It's whipped together and makes a ton of sauce that can be versatile for more than just your cucumber rolls/this recipe. You can use the leftover sauce in pastas with fresh arugula and other summer vegetables, or pour it on top of cold, warm or hot dishes. It's honestly quite addictive and vegetarian/vegan friendly!
I love this recipe and can't wait to show it off at my next BBQ, it's one of those things that look more complicated then they are and will surely impress your friends and family this summer!
Print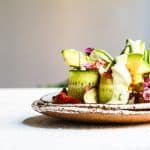 Cucumber Rolls with Creme Fraiche Pesto
---
Ingredients
For the Rolls:
1 large cucumber – cut thinly using a mandolin
1 large California Avocado – thinly sliced
1 large tomato
1 tbsp jalapeno – thinly sliced
seasoning to taste
Creme Fraiche Pesto Sauce:
1/2 cup coconut cream – must have been refrigerated so solid
1 cup whole raw cashews – soaked in water for at least 2 hours
1/4 – 1/2 cup fresh basil
3 tbsp. pine nuts
3 tbsp. nutritional yeast
juice of half a lemon
season to taste
---
Instructions
Let us first prepare our simple sauce. Add all your ingredients into a large jar and blend using an emulsifier or hand blender.  Blend for around 2 minute or until completely creamy and velvety.  You may wish to cool this in the fridge for 30 minutes before preparing your rolls.
Prep your cucumber by washing and using a mandolin to cut into long thin pieces, length wise.  Roll into small rolls and place on it's head or feet. Repeat till you have around 12-14 rolls.
Cut your avocado into thin slices and stuff your cucumber, gently.  Sprinkle with salt and maybe some olive oil and lime (optional).
Prepare a simple salsa by thinly cutting your tomato and jalapeno.  Season as desired and stir well.  Dollop on top of your rolls.
Lastly, add one tsp of your amazing creme fraiche to eat roll and you got yourself a ball game.
Enjoy!
---
Notes
To avoid avocado from browning make sure to sprinkle with lime juice.
You will have extra sauce so I suggest you use this amazingness on pastas, salads or sandwiches! It will last i the fridge, in a tight sealed container for up to a week.